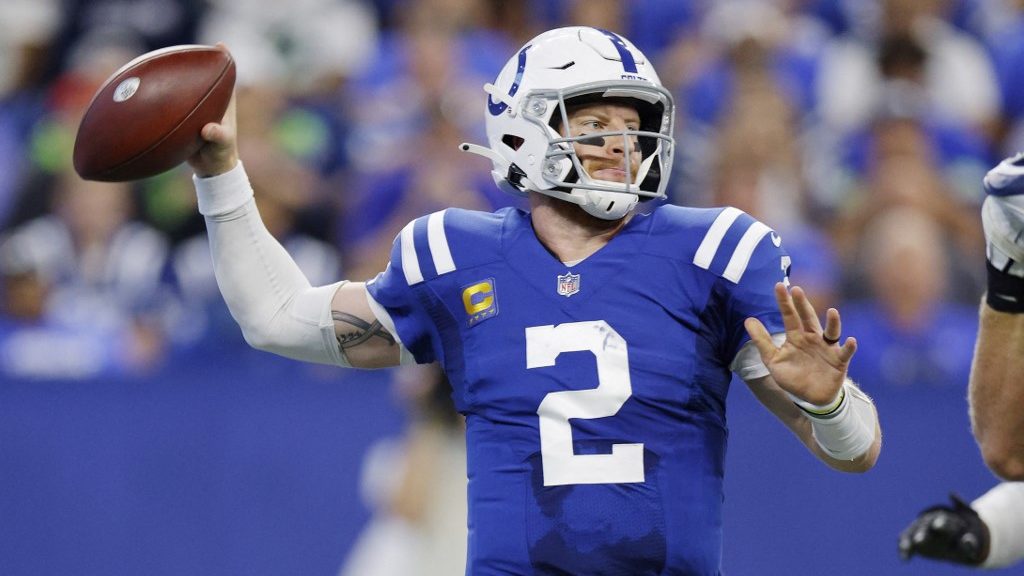 It has been a rough summer for the US legal sports betting industry with most jurisdictions seeing double-digit percentage declines in the overall wagering activity from month to month. But news out of Indiana Friday has caused a sense of optimism that August numbers could be the start of the anticipated spike in monthly handles across the country.
According to the Indiana Gaming Commission, their state's sportsbooks saw their first handle increase this summer. Just the anticipation of the NFL season and a few preseason games helped bring Indiana out of a sub-$200 million hole and have given the Hoosier State scene a sense that July represented the bottoming out of their wagering scene.
"Even though preseason games are typically low-volume affairs, there was particular interest in the Colts this August because of the addition of quarterback Carson Wentz," Nicole Russo, an analyst for PlayIndiana.com said. "Add in a light schedule of college football, and there was just enough to draw a significant amount of football wagers. Still, September's full college schedule and opening weeks of the NFL should dwarf anything we saw in August."
"Even a little bit of football can make a big difference in a month," said Eric Ramsey, an analyst for the PlayUSA.com Network, which includes PlayIndiana.com. "The schedule was still relatively light compared to the fall, but it is a great sign that August brought a nice bounce in wagering."
The Numbers
Indiana sportsbooks were a nice surprise with their report of an increased handle from August. The Indiana Gaming Commission reported $215.6 million in sports wagers in August, which is a 10.8% increase from the $194.5 million in June. The per/day betting climbed from $5.5 million in July, to $7 million in August.
The Indiana betting scene still has some work to do in order to reach record levels that saw $348.2 million wagered during the record January period. Unfortunately, sports betting revenues for August didn't exactly follow the August handle increases. Adjusted gross revenues slipped 5.2% from $17.4 million in July to $16.5 million in August thanks to a slightly underwhelming 7.6% hold. A total of $1.6 million in taxes was generated from sportsbook profits for needy Indiana state and local coffers.
Biggest Contributors
Football finally registered on the list of contributors to the overall handle, but it wasn't the most bet-on state in Indiana for August. That distinction belonged to baseball with $68.3 million in bets, with pigskin contributing $13.9 million in bets. Parlays bailed the Indiana scene out in August with an impressive $82.4 million contribution to the state's overall handle.
Indiana's mobile sports betting apps unsurprisingly dominated the overall August sports betting handle. $195.2 million of the overall $215.6 million handles came from the state's betting apps, or about 90.5% Retail accounted for just $20.4 million.
Indiana Overall
With Indiana's August numbers in the books, it gave analysts time to reflect on just how impressive the overall betting climate has been in the state. "With the pandemic, sports betting has not always traveled the smoothest road," said Nicole Russo, an analyst for PlayIndiana.com. "Still, Indiana's industry is maturing more quickly than anyone could have expected, especially considering the obstacles. And the growth is not done. Expect more revenue and wagering records to fall over the next few months."
It has now been two years since the launch of the Indiana scene and $4.3 billion has been wagered, $351.3 million in gross sports betting revenue has been generated and $33.4 million in tax dollars has been produced for state and local coffers. As it stands, Indiana is a top-6 betting jurisdiction in the broad US industry. Some competition for that spot is likely coming with Arizona now live and Louisiana and New York expanding their platforms. Indiana overall should continue to be a reliable second-tier betting state and should immediately approach and even break records now that football is cranking, and basketball's season is on the horizon.