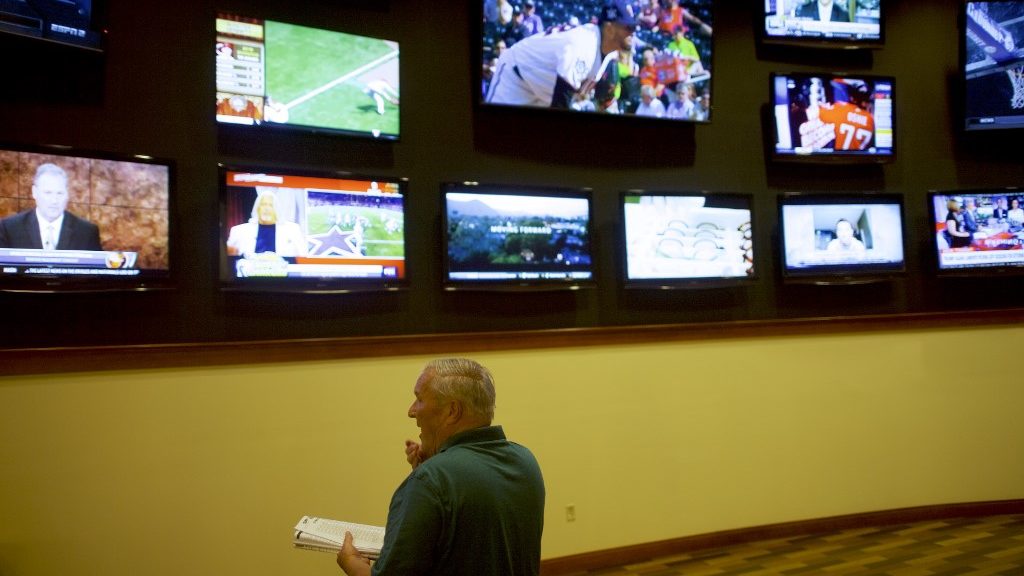 The race to get a leg up in the growing global legal sports betting scene is obvious. Sometimes sportsbooks make good decisions, other times they make bad ones, and others have made both. The latest example of that is German-based Tipico Sportsbook that in a span of one week announced that they had signed a contract to increase their exposure in two key US markets and were fined by investigators in the Netherlands for taking bets before that country's legal platform went live.
On the positive side, Tipico late last week was able to announce a deal with a company that provides huge screens for bars and restaurants across the US. The negative came in the form of a €531,250 fine for signing up bettors in the Netherlands, taking deposits, and giving them a full betting menu… months before the regulated launch of the country's legal sports betting platform.
First the Good
Tipico has been on a bit of a roll increasing their profile in the growing legal sports betting industry. Earlier this month the company secured a deal with one of the true heavyweight in the US industry, Caesars that gave them market access to Indiana and Iowa.
Late last week the company was able to sign a deal with TVM DOOH, a company that operates digital screens seen in bars and restaurants across the US. Under the agreement, Tipico odds will be heavily featured on those screens in Colorado and New Jersey to start. It is a clear exposure play for Tipico, which hopes to chip away at some of the market share of the heavy hitters they are competing with The Garden and Rocky Mountain states.
"Real-time sports data and premium betting insights are at the core of our proprietary mobile sports betting product, and this partnership with TVM opens up a highly engaging channel to showcase our odds experience to future Tipico players," said Keith Gormley, Tipico's vice president of marketing.
Featured on the gigantic screens in bars and restaurants will be Tipico's updated moneylines, spreads, and over/under. Those odds will be a crucial element for the company to provide real-time updates for their increasingly demanding in-game betting options.
What Is TVM DOOH?
We have all been in a bar and a restaurant, staring at the game on a massive screen. TVM DOOH is one such company that provides those screens to establishments. They own screens in heavyweight markets like Colorado, Illinois, Iowa, Indiana, Michigan, New Jersey, New York, Pennsylvania, Tennessee, Virginia, and West Virginia.
Tipico will start out with access in just two of the major markets that TVM has included among their reach. The other markets are still a work in progress, but the company will have some competition from other sportsbook providers with similar access to TVM screens. They include Betsson, FOXBet, and the two DFS giants-turned elite sportsbooks.
Pedram Danesh, Chief Commercial Officer, TVM DOOH, said: "Through this partnership with Tipico Sportsbook, we look to elevate the sports bar experience with exciting offers and live odds in the moments that matter most. We've seen Tipico grow in the New Jersey market, and we're excited to help strengthen their brand position and launch in new regions like Colorado by digitally activating bar patrons. We expect a high level of audience engagement during the partnership, and we are excited to announce additional innovations throughout the football season."
Now for the Bad News
Tipico, thanks to an investigation by the Kansspelautoriteit (KSA) in the Netherlands dating back to January 2020 was found to have offered up illegal sports betting to Dutch citizens, even though legalization of a platform was not yet a reality.
Clients with Dutch IP addresses were able to sign up for accounts on Tipico.com and make deposits, after which they were given betting menus. Those clients included a Kansspelautoriteit (investigative body) supervisor who deposited €10.00 and was given a chance to proceed and place a wager.
All told, the investigators identified a total of 4,974 cases of such nefarious actions by the sportsbook provider. In some of those cases, the sportsbook provider failed to verify the ages of their applicants. Tipico was ultimately fined €531,250 but still maintains their innocence.
In the End…
Tipico should be just fine. It looks as though they will be chalking up their Dutch misdeed as a mistake. In the meantime, Tipico has been making some bold moves with the aim of bolstering their status within the blossoming of the US legal sports betting scene.
A newfound relationship with Caesars is a good thing and the chance to expand their profile via screens in two major sports betting jurisdictions is a win for the company. Tipico still has some work to do in order to gather a reasonable market share in the US, but shrewd moves made lately show they are at least pointed in the right direction.