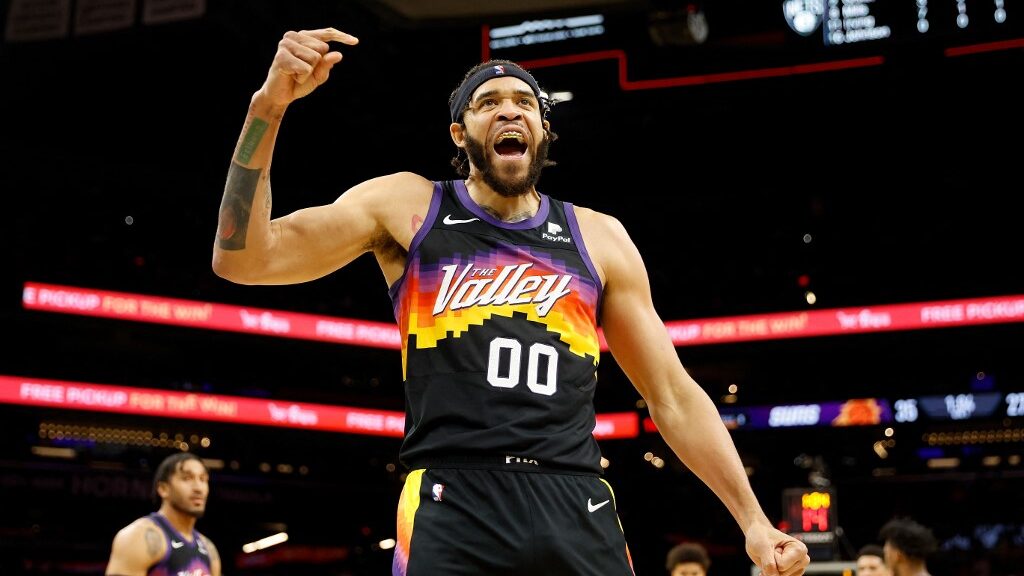 According to its parent company, Flutter Entertainment, FanDuel was the most popular online sportsbook in the United States in 2021, capturing a whopping 40 percent of the market. But their brick-and-mortar location in the desert is also booming and here's why.
Location, Location, Location
Any real estate professional will tell you the three most important factors when investing in real estate are location, location, and location. And that age-old axiom is holding true for the FanDuel retail sportsbook located in the same venue, the Footprint Center, where the Phoenix Suns play their home games.
Tim Marks, assistant general manager of FanDuel Sportsbook at Footprint Center, said, "There is a positive momentum with gambling becoming more of a phenomenon as well as the fact that the Suns are really good right now. So, it's cool to come here for the joint venture of placing a couple of bets and watching the game as well."
"The Suns can now say to customers who traveled from different places, 'Come down and check us out,'" Marks said. "Not just because you want to watch your team play the Suns, which is cool in and of itself, but because we got a sportsbook to be able to show off as the new crown jewel of the Footprint Center."
The FanDuel sportsbook at the Footprint Center was designed to give bettors the latest in creature comforts like oversized reclining chairs with built-in cupholders, a 35-foot main screen along with 40 HD television monitors, five betting windows, 40 self-serve kiosks, an MVP (VIP) room, and a bar and grille all within a 7400 square foot complex of sports, sports, and more sports.
"This is essentially a Buffalo Wild Wings on steroids," Marks said. "You don't even necessarily need to have a ticket to the game, you can enter right off the street."
No Ticket, No Problem
Business is brisk at FanDuel's Footprint Center location even when the Suns are on the road. During one such respite, the sportsbook attracted nearly 600 customers during a football week and that is precisely what FanDuel was hoping for when they partnered with the Suns last April and decided to sublet space from their NBA landlords.
And even on those nights when the Suns are in action, there is no reason to purchase a ticket to the game if you want entrance into the sportsbook. That's because it has a main entrance directly off the street, and once inside only a glass door separates it from the arena. However, those who do have tickets can grab a drink and some food before heading into the Footprint Center to watch one of the NBA's most dynamic teams up close and personal.
"Just the fact that you can comprise the atmosphere of a sportsbook within an arena without even necessarily requiring tickets to the game," Marks said, "I think that's got a very positive impact and implication for the future (operation of the sportsbook)."
Arizona has proven to be fertile ground for sports betting as there are currently 17 online sportsbook providers and the state did over $1.7 billion in wagers after just four months in operation last year.
C.J. Pierre, lead analyst for PlayAZ.com, said in a news release, "The NFL season kept wagering high even as sportsbooks settled into something resembling normal after a surge of promotional spending early on. Importantly, bettor enthusiasm remains high and Arizonans will become more comfortable with less conventional products such as in-game betting. That should help keep activity brisk through March Madness."