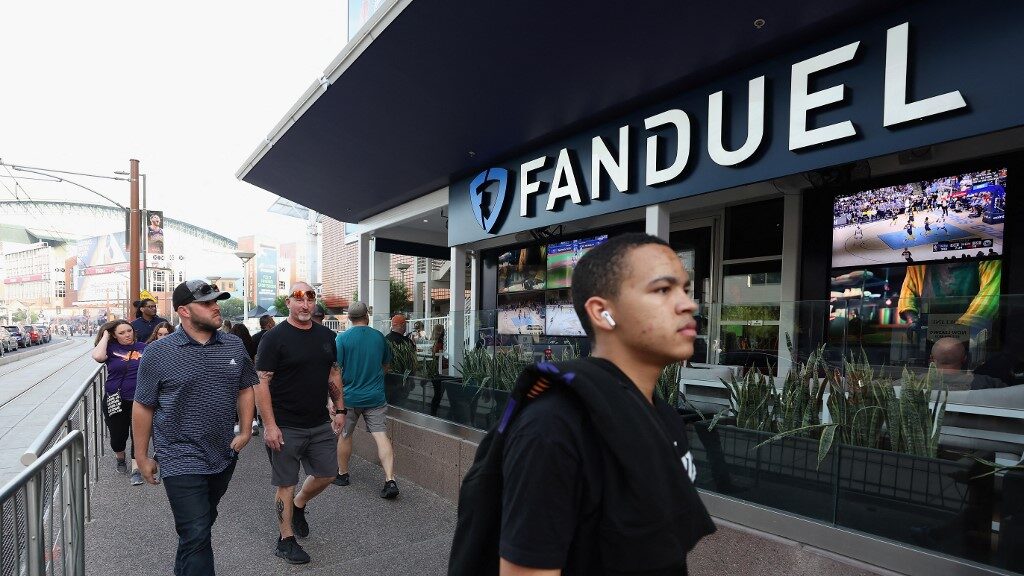 Sports betting sites are spending more on advertising than ever and FanDuel is leading the way in that category but its competitors are ponying up more money as well.
Sportsbooks Advertising Soaring
If we compare the advertising dollars from the last nine months to the nine months during the same period the previous year, we see a staggering 281 percent increase in advertising dollar volume.
That's right, a whopping $282 million was spent from September 2021 to May of 2022 and the clubhouse leader in that category is FanDuel.
According to iSpot.tv, "As one example, FanDuel more than tripled national TV ad spend year-over-year, emphasizing the NFL, NBA, college football, and MLB for its ad buys.
The brand accounted for nearly 34% of sportsbook ad impressions on national TV from Sept. 1, 2021, through May 31, 2022, which led the way for the industry."
FanDuel's 34 percent of advertising was followed by Caesars Sportsbook at 21.7%, DraftKings at 18.6%, while BetMGM and FOX Bet were next at 13.4% and 7.5%, respectively. Much of FanDuel's advertising budget was spent on ads during NFL games.
"While FanDuel led the way by impressions, its TV ad creatives were focused on factual spots, versus the more humorous approach of competitors like Caesars," says iSpot.tv.
Early Adopters Are Key
Some may recall several years ago the relentless advertising war that ensued after DraftKings and FanDuel got the green light to launch their Daily Fantasy Sports sites in the United States.
Their advertising was omnipresent whether it was on television, print, or even billboards. If you didn't know what DFS was before, then you certainly became familiar unless you resided on Pluto.
But now the advertising we see from these two DFS industry leaders is not so much for daily fantasy sports but primarily for their sportsbooks. And they are not alone as there are plenty of other well-funded U.S. licensed sports betting sites with apps just begging to be downloaded.
New Customer on Target
Now that sports betting is no longer prohibited by federal law after PASPA was overturned in 2018, the individual states are now allowed to determine whether or not sports betting is right for them. So far, the consensus is a resounding – yes!
Especially after those states that were previously on the fence got a look at how much money was to be made by those that had gotten a jump on the game and legalized it right away – looking at you, New Jersey.
Any sanctimonious virtue-signaling decrying the evils of gambling was quickly tucked away once the dollar signs began flashing.
The primary reason why these sportsbooks are so eager to toss millions at their respective advertising budgets is the hunt for early adopters or first-time customers. You see, most people who sign up for a sports betting account will only do so once.
That's right, you read that correctly, most recreational bettors have only one account so when they are "acquired" by one they are lost to all.
Bonus Game Is Strong
No matter how big the signup bonuses or enticing the promos, Joe Q. Public only has patience for one sports betting app on his phone because he is either only a sporadic bettor or doesn't want to commit funds to another sportsbook in order to take advantage of the bonuses.
Professional bettors, and those who have been around the sports betting game for a while, realize that having more than one option available to make a wager is essential if getting the best line is paramount.
And while some are sharp enough to have more than one out at their disposal, most are not, thus the race to get the first-time signups is fierce…and expensive.
It will remain this way for quite a while until the experts believe the markets are saturated and the law of diminishing returns forces these books to peel back their advertising and put more of that money back into their pockets.
But until then, those who reside in states where sports betting is legal will continue to see what feels like a barrage of advertising that will never end.