Best North Dakota Sports Betting Apps & Mobile Sportsbooks
Shawn West has been involved with college basketball, NFL and college football and MLB since he left his job as bank vice president two decades ago. He lives in North Carolina with his wife, children, two dachshunds and a variety of turtles.
When North Dakota became a state, its founding fathers wrote a ban on all forms of gambling into the state constitution. In the 130-plus years since then, the state has been busy finding ways to poke holes in that ban.
The state has significantly loosened gambling restrictions and is home to several casinos, which allow in-person betting on sports. North Dakota's state house has also taken multiple attempts at passing a bill legalizing online sports gambling, although it has never passed the Senate.
One of the first things the state did in 2023 was passing another sports betting bill in the house. The Senate will now consider it and, if it clears that hurdle, it goes to the voters in November of 2024. In other words, it'll still be a while before North Dakotans can bet on sports online, with providers in the state.
Offshore sportsbooks are subject to gambling laws in the country they call home, which means they don't need to wait for North Dakota to decide on its own gambling bill. They already offer the opportunity for the state's residents to bet on sports and win cash money, and they don't plan on changing that anytime soon.
Back in the day, online gambling involved sitting at a desk and using your computer to bet on sports. Over time, however, more and more bettors use their phones or tablets to do their sports gambling. As a result, the best sportsbooks offer mobile sites or dedicated apps that give customers the same gambling experience on their mobile device as they'd get using the full-blown site on a computer.
Best North Dakota Sportsbooks in 2023
North Dakota Betting Guides
Check out the rest of our betting guides to learn more about the best North Dakota betting sites and the state's available betting markets.
List of the Best North Dakota Betting Apps & Mobile Sites
Our blue ribbon expert panel rated the best apps and mobile-optimized sites for sports gambling and came up with a list of the 10 best.
Each mobile site or app in our rankings has a long track record of treating customers right, protecting their money and data, and paying out in full, on time. They also all offer the opportunity to bet on all major sports, with leagues, teams, matches, and games from around the world. There are a number of different ways to bet, including parlays, teasers, prop bets, live betting, point spreads, and moneylines.
Reviews of the Best North Dakota Betting Apps & Mobile Sites
If you're looking for an offshore online betting site, the first thing you'll notice is that there are a lot to choose from—literally hundreds of them. And, for people who aren't familiar with the environment, it can be confusing and intimidating to decide which ones can be trusted with your money.
Fortunately, you're not alone. We've already gone through the process of visiting all the sites out there and deciding which ones are best. Our team of gambling experts has evaluated dozens and dozens of sites in all areas, from how they register new customers, to how they handle financial transactions to what the gambling experience is like. They've compared bonuses and loyalty programs, and they've looked at how the mobile platform compares to the full site for each of the choices out there.
After looking at all those different factors, they came up with an overall grade for each site, then assembled a ranking of the 10 best sports betting apps and mobile sites currently available to North Dakota residents.
We'll also go through the history of sports betting in North Dakota, what things look like now in the state and where it might be going.
Everyone in the top 10 does different things well, and each gambler has different things they think are important when placing bets on their mobile device. So, our panel's choice for the No. 1 site in the rankings may not be the one that clicks with you.
With that in mind, our panel put together detailed evaluations of each site, listing the pros and cons of each sportsbook. That will allow you to match up your own preferences and priorities with your online options.
Some of the factors our experts considered were the quality and user-friendliness of the mobile platform, the site's betting limits and minimum bets, how the betting odds compare to the rest of the industry, the variety of payment methods offered, the quality of customer service, and the size and variety of bonuses for new users and existing customers.
1. Bookmaker: Best Overall Sports Betting App in North Dakota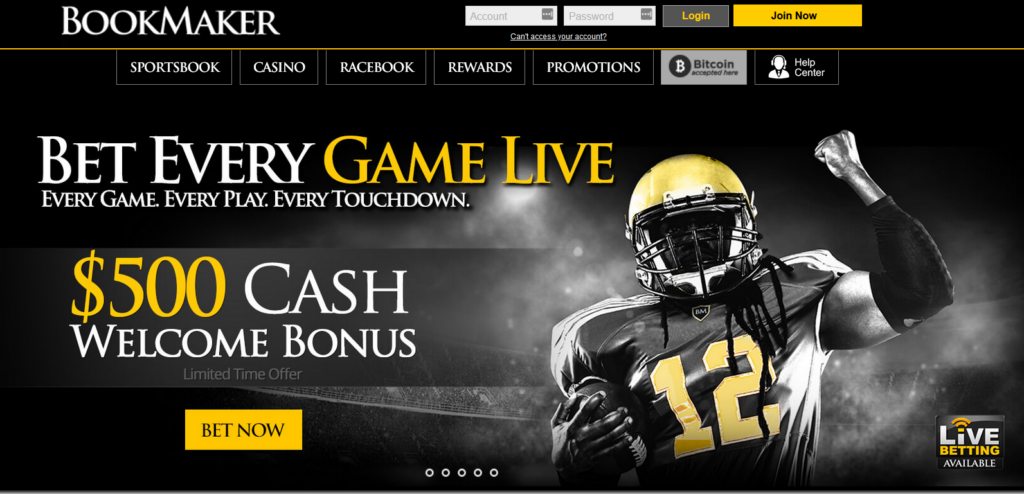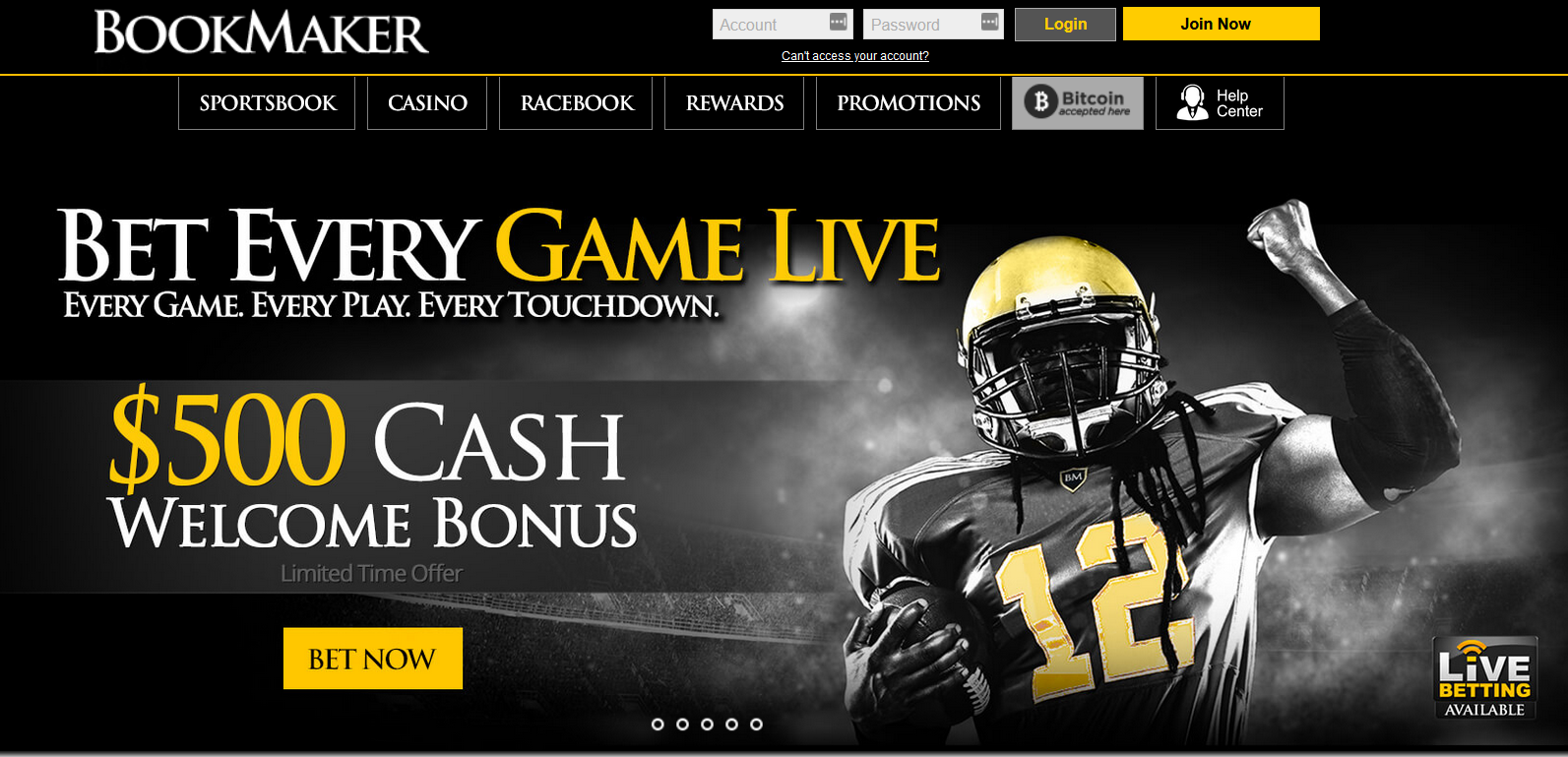 Coming in at No. 1 as the best all-around sports betting mobile site for North Dakotans is Bookmaker.eu. Bookmaker's mobile interface has the same functionality as using the full-blown site, meaning you can have the same experience using your devices. That's not just the sportsbook, which is what these rankings are based on, but also Bookmaker's racebook and online casino.
With that said, Bookmaker is the best choice for sports wagering in the state. Bookmaker caters to all gamblers, regardless of their experience level or how much they're comfortable risking on a given bet. There are high betting limits, which allow high rollers to go big, but there are also very low minimum bets, which means that more cautious bettors, like people who are new to the whole experience, can take baby steps into the world of sports betting.
There's also a free casino, which allows inexperienced gamblers to learn how the various games work before they start wagering money. Meanwhile, the sportsbook publishes its odds earlier than most other sites, meaning that pros and other experienced gamblers can get started on their betting day. Bookmaker also has a reputation for letting gamblers on a winning streak keep it rolling, instead of cutting them off like many sites and in-person casinos do.
The user interface is very friendly, meaning that new users can find their way around and heavy bettors can pick their bets and get money down quickly. Bookmaker also has an outstanding loyalty program and a flexible set of sign-up promo offers.
Pros:
Mobile site has all the functionality of the main site
Has high betting limits and low minimum sports bets
Publishes lines and odds earlier than competition
Loyalty program and bonuses are among the most generous
Cons:
Loyalty program excludes professionals
No online poker room
2. Heritage Sports: Our Top Choice for Live Betting in ND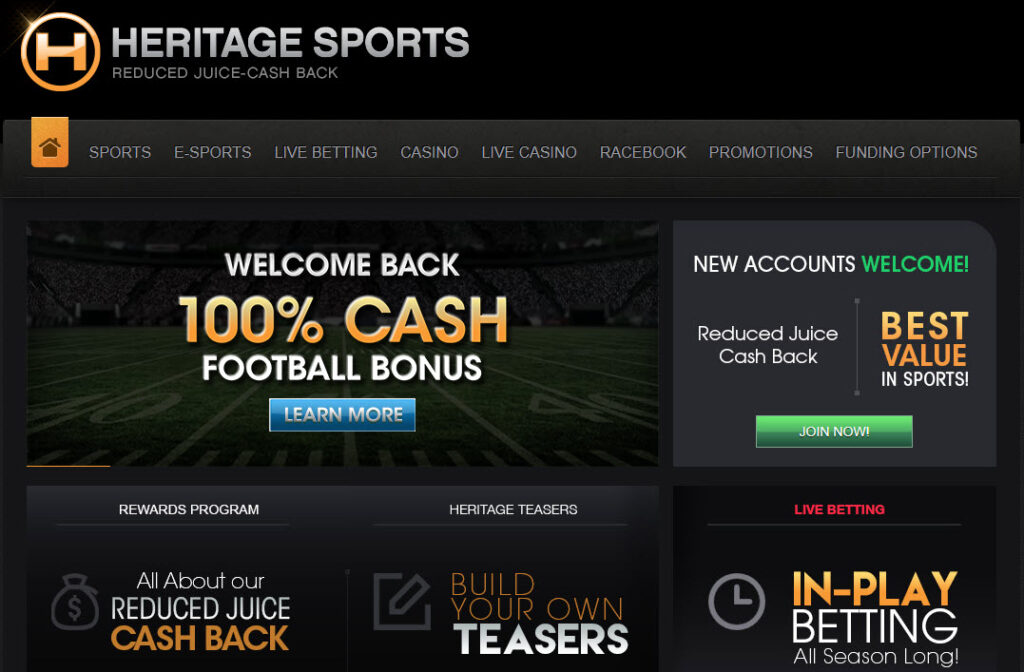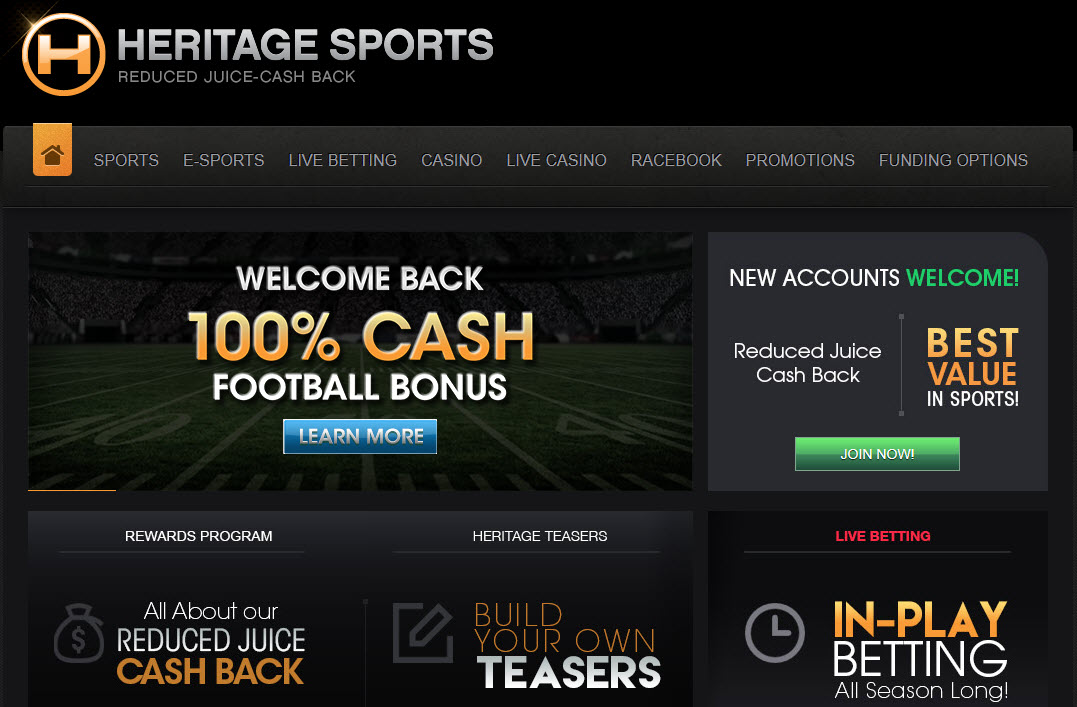 Heritage Sports finished in second place. Our expert panel was impressed with the red-carpet treatment that customers get at Heritage Sports. That's no surprise—the site started as invite-only. Eventually, they opened up and let all customers join up, but they still treat their clientele like they are among the elites. Heritage Sports has 24/7 customer service, fast, easy payouts, and cashback rebates.
The sportsbook at Heritage Sports has reduced juice, setting odds of -108, instead of -110, on many games to give a bit of a discount to gamblers. And the mobile site at Heritage is just as good as the main site, both for the sportsbook and for the casino, which features video versions of slots and table games as well as a nice live dealer section.
Our experts also crowned Heritage Sports as the top choice for live betting. They were one of the first sites to feature the opportunity to bet on games in progress, and while the rest of the industry is rushing to catch up, Heritage Sports' live betting platform is still the best in North Dakota.
Pros:
Mobile site is fully optimized
The best live betting interface in ND
VIP treatment for all bettors
Sportsbook has reduced juice lines
Cons:
Deposit bonuses aren't as high as other betting sites
No live online poker room
3. Bovada: Best Mobile Platform Interface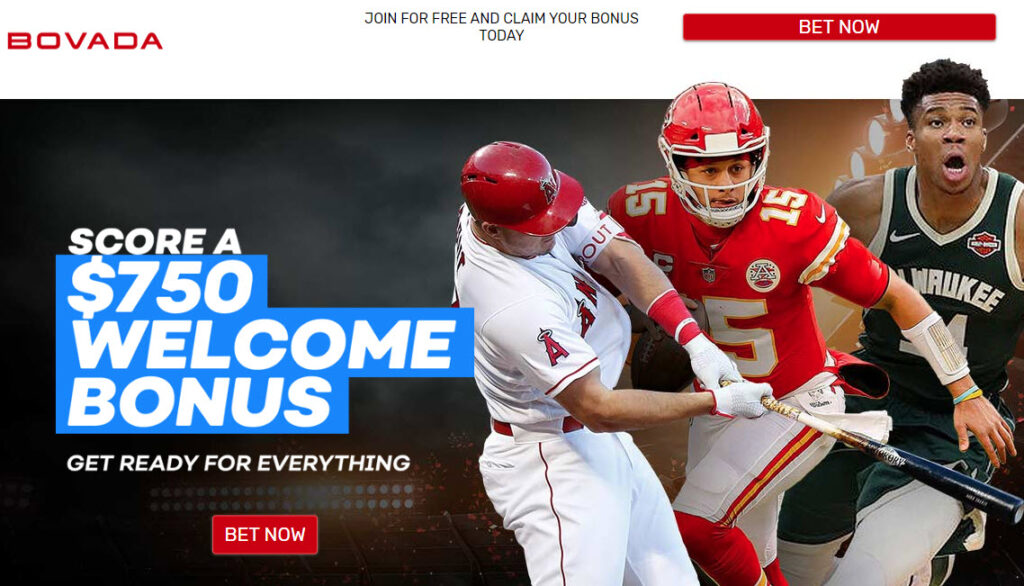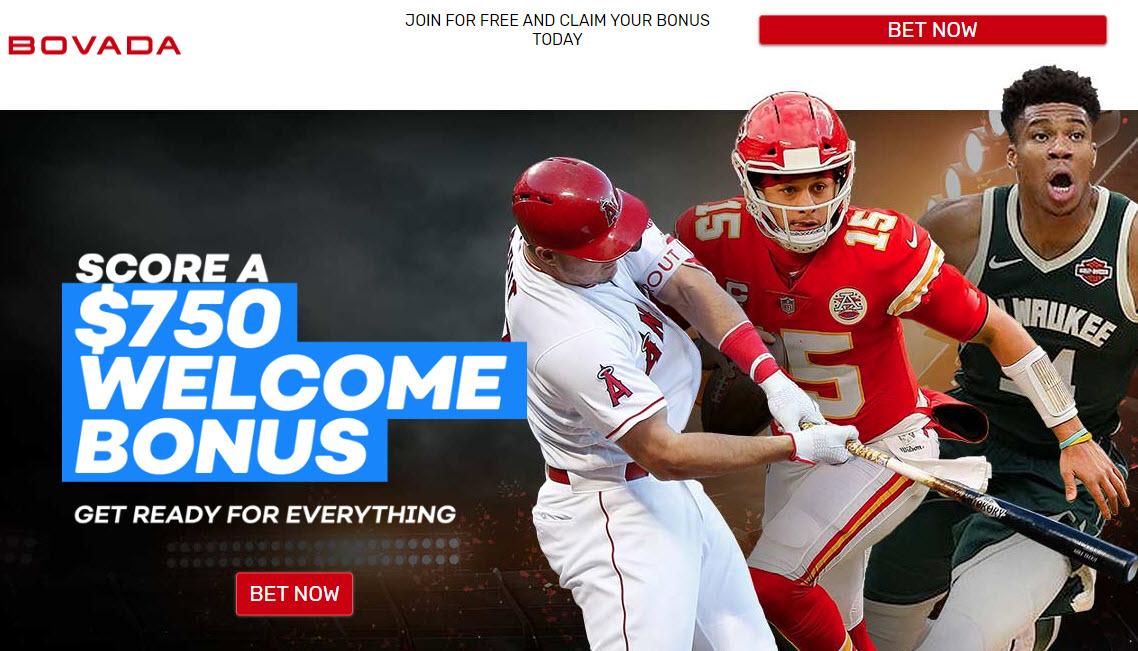 Bovada finished third in our top 10, but in a popular vote, its large, vocal group of loyal fans might put it on top. Bovada appeals to the masses by having a full casino experience, both on the computer as well as on phones and tablets.
Gamblers can use their mobile devices to wager in Bovada's racebook, casino, and poker room. Bovada is home to the busiest poker room in America, and the site also allows customers to bet on virtually any market, including entertainment and politics.
The sportsbook's mobile site is what earned Bovada the third spot in these rankings, though. It has the industry's largest menu of prop bets, including plenty of low-risk props that amount to nearly-free money to get gamblers started on the right foot.
While many online betting sites treat their mobile interface like an afterthought, putting bare-bones versions of the main site available for phones and tablets, Bovada took great care in creating a mobile experience with all the same functionality as the full-blown interface.
New customers have their choice of a number of intriguing welcome bonuses, and Bovada makes it easy to cash in your bonus money, with much lower rollovers than the competition. Bovada's bonuses have just a 5x rollover which is twice as low as most other sites.
Betting limits go up to $5,000 for some events, which should be high enough for everyone except professionals.
Pros:
Offers the most prop bets in ND
Home to the busiest live online poker room in the U.S.
Dedicated poker app
Low rollover requirements attached to bonuses
Cons:
Betting limits not high enough for professionals
Lines and odds are published relatively late
4. BetOnline: Best Opinionated Lines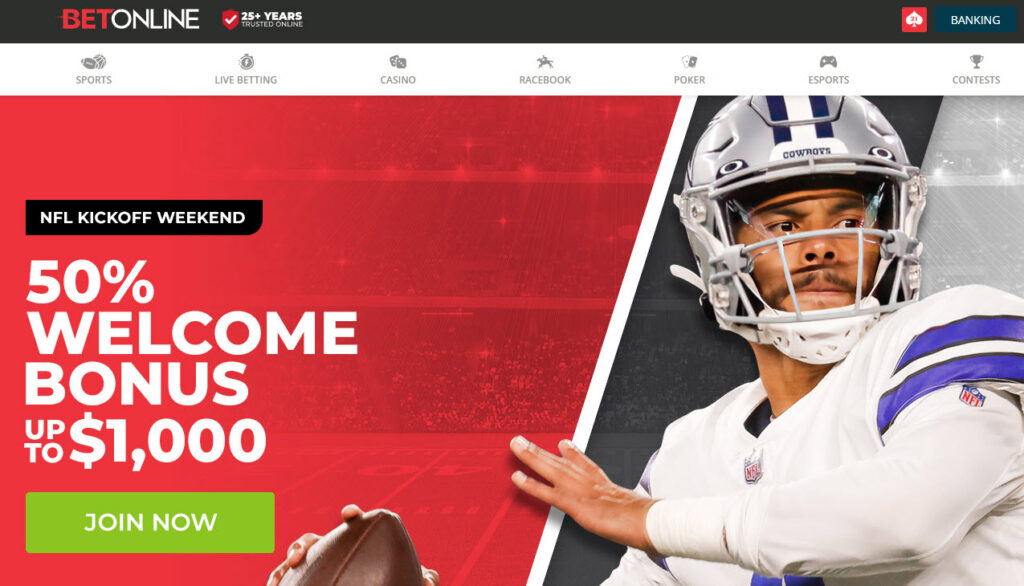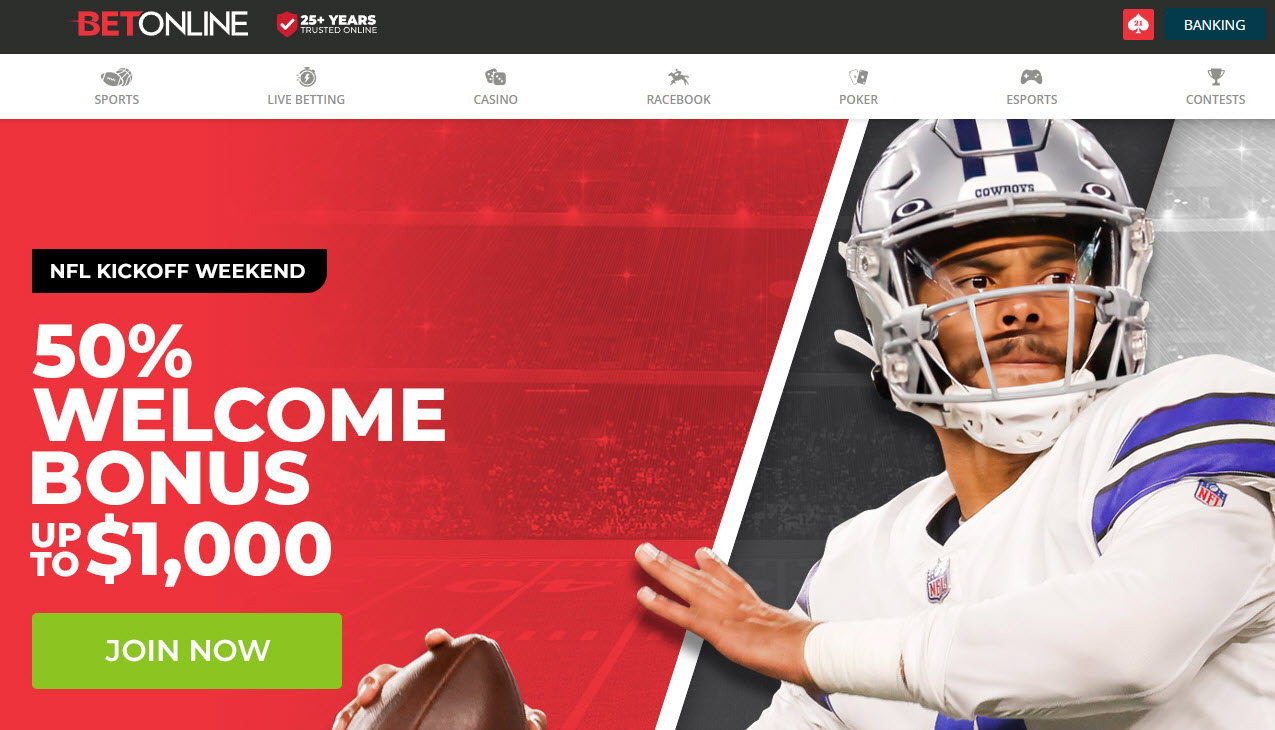 BetOnline manages to set itself apart from other offshore sportsbooks in North Dakota by being the source for opinionated lines.
Several sites offer reduced juice, which allows lines on either side of a cutoff for point spreads and totals betting to drift from -110/-110 which is the industry standard. Some reduced juice sites set them at -108/-108, or even -105/-105.
Opinionated lines are related to reduced juice, although they're not exactly the same. BetOnline allows the lines on either side of a cutoff to drift from each other. So they might be -112 on the over and -108 on the under, or -113 if you take the points and bet the underdog but -107 if you give the points and pick the favorite.
That means that BetOnline's odds are different from the vast majority of other sites out there, and differences in odds can help bettors if they choose wisely. It offers an area to make a tidy profit for savvy gamblers if they shop around.
BetOnline also has a poker room that is part of the third-largest online poker network available in the United States. And there's an online casino with a library of games that includes more than 500 different titles and variations.
BetOnline's mobile site, for sports and everything else, recently was upgraded, making their interface and software among the best you'll find in North Dakota. The sportsbook has a mobile-optimized site, but BetOnline has a separate app for the poker room that users can download to make it easier to start playing.
Pros:
Top source of opinionated lines for North Dakotans
Third busiest poker room in the U.S., with its own app
Large online casino 
Recently upgraded mobile software
Cons:
Charges fees on some transactions
Some users have complained about the poker room
5. BetAnySports: Best Reduced Juice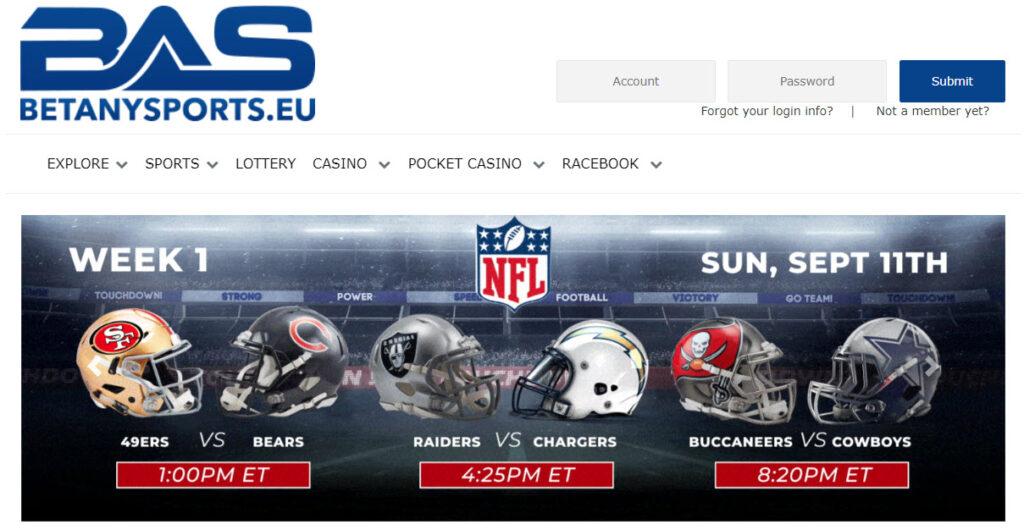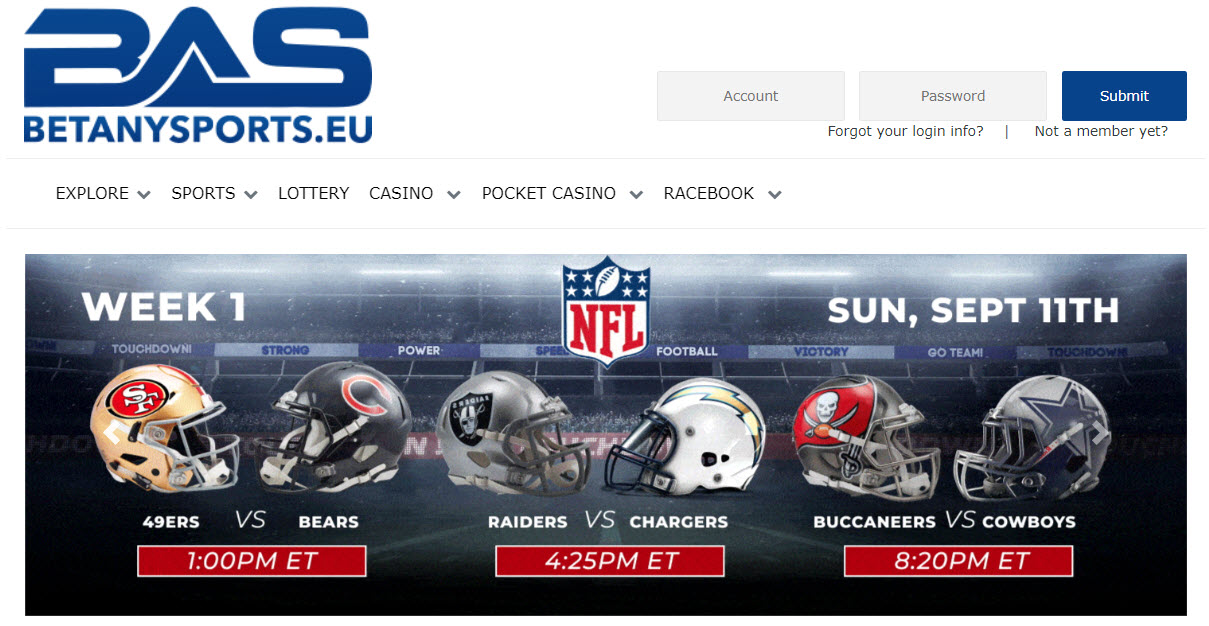 BetAnySports is the latest member of our A+ club, getting their overall grade raised to the highest one possible by our expert panel of evaluators. The site came into the latest evaluation already sporting an A, so it wasn't a huge jump. Our experts were impressed by the value customers get from the site, thanks in large part to its reduced juice betting lines.
Several sites offer reduced juice. Usually, they'll stray from the industry standard of setting odds on either side of a point spread or total at -110/-110 and instead set them at -108/-108. This gives bettors a small discount on each bet that adds up over time. BetAnySports goes even farther, setting the odds at -105/-105. That cuts the amount gamblers stand to lose and makes it easier for them to stay in the black over the long run.
BetAnySports cuts into its own house edge to provide the reduced juice to customers, and that means they're passing some of its potential profit on to the gambler. So they have to cut expenses elsewhere in order to keep turning a profit themselves. That means gambling there can be a little bit like flying a no-frills airline. The price is low, but there are no bells and whistles.
Bonuses and promotions are smaller and less frequent than at other online options, whose odds are not as favorable to you. And BetAnySports' user interface—both on the full site and the mobile-optimized one—is bare bones and sparse. You won't find slick graphics, shortcuts, or other features. But it's easy to find what you need and get your bet placed.
One area where BetAnySports doesn't skimp is customer service, which earned praise from our expert panel.
Pros:
Most generous reduced juice and best value for bettors
Site is easy to navigate both on devices and computer
A top-rated customer service department
Cons:
Bonuses and promotional offers are smaller than industry standard
Interface is more bare bones and sparse than other sites
6. BetUS: Best Bonuses in North Dakota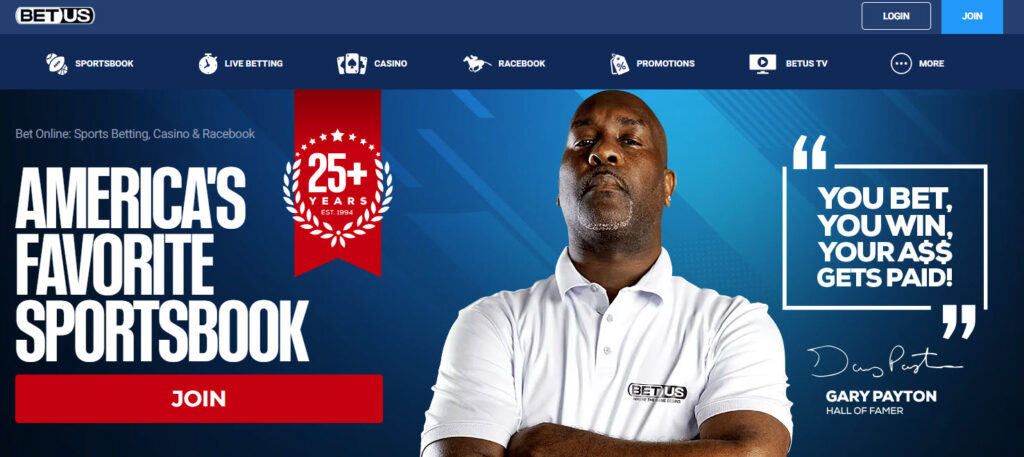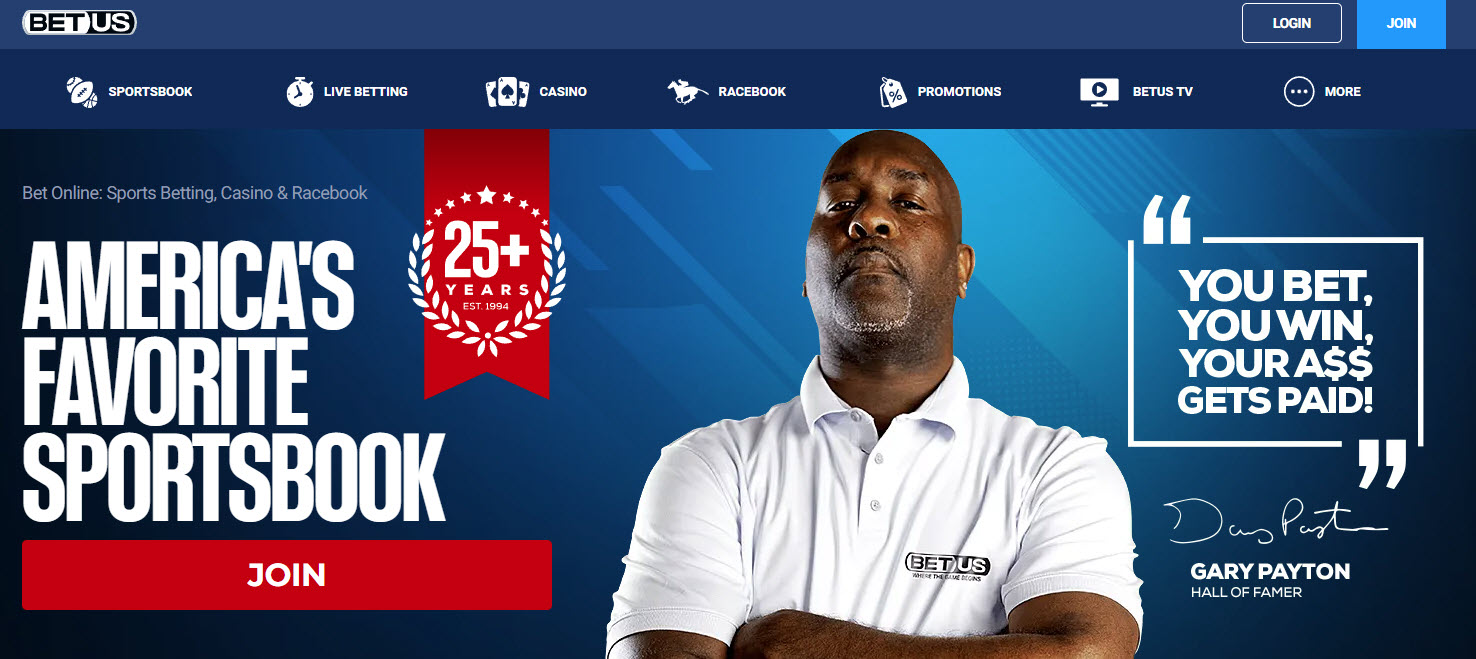 BetUS came in at No. 6 in our top 10, but it earned an honor from our expert panel, which recognized them as having the largest bonuses in North Dakota. New users can double their money before they even place their first bet, thanks to BetUS' generous welcome bonus when you make your initial deposit.
It's actually not just one bonus but rather a set of welcome bonuses, giving new bettors a menu they can choose from, trading off bonus amounts against rollover requirements. No one has a more flexible bonus program. Higher dollar amounts in your account come with higher rollovers, but if you're willing to take less money upfront, you can withdraw it sooner with a lower rollover attached.
BetUS also has two separate bonuses—one for the online casino and one for the sportsbook. The bonuses can match anywhere from 100% to 200% of your initial deposit, meaning you will at least double your money and could triple it. The typical customer can get up to $3,000, depending on how much they deposit.
Their mobile site at BetUS is organized and easy to navigate. Some thought clearly went into the menus, which locate various options in intuitive places, meaning you're not going to have to click around to find what you want to do.
BetUS also has a personality, with a creative presence on social media and weekly content, including podcasts featuring NFL Hall of Famer Warren Sapp and video previews of big games.
Pros:
Flexible bonus program allows users to choose bonus amount and rollover that suits them
Separate bonuses for casino and sportsbook that each match over 100% of your first deposit
Creative team features weekly podcasts and videos
Mobile platform is well-organized and easy to use
Cons:
Rollover requirements are fairly high
Lines and odds are not published early
7. WagerWeb: Same-Day Bitcoin Payouts


WagerWeb is a partner site of Heritage Sports. If that name rings a bell, it's because it finished second in our rankings. The two sites have many similar characteristics, which is a big reason why WagerWeb also earned a spot in our top 10.
Like Heritage Sports, WagerWeb's sportsbook has reduced juice betting lines. It also offers a 1% cashback rebate promo to loyal customers. Welcome bonuses can pay as much as $1000, depending on how much new customers deposit when they register for an account.
WagerWeb is more than just a carbon copy of Heritage Sports, though. It began operation in 1994 and has spent the last three decades treating gamblers fairly, paying out on time and in full, and providing an outstanding gambling experience. The partnership with Heritage Sports has just added to the site's long track record of dependability and trust.
WagerWeb's mobile site works on all devices. Pages load fast with no glitches or crashes. It's also fast and easy to place bets, meaning you can easily participate in live betting, where speed is important, since the game is ongoing, even on your phone or tablet. The user interface also looks good and is easy to navigate.
Pros:
Pages on mobile site load quickly and look slick
Sportsbook has reduced juice lines
1% cash back rebate program
30 years as a top online gambling site
Cons:
Customer service shuts down after the last game of the day finishes
Betting limits are relatively low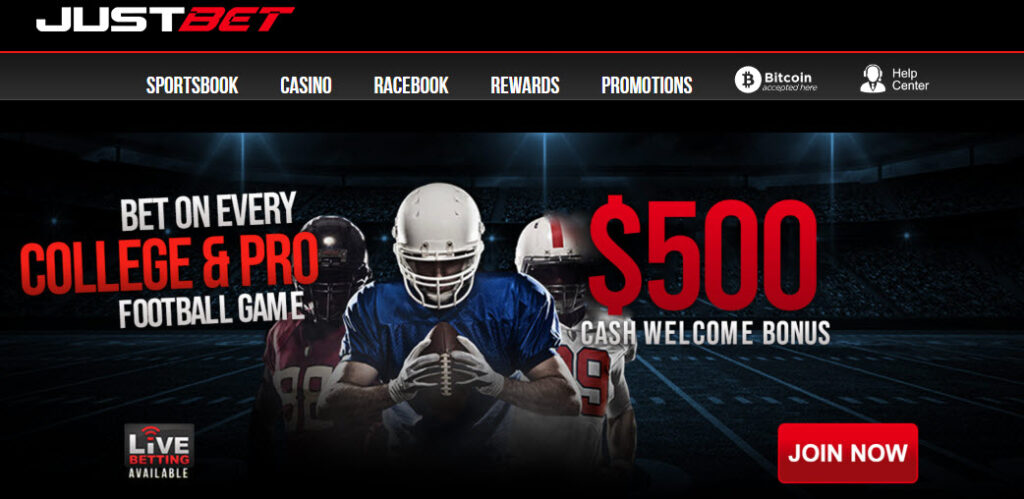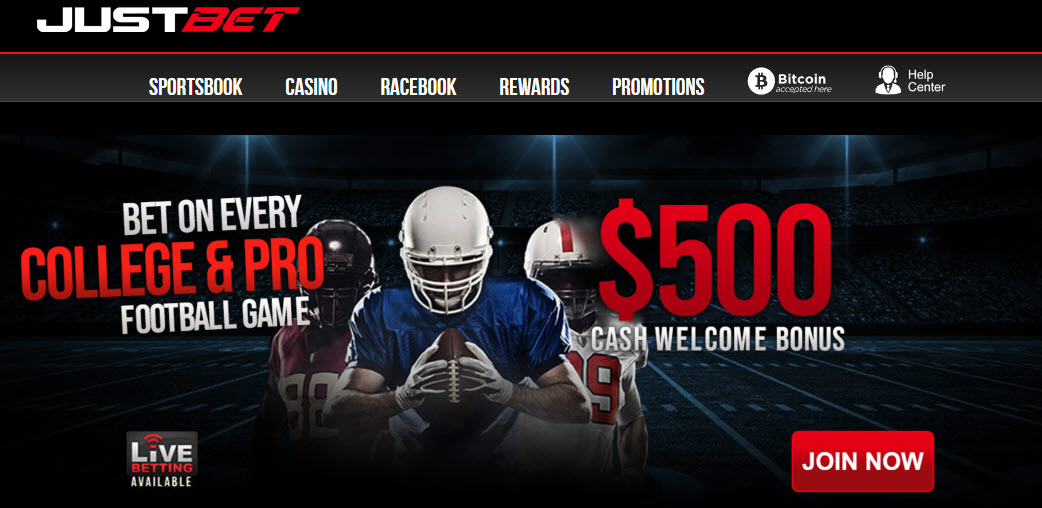 JustBet is another partner site of an online sportsbook we've already met in the rankings. It is a sister site of Bookmaker.eu, which was the choice of our experts as the top all-around site in North Dakota. It doesn't have the well-known name of Bookmaker, but it's a nice lesser-known location for mobile sports betting—kind of a hidden gem.
Like Bookmaker, JustBet has something for all types of gamblers, from pros to newcomers, high rollers to frugal, cautious types. It has high limits and low minimums, so you'll find a betting amount comfortable regardless of your risk tolerance. It also has user-friendly software and a mobile site that has all the functionality of the main site.
JustBet's mobile interface sets it apart from Bookmaker. They go with a bare-bones approach that makes it easy for North Dakotans to find the bets they want to make and get their betting slip filled out quickly, without a bunch of clicking around searching for the options they want. They have a list of games about to start or most popular bets, which are both just a click away. All of which makes JustBet an ideal site for live betting on in-progress games.
Pros:
Layout of mobile site makes it ideal for live betting
High betting limits
Odds and lines are published early
Caters to all levels of experience
Cons:
No search function
Doesn't offer a live online poker room
9. Everygame: Worldwide Menu of Sports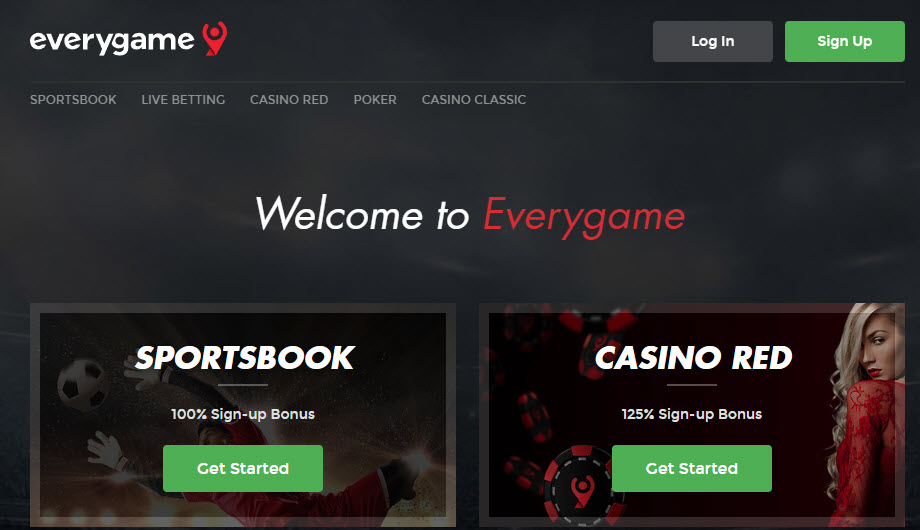 Everygame offers gamblers the best of both worlds—it's the oldest online sportsbook in operation, meaning it has a track record of 30 years long. So you can trust them to treat you fairly and protect your money—they've been doing it since the early days of online gambling. They also have one of the newest and most cutting-edge user interfaces, thanks to a recent website upgrade. So you get an unblemished reputation built over decades, as well as state-of-the-art technology, all in one place.
The new site gives users a slick, attractive betting experience and is one of the best mobile betting sites in the state. In fact, Everygame was the choice of our experts as the best mobile casino in North Dakota, and the sportsbook also ranks high on their list. The casino also features the most table and slot games of any site in the state. 
Everygame has customers from around the world, so its menu of games includes obscure and little-known sports and teams that many other gambling sites don't have.
The mobile site has shortcuts to make it easy to find your way through all the casino games and sports options. The sportsbook features lists of games that are starting soon, to help you avoid a lot of clicking and searching.
Pros:
Mobile interface is one of the newest and highest-tech you'll find
Largest menu of sports and games from around the globe
More casino games than any other site
Shortcuts make it easy to navigate on computer or mobile devices
Cons:
Can have delays in account verification
Mobile site pages sometimes load slowly
10. GTbets: Ongoing Promotions That Change by the Week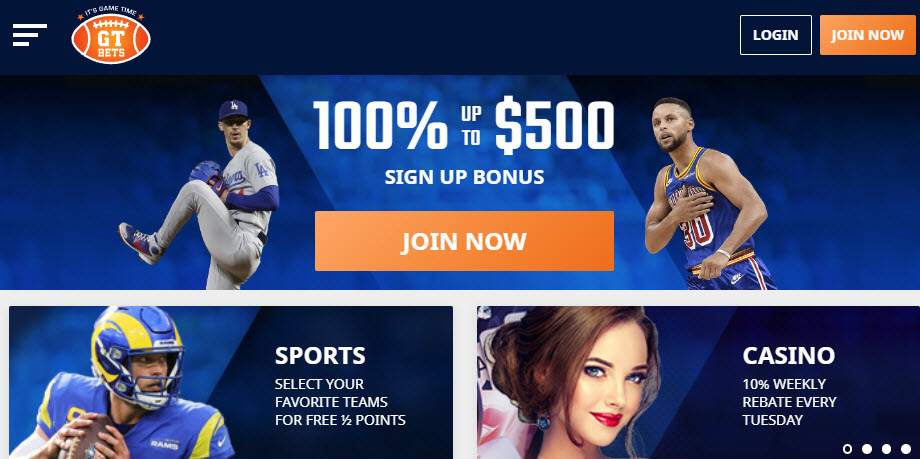 For the most part, online sportsbooks offer the same menu of major sports leagues around the world. Odds are similar from book to book, and there are only so many markets that a site can take action on. So online sportsbooks can all start to look alike after a while. Then there's GTbets.
The site is one of the most creative ones in the industry and manages to set itself apart with hard work and innovative ideas. When you become a customer, you'll get plenty of attention, in the form of ongoing promotional offers. GTbets offers so many that they send out a weekly email letting you know which offers you can take advantage of now.
New users also get treated well. GTbets matches the first deposit in full, up to $500, then matches all future deposits at 50% as reload bonuses, up to $999.
Then there's the favorite team feature, which caught the attention of our experts. You don't have to worry about whether you're betting with your head or your heart. GTbets lets you do both by giving you an extra half-point on the line when you bet on your favorite team. So, if you love the Vikings, and they're three-point favorites, you can bet them at -2.5.
Pros:
Offers a boost to the spread when betting on your favorite team
Bombards customers with promotional offers
Generous reload bonuses
Reduced juice on all football lines
Cons:
Fees on withdrawals are high
No search function to use on mobile site pages
How We Rank the Best North Dakota Betting Apps & Mobile Sites
Our experts evaluated the top sportsbooks in North Dakota on a number of factors. Here are the ones they thought were important.
Mobile Betting Experience
The best sportsbooks in North Dakota offer all the functionality of their full-blown site, even if customers are using mobile devices. Apps and mobile pages should load fast, be easy to navigate, user-friendly, and laid out in an intuitive way. They should be easy to read, even on small phone screens, and have shortcuts to help you find what you need quickly.
Sports Betting Apps
Betting with an app should be just as easy as using a website. The app should open quickly and allow you to find games and fill out betting slips without unnecessary delays. The best sports betting apps have safe, reliable interfaces and offer a full menu of sports, banking methods, and bonuses.
Mobile Betting Bonuses
The top sites have a flexible set of bonus options. They should allow you to pick the combination of match percentage, maximum bonus amount, and rollover requirement that best fits your preferences. Bonus money can be limited to certain areas of the site—for instance, only able to be used in the casino or sportsbook. Some sites offer separate bonuses for each area. The sites in our top 10 are flexible, allowing you to pick from several bonus and rollover options.
Live Mobile Betting & Streaming
Live betting, or in-play betting, as it's often called, is ideal for mobile devices. But you need to be able to load pages and place bets without delays since the game is going on and odds can be changing. The best sites have efficient live betting interfaces. Many sites have live streams of games, so you can watch the fate of your bet in real time.
Banking Options
Using an offshore site means your transactions will span multiple countries. That can add complexity and could result in fees or delays. The best sites make it fast and easy to deposit and withdraw money. Transactions should be secure, and the site should have multiple banking methods, including credit cards, bank transfers, e-wallets, and crypto. Most sites also have enticements for customers to use crypto, such as same-day payments
Customer Service
The best sites have fast, responsive customer service, available 24/7 in multiple languages. Hold times shouldn't be too long, and there should be multiple ways to seek help, including phone, email, and live chat.
Security
All the sites in our top 10 have unblemished reputations for being safe and secure. If there were any questions in that area, we dropped the site from consideration.
Is mobile sports betting legal in North Dakota?
We're frequently asked, "is it legal to bet on sports with mobile devices in North Dakota?" The answer is, "It depends."
The state has not yet legalized online sports betting. The state house has passed a bill that would legalize it, but it still needs to pass the senate and a voter referendum, meaning it won't go into effect until 2025, at the earliest. In the meantime, people looking to bet on their phone or tablet in North Dakota will need to use an app or mobile site provided by an offshore sportsbook, like any of the ones in our top 10. Offshore sites follow the rules of their own country, meaning it doesn't matter to them whether North Dakota has passed a law or not.
How to Sign up for a North Dakota Betting App & Mobile Site
Getting started with a betting app or mobile site is fast and easy, it takes just a few minutes to register. Here's a quick guide.
Step 1: Open a Sports Betting Account
Once you've chosen the site you want to use, go to the homepage and click "Join." Enter the requested identifying information. You may need to verify your identity by entering a code sent to your phone.
Step 2: Choose a Payment Method
Once you've set up your account, you need to deposit money to bet with. Go to the Cashier section, and choose a deposit method. Enter your account information and the amount you want to deposit.
Step 3: Select a Welcome Bonus
Most sites offer different welcome bonuses. Pay attention to the matching percentage, expiration dates, rollovers, and maximums. You also might get additional money for using cryptocurrency. Be sure to enter any required promo code.
Step 4: Choose a Sport to Wager on
Now you're ready to bet! Pick a sport, game, and betting market and fill out the betting slip.
Step 5: Place your Bet
Submit the slip, and you've placed your first wager.
North Dakota Betting Apps & Mobile Sites for iOS & Android
Sports betting apps and mobile platforms should work on all mobile devices—phones and tablets, new models and old, Android and iOS.
North Dakota Mobile Sports Betting on iPhone
To download a sportsbook app, iPhone users need to go to the Apple Store. Use the search function to find the app associated with your favorite sportsbook. Download it to your phone, and an icon should appear on the home screen.
If the sportsbook you chose doesn't have an iPhone app, you can create a mobile progressive web app on your device for free.
North Dakota Mobile Sports Betting on Android
Android users can download a site's app from the Google Play Store. You can search the store for the app title and then download it to your device. If the site doesn't have a native app, you can create a mobile progressive web app on your device.
Mobile Sites vs. Sportsbook Apps for Betting in North Dakota
We've been talking about mobile-optimized websites and apps as if they were one item, but they are not the same thing. Both offer easy wagering from your phone or tablet, but there are some differences between the two:
Mobile Site
You don't need to download anything to use a mobile site. In fact, you don't have to do anything different. Just go to a sportsbook's URL on your phone or tablet, and the mobile site will automatically load. It's the version of their site that they load onto your phone browser.
Pros:
Easy to access
Doesn't require storage space on your device
Doesn't need to be updated
Accessible on all devices—phones and tablets
Cons:
Site may be down for maintenance at times
Not as secure as using an app
Mobile App
To use an app, you must download and install the app on your phone or tablet. It will appear as an icon on your phone screen and click the icon to open the app. 
Pros:
Quick and easy to start the app
More security than using a mobile site
Guaranteed to work on your device
Cons:
Not all sites offer apps for all devices
Need to clear enough storage space on your device
FAQ – North Dakota Sports Betting Apps
Can you online bet in North Dakota?
Yes, but you should know that North Dakota does not yet have a legal sports betting industry. For that reason, the only way for players to wager on their favorite sports is to do so with offshore sportsbooks.
What sports betting apps are legal in North Dakota?
North Dakota's current laws mean that there are no native mobile betting apps that are offered and locally regulated. Instead, players can use mobile-optimized online sports betting sites that operate offshore.
What kind of gambling is legal in North Dakota?
There are tribal casinos located throughout the state and horse racing betting is available at local horse tracks. North Dakota also has a state lottery. North Dakotans typically use offshore sites for online sports betting.
Is MyBookie legal in North Dakota?
Because MyBookie is an offshore sportsbook (we gave it a B), North Dakota residents can use the site for online sports betting. Offshore betting sites do not have to adhere to North Dakota's gambling laws.
Can you use a VPN to bet out of state?
Because all of the mobile and online betting options we have reviewed operate offshore, you do not need to use a VPN to access them. You will be able to bet on professional sports and college sports with no restrictions.