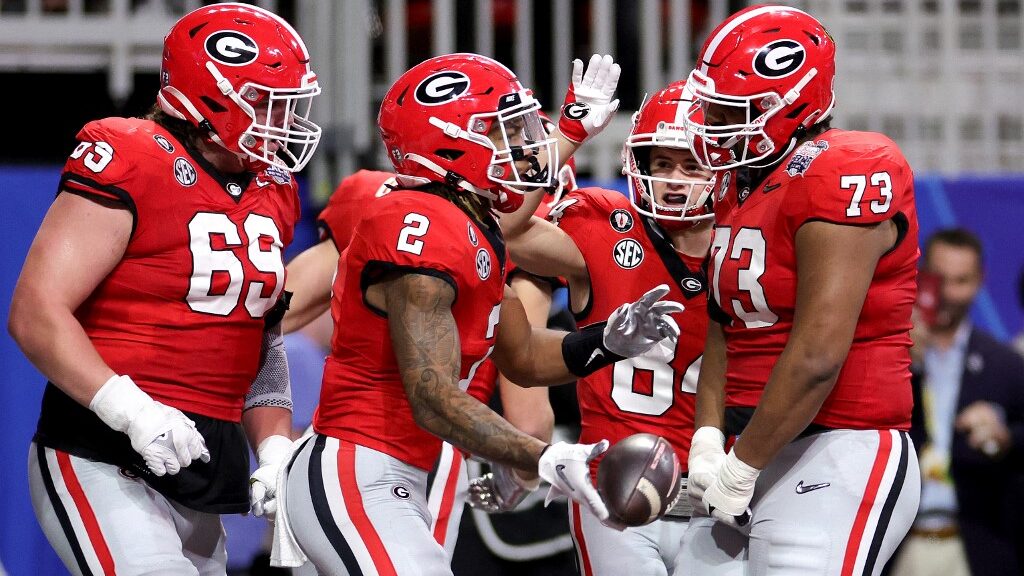 Later tonight we will crown a college football national champion. Will we have a Georgia repeat or one of the most shocking surprises in college football history with a TCU stunner?
Here is what our research tells us about what bettors are thinking about several NCAAF odds.
---
TCU Horned Frogs vs. Georgia Bulldogs
Monday, January 09, 2023 – 07:30 PM EST at SoFi Stadium
Point Spread Betting Trends
Though we've seen a couple of variations, the common opening line was Georgia -13 on December 30, after the semi-finals were completed.
There was a mixture of early sentiment that TCU's offense, especially the passing game, could exploit what appears to be a vulnerable Bulldogs secondary; though the majority of those making early NCAAF picks were on TCU at +13, the betting odds remained unchanged.
On Thursday, with over 70% of the money and bets on the Horned Frogs, the line was adjusted downward to 12.5, and talking to those in the industry, the line movement was a combination of the betting public and sharp money.
This mattered because though 13 points are on the lower side of football key numbers, it still is one for Georgia backers. After being quiet for days, by Sunday morning the number was back to 13 with more than 80% of the money on TCU and two-thirds of the bets placed. And early today, those numbers were down to 75% and 65% respectively.
The most common belief is that sharp money is modestly on TCU for the championship game and the vast majority of the public is putting their money on the underdog. Will that prove to be the correct decision?
Total Trends
While there was some difference of opinion on the starting total, most betting sites used 64 for the opening number and that was quickly moved to 63 by influential money and that number stayed there all week until Sunday.
As opposed to the point spread, football totals are not usually not heavily wagered on until closer to game time unless sharps are convinced there's been an error and they will typically pound that early. Seeing there is just a single contest, the chances of that occurring are next to none.
All the money and bets placed had been running hot on the Over with bettors believing TCU would be able to score on the Georgia secondary unless they had a steady pass rush. The other train of thought was the Bulldogs almost assuredly would score into the 30s and maybe beyond against coach Sonny Dykes defense.
Of the wiser bettors we talked to, it was about 60-40 favoring the Over and, universally, everyone did not see this varying more than 3 points from the 63 when we spoke to them and most were going to make a smaller or average wager for how they bet. With largely public bets running at 75% Over, the total had crept up to 63.5. The cash was lower, totaling up to 60% on the Over.
Point Moneyline Trends
This one surprised us. With as many bettors that are willing to back TCU with the points, you would think there would be at least enough small to medium-sized bets on the team in purple and white for the money line, especially at +375.
That has not been the case at all with moneyline wagering running at 90% on Georgia, which as you might imagine is mostly all public money.
Top Prop Bets
Through some backdoor sources in the business, here are the Top 3 props we are hearing that are getting hit the hardest. Not everyone will be available at every US sports betting site and lines may vary, but you will understand.
Max Duggan Over 1.5 Pass TDs
Quentin Johnston Over 0.5 Receiving TDs
Kenny McIntosh Over 20.5 Receiving Yards
---
The Consensus
Georgia is expected to win back-to-back titles. Nevertheless, the wagering masses prefer TCU with the points with sharp money still favoring the Frogs, though closer to even and the total to go Over by the majority of both parties.
Are you a TCU or Georgia fan looking to bet on this game? If so, you can do it at our top Texas and Georgia betting sites.