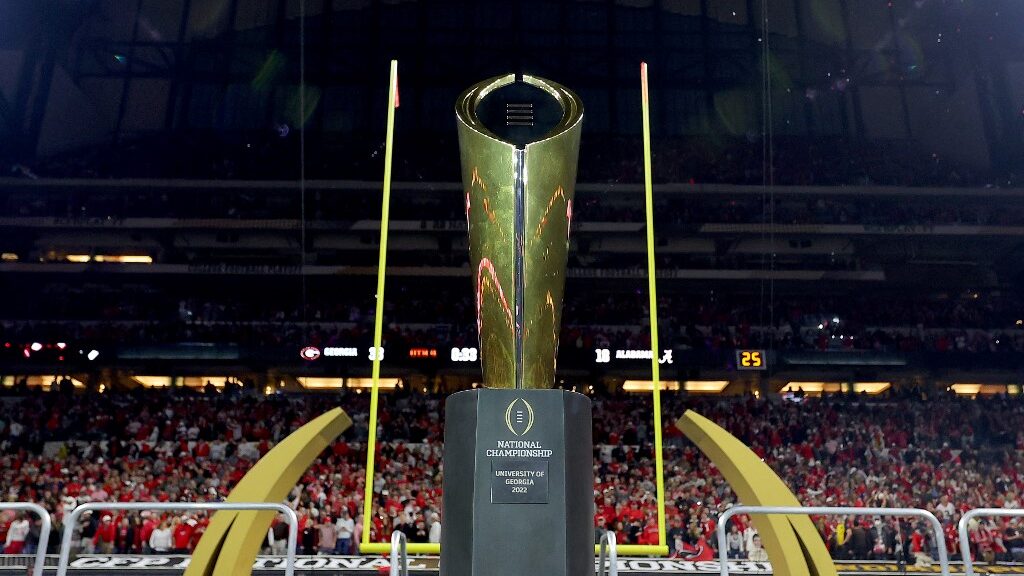 The college football national championship has arrived and the team everyone believed would be there at the end is indeed one of the two left standing. Georgia will try to repeat as national champs but an unlikely challenger, TCU, stands in their way.
Below we discuss the prevailing college football national championship odds and whether there are more deserving teams that should be included in college football's biggest game on its grandest stage.
TCU Horned Frogs vs. Georgia Bulldogs
Monday, January 9, 2023 – 07:30 PM EST at SoFi Stadium
Georgia Bulldogs
Spread: -13 ½ at Heritage Sports (visit our Heritage Sports Review)
Moneyline: -500 at BetOnline (visit our BetOnline Review)
Current Record: 14-0
Notable Wins: Oregon (49-3), Tennessee (27-13), LSU (50-30), Ohio State (42-41)
More Than Deserved
Unquestionably, undeniably, and unequivocally the Georgia Bulldogs belong in the national title tilt, especially after their miraculous come-from-behind 14-point fourth-quarter rally.
But don't ever say I didn't warn you about the Dawgs' one defensive flaw when I wrote before their thrilling 42-41 victory over the Buckeyes, "If the Dawgs have an Achilles heel defensively, it's a pedestrian pass defense, that allows over 215 passing yards per game."
And that nearly fatal flaw was on full display in the CFP semifinals when Ohio State's C.J. Stroud torched the Georgia secondary for four touchdown strikes and 348 passing yards. But as expected, the Bulldogs' run defense was stout, holding the Buckeyes' leading rusher, Dallan Hayden, to just 43 rushing yards.
That Final Kick
The game all boiled down to a 50-yard field goal kick that would have pushed the Buckeyes over the top and into the national championship.
However, Noah Ruggles, perfect on his two previous field goal attempts, as well as his five extra points, felt the collective weight of the 80,000 in attendance and shanked his kick wide right to give the Bulldogs the one-point victory and a trip to SoFi Stadium on January 9th to meet the Horned Frogs.
"If we want any chance of winning the national championship, we've got to play a lot better football than we played tonight, but we've got to keep our resilience," said Georgia head coach Kirby Smart.
---
TCU Horned Frogs
Spread: +13 ½ at Heritage Sports
Moneyline: +395 at BetOnline
Current Record: 13-1
Notable Wins: Oklahoma (55-24), Kansas (38-31), Oklahoma State (43-40 2OT), Kansas State (38-28), Texas (17-10), Michigan (51-45)
Are They Better Than Alabama?
TCU is the only one of the four CFP finalists that gave me cause for pause. And to be perfectly clear, I am still not convinced they are a better team than Alabama who rag-dolled Kansas State, 45-20, to win the Sugar Bowl.
Yes, that same Kansas State team that handed TCU their only loss of the season and won the Big 12 championship in doing so.
Do I believe TCU is better than Bama? No, had both teams played against each other on Sunday, Alabama would have prevailed as the Tide would not have caught a case of the yips like Michigan did during the game's biggest moments.
It Should Have Been Ohio State
While I'm shredding the Frogs, let me also state that they should have checked in as the No. 4 team in the nation, not No. 3, which would have pitted them against Georgia while Ohio State would have triumphed over Michigan.
Thus, instead of talking about a team entering the national championship game that didn't even win its conference, we would have been talking about two of the premier heavyweights in college football, Ohio State vs. Georgia, taking center stage.
And before all of you, Horned Frog disciples, return fire and accurately point out that the Buckeyes didn't win their conference crown either, I would submit that the Big 12 is the Zaza Pachulia of the Power 5 conferences.
For those who need a refresher, the Golden State Warriors' greatest starting five ever assembled consisted of Steph Curry, Kevin Durant, Draymond Green, Klay Thompson, and, of course, the immortal… Zaza Pachulia.
Everyone Loves a Cinderella Story
However, I must give credit where credit is due and TCU has plenty of it coming. The Frogs were nowhere to be found in any of the national college football pundits' preseason top 25. TCU was a 5-7 team last season and anything more than seven wins this year would have been deemed a resounding success.
However, the newly installed head coach, Sonny Dykes, had bigger aspirations but even he could never have dreamed of a national championship showdown against Georgia in his inaugural season at TCU. But the Frogs earned their stripes after a wild 51-45 shootout over Michigan in the CFP semifinals, keeping their Cinderella season alive even if it is for just one more week.
After TCU's victory over Michigan, coach Dykes described the win over the Wolverines and what his team is all about this season, "They just played really tough football, hard-nosed football. Believed in each other, believed in their teammates, and just found a way to overcome and persevere. It's kind of what we've done all year. We did it tonight. That's who we are."
In closing, I didn't believe TCU belonged in the CFP and am still not thoroughly convinced after Michigan choked when it counted. But I must confess, I'm glad they're here.
And remember, if you want to put your money on this game with some college football picks, you can do it at any of our recommended Texas and Georgia betting sites.