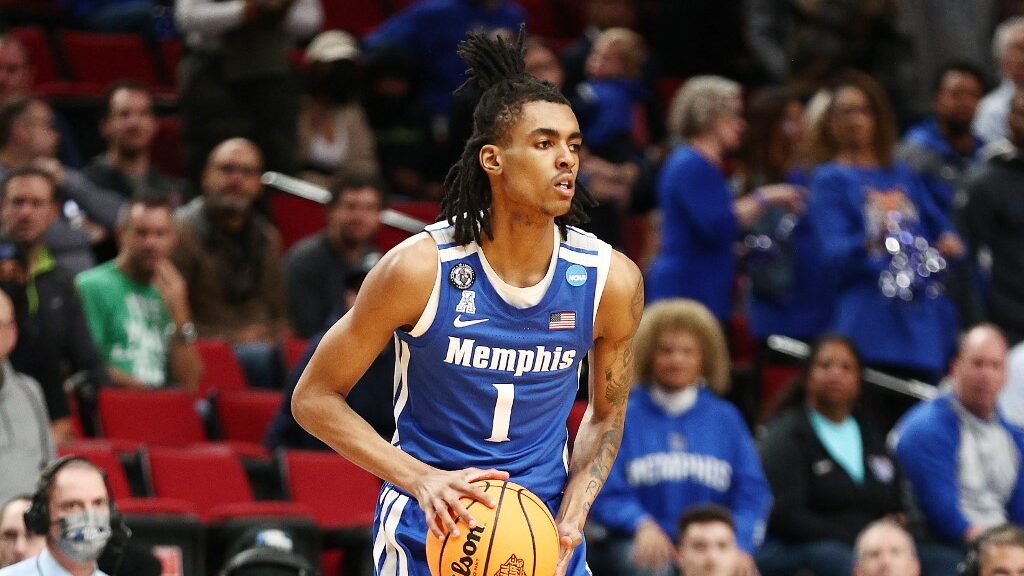 A few years ago, Emoni Bates was seen as the future of college basketball. The Michigan State Spartans thought they were getting a superstar when he committed in 2020. However, he changed his mind and played for Memphis instead.
The Tigers have a history of recruiting amazing talent, but they have yet to turn that into success on the court. Similar things happened with Bates last season. He only played in 18 games and averaged less than 10 points per game.
Bates used to be seen as an NBA lock, but he instead chose to enter the transfer portal. Many expected him to choose another blue-blood program, but he chose to play closer to home at Eastern Michigan. This may be surprising, but Bates made the decision he thought was best for himself. However, here is why he could have been a difference-maker for other schools.
Bates Has NBA-Level Potential
When you look at college basketball, your ceiling can mean more than your floor. Every player makes mistakes, but few can do what Emoni Bates does when he is at his best. He is a high-flying playmaker who can score at a variety of levels.
In college hoops, you don't have to worry about a contract value. You simply decide who is worth a scholarship. With the elite upside of Bates, there is no doubt that he is worth a scholarship for most teams.
Don't be surprised if Bates finds his way with Eastern Michigan and shines again. It is common for basketball players to thrive once they find the right situation, and Bates could have easily found his. If so, other schools will be wishing they had recruited harder this offseason.
Why Did Emoni Bates Go to Eastern Michigan?
There is no doubt that Bates was used to being the one true hooper in high school. He was the system, and that is how he became a five-star prospect. However, he struggled to play his role for Memphis. He had more turnovers than assists, and his defense was lackluster.
With Eastern Michigan, Bates will easily be the best player on the court. Fans will come to see him specifically. Even if he has a bad game, he is going to be a top option for the program.
Bates struggled at Memphis, so he really doesn't have much hope for a successful career if he struggles again. He would receive better coaching and competition at a bigger school, but he is at least going somewhere where he is guaranteed to start and compete. If he steps up and becomes the best player in the conference, then we can reignite the discussion of how he stacks up against better competition.
What Does It Mean for Eastern Michigan and Bates?
I wouldn't bet on Eastern Michigan to win their conference. After all, they were one of the worst teams in the MAC last season. However, it wouldn't be shocking if the Eagles upset a team or two this season. We'll have to wait and see how their schedule looks, but don't be shocked if they beat a Power 5 or some of the contenders in the MAC.
For Bates, you have to think that his chances of reaching the NBA are slim. He will at least get a contract with a team because of his potential, but he isn't seen as a lottery lock like he was out of high school.
If Bates thrives this year, he could still get to the NBA Draft. Right now, we have to wait and see how things play out. Too many questions are unanswered, but that's what happens when a five-star transfers to a struggling team after a weak start to their collegiate career.