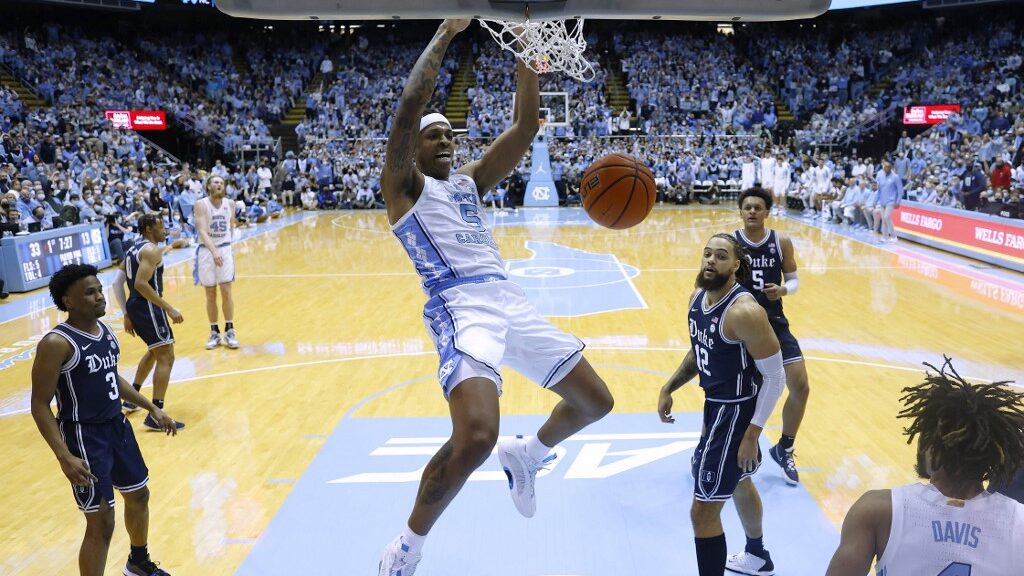 We saw two very different Final Four games to determine who would make it to the National Championship and end the NCAA Tournament. Kansas was favored, and they ran away with it against an injured Villanova squad. The offense was electric, and this game was over before it truly started.
UNC was an underdog, but they upset the Duke Blue Devils. In the first meeting between these bitter rivals in the NCAA Tournament, the Tar Heels ended Coach K's career on the sideline and fought until the end in the most exciting game in the history of college basketball. This matchup was hyped all week, and it lived up to the billing thanks to an elite performance by both squads that came down to the final moments.
However, it doesn't matter how you got here. It matters what you do with this opportunity. Both teams deserve a championship, but only one will earn it. According to Heritage, UNC is +170 to win this game. What will it take for them to come out on top? Here are three keys for the North Carolina Tar Heels to beat Kansas in the National Championship game.
North Carolina Tar Heels vs. Kansas Jayhawks
Monday, April 04, 2022 – 09:20 PM EDT at Caesars Superdome
Get Over the Last Game
If we learned anything during this NCAA Tournament, it's that the power of a moment can carry a team. Emotions run high, and that plays a pivotal role in 40 minutes of playing time. It may be a cliche, but it's why Kentucky was eliminated in the first round and North Carolina made it past Duke in the Final Four.
Join Now: $1,000 BMR 12-Week All Sports Challenge
In the game against Duke, UNC did enough to feel content to end the season. That game had everything you would hope to see in a title game, and we got it with one game left in the NCAA Tournament. That means that the Tar Heels need to get past the emotional upheaval of beating their bitter rival and ending Coach K's career within 24 hours.
To be fair, UNC has handled its emotions all season. This team is filled with veterans who are on a mission. Still, that doesn't matter if you can't do it one more time. A letdown is possible, and it will be on the head coach to get the team's mind right as they prepare for one more game to end the season.
Armando Bacot Needs to Contribute
Bacot is one of the best players in the country, and he showed why in the Final Four. He dominated the boards all game, and he was a strong defensive presence. However, an ankle injury took him out of the game momentarily. He ended up playing through the pain and contributing, but we'll need to see how he feels after the adrenaline wears off.
Bacot is one of the toughest players in basketball, and he will do everything in his power to play in this game. However, he also needs to contribute while he is out there. He needs to be healthy enough to jump and contest shots. He needs to clear the glass. His presence is important, but his contribution will be key for North Carolina to upset Kansas.
BMR Community: NCAAB Men's Basketball Betting Forum
UNC doesn't run a deep bench, so losing a star player this late in the year could be the nail in the coffin. However, Bacot could still contribute heavily if he gets a good prognosis on his ankle.
This key is sadly out of the hands of UNC. If Bacot is healthy enough, he will contribute. It's just a matter of seeing that happen.
Defend the Perimeter
Against Villanova, Kansas had a field day from 3. They hit shots early and often, and that type of consistency makes it hard to compete.
Kansas would love for this to be a shootout. They trust their offense to compete with anyone in the country. Instead, North Carolina needs to force the Jayhawks to drive and settle for midrange shots. Kansas can't shoot the lights out again if UNC wants a title.
UNC is an underdog for a reason, but that hasn't stopped them yet. They know what it takes to hoist a trophy, and we'll see if they can pull it off in New Orleans. Make sure to place your bets at one of BMR's top-rated sportsbooks.