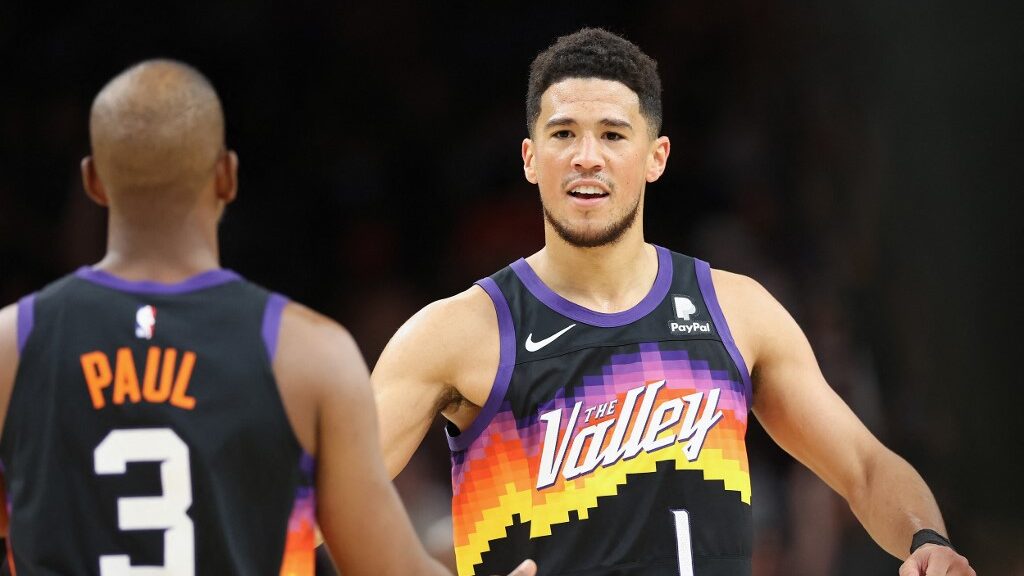 The Phoenix Suns finished the regular season with the best record in the NBA last season, with a 64-18 record. At times, the Suns were without Chris Paul and Devin Booker, but the depth on their roster helped them win many games throughout the season.
The Suns have pretty much kept their current roster from last year's spectacular team and will look to finally win a championship with their roster. Here's how the Phoenix Suns can win the NBA Finals next season.
---
DeAndre Ayton's Return
The Phoenix Suns matched the Indiana Pacers and retained DeAndre Ayton for four years and $133 million.
At times, reports would come out that the Suns didn't want to give Ayton the max extension because of the fact that they believed they could find other players to give them the same production.
But that obviously wasn't the case. The Suns signed Ayton and now will be unable to trade him until 2022 concludes.
Ayton's Numbers
Ayton averaged 17.2 points per game along with 10.2 rebounds. He's the 2018 first-overall pick and while he hasn't been an absolute star, he's done some very good things for the Suns at a young age.
We can't forget that Ayton is just 23 years old and not even at his prime yet. He only played 58 games for the Suns in the regular season but still shot about 60% from the field while making 74.6% of foul shots. How many big centers like Ayton are that good at the line? Not many.
In every single season in the league, Ayton has averaged a double-double, but his stats haven't really progressed. He's always hovering around 17 points per game and around 10 rebounds per game.
What the Suns Need From Ayton
The Suns are hoping he can take the next step for them. But ultimately, he's not even the first or second option for this team.
Ayton also doesn't play a ton of minutes, making his impact a bit less than others. He's averaged 30.7 minutes per game for the Suns, despite only fouling 2.8 times per game throughout his career.
The Suns need Ayton to at least do what he's been doing. Any improvements would help the Suns maximize their chances of winning a championship.
---
Devin Booker Needs to Play at MVP Level
Devin Booker dropped 26.8 points per game along with 5 rebounds and 4.8 assists per game. He didn't really show up in the playoffs against the Mavericks and was a bit inconsistent when it mattered the most.
Booker will clearly help lead this Phoenix team into the playoffs. He was a top-10 scorer but probably needs to do more of the little things. At times, he's more of a one-dimensional player.
In two must-win games against Dallas, he scored under 20 points in each game while not making a single three in eight attempts. He's fine in the regular season but consistency will only help the Suns more if he can bring that to the table.
---
Chris Paul's Last Rodeo?
Chris Paul is already 37 years old. He's starting to age but he hasn't really shown that on the court yet. Last season, Paul averaged 14.7 points with 10.8 assists per game. That led the league. Plus, he also had 4.4 rebounds on the season.
The one thing Paul always gets criticized for is his lack of championship appearances and no rings. The Suns are built to win right now, with Paul leading the squad at point guard.
Paul has the ability to be an elite scorer but usually chooses to get everyone involved instead. In the playoffs against Dallas, Paul took fewer than 10 shots in five of seven games. His teammates also didn't help him when it came down to the assists, missing plenty of shots that he helped create.
---
Final Thoughts
Anyway, the Suns are a terrific team. The three stars between Ayton, Booker, and Paul will help them easily get into the playoffs as a top seed. But consistency will need to improve for all three of these players if they want to be NBA Championship contenders.
It's okay to question this team a bit. How do you lose 123-90 to the Dallas Mavericks in a win-or-go-home scenario, at home? If the Suns don't win it this year, this team could be blown up with Ayton on the move next.