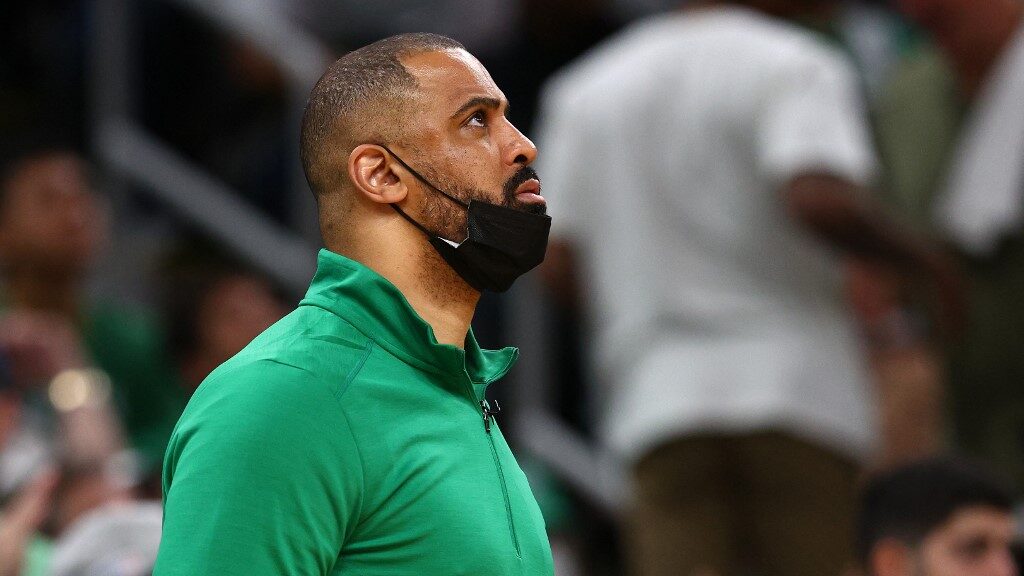 Will Boston produce the same results with 34-year-old head coach Joe Mazzulla their leader in the 2022-23 NBA season for the Celtics?
Let's see what the NBA odds tell us at the top-rated sportsbooks!
PLAY NOW: $25,000 Free-To-Play NFL Contest: BMR's 2022 Pick'Em Pool Opens for Registration
---
How Does the Ime Udoka Suspension Impacts Celtics Futures Betting?
Last week, reports said Ime Udoka would be suspended for an entire year due to a monthlong investigation. I won't get into the whole investigation. Many reports surfacing the web, and specifics of what happened are still unclear.
Boston Celtics owner Wyc Grousbeck made a statement. "I am concerned about the situation and its impact on everybody in the Celtics' organization," Grousbeck said during a news conference Friday morning at the team's practice facility.
"I do hope this represents the beginning of a new chapter and a chance to turn the page and move forward with things, to some extent, resolved." Grousbeck hired an independent law firm and uncovered that Udoka had multiple violations of team policies.
With Udoka suspended, the Celtics have announced that Joe Mazzulla would become the interim head coach this season. With Mazzulla as head coach for the Celtics, how does this impact betting on the Celtics in future markets? My thoughts are below.
---
Who is Joe Mazzulla?
Joe Mazzulla was a former West Virginia point guard who played under John Beilein and Bob Huggins. He's just 34 years old and has been rising in the coaching ranks for 11 years. He's just 34 years old and is said to have a high level of familiarity with the Celtics' system and roster.
Mazzulla is going to be one of the youngest NBA coaches this season. Al Horford is two years older than his head coach now. The young head coach began coaching at D-II in Glenville, WV as an assistant coach.
Fairmont State
He then moved to Fairmont State in Fairmont, WV where he spent three seasons as an assistant coach. He helped Fairmont State make the NCAA Tournament in 2016 and 2016 and was then hired to be one of the assistant coaches for the G League affiliate of the Celtics, the Main Red Claws.
Some players he helped on the team include Abdel Nader and Damion Lee. After one year with Maine, he was given the head coaching job at Fairmont State. He helped Fairmont State go 21-8 in the regular season but lost in the first round of the Mountain East Conference Tournament.
Therefore, Fairmont State didn't make the D-II Tournament. The following year, Mazzulla and Fairmont State went to the D-2 National Tournament but lost in the first round. After those two seasons, he came to Boston, accepting his first job as an assistant for an NBA team.
Players' Trust
In the NBA Finals last season, Celtics star Jayson Tatum spoke highly of Mazzulla:
"You can tell how passionate he is about the guys and his craft. He's gotten so much more knowledgeable and more detailed and just more vocal and more comfortable in his role as a coach…
He's helped me out tremendously as a player and as a person. I can't say enough good things about Joe; everybody appreciates what he brings to this team."
Brad Stevens
Many thought Brad Stevens would take over as head coach for the Celtics. But it looks like a lot of the players in Boston have enjoyed learning under Mazzulla, which led him to be the first choice for the head coach role this season.
Stevens acknowledged it. Stevens confirmed that Mazzulla would be the franchise's interim head coach. He talked about Mazzulla and said that. "He's an exceptionally sharp and talented person," adding, "I believe strongly in him in his ability to lead people, his ability to galvanize the room."
Mazzulla certainly resonates with the players and has their trust.
---
Celtics' Roster
The Celtics made the NBA Finals last year under Udoka. That wasn't by accident. He led the Celtics and demanded that they play better defensively. Once the defense got better, the offense started to benefit. But you must ensure that your star players are 100% bought in.
Coaches are great, and they will help everyone learn. But the reality is the coaches aren't shooting the ball. Coaches can draw up plays and help with drills to improve players' attributes. But they can't play the game.
Confidence and Unity
Boston's players are coming into this season knowing what they accomplished last year as a unit. They know that they can get back to the NBA Finals. Jayson Tatum and the rest of the organization is already confident with Mazzulla.
He doesn't need to create new relationships. He has relationships with all the players. The system won't change. Mazzulla knows the system along with the players. The familiarity between Mazzulla and the Celtics will benefit Boston.
Udoka's going to be missed. Maybe the Celtics will start slow heading into this year. But when its all said and done, Mazzulla will put together the season that Boston fans expected from Udoka.