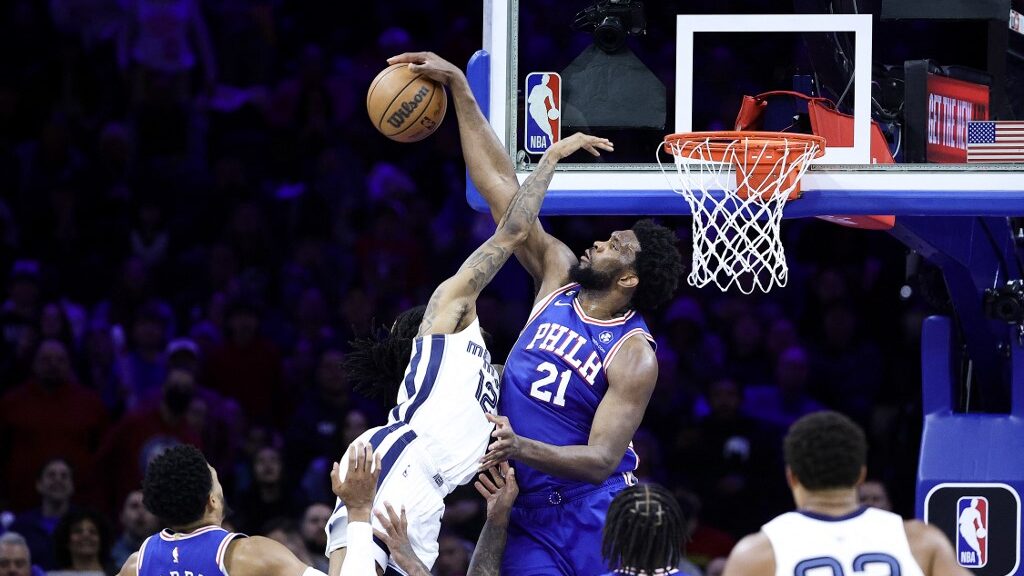 NBA Pick: 76ers to Win Eastern Conference (+475) at BetOnline (visit our BetOnline Review)

76ers to Win Eastern Conference

(+475)
---
The top sportsbooks still have their future odds up and places such as BetOnline are allowing us to invest in conference and championship winners.
With the NBA playoffs still days away, there is plenty of value to be found. Since the payout potential is so attractive, it's worth making investments right now.
If you have already invested in NBA futures, it's still worth reading this article to make sure that you've made the right choices and perhaps to consider making additional investments.
I am recommending that you place two bets: an Eastern Conference winner and a Western Conference winner.
Before I proceed with my recommendations, though, I wish to talk about betting strategy because futures are not something that we get to invest in regularly.
---
Eastern Conference
---
Betting Strategy
Many bettors like to rule out the less favored teams based on how they match up with the top teams. But this assumes too much.
Upsets happen — last year was the first NBA playoffs since 2019 in which the top four teams in both conferences advanced past the first round. The fact is that we don't know which team will end up facing which team, and we can't assume the top seeds to advance.
I am not saying to discount matchup considerations entirely. The teams that we trust should be able to match up well enough against every other team in order to win.
But more than slogging through matchup calculations for all of the potential matchups, I am interested in finding value in teams that I think have great potential to win the championship. My guiding question is, in other words, who are the best underappreciated teams?
I Don't Get The Odds
My first NBA pick recommendation is Philadelphia to win the East because I just don't get why the Bucks and Celtics should be favored so strongly — currently, the Bucks and Celtics are listed at +140 and +161, respectively, at BetOnline where the 76ers are listed at +475.
Defense Wins Championships
What do the 76ers lack that the Celtics and Bucks have? One thing is certainly not a top-level defense.
Philadelphia's defensive rating is nearly identical to that of Boston and Milwaukee. The 76ers possess a perennial Defensive Player of the Year candidate in center Joel Embiid.
He enjoys a physical and very tough backcourt partner in P.J. Tucker who is famous for the difficulty that he gave superstar Kevin Durant in the NBA Playoffs. The frontcourt has plenty of defenders with an excellent or at least a good defensive rating.
Well-Rounded Offense
Most recent 76er teams shot the three-ball well but still received criticism for relying too heavily on the efficient volume supplied by Seth Curry. Now the 76ers are better and have more spread-out talent.
They rank second in three-point percentage with three players who convert over 40 percent of their three-point attempts while attempting five or more threes per game.
Their inside game complements the dangerousness of their three-point shooting most especially because they have Embiid with his absurd 33.2 points per game.
Superstar Talent and Supporting Cast
Having point guard James Harden as an elite distributor helps Embiid and the offense as a whole. I fear that people are inclined to dismiss Harden after his disappointing first season as a 76er.
But he reemerged as a superior version of himself after this last offseason. He helps the Philly offense be more efficient while repeatedly achieving high-scoring outputs and averaging over 10 assists per game.
Harden also has a rich supporting cast that features B unit-leader Tyrese Maxey, the guard who already has famously positive playoff experience from his even younger days.
Let's Ask The Same Question
So what does Philly not have?
The Bucks are known for their array of three-point shooting guards, but Philadelphia's three-point shooting is better. Milwaukee has Giannis Antetokounmpo, but the 76ers have Embiid.
Boston has its top-level scoring duo, but so do the 76ers. You might say that I'm not really showing that the 76ers are the best team. But the point is to find the best-underappreciated team.
I recommend the 76ers because they are, at worst, even with the most highly favored Eastern Conference teams. With the odds as they are, there is a greater reward to gain from picking Philly to win the East despite it being at least just as reasonable to pick them as it is to pick Boston and Milwaukee.
Besides, both Boston and Milwaukee have already been fortunate enough to make the runs that they recently did. It is hard for one team to strike gold again so soon, so it is time for another team to shine, and that team is Philadelphia.
NBA Pick: 76ers to Win Eastern Conference (+475) at BetOnline
---
Western Conference
---
Underappreciated Warriors
Golden State is being underappreciated by NBA oddsmakers because it has suffered in terms of record. But the Warriors are underperforming because of injuries sustained by key players.
Most prominently, superstar sharpshooter, Steph Curry is just reacclimating himself to playing after missing a month of playing time.
Fortunate Injuries
In a sense, the playing time missed by Curry benefits Golden State because others have had the chance to grow and develop as a result of the increased responsibility that they had to assume.
While Jordan Poole has emerged as a prolific scoring option, former first-round draft pick Ty Jerome is developing into a solid sort of player who can control a game. He is an effective distributor in addition to being efficient both inside and outside the arc.
Fellow guard Donte DiVincenzo and forward Jonathan Kuminga have likewise developed into more efficient scorers.
Defense
There's no reason why Golden State shouldn't be able to return to being one of the very best defenses. The Warriors are underperforming now, in view of their defensive rating.
But, with guys like All-Defensive Team regular Draymond Green and a snub from the team in Andrew Wiggins, they have the personnel to be elite in this respect.
This defensive potential places them ahead of teams like Denver who is held back by the regularly poor defense of its star Nikola Jokic.
Just like last year, the Nuggets are, and they will be, an average-at-best defensive squad, which is reflected in their defensive rating.
What About The Suns?
Phoenix is favored because it has the most big-name talent. But one cannot have confidence in Kevin Durant staying healthy throughout the entirety of the playoffs.
The Suns gave up key players in return for Durant, so they lack the well-rounded supporting crew that Golden State has had added opportunity to develop as a result of injuries sustained by guys like Curry.
Despite being favored less strongly, the Warriors feel like a safer option for a playoff run, in addition to being a much more reasonable one at the price available.
NBA Pick: Warriors to Win the Western Conference (+575) at BetOnline

Warriors to Win the Western Conference

(+575)
*The line and/or odds on picks in this article might have moved since the content was commissioned. For updated line movements, visit BMR's free betting odds product.