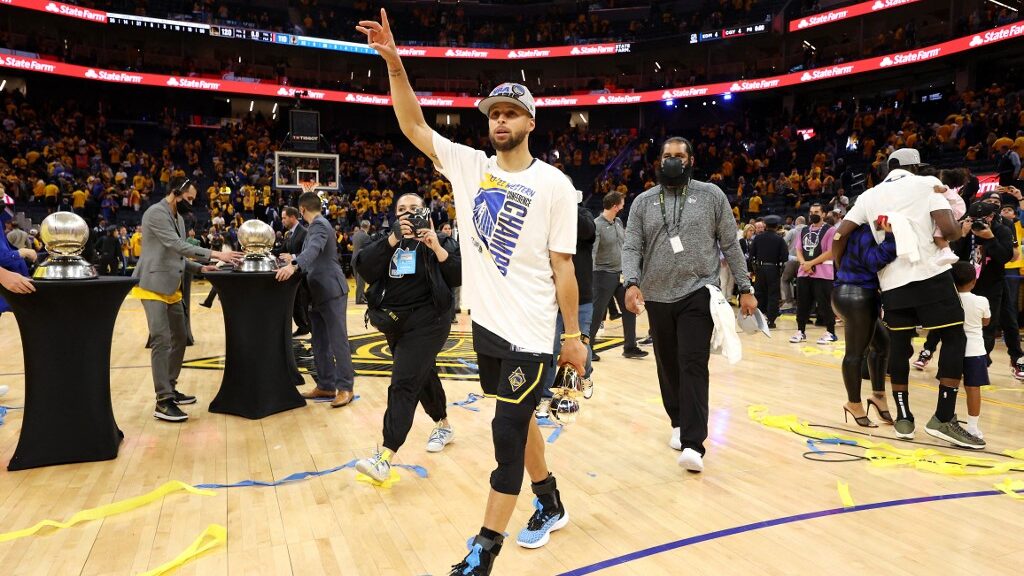 The 2022 NBA Finals are set with the Golden State Warriors taking on the Boston Celtics in Game 1 this Thursday evening. One of the most popular bets offered will be the winner of the NBA Finals Most Valuable Player (MVP) Award.
Golden State point guard Stephen Curry is the odds-on favorite with even odds (+100) at some of BMR's top-rated sportsbooks and betting sites.
Curry is one of the greatest players in NBA history, but he infamously has never won an NBA Finals MVP in his five opportunities to do so. Will the sixth time be the charm, or is there a better value option to bet on in this series?
Who Usually Wins the NBA Finals MVP Award?
It should come as no surprise that the best player on the team with home-court advantage tends to win the Finals MVP more often than anyone. What determines the "best" player on a team? Some combination of traditional metrics (points per game), advanced metrics (PER, win shares, Value over Replacement Player, etc.), and common sense usually works.
Since 1991, 18 of the 31 Finals MVP winners (58.1%) were the best player on the team with home-court advantage in the series. Of the 13 times that did not happen, nine times it was the best player on the team without home-court advantage taking home MVP honors (and a ring).
Players with Home-Court Advantage
Think Giannis Antetokounmpo for the Bucks last year, or past seasons with Michael Jordan's Bulls (twice), Hakeem Olajuwon (1995 Rockets), Dirk Nowitzki (2011 Mavericks), or LeBron James (2016 Cavaliers).
This is why the Finals MVP odds are so heavily skewed this year towards Steph Curry (+100) and Boston's Jayson Tatum (+150) as the best players on their respective teams.
The next closest player is Boston's Jaylen Brown (+1000). Curry and Tatum just won the new MVP awards in the Conference Finals round, the first year those were awarded.
But there are only four cases in the last 31 seasons where the Finals MVP went to someone who was not the best player on either team:
2007 Spurs vs. Cavaliers: Tony Parker was still overshadowed by 30-year-old Tim Duncan, who led the Spurs in PER and Win Shares (WS) in the regular season and postseason. But Parker won Finals MVP in a sweep of a dull, low-scoring series.
2008 Celtics vs. Lakers: Paul Pierce was the elder statesman in Boston's Big Three, but Kevin Garnett led the team in PER and WS in the regular season and playoffs. Between Pierce's Wheelchair Game and 6-point effort in a Game 3 loss, it's a wonder why he was the pick over Garnett, but anything is possible.
2014 Spurs vs. Heat: Kawhi Leonard was not a household name yet as the third-leading scorer on the Spurs. He was edged out by Duncan in PER and WS in the playoffs, but the Spurs shot so well in the Finals, led by Leonard's .612 FG%, that it was hard to find a more suitable player to award.
2015 Warriors vs. Cavaliers: The fourth and most recent case of a non-best player winning Finals MVP was Andre Iguodala.
Curry Is 0-for-5 At Winning Finals MVP
Curry is a two-time league MVP, two-time scoring champion, and the most prolific three-point shooter in NBA history. But one could argue that he has left all five of his NBA Finals empty-handed for the MVP award because he was never the best player in any of his series, all of which featured LeBron James or Kevin Durant (or both).
The best chance Curry had was his first Finals in 2015 when Durant was not his teammate and James was playing with a shorthanded Cleveland roster. But the fact that the series still went six games had many arguing that James should have won MVP despite the loss due to his incredible averages of 35.8 points, 13.3 rebounds, and 8.8 assists per game.
But LeBron was never going to get the award in 2015 as no player from the losing team has won Finals MVP since Jerry West did it for the 1969 Lakers, the first time the award was handed out. Andre Iguodala, who was credited for his defense in the series helping LeBron James shoot under 40%, eventually won Finals MVP in 2015 over Curry.
Stephen Curry Stats – Finals MVP
Cleveland led the series 2-1 after Curry had an abysmal Game 2 where he shot 5-of-23 from the field. Those factors likely led to some backlash against Curry, who finished the series with an adequate average of 26.0 points, 5.2 rebounds, 6.3 assists, and 44.3% shooting.
Believe it or not, that 44.3% shooting is Curry's highest FG% in a Finals series. If you look at Curry's 10 lowest FG% in his 25 career playoff series, all five of his Finals are in his bottom 10.
In 2016, Curry's Warriors infamously blew a 3-1 series lead against Cleveland, and he averaged just 22.6 points per game (his second-lowest average in a full playoff series). That led to the acquisition of Durant, who posted incredible numbers in the Finals wins in 2017 and 2018, deservingly winning MVP both times.
But Durant and Klay Thompson were injured in the 2019 Finals against Toronto, leaving Curry alone in a Game 6 loss that led to Kawhi Leonard taking home Finals MVP honors and the ring. It is the only Finals where Curry (30.5) averaged over 27.5 points per game.
Why Curry May Win 2022 Finals MVP?
He does not have to share the stage with a LeBron or Durant-level superstar and even though Tatum is very good, there is no telling how the 24-year-old will perform in his first Finals. This is why Curry may be in the best position of his career to win Finals MVP
The Warriors are also slightly favored to win the series and will have a home-court advantage over a team that just played two grueling seven-game series in a row.
This could be Curry's year, but he will have to figure out a tough Boston defense that has held him to 9-of-25 shooting this season and a minus-15 in 49 minutes of action. Curry was injured in his last meeting with the Celtics in March, a 22-point blowout won by Boston.
NBA MVP Award Odds Breakdown
Curry may have caught a break with the Miami Heat being eliminated because Jimmy Butler has been incredible this postseason with a handful of 40-point games. Below, I'll breakdown the NBA odds for other NBA player with chances to win the MVP Award aside from Stephen Curry:
Now it's up to Jayson Tatum (+275) as the main competition from Boston, but he has shown some clutch ability in the playoffs with a 4-1 record in Game 7s and three 40-point games to his name.
He has averaged at least 24.3 points per game in all seven of his playoff series since 2020. Tatum has scored 26 and 27 points in two games against the Warriors this season. But he has not been flawless as he's had a 10-point game in each of the last two rounds.
Jaylen Brown (+1000) odds, is really the best dark horse value pick in this Finals MVP race. He can string together 20-point games and is an asset from three-point territory. If Tatum is cold, Brown can be the hot alternative.
It is hard to see any other Boston player realistically being in the running. Marcus Smart (+3800) is the Defensive Player of the Year, but his shot is inconsistent, and he is questionable on the injury report almost every night.
As for the non-Curry Warriors, Draymond Green (+1500) would probably need at least three triple-doubles to pull this off. He's had 10 assists once in 16 playoff games this year, and half the time he has not scored more than six points.
Jordan Poole and Andrew Wiggins
Jordan Poole (+2500) and Andrew Wiggins (+4000) are good reasons why the Warriors should be favored to win this series. Both can have big games and be the hero on any given night, but neither is consistent enough to be a constant threat worthy of a Finals MVP.
That just leaves Klay Thompson (+1500), who has not played his best ball in the last two playoff series. But when he's on, his game is still fantastic as he showed in clinching games against Memphis (30 points) and Dallas (32 points) with eight made threes. There is also a redemption angle that voters eat up with Thompson missing the last two seasons to injury.
MVP Award Prediction
This one is straightforward. If you like the Warriors to win the series, then you make Curry for MVP your biggest bet with a small hedge on those Thompson odds. If you like the Celtics, then Tatum is the choice with maybe a hedge on those great odds for Brown before Game 1.
I think the Warriors win the series, so my NBA pick would be Curry. But maybe the smart thing to do is see how Game 1 goes, and if Golden State wins, then hedge on Tatum for Finals MVP.
Since 1996, the home team is 23-3 in Game 1 of the Finals and the Warriors have a rest advantage here. But remember, Boston is 6-0 after a loss this season, so this team can bounce back.
It should be an exciting series, but it does seem to be one where the stars are aligning for Curry to add his first Finals MVP to his trophy chest.
NBA Finals MVP Pick: Stephen Curry (+100) with Bovada (visit our Bovada Review)

*The line and/or odds on picks in this article might have moved since the content was commissioned. For updated line movements, visit BMR's free betting odds product.