Montana Sports Betting Apps – MT's Top Mobile Sports Betting Sites & Apps in 2023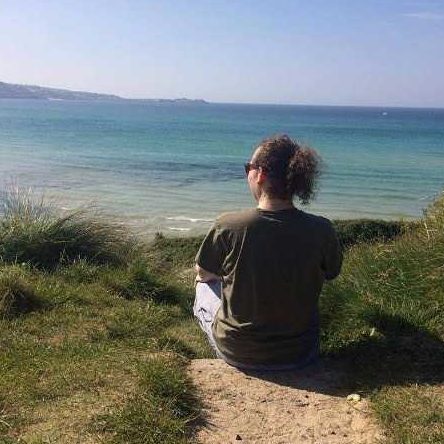 David is a freelance sports journalist who comes from West Midlands. He specializes in sports content, both written and visual. With an impressive record in pre-fight predictions, David is quickly becoming recognized in his field for his in-depth fight analysis and impressive contender & fight history knowledge.
The past two decades have witnessed exponential growth and support of sports betting in the United States, and like most locations in the U.S., sports betting in Montana State is more relevant than ever. With such an extensive selection of operators available to MT bettors, finding the perfect sportsbook to meet your needs can be challenging. So, to assist your sports wagering journey, we'll highlight some of the most noteworthy and reputable Montana sports betting sites.
This comprehensive guide was designed to help you discover the best mobile sportsbook in Montana. We'll guide you step-by-step right up through your registration and first bet while helping you understand the inner workings of the online betting business.
Montana's Best Mobile Sports Betting Sites   
BMR's Top-Rated Mobile Sportsbooks for 2023
Our expert team has investigated the long list of Montana sports betting apps and mobile sites into a top-ranking list. Each operator presents positive and negative services, but they equally deliver key features such as an established reputation, amazing value and reliable payouts.
Is mobile sports betting legal in Montana?
During the historical moment for United States sports betting in 2018 – when PASPA was lifted – we saw many states, including Montana, favor the legalized adoption of mobile sports wagering. Governor of Montana, Steve Bullock, signed a bill and sports betting in the Big Sky Country went live in March 2020.
As of 2023, there is still only one U.S.-regulated sportsbook in Montana, but due to the fierce competition and various perks to wagering with a top-rated and reputable offshore sportsbook, many residents of the state have turned to the online services provided by bookmakers – like those recommended in this guide.
Comparison of the Top Mobile Sportsbooks
You've already had a peek at our top ten mobile betting sites in Montana, but not time to get into the nitty-gritty. We've sectioned our top-five-ranked Montana sports betting mobile sites and explained why they're the most noteworthy operators within the industry.
1. BetOnline: The Best Mobile Sports Betting Mobile Site in Montana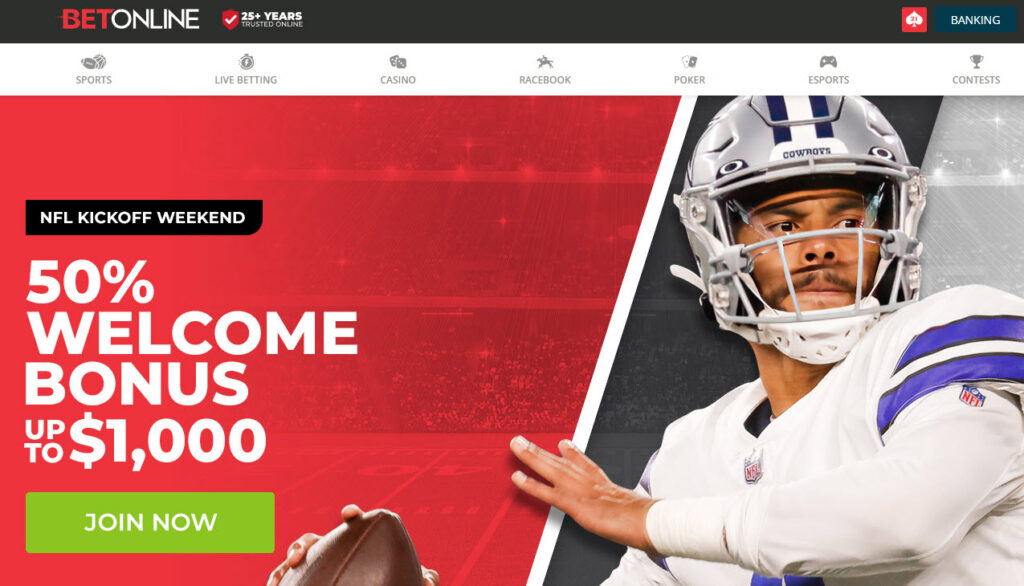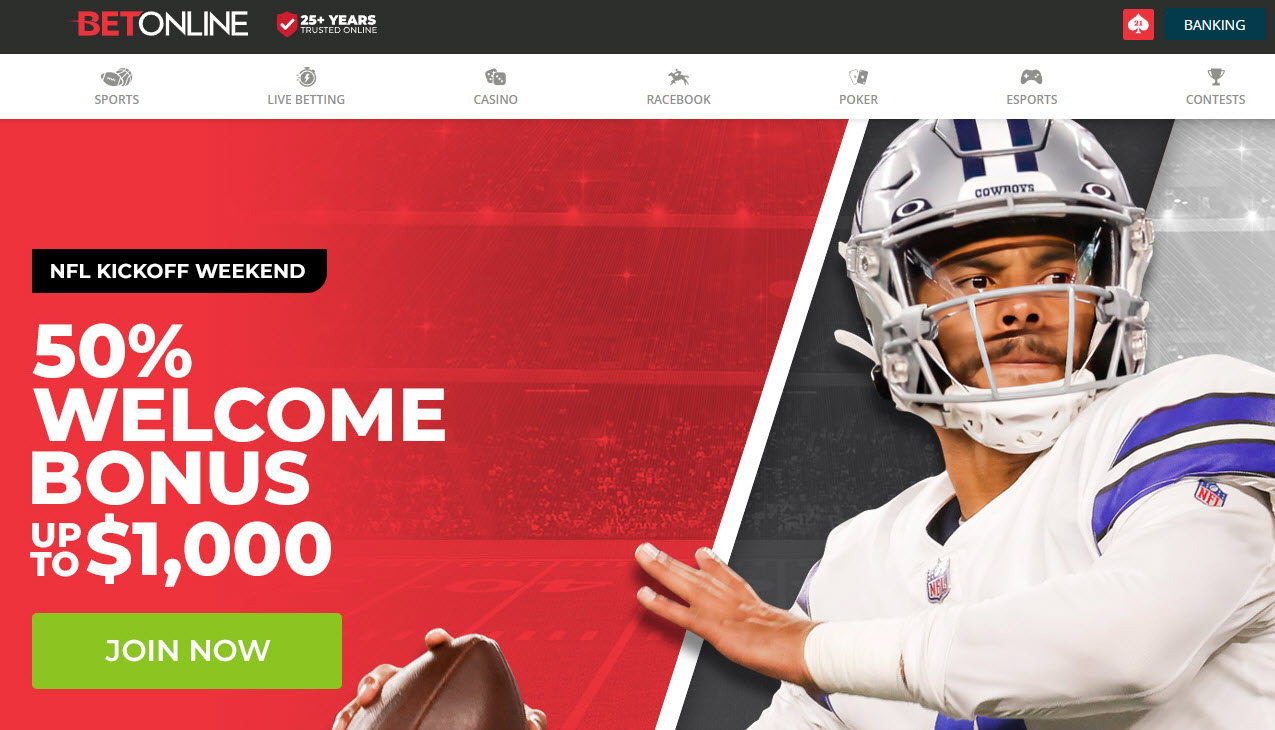 BetOnline is responsible for building one of the strongest offshore sports betting mobile brands in the United States. Behind more than 25 years of experience, this operator is recognized for its extensive markets, industry-leading betting odds, excellent bonuses/promotions and attention to detail regarding the wants and needs of online sports bettors.
Montana residents looking for incredibly priced odds and a wealth of betting options throughout the major U.S. leagues and several international ones have found the ideal operator with BetOnline. Whether you're new to the game or a seasoned handicapper, finding a wager type and respectable betting limit won't be a struggle.
The BetOnline mobile site is optimized to work flawlessly on Android and iOS devices. This simple-to-navigate layout delivers various wagers in moneyline, futures, totals, props, teasers, parlays and in-play betting markets.
Mobile bettors in Montana can enjoy noteworthy perks like the ability to live stream specific events and BetOnline's multi-view feature, allowing you to search multiple betting markets and wager on the action as it plays out in real time. You won't find a mobile-specific bonus, but new customers will see a 50% matched deposit bonus of up to $1,000.
Pros
Industry-leading odds
Simple-to-use mobile site
$1,000 welcome bonus
Live streaming on specific events
Cryptocurrency bonuses
Cons
Some bonuses have a high rollover
The minimum withdrawal is $100
No native app for download
2. Bovada: The Perfect Montana Sports Betting Mobile Site for Spread Betting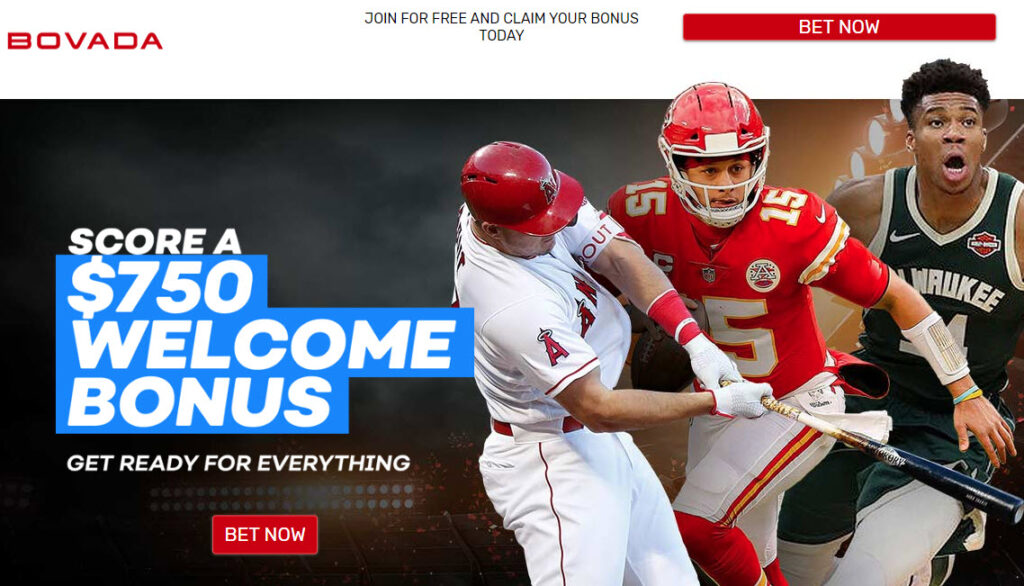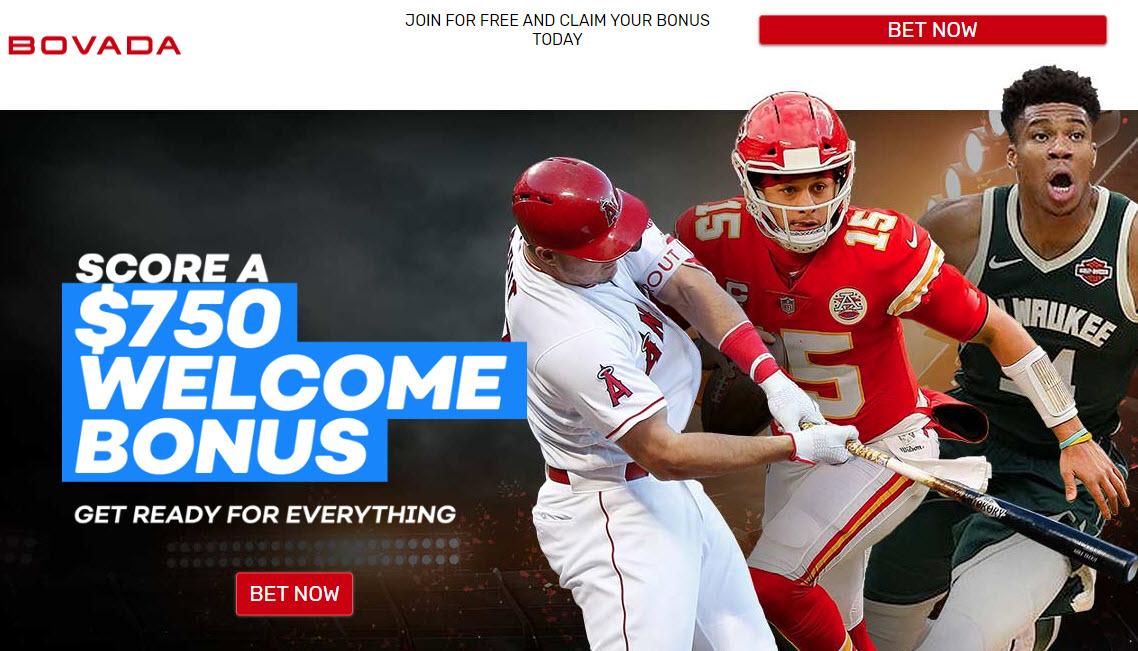 Bovada, much like BetOnline, has built a solid reputation amongst U.S. sports bettors. One of its key features is the heavy helping of major North American sports betting markets and international offerings to match. They deliver highly competitive odds in all facets, not just for specific markets, as bettors will find incredible betting value for moneylines, totals, props, futures and live betting markets. Furthermore, its extensive U.S. major markets, like the NFL, NBA and NCAA, often present noteworthy spread betting numbers, and you can even stream these events as you cheer your bets along.
The Bovada mobile site makes online wagering simple. Its visually pleasing landing page and the overall site layout aren't just easy on the eye but also functional and simple to navigate, even for the most inexperienced mobile site users. Customers won't be met with cluttered lobbies or lagging pages while using the Bovada app, and it's accessible from any Android or iOS device.
With an optimized mobile site, loading your phone's browser and entering the Bovada URL delivers a seamless mobile betting experience almost identical to a native app.
Pros
Attractive mobile interface & easy to navigate
Excellently-priced U.S. betting odds in all markets
Fast withdrawals, specifically with crypto banking options
A small x5 rollover requirement on bonuses
Cons
Banking options are limited compared to some rival sites
Crypto deposits are favored over traditional banking methods
3. Heritage Sports: Discover Excellent Value Behind Highly Competitive Odds With This Sports Betting Mobile Site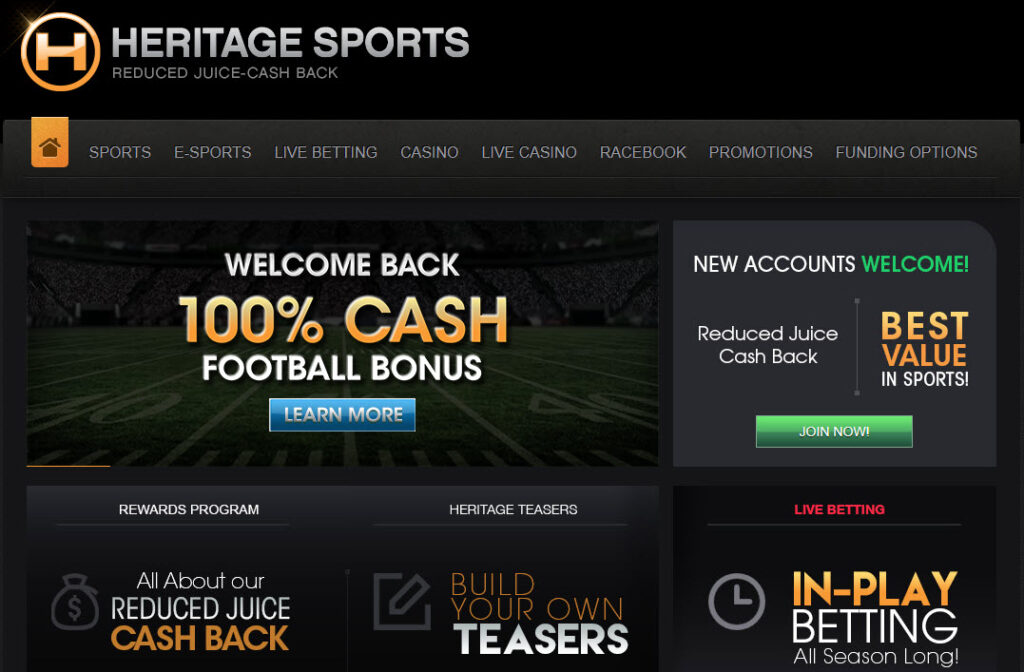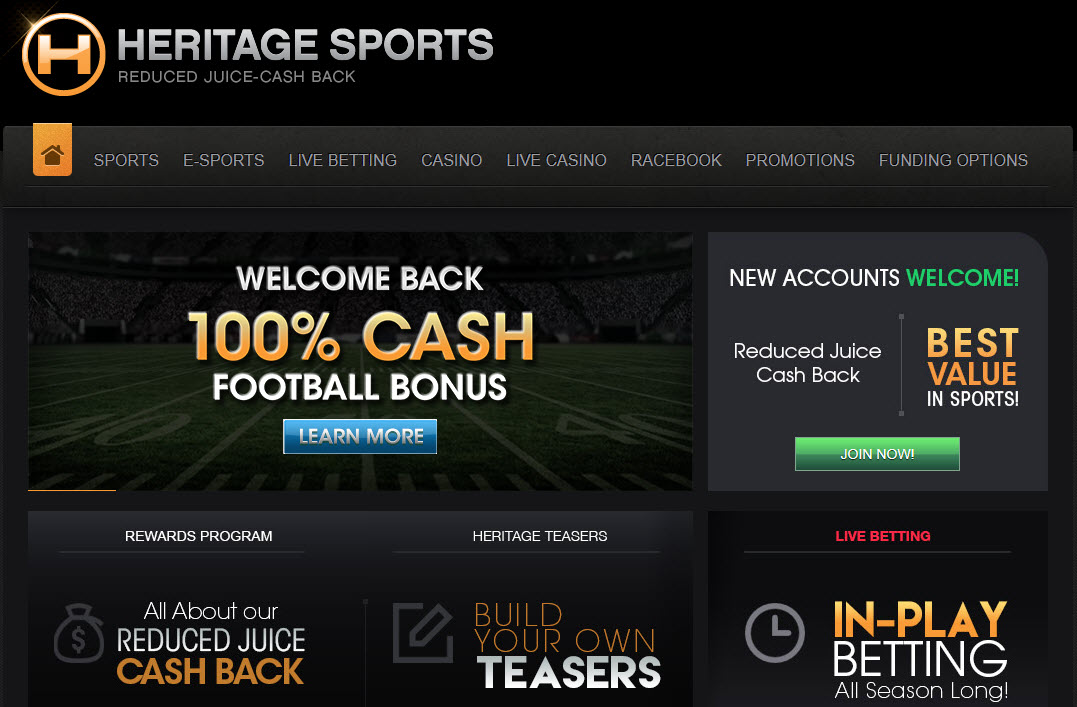 Heritage Sports is the one-stop-shop for Montana Sports bettors seeking overall betting value. This reputable, long-standing sportsbook operator often leads the industry with some of the best available odds pricing throughout various leagues, events and divisions. Leading the industry in betting odds value is now even more accessible because Heritage Sports customers can access their sportsbook account from any mobile device.
The mobile betting experience with Heritage Sports flows effortlessly, with a lag-free, optimized site that delivers various sports markets. When you factor in the rebates, reduced juice, lucrative bonuses and consistent sportsbook promotions and combine that with its highly competitive odds, this operator is perfect for bettors looking to build a healthy long-term bankroll.
Heritage Sports doesn't have a standalone sports betting app, but wagering on the move is still possible when accessing the optimized mobile site from your device's browser. There isn't much difference between the desktop site and mobile variation, so bettors at Heritage Sports can find the same top-quality service from any Android or iOS device.
Pros
Highly competitive odds
Reduced juiced odds
Live betting available
Cons
Sign-up bonuses could be higher
No live streaming
4. Bookmaker: This Sports Betting Mobile Site is the Home of Pro & Sharp Bettors in MT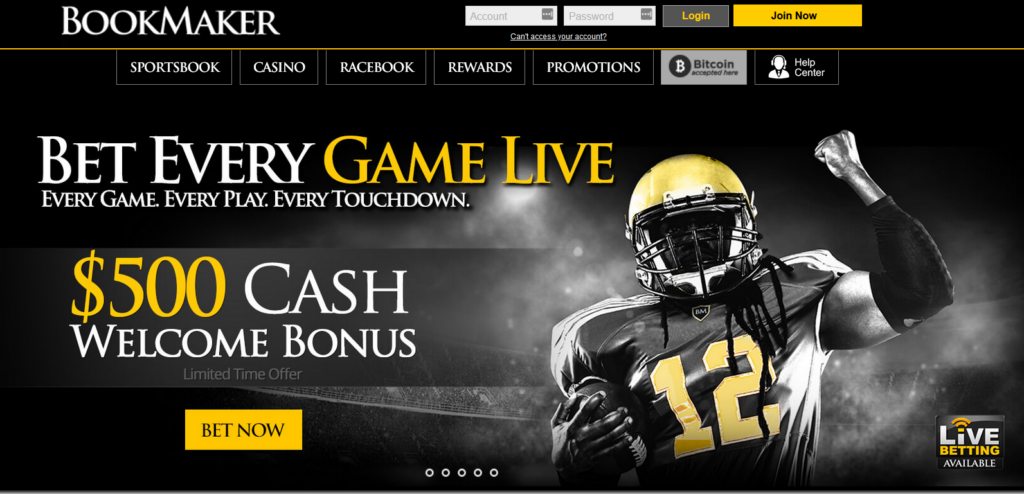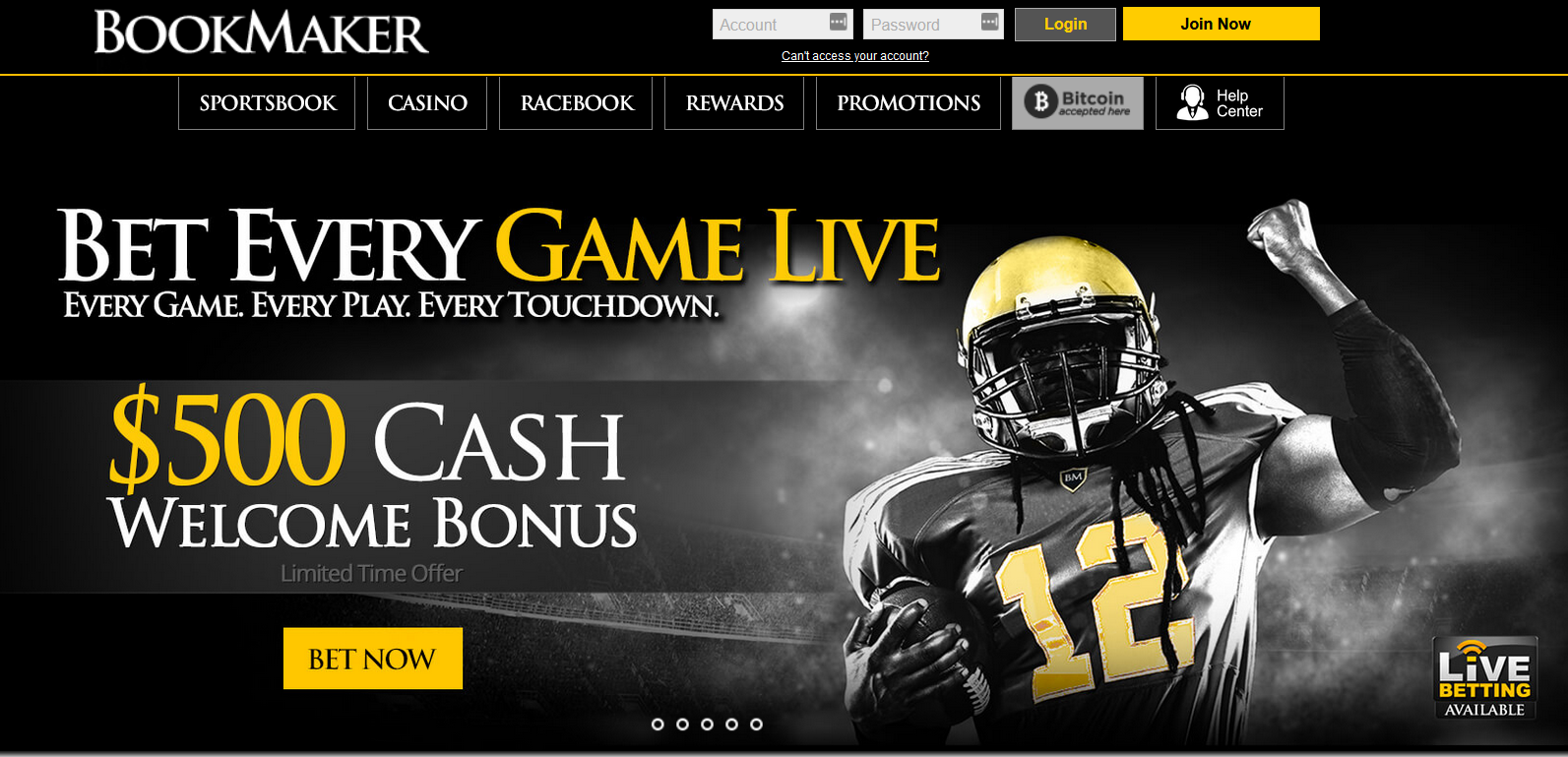 Standing strong within the sports betting industry since the nineties, Bookmaker.eu is a reputable operator available to Montana residents. It delivers unique features, such as its no-ban policy on winning bettors. As the lone sportsbook in the world offering this policy, Bookmaker has become the home of professional and sharp bettors throughout North America.
Adding more intrigue to their online sports betting product, they offer some of the industry's highest betting limits. They also deliver an extensive selection of sports betting markets with odds released earlier than all of their competitors to further cement their position as one of the top-rated sportsbooks.
The Bookmaker sports betting mobile site is accessible from any mobile device, and as they cater to pro and new bettors alike, they're the perfect option for bettors on the go of all kinds. The fully optimized site will allow you to place wagers from $10 to as high as $10,000. This sportsbook site could use a layout revamp, but its core features within the sportsbook aren't hindered by appearance.
Pros
Highest mobile betting limits in Montana
Winning bettors aren't banned, limited, or suspended
Decades of experience
Early released odds
Cons
New customer bonuses could be higher
No live streaming
Successful bettors are excluded from loyalty rewards
5. BetAnySports: Find Great Value with Competitive Odds & Reduced Juice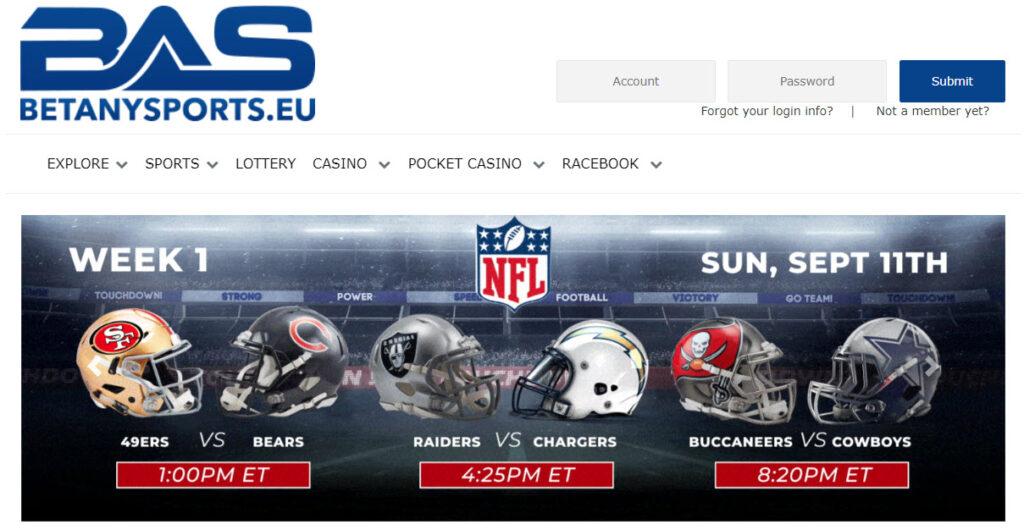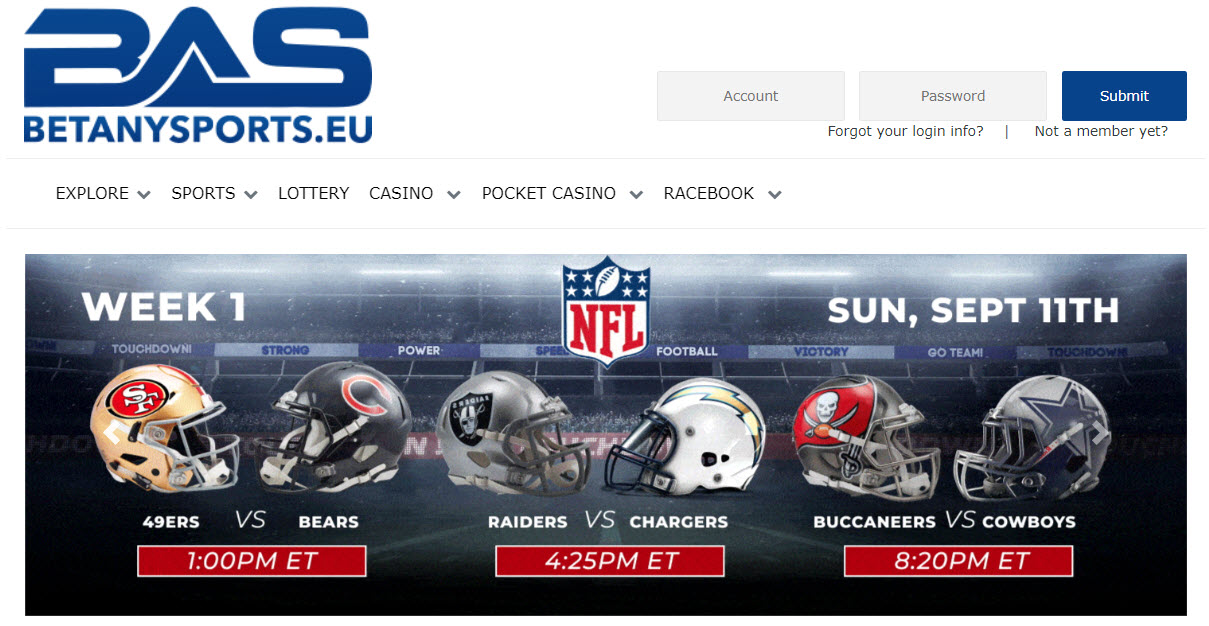 As you've likely guessed by the branding, BetAnySports (BAS) is known for its wide selection of available sports betting markets. This operator is a great example of how optimized sportsbook sites can operate, work and emulate the features offered by a native app without needing to take up space on your phone. Simply enter the BAS URL into any mobile device's browser, log in, then instantly receive the wealth of betting options at your fingertips, wherever you are.
Selection never runs dry at BAS. Bettors receive access to hundreds of markets through sports like basketball, soccer, football, MMA, golf, tennis, baseball, hockey, motorsports and more. And they don't just cater to major sports, as you'll discover niche markets such as cricket, politics, volleyball, competitive eating and even the spelling bee.
Moreover, the pricing at BetAnySports provides competitive odds; with reduced juice on specific bet types and sports, you're granted more ways than one to save money and build your bankroll. After a few clicks from your Android or iOS device, you'll find a simple-to-navigate/attractive interface that is lag-free and easy to use. There aren't any mobile-specific bonuses or promotions, but any new customer at BetAnySports can take advantage of the 30% matched deposit bonus of up to $600.
Pros
Reduced juice betting lines
Broad range of sports to bet on
Attractive user interface on mobile devices
Several banking options
Fee-free deposits with credit cards
PayPal, Skrill and Neteller deposit options accepted
Cons
No live streaming
Some fees on specific banking methods
Welcome bonus could be higher
Our Rating Methodology
When you're presented with so many top-tier Montana mobile sites, it can be overwhelming to know you're making the best decision. However, you can follow our expert's vetting process and ensure each operator is covering the basics, at the least, before deciding to register and use their sportsbook services.
Find some of the vital decision-making must-have features we consider in our evaluation process below. If an operator doesn't cover these services, they aren't worthy of a top ranking:
A smooth and simple mobile experience
Site security
Betting markets and odds value
Bonuses and promotions
Live betting and streaming
Banking options
Customer service
History of Sports Betting at Montana State
Montana saw the legalization of sports betting arrive in the state in 2019. However, Montana law allowed the Department of Justice to become the state's sports wagering regulator instead of having a localized Gaming Control Division oversee sports betting. Montana Lottery was also put in charge of assisting with sports betting within the state.
This prevented licensed locations from opening physical sportsbooks in the state, and in turn, the lottery installed and operated sports betting kiosks and sportsbook apps at licensed locations. Montana's law legalized sports betting in-person, at licensed bars, hotels, casinos and restaurants. Legal sports betting is offered through a mobile app, but only for customers physically in these retail sports betting locations.
Timeline of Gambling in Montana State
2019: Legislation on sports betting passes, but the law specifies that sports wagers must be placed at licensed locations using lottery kiosks and betting apps.
2005: Montana legislature prohibits internet gaming.
2002:The Gambling Control Division and Department of Revenue create a liquor/gaming license.
1993: PASPA creates a sweeping ban on sports betting and prevents states from creating gaming laws to circumvent the ban, but Montana receives a limited exemption.
Key Features of the Best Mobile Sportsbook
We select the best mobile sites in Montana by thoroughly testing each operator. We previously discussed some of the crucial features we factor in during each evaluation, but below, we've gone into more detail.
Competitive Betting Odds
Regarding the top Montana sportsbooks, finding value is one of the most crucial aspects. It's an obvious outlook, but if you're planning on or already wager frequently, the value you receive from highly competitive odds is vital to your profits and long-term investment. We look for operators that regularly provide industry-competitive odds in multiple sports and sites that provide reduced juice betting lines on spreads and totals.
Broad Range of Betting Markets Available
Value and betting odds are important, but it isn't a good sign if a bettor is limited in their options. Sites such as BetOnline or BetAnySports are great examples, as they deliver various sports markets and leagues to wager on.
Multiple Banking Methods
On the topic of variety, a top-rated Montana mobile betting site needs to cater to opposing types in multiple facets, and one includes banking options. Some bettors prefer traditional banking methods like credit or debit cards, while a modern-day bettor may opt for cryptocurrency. For this reason, we want to see deposit and withdrawal options of all kinds.
Generous Promotions & Bonuses
Of course, every sports bettor in Montana wants to see a tempting welcome bonus and regular sportsbook promotions. This is why our experts have studied the Montana betting apps to see which new customer bonuses and returning customer promotions are the best and/or how many variations are available.
Live Betting is Available
Live betting is a must-have feature for Montana mobile sports betting to be considered elite. The popularity of in-play wagering cannot be ignored, as there's nothing more thrilling than catching a game at the half and being able to place a bet based on how teams have performed thus far. So, if an operator doesn't provide an in-game betting service, it can hurt their performance in our rankings.
Regarding mobile sportsbooks in 2023, an operator must deliver an exceptional service regarding its design, interface and useability. We ensure the mobile experience avoids lag, crashing pages and complications throughout all of its features, from pre-game wagering, to how it performs during live wagering moments. They shouldn't have cluttered pages; for bonus points, the interface will be clean and updated with a modern style.
Customer Service Contact Options
The top-rated Montana mobile betting sites recommended by our experts must be readily available to assist a customer's needs. This is achieved via 24/7 live chat support, but we also like to see alternative customer support options such as email and phone contact.
Popular Sports in Montana
Aligning the online sports betting experience with a professional sports team to support is quite limited for Montana residents. There are no professional sports teams located in Montana, but that hasn't stopped the sports enthusiasts from backing teams all the way to the window, and with NCAA teams like the Montana Grizzlies, all isn't lost.
Football
No NFL teams are representing Montana, but locals have been known to support the Minnesota Vikings or the Denver Broncos. Moneylines, spread and total bets are incredibly popular among football fans of Montana. However, the Grizzlies NCAAF team is still a path for wagering and rooting for a local team simultaneously.
Basketball
The Montana Grizzlies and the Montana Bobcats are the best sports teams that Montana has to offer. They aren't professional, but these college basketball teams have made regular appearances at the NCAA Basketball Tournament. Locals can find excellent NBA betting value from operators like BetOnline, with similarly approached markets to football wagering, such as the moneyline, spreads and totals.
Baseball
Again, Montana is absent from Major League Baseball, like most professional sports leagues. Most residents of the Treasure State have been known to support the Rockies, Yankees, or Red Sox. However, supporting a team isn't needed to approach the extensive MLB markets found with top baseball betting providers like Bovada and Heritage Sports.
College Sports
College sports in Montana could arguably be the highlight of fandom and sports wagering combined; NCAA teams are the only local teams MT residents can support. Furthermore, a team like the Montana Grizzlies has reached March Madness on five occasions over the past decade, and the Montana State Bobcats were the No.14 ranked team from the West during last year's NCAAB Tournament.
Downloading Mobile Sports Betting Apps & Sites
The best Montana mobile betting sites can't be considered top mobile operators without the functionality and accessibility they provide. Below we've discussed the two most common operating systems used by mobile sports bettors in Montana.
iOS
Native iPhone applications for sportsbooks are uncommon. Gambling concerns within Apple's T&Cs have made this option limited and complicated. That said, all of our recommendations are accessible from your iPhone's mobile browser, and these sites are optimized to work
Android
All of the optimized mobile sites recommended in today's guide are excellent for Android users, as this operating device can select from various browsers, including Firefox, Google Chrome and more. You can then bookmark your favorite mobile sites, add them to your Android desktop, and we barely notice the difference between the mobile sites and traditional mobile betting apps.
How to Create a Mobile Sportsbook Account
Now is the time if you haven't accessed Montana's best mobile apps through your mobile device browser. The process isn't complicated whatsoever, and we've even provided you with a step-by-step process below.
Step 1: Signing-Up
Download the sportsbooks native app or open your mobile devices browser and enter the site URL. Locate the "join" or "register" button, click it, and you will be prompted to fill out a form with some basic personal information.
Step 2: Verifying Your Account
After completing the registration form and providing a form of ID, complete your application. You'll receive a confirmation email; click the link in your inbox.
Step 3: Depositing Funds
Go back to your now-verified sportsbook account, and look for the banking section of your operator. Decide which payment method suits you while considering the welcome bonus T&Cs, as some will offer more value with cryptocurrency. Enter your payment details and desired deposit and confirm.
Step 4: Placing Your Wagers
You now have a sportsbook account with funds ready; head to the sportsbook and place your first sports wager.
FAQs – Mobile Sports Betting in Montana
Is online sports betting legal in Montana? 
The current gambling laws prevent an online sportsbook from opening in Montana; however, Treasure state residents can use an offshore online sportsbook with no restrictions.
How can I gamble online in Montana? 
Find a trustworthy and reputable sports betting operator like the ones recommended in this guide. Register an account, load your account with funds, claim a welcome bonus, and enjoy sports betting from any desktop or mobile device.  
What sports betting apps are legal in Montana? 
Under the current betting laws, you can only use the Sports Bet Montana app to place bets when you are in a licensed retail location. However, offshore sportsbooks allow you to wager anywhere using your mobile device. 
Can you use FanDuel in Montana? 
Under the current gaming laws, FanDuel is only available for daily fantasy sports. The only online sports betting options in Montana are offshore sites. 
Can I play DraftKings in Montana?  
You can only use DraftKings for daily fantasy sports. For real-money online gambling on sports, you will need to use one of the offshore sportsbooks recommended in our guide. 
In what can only be described as a seminal pact between adversaries, Governor Newsom has signed a bill into law that both the California Native American tribes, as well as cardroom operators, support – no additional cardrooms in the state for two more decades. In turn, this collaboration between Native American tribes and gambling hall

---