Best Missouri Sports Betting Apps & Mobile Sites
Shawn West has been involved with college basketball, NFL and college football and MLB since he left his job as bank vice president two decades ago. He lives in North Carolina with his wife, children, two dachshunds and a variety of turtles.
This year might be a big one for Missouri sports fans looking to bet on their favorite teams and sporting events. After several years of near misses, the general consensus is that the Show-Me State is closer than ever to rolling out legal sports gambling.
After more than 20 sports betting bills have been proposed over the last five years, one of them finally was passed by the state house in 2022.
It went on to the state senate, where legislators were not able to come to an agreement on the details of how legal sports betting would look, and the bill failed to get passed before the legislative session expired.
With the state political scene changing, and gambling-friendly legislators taking positions of power in state government, many close to the situation believe the sports betting legislation that players in the Show-Me State have been waiting for will pass at seom point in 2023.
Since it's still up in the air, and even once it's passed, it will likely be some time before legal betting within the state begins, you don't have to wait until it all works out to place bets and win money on your favorite sporting events and teams.
Offshore sportsbooks have been offering online sports betting and paying out winnings to Missouri residents for years. Most of the best sportsbooks realize that many players prefer gambling on their phones and tablets, rather than on a computer, and offer mobile betting platforms for all devices.
But which of the literally hundreds of online betting sites is the best one? Our team of experts has looked at most of the top mobile sports betting providers and apps and came up with our ranking of the best ones in Missouri. We'll also go into detail about what factors determined our rankings and look at the history of sports betting laws in the state and where things seem to be headed.
We provide more information about the best Missouri betting sites and how to start wagering on any of the state's online betting markets on their own dedicated pages.
List of the Best Missouri Betting Apps & Mobile Sites
Our panel of experts rated mobile sports betting sites on several important factors, which we'll discuss later and determined their choices for the 10 best options available to players in Missouri.
All the mobile sites and apps on our list have spotless reputations for providing a secure, stable platform for legal sports wagering. They all offer players the chance to bet on all major sports and the top professional sports teams, as well as many lesser-known leagues, teams, and events. They also offer a variety of different betting markets for you to wager on.
These sites offer all kinds of sports betting including parlays, teasers, prop bets, live betting, point spreads, and moneyline betting.
Reviews of the Best Missouri Betting Apps & Mobile Sites
There are many different factors that go into being a top-ranked mobile sports gambling site, and each member of our top 10 does different things well. So, to help you make sense of our rankings, we offer an in-depth breakdown of each mobile sports betting app or site on the list.
You may have specific priorities or certain things that are more important to you when placing sports bets on a mobile device, so we'll go into detail about the strengths and weaknesses of each app or mobile site.
We're confident that each of the online sports betting sites in our top 10 would be an excellent choice, but the breakdowns should help you decide which one best matches the areas that are most important to you.
Some of the factors we considered include user-friendly interfaces, the size of betting limits offered, as well as the size of the minimum bets, the range of sports markets, the betting odds offered at each site, the payment methods available, the quality of their customer service, and bonuses for new users as well as existing customers.
1. Bookmaker: Best Overall Sports Betting App in Missouri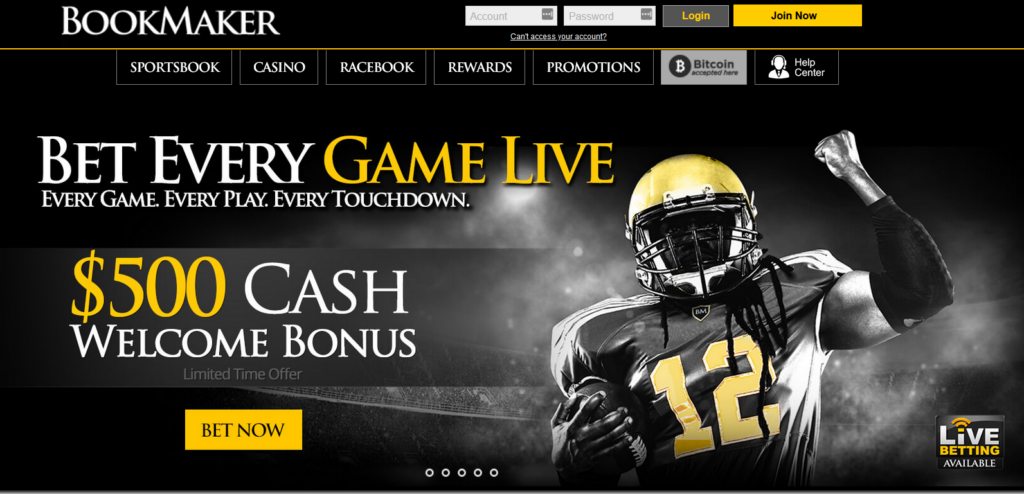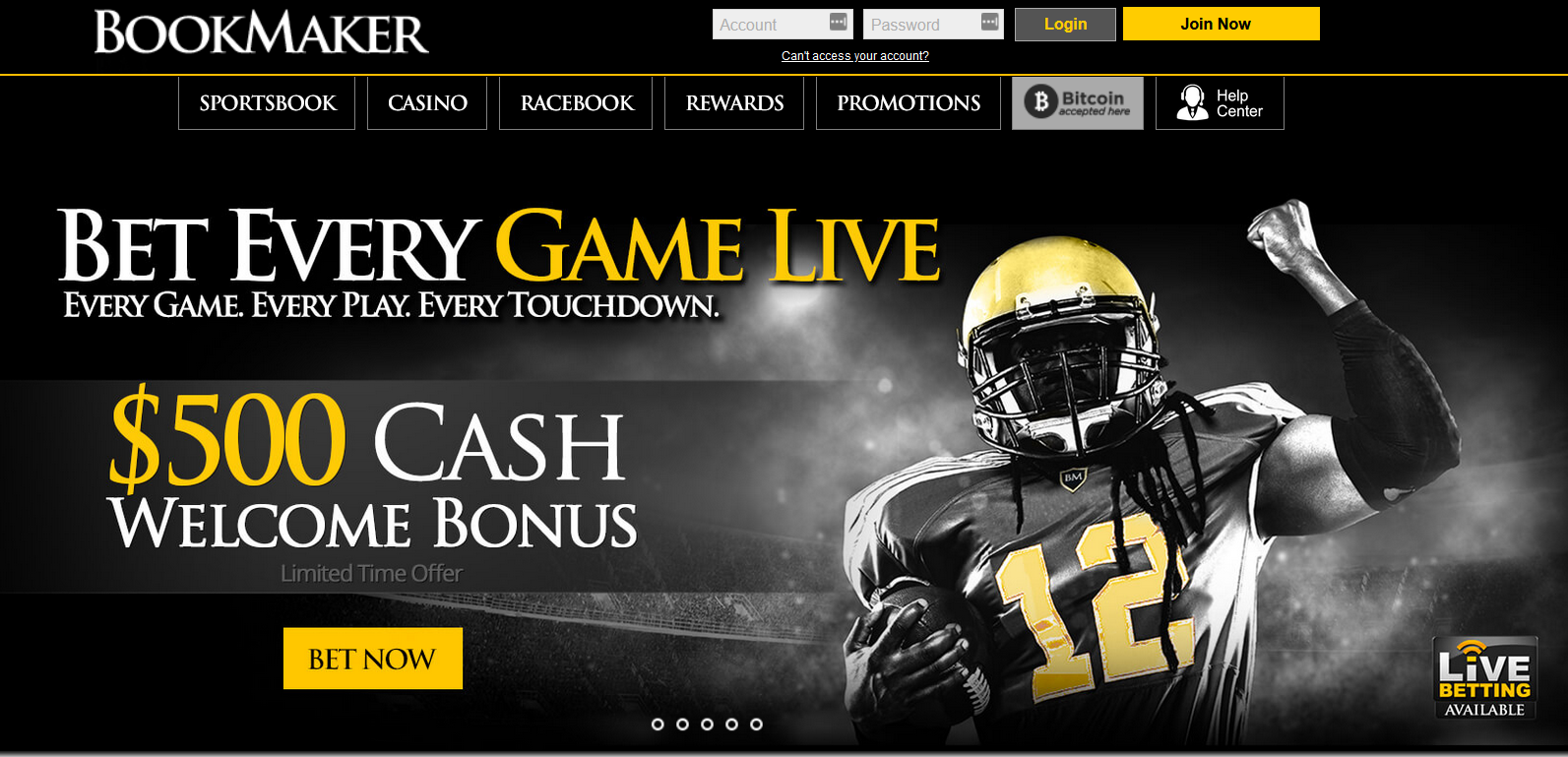 Bookmaker took the top spot in our experts' rankings of the best sports betting apps and mobile sites available to Missouri bettors. The mobile site passes the first, and most important, test: Everything you can do on the full Bookmaker site is also available and easy to do on your mobile devices. That includes Bookmaker's vaunted online casino.
Bookmaker is an excellent site for new users as well as experienced gamblers. It has some of the highest betting lines in the state, but it also offers some of the lowest minimum bets. So whether you're a high-rolling veteran or a risk-averse rookie, you'll find that you and your money are welcome. And you'll be just as welcome if you go on a winning streak. Bookmaker doesn't shut down gamblers who get on a roll like some casinos are known to do so.
The site is also easy to navigate, and the interface is user-friendly, making it an excellent choice for first-time bettors or people who aren't used to gambling on mobile devices. Bookmaker is one of the first sites to have betting lines posted for sporting events, so you won't have to wait around to place your bet.
Bookmaker also offers a generous loyalty program and a sign-up promo offers.
Pros:
High limits and low minimum bets appeal to all levels of gamblers
One of the earliest sites to publish lines
Loyalty program and bonuses are top-notch
Easy to use mobile site with all the functionality of the full site
Cons:
Professional gamblers can't take advantage of the loyalty program
Doesn't have an online poker room
2. Bovada: Best Mobile Platform Interface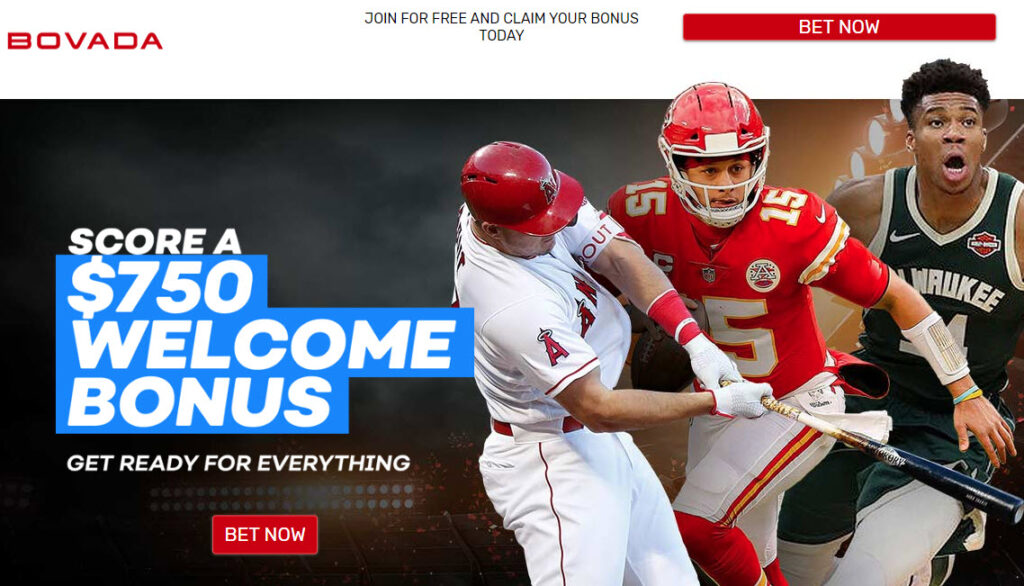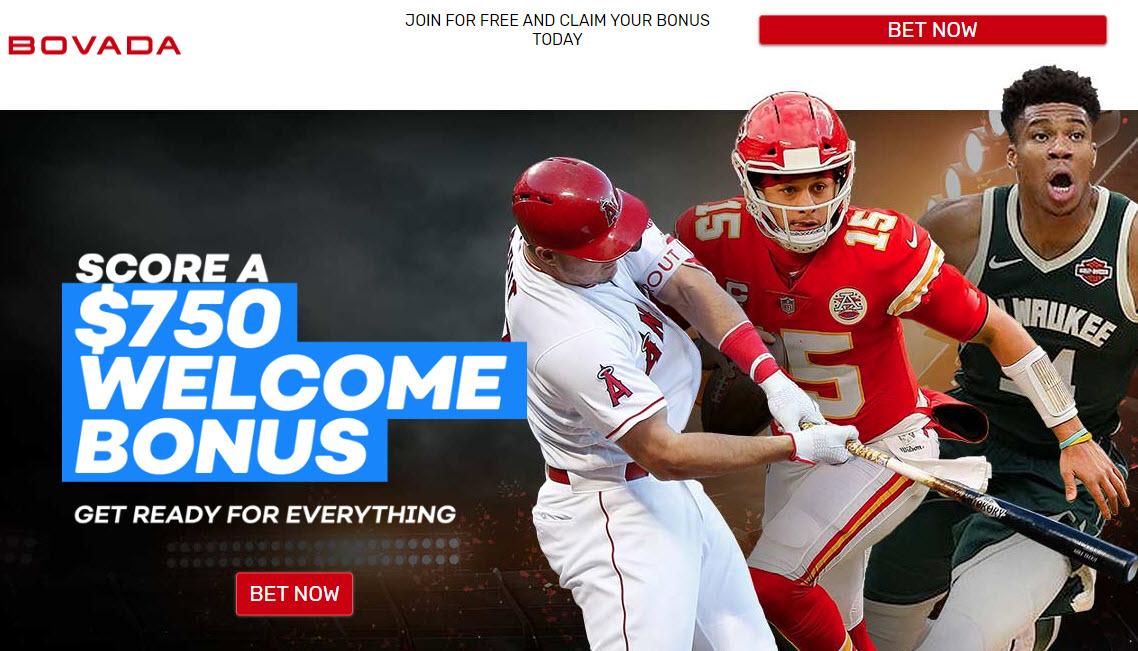 Bovada is one of the top online sports books in Missouri, and customers using phones, tablets or other devices to bet will be able to take advantage of the state's top-rated mobile platform. The interface is attractive and easy to use. While many online betting sites offer a boiled-down version of the main site, with fewer options, Bovada gives you all the functionality of the full site, and many users would think the site was developed for mobile devices, to begin with.
Bovada scored high in overall user experience, and it offers a wide range of different betting options. In addition to the sportsbook, it has a racebook, casino games, and the busiest poker room in America. Bovada also offers entertainment betting and low-risk prop bets that are almost free money for bettors who take advantage of them. And it's all available on the mobile site.
Bovada also offers generous bonuses, without a lot of hoops to jump through to actually get your money. Bonuses have a 5x rollover requirement, which is more than half as much as other competitors require.
Betting limits are high for recreational gamblers, ranging as high as $5,000 in some markets, but professional gamblers might find them too low to meet their needs.
Pros:
The most different ways to bet on sports, including a wide variety of props
America's busiest poker room and a large, diverse menu of casino games
Mobile platform is as good an experience as using the full site
Low rollover requirements make it easy to get your money
Cons:
Betting limits are relatively low, frustrating professional gamblers
Doesn't release its lines as early as other sites
3. Heritage Sports: Our Top Choice for Live Betting in MO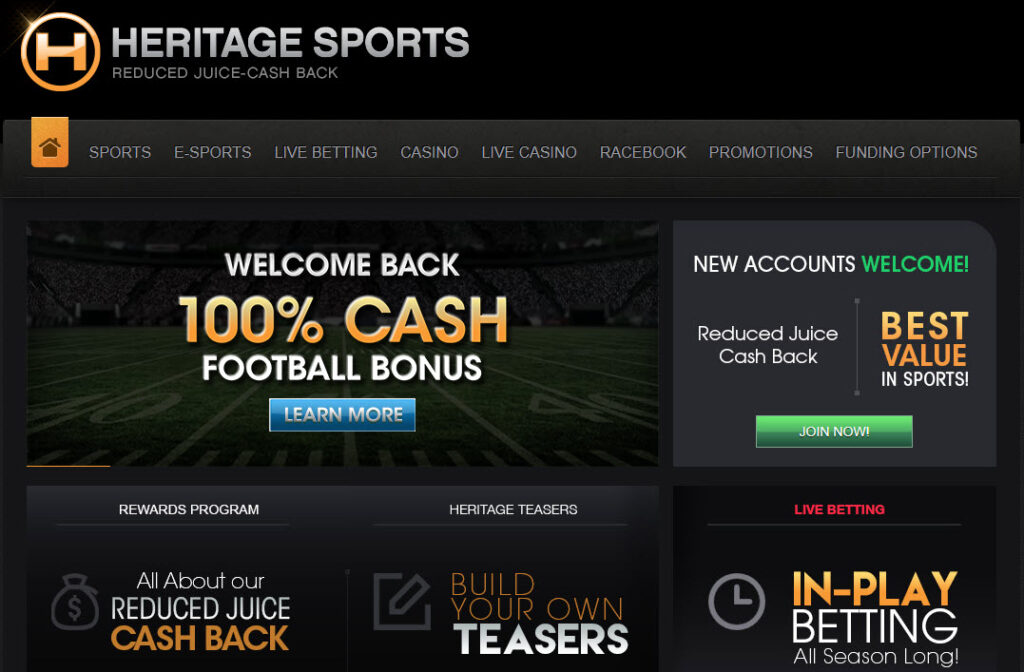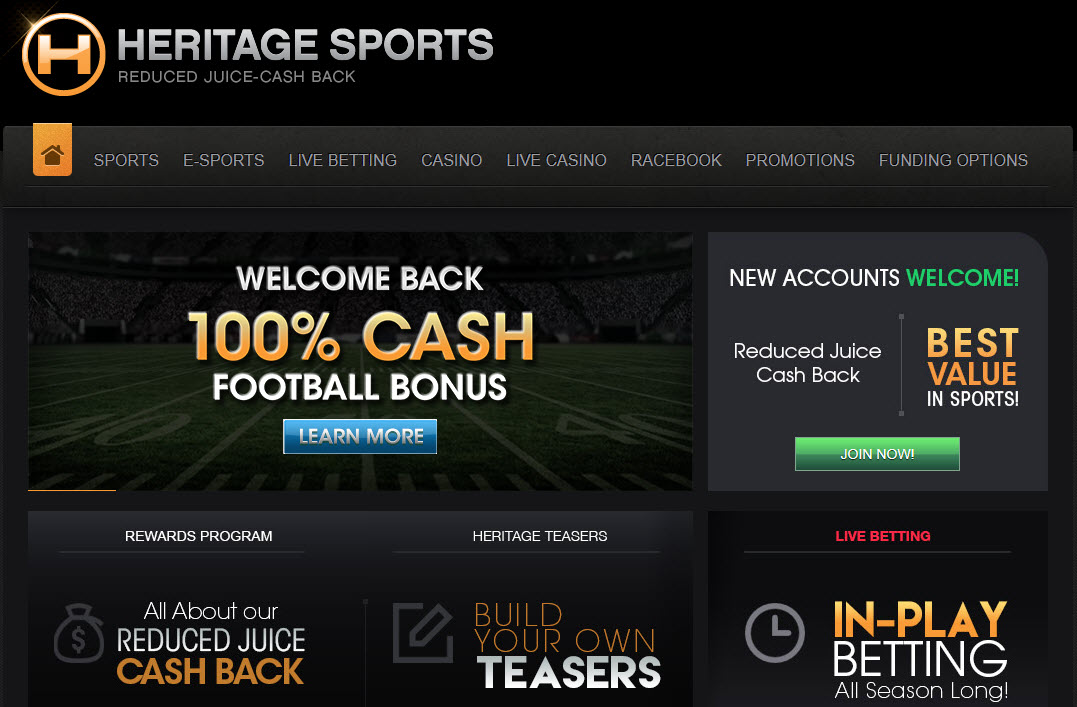 The second mobile site on our list, Heritage Sports, has a long history and a loyal following. Heritage Sports began as an invite-only site, and, even though it's now open to everyone, it still gives customers the feeling that they are VIPs. That includes cashback rebates, fast payouts, and elite customer service.
It's also tough to beat the odds offered by Heritage Sports. They offer reduced juice odds of -108 on many events, which basically translates into a 20% discount in the long run and makes it easier for you to make a profit.
The mobile site offers everything that the full-blown web page does, including a live dealer section of the casino.
More and more gamblers are looking to bet on sporting events that are in progress. Maybe your original pregame bet is looking settled, or maybe you just have a hunch about what's about to happen. Either way, Heritage has the best live betting platform in Missouri.
Pros:
Mobile site is fully functional and as easy to use as the full-blown website
The best live betting interface in the state
Customer can expect VIP treatment with cashback rebates and customer service
Offers reduced juice lines
Cons:
Welcome bonuses are lower than competing sites
Doesn't have a live online poker room
4. BetOnline: Best Opinionated Lines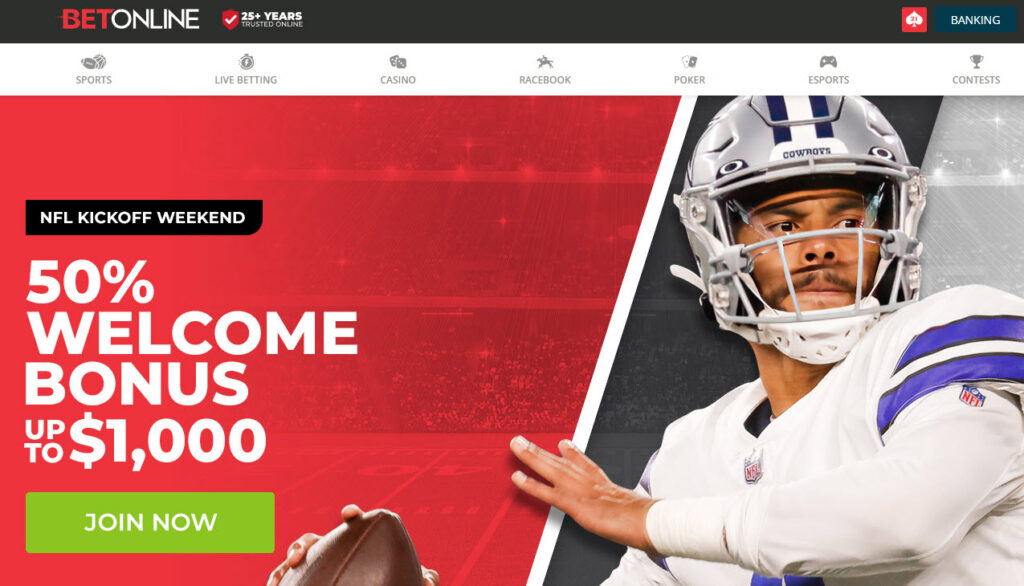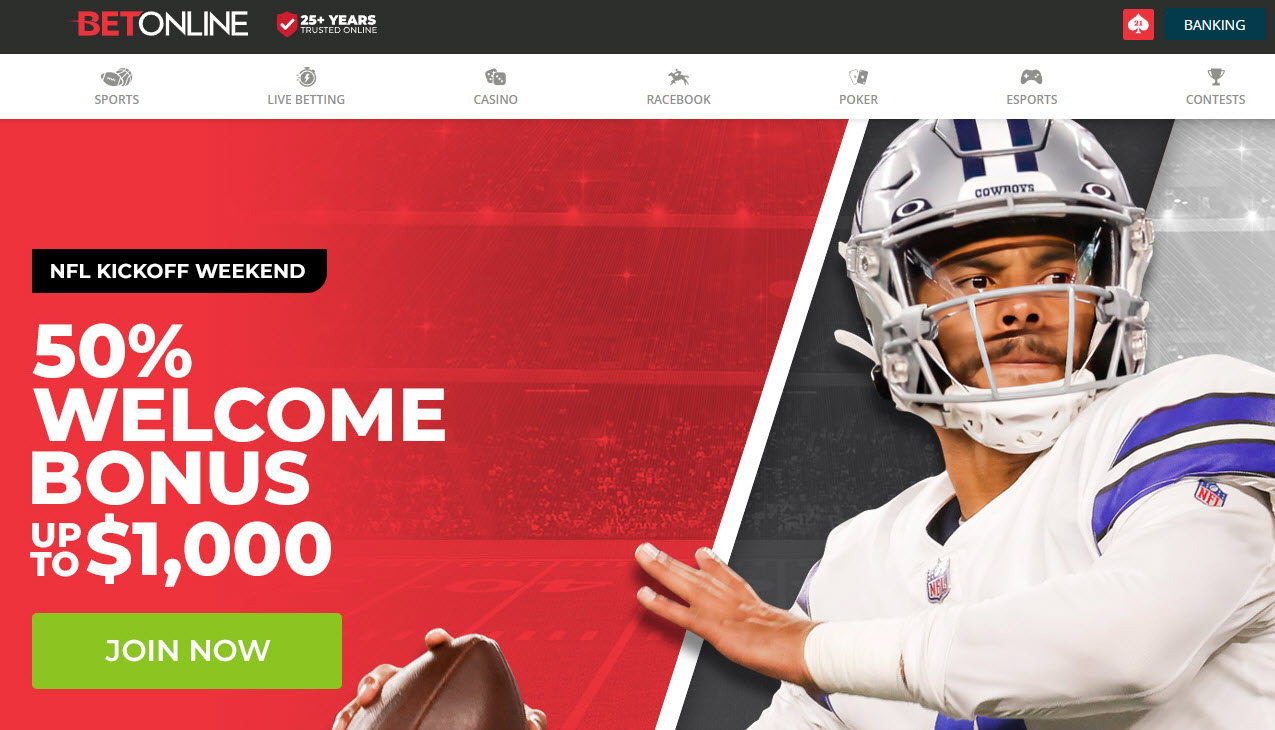 BetOnline offers savvy gamblers the chance to boost their profit as one of the only mobile sports betting sites to offer opinionated lines. Most sites offer the same odds on both sides of a point spread or Over/Under total. The industry standard is -110. However, BetOnline will offer lines that are different on the two sides of the total: They might be set at -112 / -108 or -113 / -107. If you pick correctly, you can earn a bit more profit on your winning bets or reduce the loss, by getting the equivalent of a discount on a bet that didn't pay off.
Outside of the sportsbook, BetOnline has plenty of variety for customers, including an online casino with over 500 games and the third busiest poker network in the United States.
Mobile users will also find the user experience pleasant. BetOnline has invested in upgrading its software in recent years, and now, all the features of the main site are available on a mobile device. BetOnline also offers a poker app that you can download onto your phone for quick, secure access.
Pros:
Opinionated lines offer a chance to boost your profit
Large, busy poker room and a specific poker app
Online casino with more than 500 different games
Wide range of payment methods
Cons:
Charges $50 fee for check withdrawals
Some poker players have been dissatisfied with the room
5. BetAnySports: Best Reduced Juice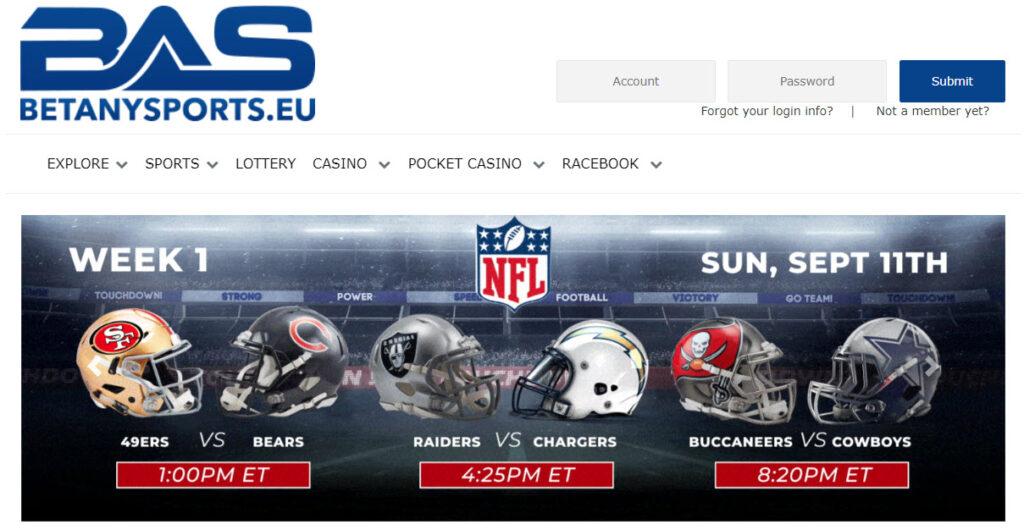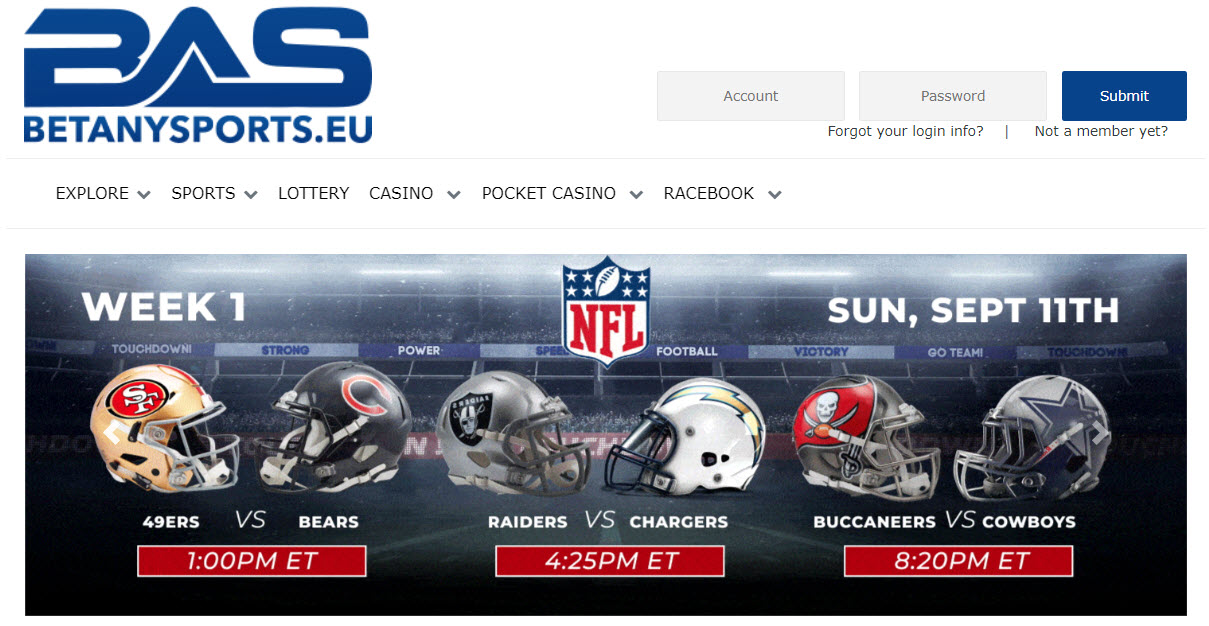 There are a number of reasons why people gamble on sporting events, and making money appears at the top of many lists. For people looking to maximize their bankroll, BetAnySports might be the mobile site for them. It offers the best reduced juice odds in Missouri, which gives you the chance to reduce the edge you need in order to make a profit.
Instead of offering odds of -110 on either side of a spread or point total, as is the standard across the industry, BetAnySports regularly sets them at -105. That means that if you lose a bet, you're only down 50% of what you'd lose at other competitors. Over time, this helps your profit margin, lowering the winning percentage you'd need to beat the house edge and finish in the black.
Of course, if you're prioritizing your profit margin, it means you're willing to forgo other perks and benefits. BetAnySports needs low overhead to offer its reduced juice, and that means that welcome bonuses and promotions for loyal customers are lower than elsewhere. It also means that the user interface—both the full site and mobile platform—is fairly stripped down. It doesn't have a lot of bells and whistles, but it will let you choose your market and place your bet. Still, it's not the slick user experience that you'll get at other sites—whose lines aren't as generous to your bankroll.
Pros:
Reduced juice is the best in Missouri
Pays out quickly and has a reputation for safety and reliability
Very low house edge on most bet types, including money lines, props, and futures
Offers multiple live betting platforms
Cons:
Interface isn't as polished or user-friendly as other sites
Bonuses are relatively low
6. BetUS: Best Bonuses in Missouri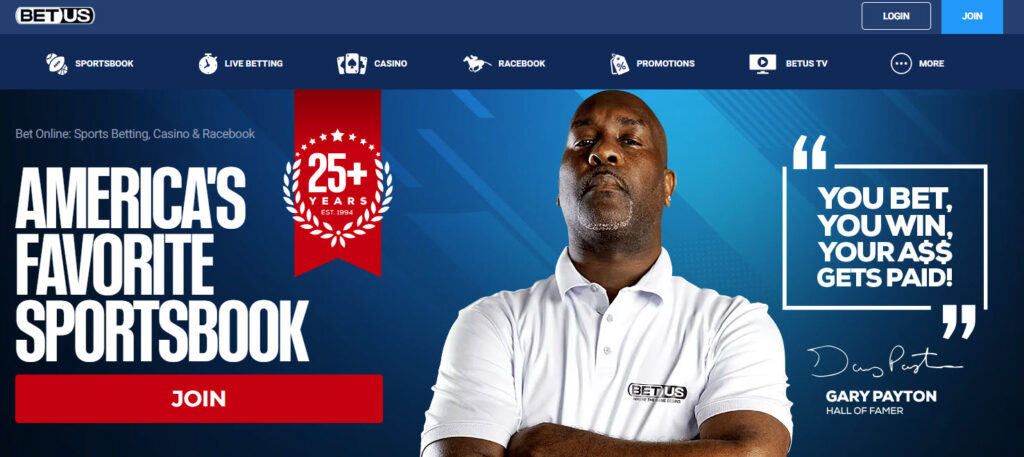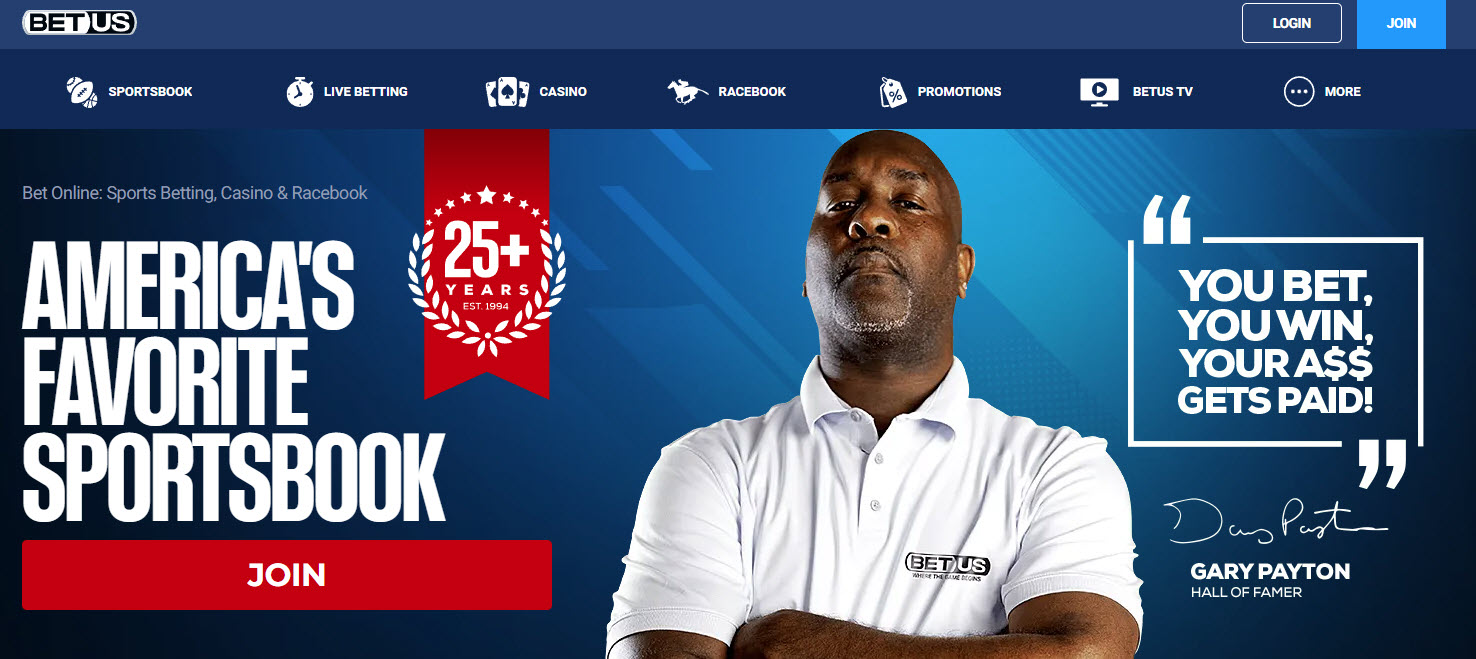 If you want to get your betting off to a fast start, BetUS is worth a look, since their welcome bonuses are some of the biggest in Missouri. They offer a wide variety of options, varying depending on how much of a rollover you want (you can choose a smaller amount with a low rollover or a larger bonus with more rollover requirements) and how much you want to spend at the site's online casino and how much at the sportsbook. But in general, you can expect BetUS to match more than you deposit—up to 200% in some offers and to get up to $3,000 of free money to play.
The mobile site offers the same features as the main site and everything is easily accessible. The mobile pages are also easy to navigate, thanks to an organization and layout that makes common sense.
BetUS also offers creative features like a video section called BetUS TV, with picks and analysis of upcoming events and a podcast featuring NFL Hall of Famer Warren Sapp.
Pros:
Many options for welcome bonuses, with different rollover rates and casino/sports book distributions.
Even higher welcome bonuses for cryptocurrency users
BetUS TV offers entertaining video previews and podcasts
VIP program to reward loyal customers
Cons:
Lines and odds are released relatively late
Rollover requirements can be very high on higher dollar amount bonuses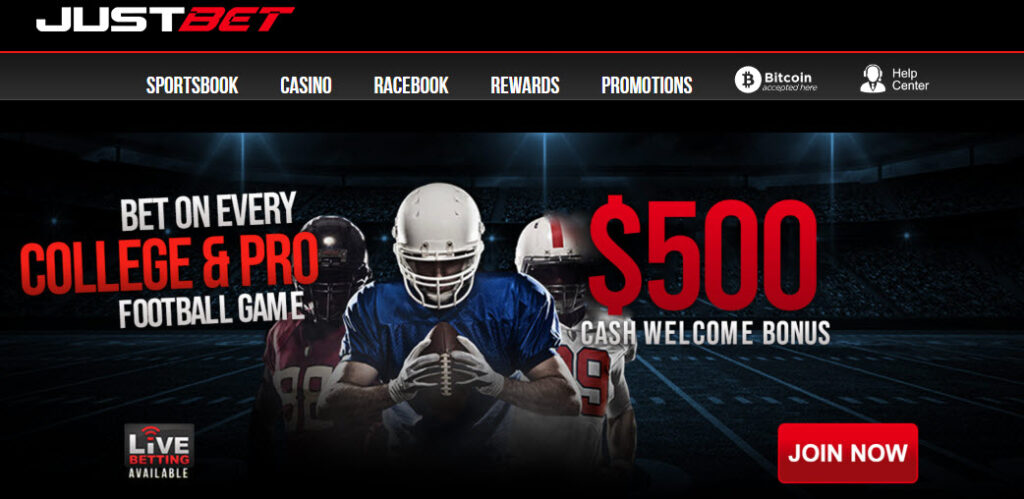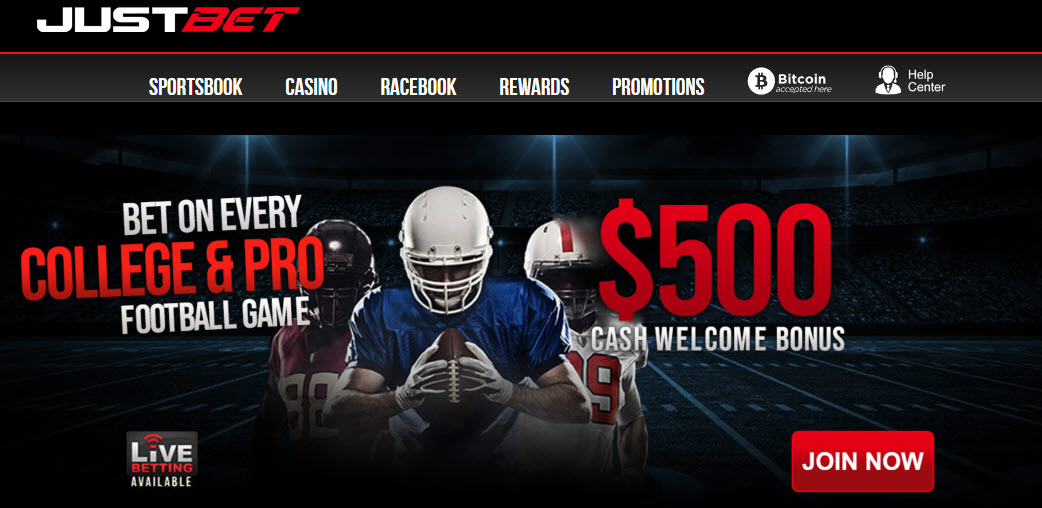 JustBet is a sister site of Bookmaker, which was our choice as the best overall sports betting mobile site in Missouri. It doesn't have the name recognition of Bookmaker, but it shares many of the features that we liked best about that user experience.
JustBet has high limits and post lines and odds early, just like at Bookmaker. JustBet's priority, however, is keeping things simple. The site isn't too cluttered. It's easy to find what you need with its minimalist design and plenty of shortcuts, including quick links to betting windows closing soon and the most popular bets of the day. The betting slip is also uncluttered and easy to navigate quickly.
The mobile site follows the same outline, with simple, easy-to-navigate pages and dropdown menus that make sense. The process of placing a bet is fast and easy, both on the full site and the mobile site, making JustBet excellent for live betting.
Pros:
Fast-loading pages and simple layout are ideal for live betting
User interface is uncluttered and has shortcuts to help move around quickly
Betting limits are among the highest in the state
Odds and lines post early
Cons:
No search function on the website
Does not have an online poker room
8. WagerWeb: Same-Day Bitcoin Payouts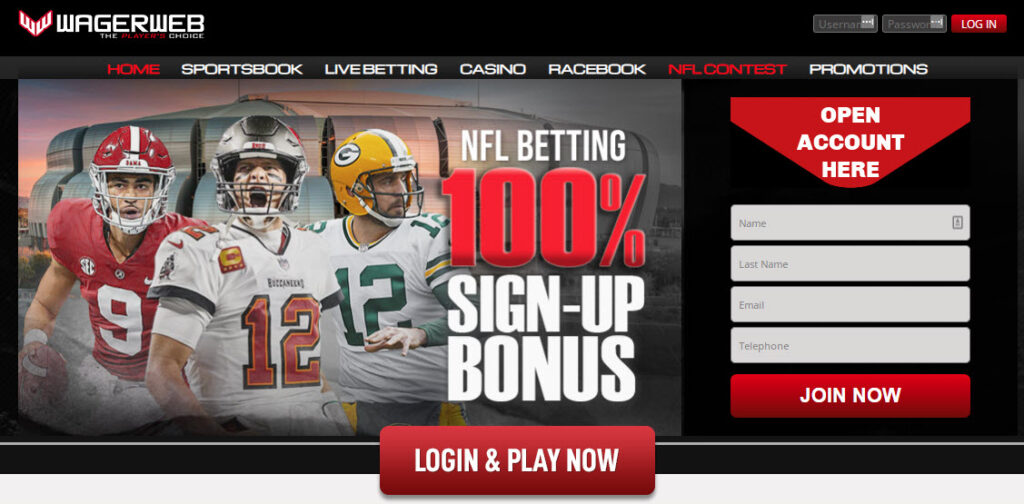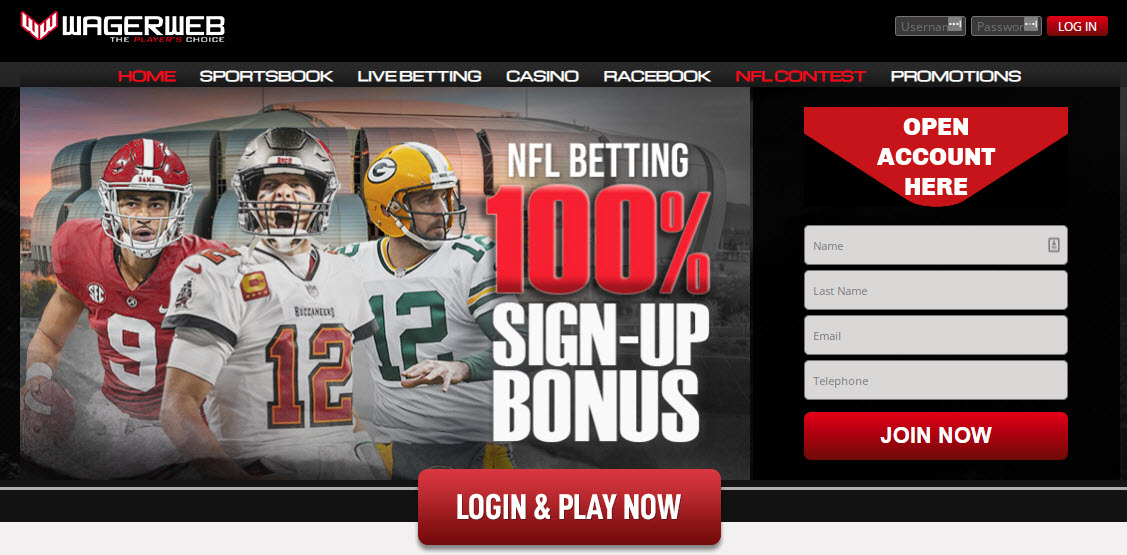 WagerWeb is a partner of Heritage Sports, which received the No. 2 overall ranking in our top 10 list for top Missouri sports betting mobile sites and apps. It certainly has benefitted from that partnership, featuring many of the same characteristics that had Heritage Sports so high on our list.
WagerWeb also has nearly 30 years of experience, making it almost as old as the web itself. That's a long history of dependable operation.
WagerWeb has a mobile-optimized website that runs on all devices, even older ones. Pages load quickly with no lags, allowing you to place bets quickly—which is essential if you're trying to do live betting. The racebook and casino are also sharp looking and easy to maneuver on a mobile device.
Wager Web also offers reduced juice, like Heritage Sports, as well as an outstanding overall user experience. They also offer a 1% cashback promo and up to $1000 in welcome bonus money when you register and make a deposit.
Pros:
Mobile site is fast, allowing you to place live bets quickly
Reduced juice of -108
Cashback promo and four-figure welcome bonuses
Very quick payouts
Also has wide array of casino gaming and racebook options
Cons:
Free withdrawals are limited to one a month
Betting limits are relatively low
9. Everygame: Worldwide Menu of Sports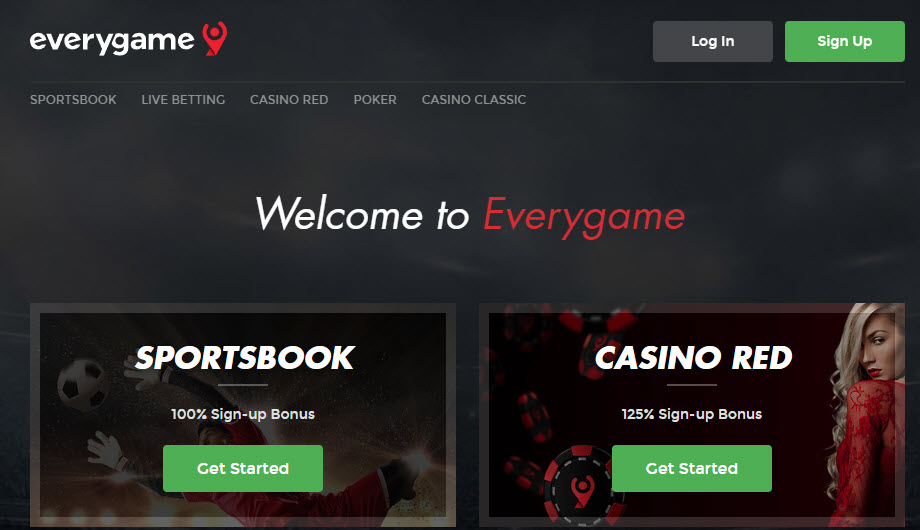 If you want a site you can trust, none have been around longer than Everygame. Originally known as Intertops, it's been through a rebranding, which means that it has brand new, state-of-the-art software to go with its trustworthy reputation built up over decades.
The software upgrade gives Everygame one of the snazziest mobile interfaces in Missouri, not just for the sportsbook but also for its poker room and online casino. The casino is worth a special mention—Everygame offers more casino titles than anyone else and is one of the best in the state.
Everygame also has a global menu of sports, including just about every major soccer league around the world and less well-known sporting events. Despite the sheer number of events, it's easy to navigate the menu thanks to a variety of shortcuts and widgets, as well as a layout that makes intuitive sense.
The mobile site also makes it easy to find what you need. It gives you a list of the sporting events that are about to start and offers menus and shortcuts to find anything else you need.
Pros:
Global menu of sports, leagues, and events
Mobile interface is stylish after recent software upgrade
Biggest variety of casino games with a great mobile casino interface
Easy to navigate full site and mobile version
Cons:
Verification can be delayed on new accounts
Pages can load slowly on mobile site
10. GTbets: Most Creative Sports Betting Feature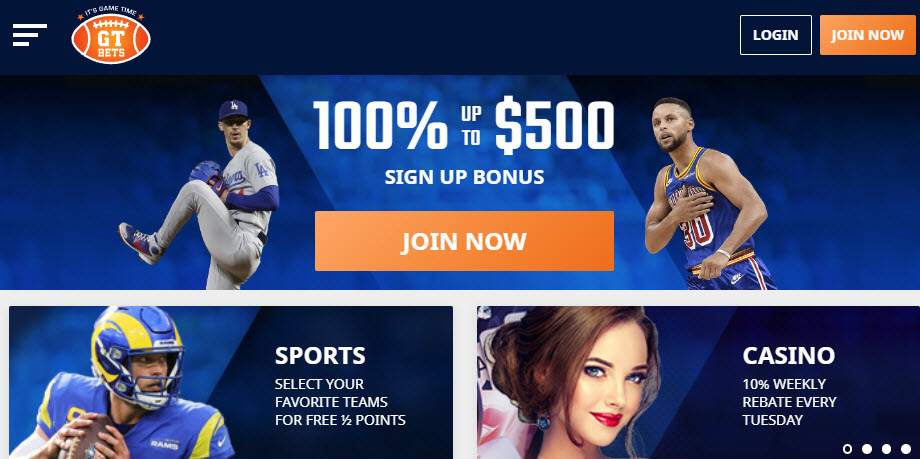 GTbets, is a fun mobile sportsbook with some creative ideas. While many online sports betting sites look alike, GTbets is able to differentiate itself.
One popular feature you won't find elsewhere is the bonus you get when betting on your favorite team. Simply tell GTbets which team you like best, and when you place bets on games involving that team, you get an extra half a point on the spread. So, if your favorite NFL team is favored by 3 points, you only need to give 2.5 when you bet on them.
GTbets also offers a statistics section that helps you do research before placing a bet on major sports, and it has a user-friendly, interactive betting slip that allows you to easily adjust bets based on your risk tolerance.
The mobile site is easy to read and navigate, plus it works on all devices and operating systems. GTbets also offers reduced juice on football and has generous bonuses.
Pros:
Stats section helps you research your bets
Favorite team feature is unique among Missouri sports books
Reduced juice for football lines
User interface is easy to use and helpful to new gamblers
Cons:
High withdrawal fees
No search function on mobile site
Comparing the Best Missouri Betting Apps & Mobile Sites
The following table summarizes the top-rated online sports betting sites in Missouri, comparing them on their rating, how long they've been in operation, and payment methods accepted.
| Sportsbook | Rating | Online Since | Payment Methods | Read Review |
| --- | --- | --- | --- | --- |
| Bookmaker | A+ | 1996 | Credit Card, Bitcoin, P2P, Crypto | Bookmaker Review |
| Bovada | A+ | 2011 | Credit Card, Bitcoin | Bovada Review |
| Heritage Sports | A+ | 2001 | Credit Card, Bitcoin, Cashiers Check, Bank Transfer, P2P | Heritage Sports Review |
| BetOnline | A+ | 2001 | Credit Card, Bitcoin, Crypto, Cashiers Check, Bank Transfer P2P, | BetOnline Review |
| BetAnySports | A | 2002 | Credit Card, Bitcoin, Electronic Check | BetAnySports Review |
| BetUS | A | 2000 | Credit Card, Bitcoin, Bank Transfer, P2P | BetUS Review |
| JustBet | A | 2000 | Credit Card, Bitcoin, P2P, Crypto | JustBet Review |
| WagerWeb | A | 1994 | Credit Card, Bitcoin, Cashiers Check, Bank Transfer, P2P | WagerWeb Review |
| Everygame | A | 1996 | Credit Card, Bitcoin, Skrill, Neteller, Bank Transfer, P2P | Everygame Review |
| GTbets | A | 2011 | Credit Card, Bitcoin, Crypto | GTbets Review |
As you can see in the table above, our industry experts have given Bookmaker.eu, Bovada, Heritage Sports and BetOnline each an A+ rating.
How We Rank the Best Missouri Betting Apps & Mobile Sites
The online sportsbooks and betting apps in our top 10 don't just do one thing well. We evaluated each of them on a wide range of factors that we feel are necessary to be considered among the top mobile sports betting websites.
The final rankings weighed the various factors, based on how important we thought they were to the overall user experience. Some of the features we considered include the following.
Mobile Betting Experience
Any app for sports betting should be easy to use. The best sportsbooks in Missouri give you the same functionality on a mobile device as you'd get on the full-blown main site.
Online betting apps and mobile sports betting websites should be easy to navigate, user-friendly, intuitive, and fast loading. They need clearly-labeled sections and filters or shortcuts to allow you to quickly find the sport, market, and/or individual game you want to bet without clicking too many times.
Mobile Sportsbook Apps
Performance and quality are both crucial to an online sports betting app. Users on a phone or tablet should have a similar experience to the full-blown site on a laptop or desktop. Our top-ranked online betting apps are safe and legal, and they offer a broad catalog of sports, banking methods, and bonuses.
Mobile Betting Bonuses
The best sites offer a choice between many different sign-up bonuses for new customers. There should be different options for the amount of the bonus, rollover requirements, and where the money can be spent (sportsbook, casino, anywhere).
We evaluated welcome bonuses on Missouri sports betting apps based on the size of the bonus, and the type—is it a straight deposit match, a risk-free bet, free plays, or something else?
Are there strings attached, especially when it is time to withdraw the money? We also consider other factors like minimum deposits, bonus percentages, maximum amounts, wagering requirements, rollovers, and expiration dates.
Live Mobile Betting & Streaming
Live betting is a relatively new development in the online gambling industry, but it's something that more and more bettors now demand. The top-rated mobile sites and apps in Missouri should provide an interface that's easy to use and makes it fast to find and place live bets.
Pages that load slowly or confusing menu options or bet slips can mean that you place your bet too late and miss out on winning money. The interface should offer in-progress bets on many different sports and types of wagers. Many sites also offer live streaming so you can watch your favorite professional sports teams as you wager.
Banking Options
Your money should be safe and available to you when you want it. The process to deposit or withdraw funds from your account should be fast and easy. Our top-rated sites have simple, secure processes that don't keep you waiting too long for transactions to go through.
Fees on certain types of payments should be kept to a minimum, as should rollover requirements on winnings and bonuses. Sites should offer many different payment options to fund your account and to receive money.
Customer Service
Occasionally, you'll need help with your account. The top sports betting mobile sites offer 24/7 customer service in multiple languages. Support agents are professional and capable, and wait times should be kept to a minimum. There should be several ways to get help, including live chat, email, and telephone.
Licensing & Security
Any sites that had problems with security or had questionable licensing statuses were not included in our rankings. The top 10 apps on our list for Missouri all have well-established reputations for safe, secure online gambling. If any issues came up, we would remove them from the list immediately.
Is mobile sports betting legal in Missouri?
At the moment, mobile sports betting is not legal for operators based in Missouri. But if certain state legislators have their way, that could change soon.
The Show-Me State has been edging closer to legalizing sports gambling, with over a dozen sports betting bills being proposed over the last five years. In 2022, the state came its closest to passing the law, and many observers have hopes that 2023 will be the year it finally succeeds.
However, even if the legislature succeeds in passing the law sometime in 2023, there will still be a long legislative process that lies ahead.
The lawmakers will need to iron out the details of how retail sports betting will look among state-approved providers, and licenses will need to be applied for, evaluated, and granted. Even if the law gets passed, it could be 2024 or later before the first legal bets are placed at companies inside the state's borders.
That gives two options to people that don't want to wait. They can cross state borders—Nearby Illinois, Kansas, and Tennessee all offer legal sports betting inside their states—or they can use one of several offshore sportsbooks, such as the ones in our top 10.
There are no laws in Missouri or in the U.S. Federal code prohibiting Missouri residents from betting at offshore sites or winning money.
Missouri Sports Betting News and Developments
1984: Missouri legalizes a state lottery.
1992: Missouri becomes one of the first states to legalize riverboat gambling. It currently has 13 riverboat casinos.
1994: The first two riverboat casinos hit the water.
2016: The state legalized daily fantasy sports.
2018: In preparation for the Supreme Court allowing states to decide on whether to legalize gambling, six different bills are submitted to the state legislature. None pass.
2019: Three bills are introduced, including the first one proposed in the U.S. that offers royalties to pro sports leagues whose games are being bet on. Again, the legislature doesn't pass any of them 
2020/2021: The legislature continues to debate bills that would legalize sports betting
2022: By all accounts, the state comes its closest yet to legalizing sports betting. One bill passes the state house but tax rates and video lottery terminals prevent a consensus from being reached in the senate.
How to Sign up for a Missouri Betting App & Mobile Site
Signing up for a mobile site or sports betting app in Missouri is fast and easy. It only takes a few minutes to get started, and then you'll be betting on upcoming games, matches, and tournaments. Here is a step-by-step guide.
Step 1: Open a Sports Betting Account
Pick the app or mobile site you like best. On the site's homepage is a "Join" button. Click that button to go to the registration page and fill out all the required information.
Step 2: Choose a Payment Method
After creating an account, you need to deposit funds and collect your bonus. Go to the Cashier section and choose the deposit method you want to use. Then enter the amount you want to deposit and the required account information.
All of our top-rated sites offer a variety of withdrawal and deposit options, including credit cards (Mastercard, Visa, American Express), debit cards and even crypto options (Bitcoin, Bitcoin Cash, Ethereum).
Step 3: Select a Welcome Bonus
New customers qualify for one of several welcome bonus codes and promotions. You could get a matching deposit bonus, where the amount of free money depends on how much of your own money you put in. You also might get additional bonuses for using crypto. Review the various options being offered and pick the one that best fits your betting needs. Be sure to enter any promo code that is required.
Step 4: Choose a Sport to Wager on
It's time to bet. Pick the sport or sports you're interested in, review the schedule of games or matches, as well as the different types of bets you can make. Pick a winner and get ready to put down your money!
Step 5: Place your Bet
The final step is to place your bets by adding your selections to the bet slip. Good luck!
Mobile Betting Bonuses and Promotions Available in Missouri
Our top 10 online betting sites are just the tip of the iceberg. You can easily find sites willing to take your money and place your bets by the hundreds. There is fierce competition among the various mobile sports betting sites in Missouri, and that's good news for you. Companies will offer plenty of bonuses to get you to start betting with them. Then they'll offer loyalty bonuses to keep you as a customer.
Most sites have a variety of promotional offers, and the sheer number of bonuses can be overwhelming. We'll go through some of the most common types and explain what you'll be getting.
Welcome Bonuses
Just about every sports betting mobile site and betting app will offer you a sign-up or "welcome" bonus. It's the most common type of bonus given out in the industry.
In most cases, a sports betting app in Missouri will give you a welcome bonus by matching some or all of your first deposit. It could range from a 50% match, meaning that if you deposit $500, they'll give you an additional $250, all the way up to a 200% match, which would mean your $500 is matched with an additional $1,000. They're usually capped at a specific amount. Amounts may be restricted to certain areas of the site—for instance, a $2,500 sportsbook bonus and a $500 casino bonus.
Existing Customer Promotions
Sites also offer their current customers loyalty bonuses to keep them happy. The best sportsbooks value loyalty and will offer you cash-back programs, reload bonuses, enhanced odds, and insurance bets.
No Deposit Bonuses
No deposit bonuses are rare. It basically gives you money just for signing up. Essentially, they're funding your first few bets for free.
You don't have to deposit money into your account to claim a no-deposit bonus. They could be offered in a dollar amount or free bet tokens.
Risk-free Bets
Risk-free bets are also popular. You basically get a chance to win without the fear of losing money. Different sites may market them as free bets or bet insurance. Usually, you place a bet using money from your account. If you win, you get to keep whatever you earned, just like a normal bet. In case you lose, the money you wagered back will get to you in the form of a free bet credit.
Note: It's not completely free, because the money will now likely have rollover requirements and an expiration date, making it tougher to withdraw from your account.
Missouri Betting Apps & Mobile Sites for iOS & Android
Top-ranked sports betting apps and mobile platforms in Missouri should be compatible with all mobile devices—tablet and phone, Android and iOS.
Missouri Mobile Sports Betting on iPhone
To download native sportsbook apps in Missouri onto an iPhone, you'll need to go to the Apple Store. You can either search the store for the app name or find a link to the App Store listing on the online sportsbook's page. Once you find it, it can be downloaded with a click.
If the sportsbook you chose doesn't have an iPhone app, you can easily create a mobile progressive web app on your device for free.
Missouri Mobile Sports Betting on Android
To download an Android sports betting app, go to the Google Play Store. Again, you can either search for the app or see if the site has a link to it for Android users. If there's no app available, you can create a mobile progressive web app on your device.
Mobile Sites vs. Sportsbook Apps for Betting in Missouri
Throughout this guide, we've considered mobile websites and betting apps as one category, but there are differences. Both options allow you to place bets while you're away from a computer. Here's what you need to know that distinguishes them from each other:
Mobile Site
Using a mobile site doesn't require you to download anything. Bettors just go to a sportsbook's mobile site directly from the browser on their phone, just by entering the website URL. If you've gone to a website on your phone or tablet—whether it's a gambling site or not—you've used their mobile site without even knowing it.
Pros:
Instant access to the sportsbook site
Don't need to have storage space available on your device
You don't need to worry about regular updates
Accessible on most devices—phone or tablet
Cons:
Site may be down at times for maintenance or other issues
Less secure than an app
Mobile App
To use an app, you must download and install it on your phone or tablet. You then click it to open it when you want to use it.
Pros:
Startup is quick and easy
Apps are more secure than mobile sites
Geolocation can be used for Missouri betting
Guaranteed to work on your device
Cons:
Not all sites may offer apps for all devices
Need to have enough available storage space on your device
Best Missouri Betting App & Mobile Site
You have our rankings, our in-depth reviews, and all the supplemental information we provided above. All that's left is to think about your personal likes and dislikes and choose which sports betting app or online betting site is right for you.
The choice of our team of experts is Bookmaker. It offers high limits, a smooth user experience, and a mobile site with all the functionality of the full site. It has something for everyone, regardless of experience and risk levels, and has an outstanding reputation. Your personal preferences or specific needs may be better matched to a different site, however. We're confident that any of the sites in our top 10 would be an excellent choice.
FAQ – Using a Mobile Sports Betting App in Missouri
Can Missouri residents gamble online?
There is currently no state-regulated way to gamble online. However, bettors in Missouri can use an offshore gambling site to place wagers on sports or horse racing or to enjoy casino gambling such as online slot machines or poker.
What online gambling is legal in Missouri?
Currently, there is no state-regulated online gambling that is legal in Missouri. Offshore websites are completely legal for online gambling regardless. You will have numerous gambling options with offshore sites, as online betting offers more wagering options in addition to convenience than brick-and-mortar casinos and retail sports facilities do.
How to gamble online in Missouri?
Gambling online in Missouri is simple. All you need to do is sign up with the offshore website of your choice, verify your identity, fund your account and then have fun.
Can you use sports betting apps in Missouri?
Mobile sports betting with companies located in the state is not currently legal in Missouri. That could change over the next year as it looks like the future of sports betting regulations in the state is hopeful.

For now, if you want to bet on Missouri sports, your options include crossing the border to a retail sportsbook in a neighboring state or visiting one of the online betting sites we've covered here. Sports bettors will be able to access a wide variety of betting markets, including both professional teams and college teams, with an offshore site.
What are the best sports betting apps in Missouri?
Our list of the top 10 sportsbook apps is led by Bookmaker, followed by Heritage Sports, Bovada, and BetOnline.

Choosing the offshore sportsbook that's best for you is a personal decision. We suggest that you compare the strengths and weaknesses of different sports betting websites and even take a look at a few of the contenders, to see how they look and operate.