Kansas Mobile Sports Betting – The Best Sports Betting Apps & Mobile Sites Compared for 2023
Sports bettors in Kansas are currently being overloaded with choices for sportsbook apps after the state legalized online betting last September. But new regulations on sports gambling did not bring legal online casino gaming and poker in the state, so access to games like that could be a huge draw in picking an offshore sportsbook.
What is an offshore sportsbook, and why should Kansas users consider using one in addition to local, regulated sportsbooks? Learn about the lucrative bonuses and exciting opportunities to wager on your favorite sports in this guide as we look at the best online sports betting sites in Kansas.
The Best Mobile Sports Betting Sites in Kansas
Highest-Rated Mobile Sportsbooks in Kansas
Our top 10 list of mobile sports betting sites are all based in countries where sports betting is legal. These sites will all accept Kansas users to play for and win real money today.
Is mobile sports betting legal in Kansas?
Yes, when Kansas passed legal sports betting in 2022, online sports betting was a big part of that. Ever since the full launch of online sports betting apps in September 2022, these apps have been driving a big share of the bets placed in Kansas on sports. Any company seeking to have a mobile sports betting app in Kansas must be approved for a license pass all the Kansas Racing and Gaming Commission's regulations on sports gambling.
Reviews of Kansas' Top Mobile Sports Betting Sites
If you wanted to know what made these our top 10 choices for Kansas users seeking online sportsbooks, we detail our top five sites below with pros and cons.
1. Bookmaker: Great for Bettors of All Levels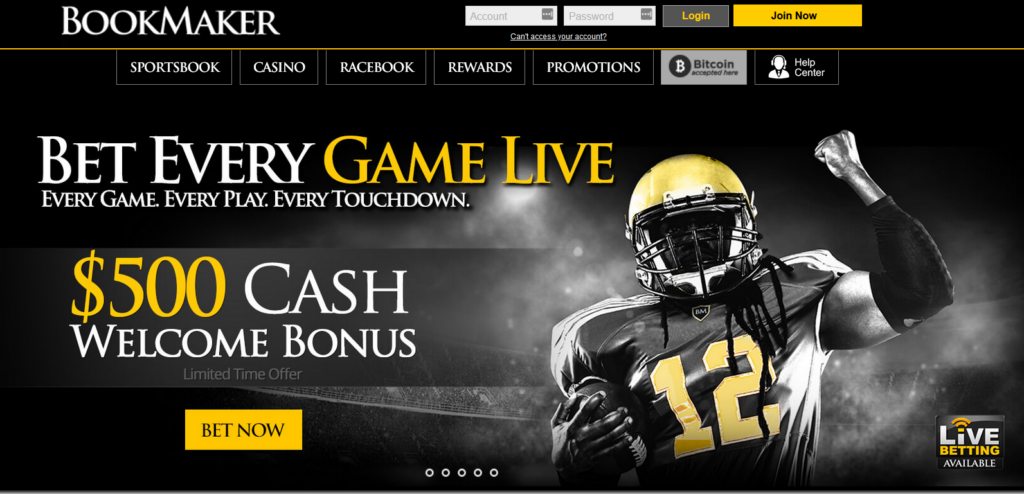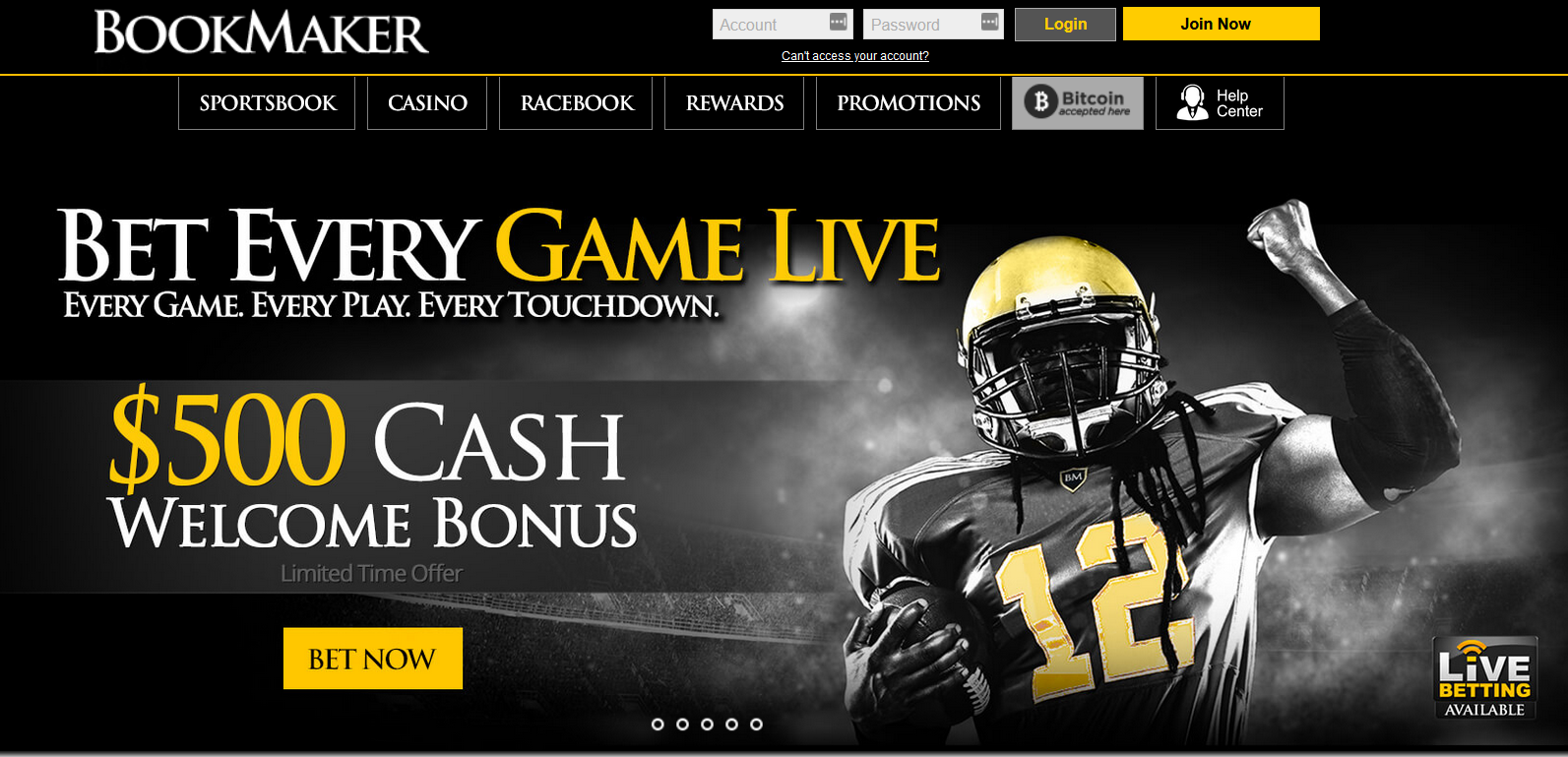 Since 1996, Bookmaker.eu has earned its reputation for providing the earliest betting lines in sports. This is why sharps love Bookmaker, and this is why new bettors in Kansas should be jumping at the opportunity to join a top-tier sportsbook.
You get some of the best value in the early lines as you can get the number you want before the public moves the line with their bets. This is why sharps love Bookmaker, not to mention they do not limit winning players. The only way they may do that is by only allowing recreational accounts into the Diamond Tier of their three-tier loyalty program where you can get great reload bonuses.
But betting sides and totals is great at Bookmaker, and they also do a solid job with props. You can bet with high limits too and expect timely payouts.
The non-sportsbook offerings at Bookmaker could use an upgrade, but if sports betting is what you mainly seek, then you have found the right choice in Bookmaker.
Pros
Get the earliest lines in sports betting for maximum value
Winning players will not be limited
Welcomes new bettors too
High wagering limits
Great loyalty program
Cons
Non-sports sections are lacking
Not the best for proposition bets
2. Heritage Sports: Reduced Juice and cashback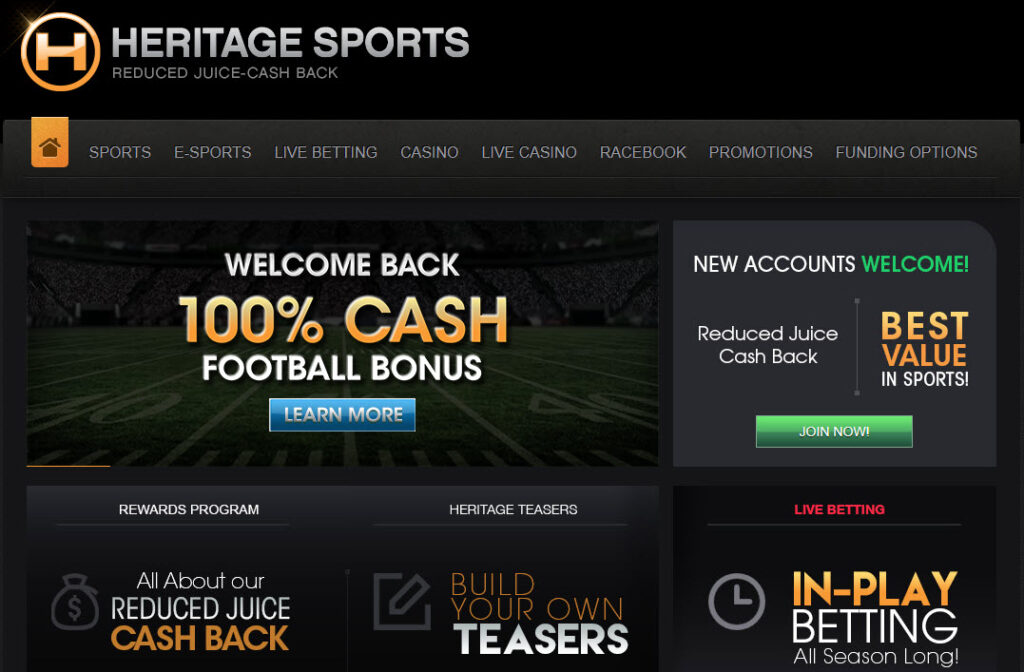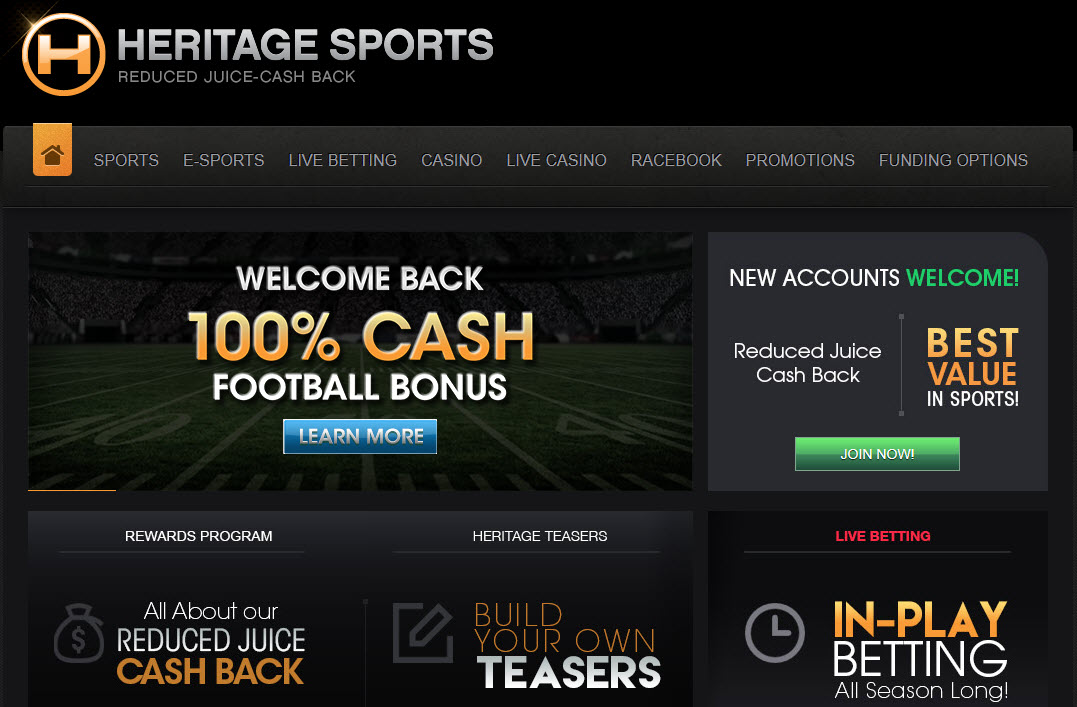 Heritage Sports is open to all Kansas sports betting enthusiasts, so those seeking a great esports section or free-to-try casino games or fun perks like a free birthday parlay (up to $500) are in luck. But the main draw is still the sportsbook, where you can do live betting at all times of the day on a great mobile site.
There are so many global markets to bet on at Heritage Sports that there should always be something for you to bet on at all hours of the day. If you bet frequently, you can get a great cashback bonus on your sports betting volume each quarter.
Heritage Sports is known for cashback and reduced juice (-108). You get both instead of having to choose one over the other. The nicest thing about the bonus funds is that they can be used anywhere on the site with no restrictions.
Pros
Great for doing live betting on mobile site
Cashback and reduced juice is an unbeatable combo
Plenty of global sports markets available
Decent prop builder
Great for esports fans
Cons
One of the smallest new user promos
No poker tournaments
3. Bovada: Great for Props and Poker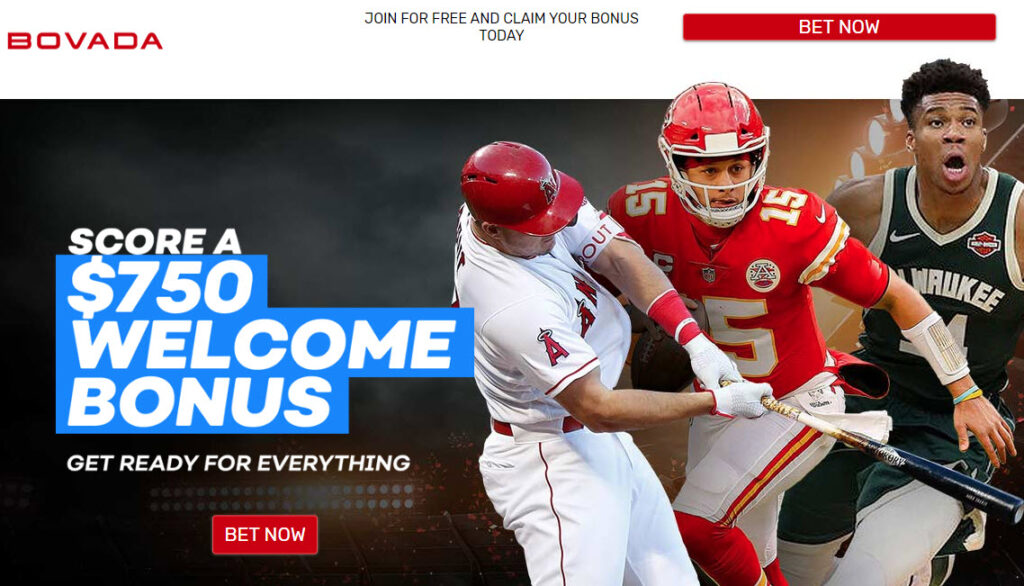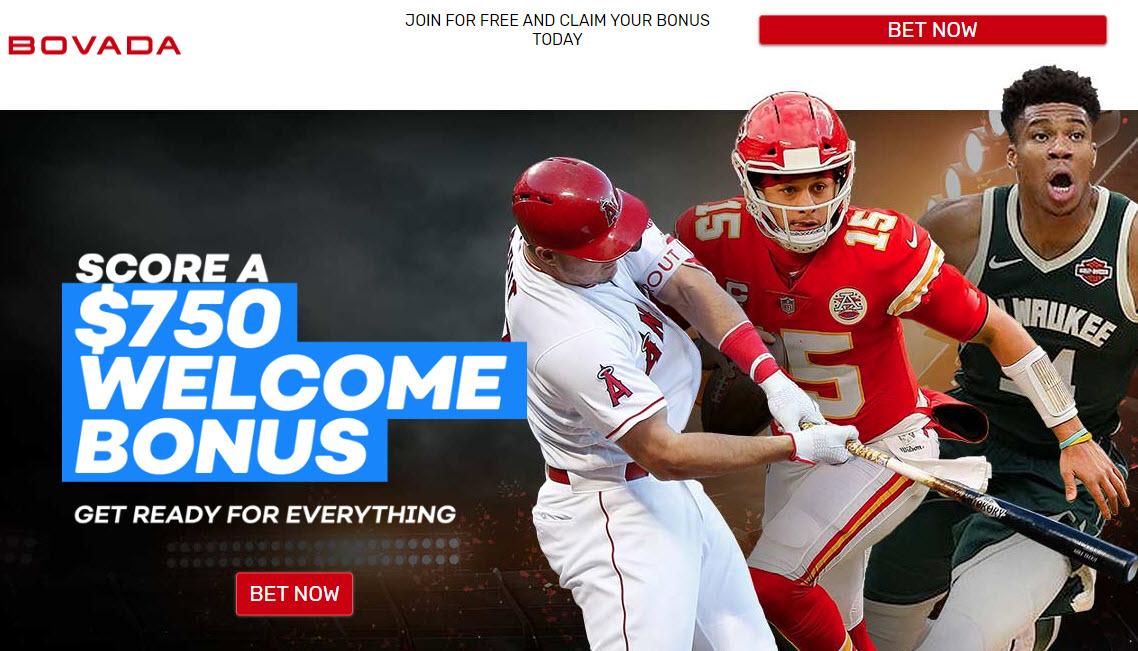 Bovada has an excellent prop builder where you can even recommend props, and if they are accepted, everyone can bet on them from a list of specials for each game.
Bovada is also great for futures bets, live bets, and they have solid game props and team props to go along with the player props for popular markets.
The sportsbook is well designed, with every sport listed in A-Z order for easy navigation on the go. The mobile site can be added to your home screen, which makes it act just like an app you downloaded. Log in quickly for easy access to your bets, and you can follow along with the game on the go to make your live bets at Bovada.
The poker tournaments are also a big draw for people to use this online sportsbook, plus, there is a dedicated poker app to play in said tournaments.
Pros
Great builder for proposition bets
Handles live betting well
Mobile site is one of the best
Great poker tournaments
Wide variety of leagues available
Cons
Not many ongoing sports betting promotions
Withdrawal checks take a long time to be completed
4. BetOnline: Tons of Betting Markets and Casino Games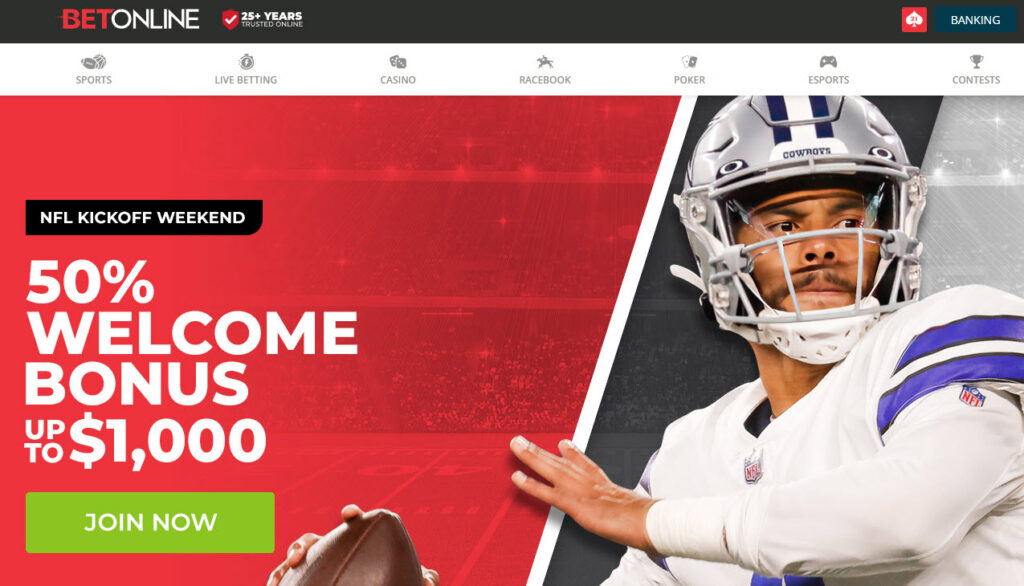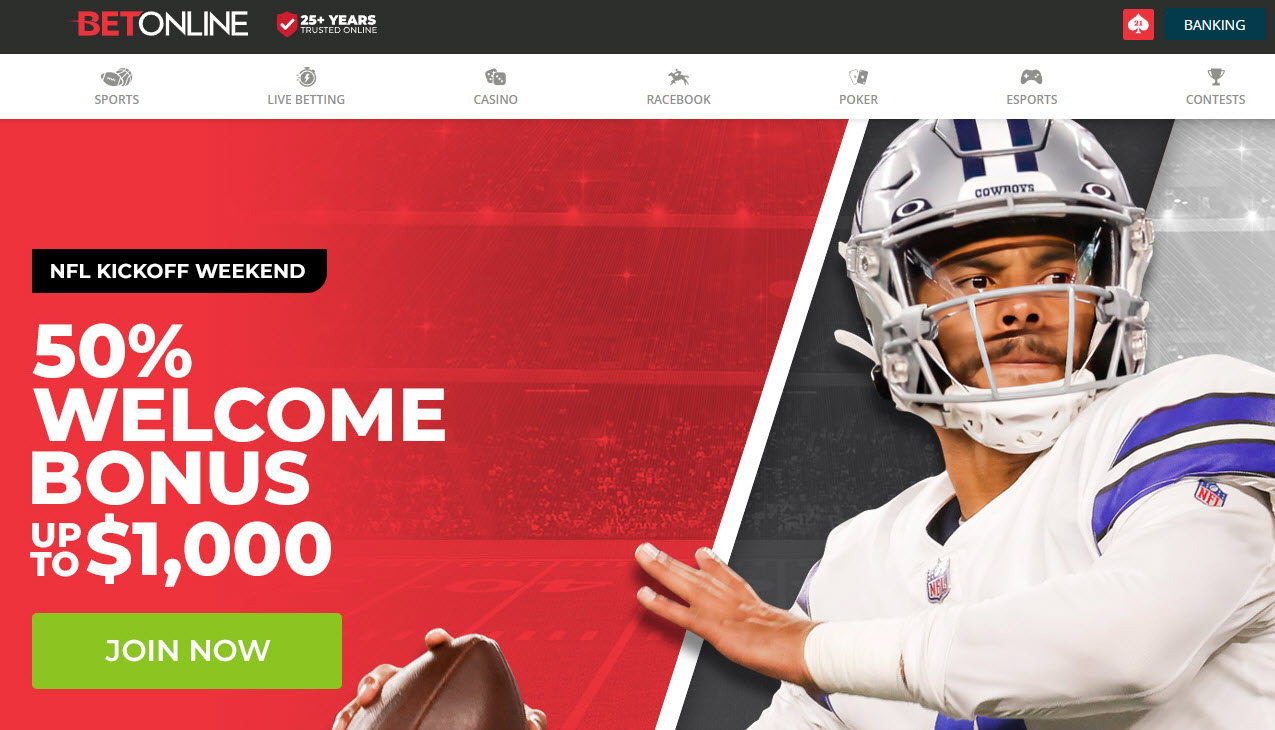 BetOnline does a great job of offering opinionated lines for popular markets that you will not find elsewhere. These alternate lines in the props can be used for parlays too, which you cannot do at many regulated competitors like FanDuel and BetMGM.
But one thing we wish BetOnline would do is add reduced juice (-108) to other markets than just NHL, which trails the other major professional leagues in North America by considerable margins. Still, if you love betting hockey, then BetOnline is definitely your choice.
The casino is also loaded with hundreds of unique games, and the poker tournaments are right up there with Bovada for the best around. With high limits and fast payouts, BetOnline is a very solid all-around choice for Kansas sports bettors.
Pros
Opinionated lines make for great parlays
Mobile site is adequate for live betting
Fun sports promos and contests available
Fastest payouts
Cons
Reduced juice only for less popular NHL
Some user promos are not very profitable
5. BetAnySports: Competitive Odds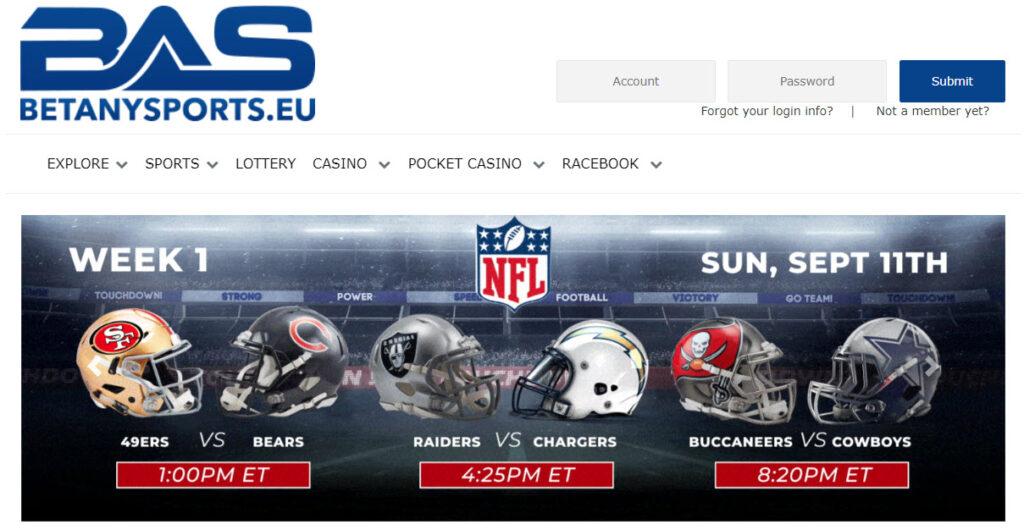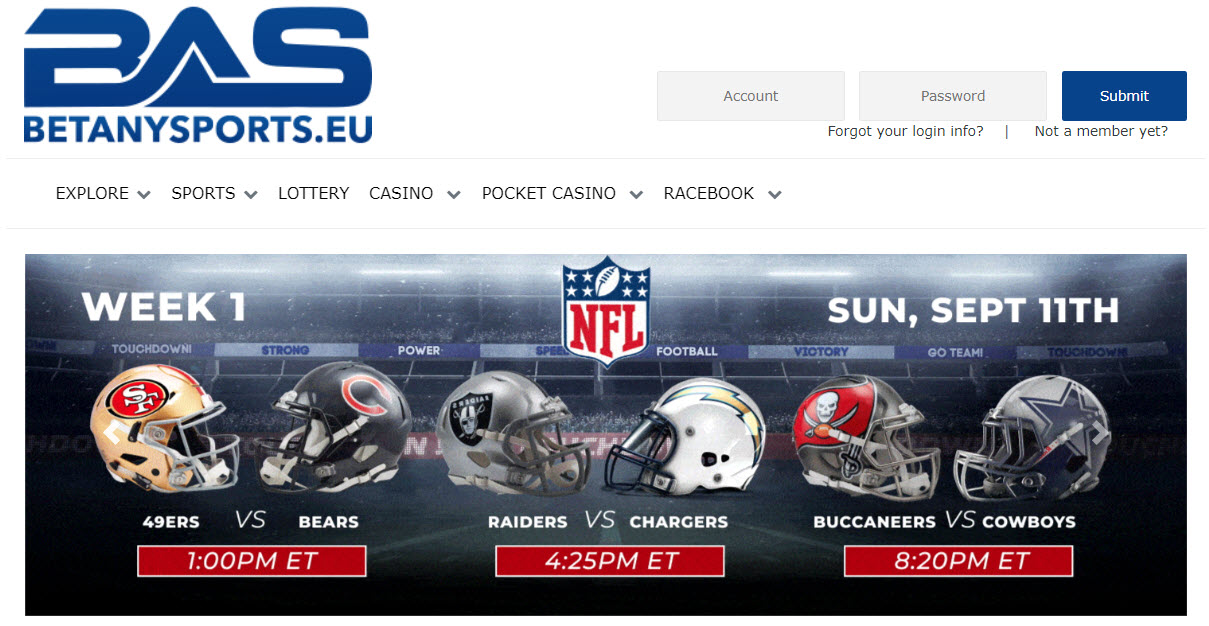 Sports bettors at BetAnySports can take advantage of the obvious benefit of reduced juice with -105 lines offered for various markets. It can be a little confusing at first to read through the various lines offered at BetAnySports, but once you get the hang of things, it is a very good sportsbook to use.
It has a prop builder that is up there with Bovada for the best in the list. It has a lot of robust features and works well on the mobile site, which can also handle live betting.
The site design is among our least favorite, but the site does get the job done in placing your bets and paying you on time if you win. The customer service is also very helpful, and the lottery section is a cool advantage no one else offers.
Pros
Great prop builder
Excellent reduced juice (-105)
Plenty of live betting markets available
Cashback sportsbook
Lottery games available
Cons
Smaller budget than rivals
Site design is not as refined as some online sports betting operators
Differentiating the sports lines can be confusing at first
How We Rank Mobile Sports Betting Sites
At Bookmakers Review, we run each online sportsbook through the wringer to see how it performs against the set of criteria we deem the most important for a quality sports betting experience. We explain the importance of these metrics below, but here is the list of what we are looking at here:
Competitive betting odds
Wide variety of betting markets
Banking methods
Promotions and bonuses
Mobile live betting
Mobile experience and compatibility
Customer support options
Security features
History of Sports Gambling in the Sunflower State
The history of sports gambling in Kansas reads a lot like many other states around the country. Basically, little was happening legally because of the Professional and Amateur Sports Protection Act of 1992, also known as PASPA. That act basically made it illegal (outside of Nevada) to bet on sports in this country.
But after years of court battles in 2018, the Supreme Court finally overturned PASPA, putting it back on the states to determine if they want to legalize sports betting or not. Back in 2018, just one state (Nevada) had the ability to legally bet on the Super Bowl that year. By 2023, that number is up to 33 states (plus Puerto Rico and D.C.).
Kansas, one of the earliest states to legalize daily fantasy sports in 2015, is one of the 34 states that eagerly ushered in legal sports betting. After spending a couple of years getting the bill right, the Sunflower State legalized sports betting in 2022 with the passing of Senate Bill 84.
This sports betting law led to legalized retail sportsbooks and online betting sites in Kansas. They did a soft launch before a full launch in September, just in time for what became a Super Bowl season for the Kansas City Chiefs. In February 2023, Kansas reported that it went over $200 million in sports betting handle for the first time in the month of January.
The Recent Timeline of Sports Gambling in Kansas
The following timeline shows the recent major events in sports betting apps in the Sunflower State:
February 2023: Kansas reports its highest month in sports betting so far, crossing the $200 million mark in total handle for the first time in the month of January.
January 2023: Kansas Crossing Casino is the fourth state casino to offer retail sports betting after striking a deal with Caesars Sportsbook.
September 2022: After a soft launch on September 1, online and retail sports betting went live in Kansas, with the full-scale launch coming just in time for the 2022 NFL season.
2022: SB 84 is approved by both the Kansas House and a 21-13 vote by the Senate, allowing Gov. Laura Kelly to sign the bill into law in May.
2021: Senate Bill 84 (SB 84) is designed to legalize Kansas sports betting (retail and online sportsbooks). It would eventually stall before revisions the following year.
2019: An early attempt at legalizing sports betting in Kansas draws opposition from the casinos, stopping a bill that would have allowed a 50% tax rate on sports betting overseen by the Kansas Lottery.
2018: PASPA is struck down by the Supreme Court, allowing each state the right to choose to make sports betting legal.
2015: Kansas becomes one of the earliest states to legalize Daily Fantasy Sports (DFS) contests, adding validity to companies like FanDuel and DraftKings.
Key Features of Mobile Betting Apps & Sites
In the following sections, we are going to look at our important grading criteria and what makes it an important part of a sports betting site's grade.
Competitive Betting Odds
Sports wagering is all about the odds and finding value. If two sportsbooks are offering the same bet and one has -140 odds and the other has -115 odds, chances are you are placing your bet with the one offering -115. This is why sports bettors like to have accounts with different sites to take advantage of the best prices.
Some sites also offer reduced juice, giving you lines like -105 and -108 instead of the standard -110 or higher. That is a nice boost to be found at Heritage Sports, BetAnySports, and BetOnline (NHL only).
Wide Variety of Betting Markets & Options Offered
The more you can bet on at one site, the more likely you are to use that site for all your sports betting needs. That gives online operators an incentive to offer the most leagues possible, and the most betting markets possible. The sites do a good job of offering all the leagues from around the world, including the more niche stuff, like table tennis and snooker. But where they can vary are the betting markets and what you can do in a parlay.
Parlays have taken on lottery ticket-style interest from younger sports bettors hoping to hit it big one day. The more you can put on one bet slip, the better these days. That means everything from totals, game props, player props, team props, and any other popular betting options like first-basket scorers in a basketball game or touchdown scorers in a football game.
There are more betting options than ever before, but a great sportsbook will always have more than you can imagine.
Accepted Payment & Withdrawal Methods
Being able to put money in with a variety of popular deposit options is important, and getting paid for a win in quick order using numerous withdrawal methods may be even more important to the sportsbook user. But we take note of the various methods used at these sites and what the associated limits, fees, and processing times are for each.
For example, debit cards and credit cards may carry an annoying fee when you make a deposit, but crypto transactions are free. However, not everyone uses crypto, so it is still crucial to see high credit card acceptance at these sportsbooks in addition to providing other methods like eWallets, PayPal, and being able to transfer from your bank account.
Sports Betting Promotions & Bonuses
A good way to get started with an online sportsbook is the welcome bonus, which is usually a deposit bonus equal to your initial deposit. There will be a minimum deposit threshold you have to meet in order to qualify. This can be very lucrative, but deposit match bonus funds come with a pesky rollover requirement that you must satisfy before any of those funds can be withdrawn as cash.
That is why the best sports betting promotions are usually the ones for existing customers. Think reload bonuses, risk-free bets, enhanced odds on select markets, and a reward program that accumulates points for more perks. You also could join cashback programs at select sportsbooks, which can be lucrative if you do most of your betting on that one site.
Mobile Live Betting
Live betting is a huge benefit to sports bettors who can find value while watching a game that you would not get from just making pre-game predictions on what will happen. It also can be a great way to hedge a pre-game bet.
As live betting continues to grow, we like to see sportsbooks that have a good setup for it, offer more live options than just the spread/total/moneyline, and it is best to see a data visualization of the current game situation for those following the game on the go without the support of video.
Mobile Experience & Compatibility
In following the game on our mobile device, we want a lag-free experience and the ability to easily navigate between different betting markets when making our bets. The mobile site should run as well as an app would, and since most offshore sportsbooks lack a downloadable sports betting app, their optimized mobile sites are very important in providing the best experience for the bettor.
Contacting Customer Service
If someone has a legitimate gripe with an online gambling site, it could be sports bettors if they feel a player prop was judged incorrectly because of a stat correction or the player's active status in the game. When this happens, we may need to contact customer support, and that is when having the most options possible comes in handy.
We value 24/7 support and with the most options available (phone, email, message request, live chat, etc.). At the end of the day, getting help in a timely fashion is what matters most.
Mobile Security Features
When using the mobile site for an online sportsbook, we want to feel that our data is safe and secure. The padlock logo on the site's URL can tell us if our session is being protected by SSL encryption. We trust that with the many years of experience in this industry, our top-rated sportsbooks are using the best methods and standards to protect our data and ensure safe betting.
Promotions & Offers At Kansas Sportsbooks
There is no denying that promotions and bonus codes play a huge factor in getting someone to choose a specific sportsbook. But we are going to look at the other types of promotions for existing users, including risk-free bets, deposit matches, odds boosts, referral bonuses, parlay insurance, and entry into a VIP program. These are arguably even more important than just a good sign-up bonus.
Welcome Bonuses
The welcome or sign-up bonus is usually going to be the biggest lump sum of bonus bets you will receive from a sportsbook. The way they usually work is you make your initial deposit after creating your account, and anywhere from 50% to 200% of that amount is matched in bonus bets. Sometimes you may have to enter a sportsbook promo code to get this bonus to work, but the key is making a big first deposit. Some sportsbooks even offer bonuses for your first two or three deposits.
The kicker here is that none of your bonus funds can ever be withdrawn until you satisfy the rollover requirement. That means you have to wager those funds a certain number of times over before you can think about converting that to withdrawable cash. This can be hard to do as you will need to make good bets on the sportsbook and continue winning so that you do not blow through all the bonus funds before you can withdraw any winnings.
Always be sure to read the terms and conditions of every welcome bonus. Some rollover requirements are higher than others, and it is always higher in the casino than it is for the sportsbook. There is also usually an expiration date on these bonus funds before they are removed from your account, and you usually have to wager a certain minimum of odds on the sportsbook to qualify for the rollover. You cannot just bet on the -20000 favorite and expect that to count. They are too smart for that at these sites.
Risk-Free Bets
Returning users at a sportsbook will often get a chance at a risk-free bet. This means you place a wager on a certain market, and if your bet loses, then you will receive the stake back (up to a certain limit) in the form of bet credits to be used on the sportsbook later.
There really is no risk to these bets as you will get 100% of your stake back assuming you do not bet more than the maximum bonus bet allowed. This is a fun way to get in on certain games you may not normally bet on, and that is also why you sometimes are offered risk-free bets on your first racebook wager or your first in-game (live) wager at certain sportsbooks.
Deposit Match
A deposit match is basically a deposit bonus just like you often see with sign-up bonuses. By depositing X amount of dollars, you will get a match of 30 to 100% of your deposit in bonus funds. Who could turn down bonus bets like that if you were going to deposit money anyway into your account? These are always nice to see. A "reload bonus" basically works in the same manner.
Referral Bonuses
Just about every online sportsbook will have an offer where you send your friends a referral link, they use it to join the site with their own account, they make a deposit of X amount of dollars, and you and your friend both receive some amount of bet credits to use on the site. It could be $50 or $100 for both of you depending on the site and the current offer. Usually, you can refer up to five friends a month on most sites.
This is always a fun way to get your friends involved with sports betting, though there is usually a restriction that you both must live in the same state for this offer to qualify.
Odds Boosts
Odds boosts can show up daily at some sportsbooks, and they are a nice way to try to get a better price for a certain betting market. For example, you may see an odds boost on two NBA players to score at least 20 points that night. Instead of the usual odds of -200 on that, you might get an odds boost of +100.
There is a belief that you should fade the odds boosts, but other research has shown that they usually do hit when a sportsbook offers them. Just be on the lookout for them, and if you see something you liked, why not jump on it with boosted odds? Just keep in mind that these are always used as single plays and with a limit on how much you can wager one time on them.
Parlay Insurance
Game parlays are very popular these days, and some sportsbooks offer parlay insurance bets. Basically, if your parlay loses just because of one leg, you can get up to $25 back at some sportsbooks. There are usually strict rules for this, including your parlay needing to have a minimum number of legs, each leg must have minimum odds of -200, and only one leg can be wrong to get the insurance win.
It may be hard to pull off and not many sportsbooks will offer it frequently, but consider parlay insurance a consolation prize when you come up one leg short, as some of us sports bettors are experts at doing.
Loyalty & VIP Programs
Sportsbook users intending to stick with one sportsbook over the rest should consider joining the loyalty or VIP program at that site. These can vary dramatically by site, but the general idea is that the more you wager, the more perks you will earn, either by earning points that can be redeemed for bet credits or profit boosts, or access to lucrative reload bonuses like the three-tier reward system at Bookmaker and JustBet.
Betting on College Sports in Kansas
College games are one of the most popular betting options for sports bettors. In Kansas, college sports take on a different meaning with the success of the Kansas Jayhawks men's basketball team, the 2022 NCAA champions.
The good news is Kansas is a state where it is legal to bet on in-stage college teams. Many states ban that, but it is not the case for Kansas. Feel free to bet on the college basketball teams in your state.
Kansas College Sports Teams
Kansas sports teams are all about the college experience, with the Kansas State University football team winning the Big 12 Championship Game against TCU.
This came on the heels of the Kansas Jayhawks men's basketball team winning the 2022 NCAA tournament, their fourth win in the tournament in school history. Kansas is one of the most successful programs in the nation when it comes to college sports championships and overall winning percentage.
But there is also a third NCAA Division I team in Kansas. The Wichita State Shockers made the Final Four in 2013.
NCAA Division 1 Teams in Kansas:
Kansas Jayhawks
Kansas State Wildcats
Wichita State Shockers
Other Sports To Bet On In Kansas
It is a good thing Kansas has those college basketball teams because it is lacking in professional sports teams, since the Kansas City Chiefs (NFL) and Kansas City Royals (MLB) are technically in Missouri. Sure, you just have to cross the nearby border to see those popular sports teams play a football game or baseball game in Missouri, but Sporting Kansas City (MLS) is the only major Kansas sports team that plays its home games inside the state lines of Kansas. Even horse racing does not run in the state anymore.
But that does not stop Kansas from being devoted to sports and a rising star in the sports betting industry now that they offer retail and online forms of sports betting. Whether you use a popular sportsbook like FanDuel or an offshore one like Bovada, there are many different sports and markets, both popular and niche, that Kansas fans can bet on.
That list includes but is not limited to:
Aussie Rules
Baseball
Basketball
Boxing
Cricket
Curling
Cycling
Darts
Esports
Football
Golf
Handball
Hockey
Horse racing
Motorsports
MMA (UFC)
Rugby
Snooker
Soccer
Table Tennis
Tennis
Volleyball
There has to be something for everyone here.
Signing Up With Online Sportsbooks
If you want to get started with mobile betting in Kansas, it is a simple process to sign up for one of these online operators and start betting on sports today.
Step 1. Create an Account
Head over to the site you want to join to begin creating your account. You will be asked to pick a password, so always make sure you pick something challenging and unique that you are not using elsewhere.
Step 2. Verify Your Account
Sportsbook users can expect to have to verify their identity, so be sure to give a valid name, phone number and email address so you can be contacted.
Step 3. Make Your First Deposit
Make your initial deposit to fund your account with money. Be sure to read up on any welcome bonus first that may be related to how much you deposit the first time so you can take full advantage of that offer.
Step 4. Place Your Chosen Wagers
Now that your account is verified and funded, you are ready to go bet on whatever you want in the sportsbook. Just remember to have some fun and do not go overboard.
Are offshore betting apps safe & secure?
Sportsbook users who want to do online betting will usually prefer apps over mobile sites, but the offshore sites currently lack a native app you can download from your phone's app store.
However, their online operators have done a fine job of producing mobile sites that still work similarly to an app and will get the job done for your betting needs on your favorite mobile device. You can trust that these sites are secure and will protect your user data.
Offshore Mobile Sites Versus Retail Apps
Betting online has become the dominant form of sports betting. But there are some pros and cons to using a mobile site with an offshore sports betting operator compared to a retail app from one of the licensed sportsbooks such as FanDuel or DraftKings.
Pros of Using Apps vs. Mobile Sites
Fastest login using biometrics
Easier to share pics of bets with friends and social accounts
Best for using two-factor authorization
Apps usually look better
Apps are better for following live games and live betting
Cons of Using Apps vs. Mobile Sites
Uses data when not connected to WiFi
Have to frequently download and install app updates
App and updates take up phone storage
Geolocation failures at login can be very frustrating
Drains your phone battery faster
FAQs – Kansas Sports Betting With Mobile Sites & Apps
What gambling is legal in Kansas?
Legal forms of gambling in Kansas include sports betting, horse racing (no local racing though), state lottery, and daily fantasy sports. There is no movement yet when it comes to online casino games or poker, which is the case for most states in 2023.
Can I bet on sports online in Kansas?
Yes, after the sports betting law was passed in 2022, you can legally do all forms of sports betting in Kansas, including online wagering.
What betting apps can I use in Kansas?
Local Kansas sports bettors can join all the regulated sportsbooks apps such as FanDuel, BetMGM, DraftKings, Caesars and more. They can play them on their phone or by going to in-person sportsbooks at commercial casinos. They can also join the offshore sites we mentioned above like Bovada, Bookmaker, BetOnline, Heritage Sports, and BetAnySports.
Is FanDuel in Kansas?
Yes, users in Kansas can join the FanDuel Sportsbook and still take part in daily fantasy sports too.
Can I use DraftKings in Kansas?
Yes, you can join the DraftKings Sportsbook to place bets on sports, and your same account will work to play daily fantasy sports contests too.