Sportsbook Guides:
Mobile Betting
The Best Mobile Betting Sites in 2022
by Bookmakers Review I Updated October 23, 2023
Highly rated mobile betting sites make it quick and easy for you to place bets on your favorite leagues when you are on the move.
You will never miss the opportunity to place a wager when inspiration strikes if you have an account with an elite mobile sportsbook. Just grab your phone, login and tap your screen a few times to get in on the action.
This guide highlights the best sportsbooks for mobile wagering. Read on to discover reliable, trustworthy mobile betting sites that offer great odds, large bonuses and quick payouts.
History of Mobile Betting
The world's first online sports bet was placed on January 17, 1996. A Finnish man called Jukka Hunkavarra created an account with Intertops – now renamed Everygame – and wagered on a soccer match between Tottenham Hotspur and Hereford United. It sparked a brave new era, but wagers had to be placed on desktop computers until smartphones started to take off.
The first mobile phone with internet connectivity was the Nokia 9000 Communicator, launched in Finland back in 1996. However, smartphones did not hit the mass market for another 11 years.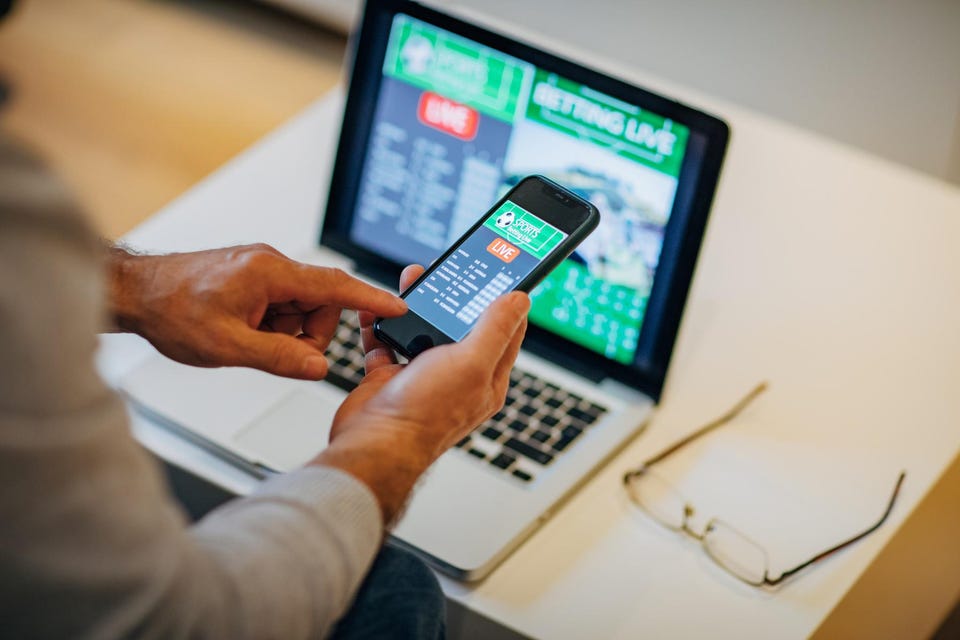 Apple launched the first-generation iPhone on January 9, 2007, allowing users to access high-definition websites in the palms of their hands. Online sportsbooks and casinos seized upon the opportunity by building mobile-optimized versions of their sites.
The Rise of Mobile Betting Apps
Analysts at Gartner found that global mobile gambling revenues had reached $4.7 billion in 2009, and they were forecast to hit $5.6 billion the following year.
In early 2011, Apple allowed real-money gambling apps to launch on the App Store for the first time. This sparked a huge growth in mobile gaming. Google Play eventually followed suit.
The first mobile sports betting apps launched in the United States in 2018. By 2021, more than 4 billion people around the world had mobile devices connected to the internet, and mobile sports betting had emerged as the predominant form of sports wagering.
Mobile Sportsbook Apps vs. Mobile Sports Betting Sites
You have two clear options if you would like to place a bet on your mobile device:
Download a mobile sportsbook app.
Visit a mobile sports betting website.
A mobile app needs to be downloaded via the App Store or Google Play. It takes up storage space on your device, and you need to update it periodically.
By contrast, you can access a sports betting site via any mobile browser. Just use your standard login details. You do not need to download or upgrade anything, and it will not use up any of your storage allowance.
Are Mobile Betting Sites Better than Mobile Apps?
Elite sportsbooks like BetOnline, Bookmaker, Bovada and Heritage Sports do not offer dedicated mobile apps. However, they have created mobile-optimized versions of their websites, which behave just like mobile apps.
You can set up shortcuts for them within your mobile browser, allowing you to access their mobile sites just as easily as native apps.
They also offer several distinct advantages over mobile apps:
You can access them from any part of the United States, whereas apps are only available in a handful of states.
They offer better odds and larger bonuses than mobile apps.
They can accept bets on college sports, entertainment markets, politics and esports, which are unavailable via most mobile apps.
You can access a sportsbook, racebook, casino and poker room in one mobile site, which is highly convenient.
Advantages of Mobile Betting
It is very quick and convenient, allowing you to place bets wherever you are.
You do not have to drive to a retail sportsbook, which saves time and money.
Additional bonuses are often available for mobile bettors.
You can sign up with multiple mobile betting sites and quickly shop for the best odds.
Disadvantages of Mobile Betting
You may find it quicker to browse a large volume of betting options on a desktop site.
Features such as live streaming can work better on a desktop site.
Retail sportsbooks offer greater camaraderie and atmosphere.
What are the Best Mobile Sports Betting Sites?
We have reviewed hundreds of mobile sports betting sites over the years. Our experts focus on the quality of the mobile software, the user-friendliness of the interface and the overall accessibility, reliability and security on offer. We have ultimately decided that these are the best mobile betting sites:
BetOnline – A+ rated
This is the most polished and sophisticated mobile betting site available to all bettors across the United States. It offers generous betting odds, large bonuses and large betting limits, making it perfect for high-rollers like professional bettors. You will receive a $50 free play mobile bonus on top of the 100% deposit match welcome bonus if you sign-up for an account today.
Bookmaker – A+ rated
Bookmaker is the best mobile site for sharp bettors. It publishes its lines before rival mobile bookies and it accepts all action. The interface is clean, stripped-back and elegant, allowing you to place bets quickly. Bookmaker also provides lightning quick bitcoin payouts.
Bovada – A+ rated
This is a great mobile site for anyone seeking a huge variety of betting options. Bovada provides more than 100 betting markets on individual games, along with customizable bet builders and a "what's ya wager?" feature, which allows you to request any bet. It also has the busiest online poker room in the United States, plus a comprehensive online casino and a racebook
Heritage Sports – A+ rated
Heritage Sports may well be the best all-round mobile betting site. It offers early lines, just like Bookmaker, and you can also sign up for a reduced juice sportsbook package, which offers you -108 odds on either side of point spreads. It is an attractive, easy-to-navigate mobile betting site, with a flawless reputation for providing prompt, secure payouts.
Popularity of Mobile Betting
Most sports fans now prefer to place bets via their mobile devices. More than 90% of the handle in the United States comes from online wagers, with retail books only accounting for a small fraction. Gaming commissions and gaming control boards in the United States do not separate mobile wagers from desktop wagers when reporting their revenue figures, but anecdotal evidence suggests that the bulk of the bets are placed via mobile devices.
In the UK, the Gambling Commission found that mobile phones are the dominant devices for online gambling. One sportsbook, SoftSwiss, recently revealed that 77.16% of bets were placed via mobile, compared to just 22.84% on desktop.
As you would expect, mobile betting is more popular among the younger age groups. The Gambling Commission's annual report published in 2020 found that 76% of bettors aged 24-35 do so via mobile phones, compared to 72% of bettors aged 25-34 and 66% of bettors aged 35-44, while just 14% in the 65-plus age group place wagers on mobile devices.
Mobile Betting FAQs
How can I bet using my phone?
You can either download a mobile sportsbook app or sign up for an account with a high-quality mobile sports betting site. You will then be able to pick up your phone at any time, login quickly and place a bet with a few simple taps of your mobile screen. Our mobile betting guide has more information.
What is the best mobile sportsbook?
We rate BetOnline, Bookmaker, Bovada and Heritage Sports as the best mobile sportsbooks on the market right now. They are all fast, easy-to-use and powerful mobile sportsbooks, which ensures you will never miss the chance to place a bet when you are on the move. Check out our reviews of these mobile sports betting sites, and dozens of additional mobile sportsbooks, at BMR.
Mobile sports betting is perfectly legal, provided you are an adult. You can also access mobile racebooks, casinos, esports betting sites and poker rooms. Some operators, such as Bovada and BetOnline, roll all of those options into a single, user-friendly mobile site, making life very convenient for bettors.
What is the difference between a sports betting app and a website?
You need to download a sports betting app from Google Play or the App Store, and it will sit on your smartphone's interface. It will also need to be updated on a periodic basis. By contrast, you can simply access a sports betting website from your browser on any mobile or desktop device, and it will not take up any storage on your phone.
How to choose the best mobile sportsbook?
You should select a legit mobile sportsbook that has a long history of paying customers their winnings on time and in full. The best mobile sportsbooks also offer polished software, generous odds, lots of wagering options, 24/7 customer support, large bonuses, lots of promos and great loyalty programs. The experts at BMR have reviewed hundreds of mobile sportsbooks, and you can browse the reviews to find the best one for you.
Are bonuses available on mobile betting sites?
All sportsbook welcome bonuses and ongoing promotions should be available to mobile users, as most bets are now placed via mobile devices. In fact, you will often receive extra bonuses if you access an online sportsbook on your mobile. For example, BetOnline will give you a $50 free play mobile sports bet when you sign up, alongside its standard welcome bonus.
What are the advantages of mobile betting?
Mobile betting is quick and easy. It means you never have to miss out on placing a wager when you are away from your computer. Just grab your smartphone, navigate to a sport you like, tap the screen a few times and your bet will be placed.