Best Sportsbooks for Professionals
These sportsbooks are known as best for professional bettors.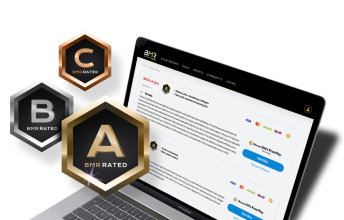 A Willingness to Accept Sharp Action and Arbitrage

Some sports betting sites actively welcome professional bettors. A great example is Pinnacle, which is more than happy to accept sharp action. It believes that allowing the sharpest bettors to play helps it to improve the efficiency of its prices. Pinnacle also proudly declares: "Confidence in our ability to manage risk and price markets correctly means we are happy to take bets that are part of an arbitrage strategy."
Most sportsbooks actively ban anyone that appears to be following an arbitrage strategy, which essentially involves exploiting price discrepancies to cover both sides of a bet and lock in a profit regardless of which team wins. They look for customers regularly betting odd amounts, as opposed to staking round numbers, and take decisive action. Pinnacle does not care about arbing, because it trusts the efficiency of its own data science.
Bookmaker.eu is another online sportsbook that has no fear of professional bettors. That is because it is another site that has confidence in the ability of its oddsmakers to price up markets correctly. It says that Bookmaker welcomes all winners: whether you are a recreational player on a hot streak or a professional sports bettor who wins more often than not, Bookmaker always pays out."
We can confirm that this statement is entirely correct, as Bookmaker has a long history of providing prompt payouts to casual players and pro sports bettors alike. Essentially, the high-quality online sportsbooks with respected teams of in-house oddsmakers are often willing to accept sharp action, whereas recreational books are likely to ban anyone that appears to be a pro.
No History of Limiting Winning Players

Some online sportsbooks do not actively tout their wares to pros, but they have no real history of limiting winning players. BetOnline is an example of a sportsbook that will give winning players a considerable amount of leeway. It does not have a history of limiting winning accounts, and it does not keep players waiting for managers to approve bets, so a lot of pro bettors hold accounts there. It also allows you to re-bet every 61 seconds, allowing players to circumvent maximum betting restrictions.
Sites like BetCris and SBOBet are also renowned for either accepting sharp action or doing very little to restrict winning players. It is actually many of the world's most famous bookmakers, such as Bet365, Ladbrokes, Paddy Power and Betway, that are the most notorious for limiting winning players. This has led to negative news coverage in national newspapers in the UK, Australia and other countries around the world.
High Maximum Wagering Limits

Professional sports bettors naturally want to be able to place large wagers in order to maximize their chances of securing a strong profit over the course of the year. Some of the sites that accept the largest bets, such as Bet365, William Hill and Ladbrokes, do not like professional bettors. It is therefore important to find an online sports betting site that accepts large wagers, welcomes pros, has a trustworthy reputation, and still has the liquidity to cover your winnings.
That really narrows it down. However, sportsbooks such as Bookmaker, Pinnacle, and BetOnline will accept large wagers, and you are guaranteed a prompt and reliable payout if you succeed. The maximum online betting limits will vary depending upon the sport, the league, and the bet type, but if you are betting sides and totals on NFL, NBA, and MLB games, you should find high upper limits. The same is true of big soccer games and tennis matches. If you feel the limit provided is too low, you can speak to customer service about increasing it, or take advantage of the re-bet option at BetOnline.
Large Maximum Withdrawals

The best online sportsbooks for pro bettors will allow you to withdraw large amounts of money in a quick and convenient fashion. Withdrawals should also be free, as paying for withdrawals can seriously erode your profit margins. You can generally choose from a number of deposit methods, including Visa, MasterCard, and American Express credit card payments, but withdrawals are normally processed via direct wire transfers, e-wallets, P2P transfers, or paper checks. Online sportsbooks should be quick to process payout requests, and then they should deliver quick, safe, reliable payments with high maximum limits.
Cryptocurrency is an increasingly popular withdrawal method among pro bettors. It allows the sportsbook to send funds directly to your wallet in 15 minutes or less, without the need for any handling fees or conversion fees from banks or other financial institutions. There is a network fee for sending crypto, but it is often minuscule, particularly on certain altcoins. Crypto allows you to withdraw very large amounts of money by betting with bitcoin in a safe and secure manner, so sportsbooks like Bookmaker, BetOnline, Pinnacle, Bovada, and Heritage Sports all accept bitcoint as a payment method. We should also point out that there are anonymous crypto-only sportsbooks like Nitrogen, which cannot limit players because you need to reveal your identity.
Early Betting Odds & Quality of Lines

Sharp bettors often like to place their wagers as soon as the day's betting odds are published. This allows them to grab a stake in the action before the square money causes the line to move. They can then place additional wagers as the game approaches. By that point, public sentiment will often have resulted in the line moving considerably, which can provide strong arbitrage opportunities.
It is therefore important to seek out the best online sportsbook sites for early lines. Once again, Bookmaker is renowned for its early lines. Most rival sportsbooks will not even publish their own lines until they see the stance that Bookmaker has taken. Its company motto is "Where the line originates". Once again, this points to a confidence in the ability of its oddsmakers and a conviction in data science. Sportsbooks such as BetCris also provide early lines, which puts them on the radar of sharp bettors.
It is also vital to find online sportsbooks that routinely offer high-quality odds. This can make the difference between earning a profit and incurring a loss over the course of a season. Pinnacle is renowned for its low vig lines. It operates on slimmer margins than the vast majority of its peers because it does not invest in bonuses or marketing campaigns. It caters to sharp bettors with very sharp lines, making it a popular choice among pro bettors. You can also find reduced juice lines at sites such as Bet105 and Heritage Sports, which run a -107 pricing package. SBK and MarathonBet are also known for offering significantly better odds than the vast majority of online betting sites.
You will typically find that the sportsbooks that own their own proprietary technology provide better odds than those that use a white-label provider like Kambi, SBTech or OpenSports. Those operators have to share the revenue with the white-label provider, so they cannot afford to offer low vig lines. Many pro bettors sign up for accounts with a number of different sportsbooks, and they can then quickly seize the best odds available on a market they want to bet on. You can use an odds comparison tool to help you find the best available odds, but you will soon gain an appreciation of which online sportsbooks regularly provide the most competitive odds
Lots of Betting Options

The best online betting sites provide customers with a wealth of wagering options. Pro bettors naturally want as many options as possible as they bid to secure a long-term profit, so it is important to consider props, alternative spreads, and totals, halves, quarters, and periods. Of course, most sharp action focuses on sides and totals, but there are professional soccer bettors that want to bet on markets like a team to win and under 4.5 goals or a team to win to nil, while some pro tennis bettors make money by betting on player points markets and fast live betting markets when the action gets underway.
Sites like Bookmaker provide a pretty narrow range of betting options, so it can be beneficial to sign up for an account with a site such as BetOnline or Bovada too. Those sportsbooks offer a broad array of interesting prop bets, including customizable wagers. The ability to buy and sell points, or simply browse alternative spreads, is another important consideration for some pro bettors, so they essentially look for online sports betting sites that provide flexibility.
The Ability to Lay Bets
Many pro bettors hold accounts with betting exchanges. You have no need to worry about your action being limited at an exchange because the site is simply the middleman. It matches you up with fellow bettors, allowing you to back or lay a series of betting markets. If you back a market, it means you are betting on it to occur. If you lay it, you are essentially becoming the bookmaker and predicting that it will not happen. Many pro bettors like to lay bets on exchanges after placing traditional wagers at online sports betting sites. This can open up a number of opportunities for arbitrage, or hedging.
Betfair is by far and away the largest betting exchange in the world. However, there are some rivals, including Matchbook, Smarkets, and Betdaq, while traditional online betting sites like Ladbrokes have also launched exchanges. Betfair has the best liquidity and the most markets, but you can find more generous commission terms at rival sites, so it can help to hold accounts with a few different betting exchanges.
Additional Features

An online sportsbook should accept sharp action, offer large bets and withdrawals, and provide early lines and competitive odds in order to attract pro bettors. However, it should also perform relatively well in a number of basic criteria required for any top online sports betting site:
Strong User Experience | The sports betting site should be easy to navigate. The design should be stylish, and the betting pages should be laid out in an intuitive manner. A strong user experience can save pro bettors a great deal of time and effort, which could be better spent researching games. Some sites also provide a wealth of stats. They may not be advanced enough for some pro bettors, but it can help to have the statistics readily available.
Excellent Live Betting Section | The best sportsbooks for live betting offer a wide range of in-play betting markets on thousands of sporting events each week. Sportsbooks have to react to developments in real time while the game is unfolding, which can provide sharp bettors with opportunities to capitalize on any poor decisions from the oddsmakers.
Strong Security and Reliability | A sports betting site should have an impeccable history of keeping customers' details safe and secure. It should provide reliable payouts. Ultimately, it should be a trustworthy, regulated and reputable online sportsbook.
Customer Service | Pro bettors may need to discuss increasing betting limits and requesting large withdrawals, so 24/7 customer support via live chat, phone and email is always welcome.
Loyalty Programs | Most pro bettors do not bother with bonuses, as they do not want to be tied down to rollover requirements, but loyalty programs can be beneficial. If you receive points for placing wagers, you can eventually claim free bets further down the line.
Best Online Sports Betting Sites for Pros

The best online sportsbooks for professional players featured on this page have all been carefully vetted by our experienced team of industry experts. You can read our detailed sportsbook reviews to learn more about the strengths and weaknesses of each site, and then choose the online sportsbook that best suits your needs.