Best NHL Sportsbooks
What makes a great NHL sportsbook?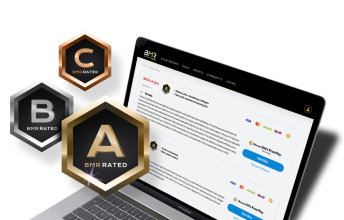 Choose Your NHL Sportsbooks Wisely
There is no shortage of sportsbooks that will accept your money. But they are not all created equally, and it is critical that whichever sportsbook you decide to use, they will be as cordial in paying you when a withdrawal is requested as they are taking your deposit to fund your account.
And while we often turn to friends when looking for guidance, sometimes they are not the best resource as they may have never requested a payout which is something friends are often reluctant to share. But this is precisely what separates the truly outstanding online books from the average and the nefarious. Don't be fooled, there are plenty of predatory online bookmakers that have no intention of paying if a withdrawal is demanded. Those are the books that have been relegated to BMR's dreaded Sportsbook Blacklist and you will find there are more of them than you would expect.

The bottom line is that only you can decide where to take your sports betting business and this is simply a guide to assist in making the best choice. After all, it's one thing to sweat the game but never the payout!  With that being said, below are some key factors to consider when choosing a sportsbook for your NHL Picks. 
Which Sportsbooks Are Earliest to Release NHL Odds?
Getting a jump on the sportsbooks is what the professionals do, day in and day out. But taking advantage of weak NHL Odds is impossible if the sportsbook you are playing with lays back and waits for the big boys to hang their lines first. Most of the sportsbooks in the industry refuse to be first because they don't want the sharps to pick apart their openers. 
 
However, there are a few leaders in getting to market sooner than the rest, and the quickest among them are often Heritage Sports and Bookmaker, both stalwart brands that are confident in the lines they offer and don't mind if you bet them as soon as they are released even though most of the other books are still dark.
NHL Sportsbooks with the Best Bonuses
Promotions and bonuses are inducements to woo customers but some are more generous than others. The trick is finding the legitimate books with excellent bonus programs versus those that are simply trying to bait unwitting customers into using them. After all, what good is a bonus if you never get paid? If signup and loyalty bonuses are important to you then one top-rated shop is Bovada, a betting site that offers a large initial signup bonus with a palatable rollover of 5X.
Sportsbooks with the Biggest Selection of NHL Props
Proposition bets have become ubiquitous throughout the industry but some cater to prop bettors more than others. And if you want the best NHL props then you should check Bet105 and Everygame, because both of these top-tier industry brands deliver a multitude of team and player props that you won't find everywhere. 
Sportsbooks with the Highest NHL Limits
Many sportsbooks have low maximum limits on NHL games and are unconcerned with accommodating this market. Moreover, most bettors don't concern themselves with max limits because betting big is not in their wheelhouse.

However, we know that there are heavy hitters out there that are constantly seeking a shop that can handle the action they are ready to unload. One NHL betting site that welcomes large wagers is BetOnline, one of the most venerated books in the sports betting industry. If betting big is your thing, then you may want to give them a shot and see for yourself how effortless they make it. 
NHL Sportsbooks with the Best Parlay Offerings
Betting a little to make a lot is why NHL parlays are so popular among sports bettors. But getting the best odds is crucial if you want the biggest bang for your betting buck. WagerWeb is an industry elite that tops most other online books when it comes to parlay odds. This is one brand that has been around forever, and generous parlay odds is just one facet of their impressive operation. 
NHL Sportsbooks with Reduced Juice
Reduced juice is simply another way of saying lower lines on the favorites. The juice, or vig, is the commission the bookmaker takes for allowing its customers the privilege of choosing which side they want to bet on. But getting a better price or line will save you money in the long run. The NHL regular and post-season is a long grind and getting value in your wagers is critical. If this is what you are seeking then BetAnySports is a standout sportsbook that offers reduced juice to its customers on a regular basis.