Best NCAAF Sportsbooks
What makes a great college football sportsbook?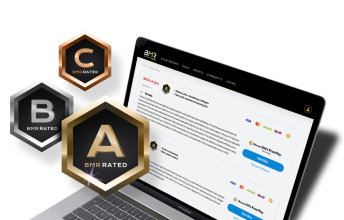 Stick with top-rated College Football Sportsbooks
Online sportsbooks are not created equal. They run the gamut from exceptional to deplorable. And if you happen to do business with the latter then buckle up because it's going to be a rough ride. We are not talking about poor customer service or limited betting options; blacklisted sportsbooks are known for slow payment and in some cases have confiscated winnings from bettors.
All of the online sportsbooks previously listed on this page have been thoroughly vetted by the experts at Bookmakers Review. Continue reading about each sportsbook by clicking through to their full reviews.
Use Multiple NCAAF Sportsbooks for Added Value
Did you know that most sports bettors have only one sportsbook with which they do business? And would it surprise you to learn that professional sports bettors, those who make a living betting sports, often have three or more online sportsbooks at their disposal because they understand it is imperative to get the best lines and the sharpest odds if they want to win over the long term? It's called the bettor's edge and you need to make sure you have it.
By choosing one of the online sportsbooks listed on this page, you can bet with confidence that when it is time to collect on your winning NCAAF Picks, you will get paid without drama.
Which Sportsbooks Are Earliest to Release NCAAF Odds?
Pro bettors make their living by pouncing on the earliest college football odds released each week. They know what the line should be and pounce if they see one that is off-market or seems advantageous. Unlike the NFL, there are dozens upon dozens of games in college football and oftentimes the oddsmakers can't focus on all of them, especially matchups that are outside the Power 5 conferences. Top-rated sportsbooks like Heritage Sports and Bookmaker are among the quickest in the industry to release early lines for the following week's slate of NCAAF action.
Sportsbooks with the Best NCAAF Bonuses
Don't be seduced by outrageous bonuses from sportsbooks you've never heard of because what good is a bonus if you'll never get paid? However, many of the elite books offer outstanding promotions with generous signup bonuses and loyalty programs. If you want a superior sportsbook known for rewarding its customers then check out BetOnline. 
Sportsbooks with the Biggest Selection of NCAAF Props
Pro bettors need to play with online sportsbooks that have an appetite for booking sharp action. Otherwise, a professional may be unable to lay down as much action as his betting edge dictates because a sportsbook will refuse to book the wager. A+ rated Bookmaker accepts some of the largest betting limits of any offshore sportsbook.
Sportsbooks with the Highest NCAAF Limits
Teasers are an integral part of many college football bettors but the standard two-teamer doesn't do it for those who like those point boosts. If you want a boatload of teaser and pleaser options then BetAnySports is the book made for you. Build your teasers with two, three, or even more teams with varying points and odds to suit those who like their exotic wagers.
NCAAF Sportsbooks with the Best Parlay Payouts
Whether you like two-team parlays or multiple team parlays driving up the price, this is one bet that can allow you a Saturday's worth of college football betting action for short money. Bovada is one book parlay lovers must check out as they offer a much more creative and extensive parlay menu.