Best NCAAB Sportsbooks
What makes a great college basketball sportsbook?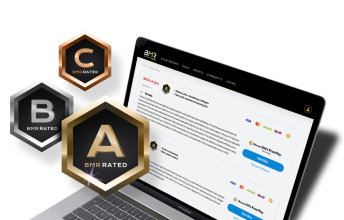 Make the Smart Choice with your NCAAB Sportsbook
When choosing an online sportsbook there are several features that should enhance your experience as a player such as the number of betting options, signup and loyalty bonuses, ease of mobile navigation, and more.
At Bookmakers Review, we believe that providing sports bettors with objective opinions based on facts and actual customer experiences is the ideal way to separate the elite online sportsbooks from all of the rest. And to do that, BMR assigns a letter grade from A+ to F with the Sportsbook Rating Guide which our readers can use as a guide. Bookmakers Review not only investigates new online sportsbooks that arrive on the scene but monitors the shops that have already been graded to make sure their current performance is commensurate with the letter grade they had previously received.  

Therefore, the grading system is dynamic and can fluctuate. But one thing the best books all have in common is a long track record of customer satisfaction. Ultimately, the choice is yours so use this as a resource to assist in selecting the online sportsbook, or sportsbooks, that fits your betting profile and offers the features that are most important to you.  With that being said, the below items are essential when selecting a sportsbook for your NCAAB Picks. 
Which Sportsbooks Release NCAAB Odds Earliest?
Every college basketball bettor knows that there are an enormous number of teams, and on any given Saturday during the regular season there can be more than a hundred games on the NCAAB Odds board. It is an enormous responsibility to put responsible betting lines on every one of these games which is why most of the books will wait to see what the competition is offering. And the two premier online sportsbooks that are most often the quickest to set the lines are Bookmaker and Heritage. If getting an early opportunity to exploit what could be weak lines is your thing then you can't go wrong with either of these well-respected shops. 
Which Sportsbooks Are Earliest to Release NCAAF Odds?
Pro bettors make their living by pouncing on the earliest college football odds released each week. They know what the line should be and pounce if they see one that is off-market or seems advantageous. Unlike the NFL, there are dozens upon dozens of games in college football and oftentimes the oddsmakers can't focus on all of them, especially matchups that are outside the Power 5 conferences. Top-rated sportsbooks like Heritage Sports and Bookmaker are among the quickest in the industry to release early lines for the following week's slate of NCAAF action.
Sportsbooks with the Best NCAAB Bonuses
Signup and loyalty bonuses allow the player to bet with house money and if finding a sportsbook that caters to this niche of college hoops' bettors is important to you then you will find few books are more generous than WagerWeb with its customer appreciation promos. And we should note that these are not pie-in-the-sky bonuses that are often used as bait by unscrupulous sportsbooks to lure unsuspecting bettors to their sites. WagerWeb is among the very best betting sites in the industry and the bonuses are legitimate and attainable. 
Sportsbooks with the Biggest Selection of NCAAB Props
The number of college basketball games is often so vast that many sportsbooks severely limit the number of NCAAB Props offered. However, the proposition betting public is expanding as bettors become more familiar with them and there are a few top-notch books that specialize in bringing a bevy of team and player props like Bet105 and Everygame. If props are your thing, then these are two respected names that shine in this category. 
Sportsbooks with the Highest NCAAB Limits
Betting big is not for everyone but if you are seeking a high-quality sportsbook that takes large college hoops wagers then BetOnline is one book that you may want to consider. BetOnline has been around a long time and has an unblemished reputation in the industry. If you're a heavy hitter then a trustworthy sportsbook is paramount in your world. 
Sportsbooks with the Best NCAAB Teaser Options
College basketball teasers come in many shapes and sizes these days, and if finding an online sportsbook that offers a wide array of teasers, pleasers, and other exotics then BetAnySports is a betting site you should visit. This is not only an A rated sportsbook but it also has plenty to ponder on its betting menu for those who like the allure of getting more points with the underdog or laying less with the favorite in a college basketball teaser.
Sportsbooks with the Best NCAAB Parlay Offerings
Some bettors prefer to build big parlays than bet flat wagers and if you fall into this category then you need an online book that caters to your needs. Bovada is not only one of the most iconic names in the sports betting industry but it is built for bettors who enjoy a vast assortment of parlays and progressive parlays. If getting the best odds on your parlays is important to you – and why wouldn't it be – then Bovada could be the right choice for you.