Vermont Sports Betting Apps – VT's Best Mobile Sportsbook Sites & Apps
Shawn West has been involved with college basketball, NFL and college football and MLB since he left his job as bank vice president two decades ago. He lives in North Carolina with his wife, children, two dachshunds and a variety of turtles.
For sports fans looking to bet on their favorite teams, Vermont is one of the toughest states in the United States. It bans gambling, both online and at in-person locations. Vermont doesn't even have betting on horse racing or tribal casinos, as do many states that have an overall ban on gambling.
Things may be changing, however. The governor has been outspoken in favor of a lift on the ban, and many believe the legislature will pass a bill to regulate sports betting sites in Vermont this year.
People looking to engage in online sports betting don't need to wait, though. Offshore sportsbooks are not under the jurisdiction of Vermont state law, meaning that residents can engage in online betting, including using their phones and tablets to use sports betting apps and mobile sites.
Our panel of experts has looked at dozens of mobile sports betting apps and recommended the 10 best for Vermont residents. We'll look at each one in detail and also look at the state of Vermont's gambling law.
The Top Mobile Betting Sites in Vermont
Our Top-Rated Mobile Sportsbook Sites
After looking at more than a hundred sportsbook apps and mobile sports betting sites, our blue ribbon panel of experts has compiled the following list of the 10 best apps and mobile betting sites in Vermont.
Is mobile sports betting legal in Vermont?
The state has made an effort to legalize sports betting, both at online sportsbooks and in-person locations, in recent years. And governor Phil Scott has made no secret of his desire to create a legal sports betting market in Vermont, even including $2.6 million in revenue from legal wagering in this year's budget.
All previous bills have failed to pass both houses and current state laws make mobile and in-person sports betting illegal, although the bill currently under consideration is believed to be the state's best shot to legalize it. Until they do, offshore sportsbooks are the only way to bet on sports using your mobile device in Vermont. They are located outside of the state's jurisdiction, which means they can take online action from residents of the state.
Comparison of the Highest-Rated Mobile Sportsbook Sites
Our experts evaluated the top mobile sportsbooks on a number of factors, but your own personal preferences and priorities may differ from theirs. To help you find the best match for your own needs, our panel put together detailed reviews of each site in the top 10, including pros and cons lists to spell out what each does best.
1. Bookmaker: Vermont's Top-Rated All Around Mobile Sportsbook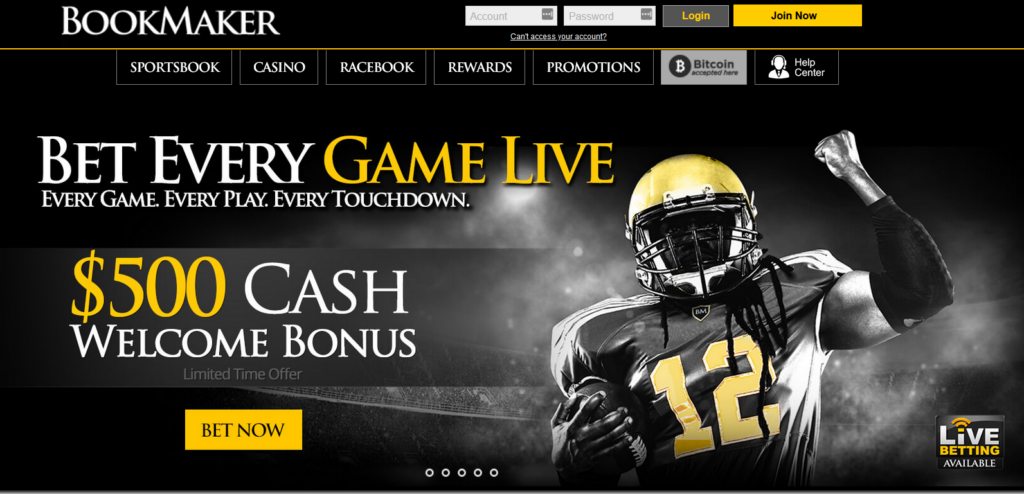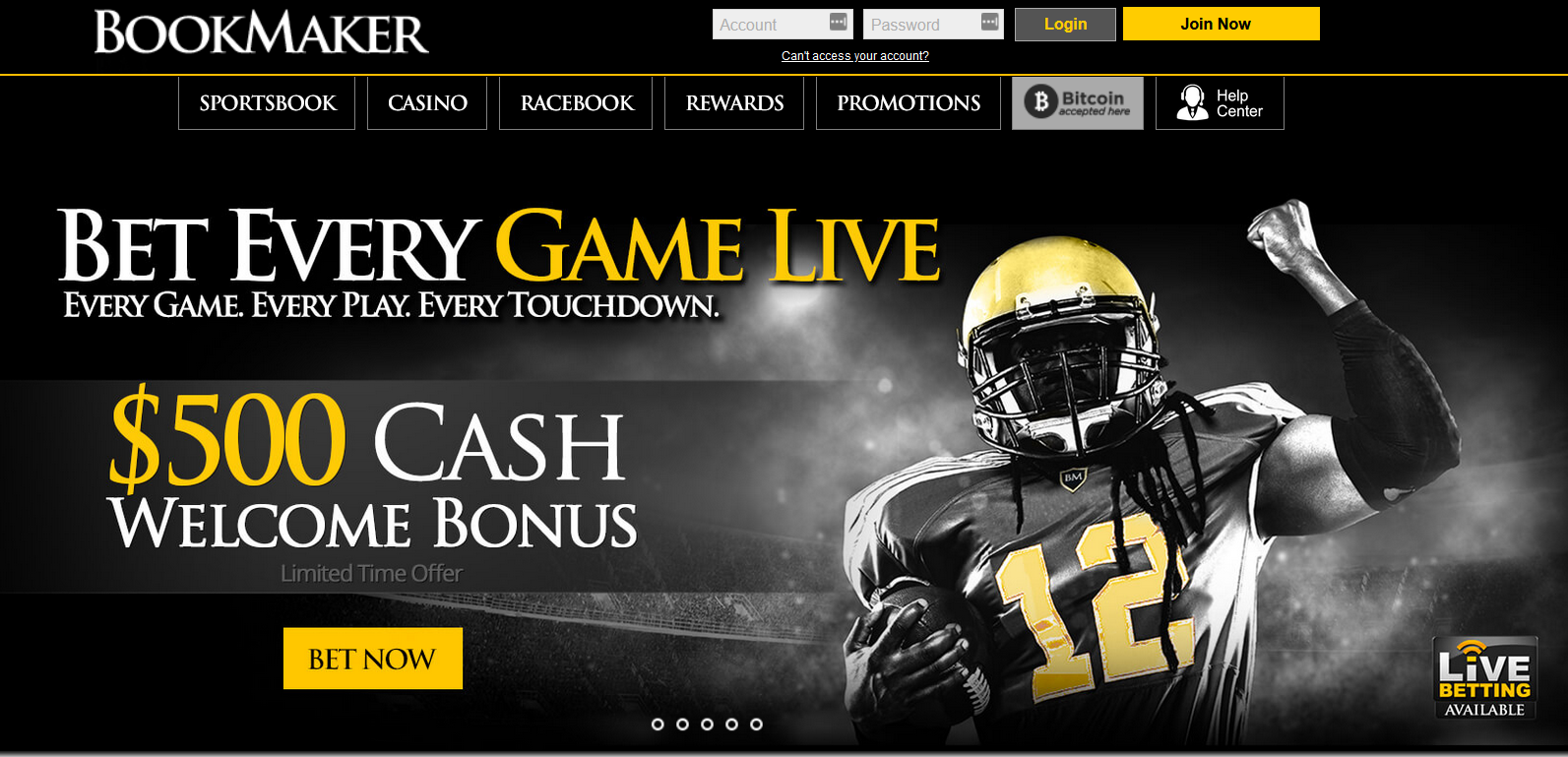 Bookmaker.eu got the nod as the best all-around mobile sportsbook in Vermont. It's starting from a strong position, since Bookmaker was also the choice as the top overall sportsbook, regardless of whether you're using the fully optimized mobile site or the desktop site. And, since everything you can do on the full site is also available on the mobile version, it should be no surprise that it also finished first in this category.
Bookmaker caters to all levels of gamblers, from inexperienced to veterans and from hesitant risk-averse bettors to high rollers. Betting limits are among the highest in the state, and they also offer low minimum bets, so every gambler will be able to bet according to their risk tolerance.
It also has an easy-to-use interface and one of the best loyalty programs in Vermont.
Pros
Gamblers of all risk and experience levels will be comfortable
Offers high betting limits and low minimum bets
All customers are automatically enrolled in the loyalty program
One of the first sites to publish lines and odds
Cons
Does not have an online poker room
Sports sign-up offer is lower than competitors
Doesn't offer reduced juice betting lines
2. Heritage Sports: The Top Live Betting Interface in Vermont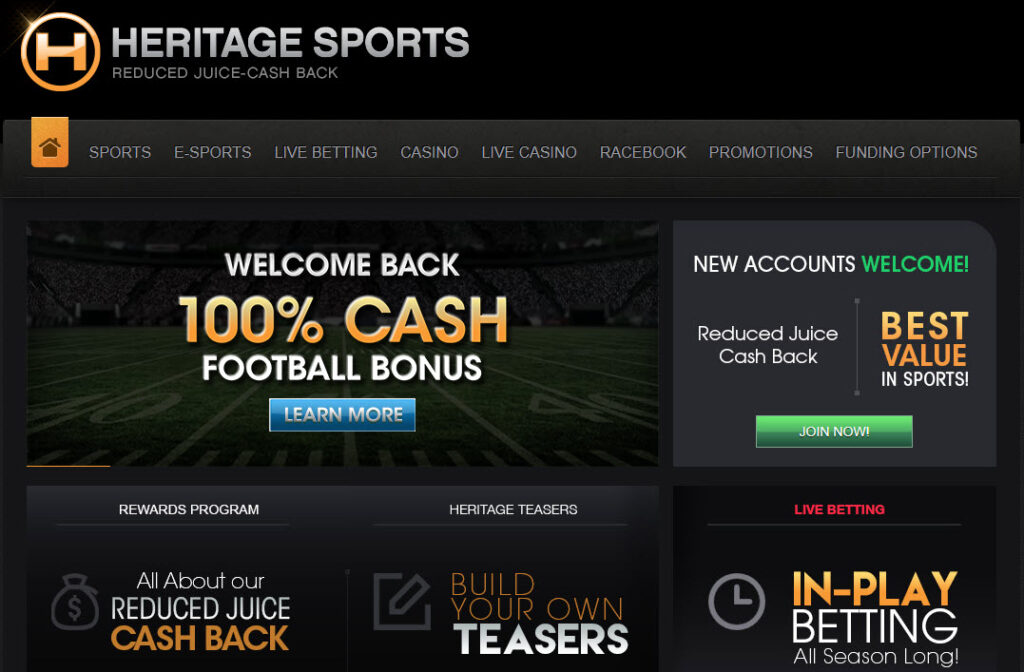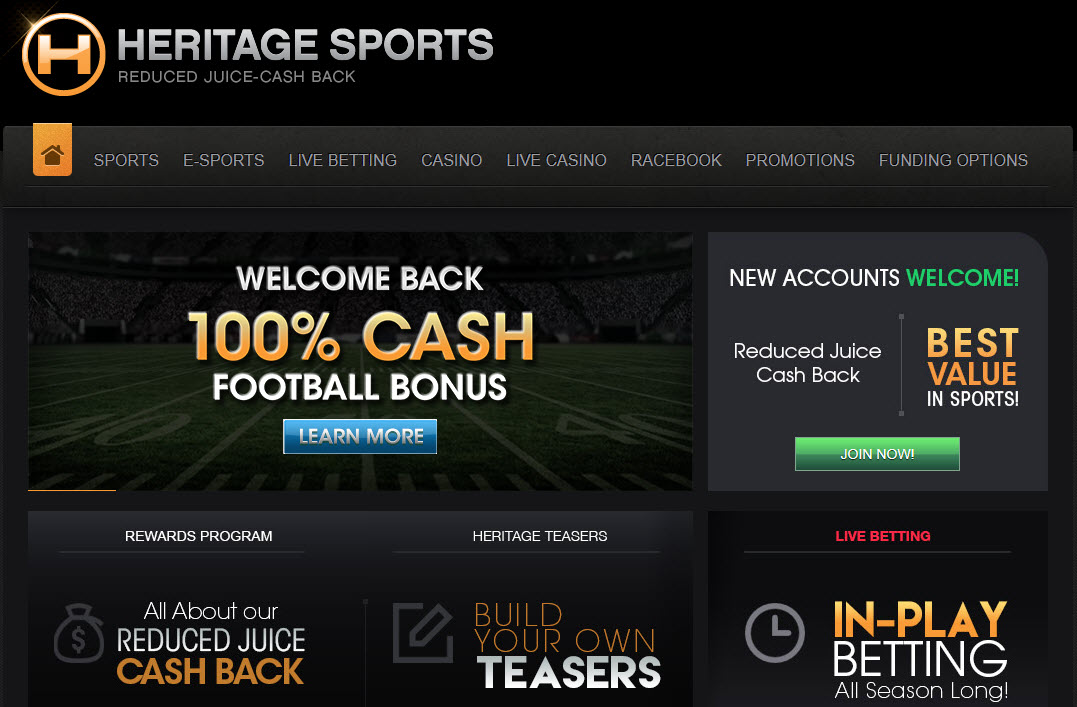 If you're still placing bets before the start of a game or match, then waiting patiently until the end to find out who wins, you're missing out on one of the fastest-growing trends in online betting. Live betting on in-progress games has exploded in popularity, and it's a perfect fit with mobile sportsbooks and sports betting apps. Heritage Sports, which came in second in our rankings, was the choice of our expert panel for the top live betting interface in Vermont.
Heritage Sports is also known for treating its customers well, dating back to its days as an elite, invite-only sportsbook. They offer a cashback rebate as well as a mobile site that has all the functionality of the main site.
Pros
Top choice for live betting in Vermont
Treats all customers like VIPs
Cashback rebate program
Mobile site has all the same functionality as the main site and is easy to use
Cons
Doesn't offer a live online poker room
Welcome bonuses are lower than other sites
3. Bovada: The State's Largest Menu of Prop Bets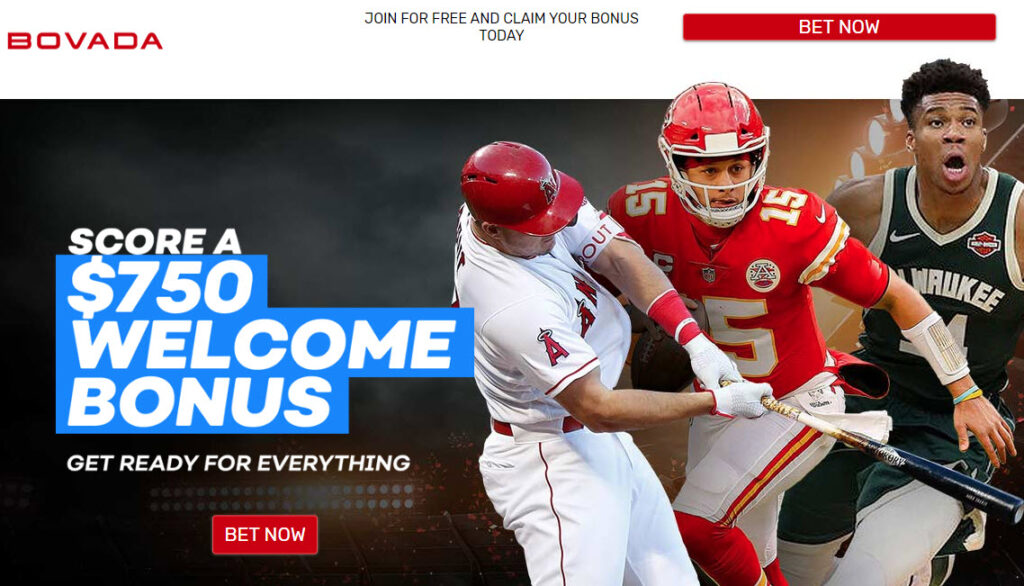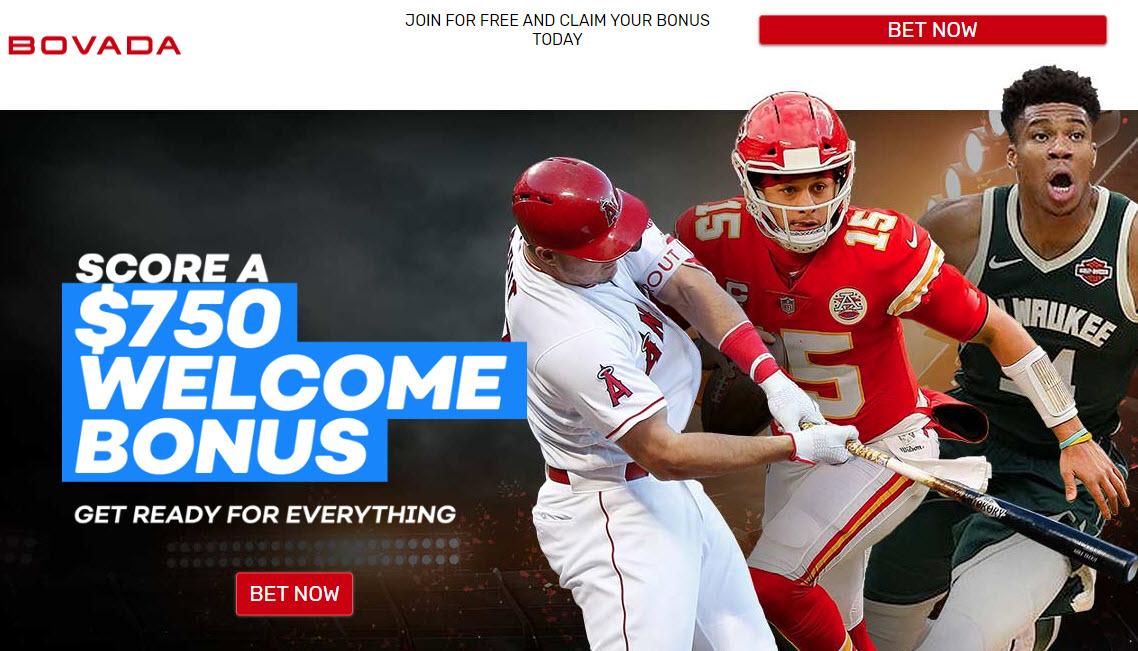 Many sites boast about the functionality of their mobile site or app being just as good as their main site on a computer. Bovada goes a step further, however. Rather than just focus on being functional, Bovada made their site look good, too. The site is slick and stylish, as is their full site. It's just part of the outstanding user experience that has earned Bovada an army of loyal fans.
They also have an outstanding menu of betting options, including more prop bets than any other site. Some of them are wild, but they also have several low-risk, easily winnable props that help get you started on a winning foot.
Bovada also has generous welcome bonuses and doesn't put shackles on the free money with hefty rollover requirements, like many other sites do.
Pros
Wide range of betting options on sports in Vermont
Mobile platform is user-friendly and stylish
High bonuses with low rollovers
Also has a world-class online casino and America's busiest poker room
Cons
Betting limits aren't as high as other mobile betting sites
Is often later than competitors in posting lines and odds
4. BetOnline: Quick Payouts and Opinionated Lines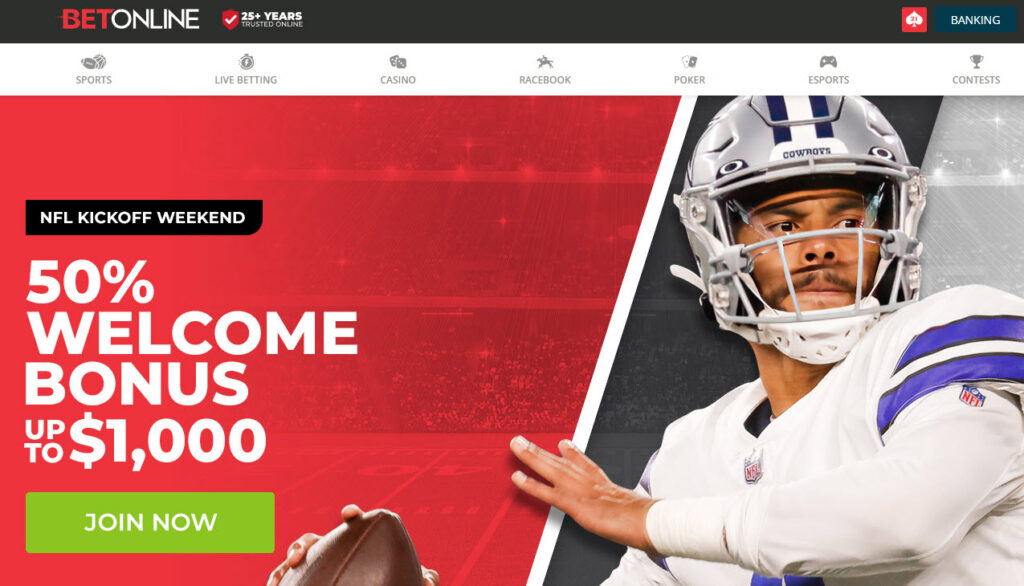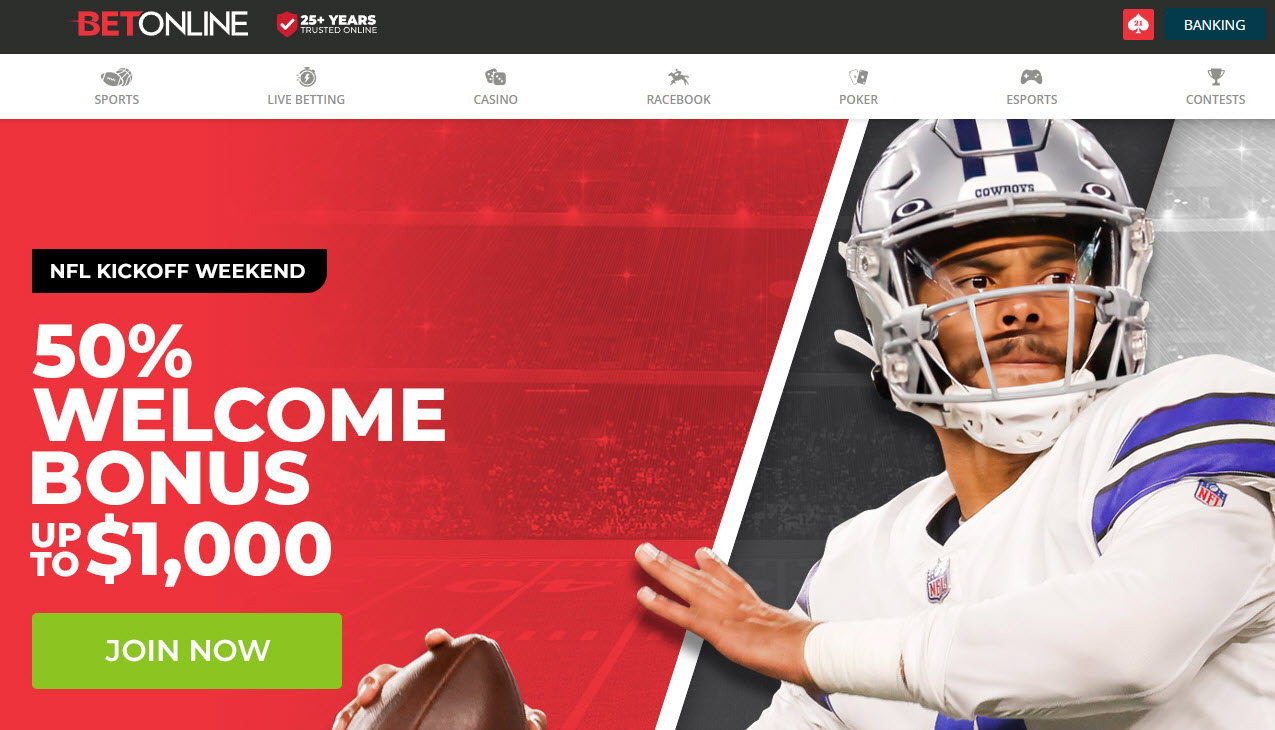 BetOnline offers some variety to gamblers, and variety when it comes to betting lines means a chance to turn a profit. It is one of the only places in Vermont where you'll find opinionated lines. That means that the lines on either side of a cutoff (point spread or total) are not the same on both sides. Instead of -110/-110, for instance, you'll find -112/-108.
It's not a huge difference, but over time and a number of bets, it can add up. And, when all the sites seem to have the same lines for big games, it's a benefit to find a slight difference at BetOnline.
The site also has a fully optimized mobile site and a welcome bonus that matches your first deposit by up to 50%.
Pros
Offers opinionated lines to give bettors some variety and a chance to profit
Poker room is one of the nation's biggest and busiest
Matches first deposit up to 50%
Customer service is available 24/7 and has short waiting time
Cons
Doesn't offer reduced juice except on NHL games
Charges fees for withdrawals involving checks
5. BetAnySports: The Most Gambler-Friendly Odds and Lines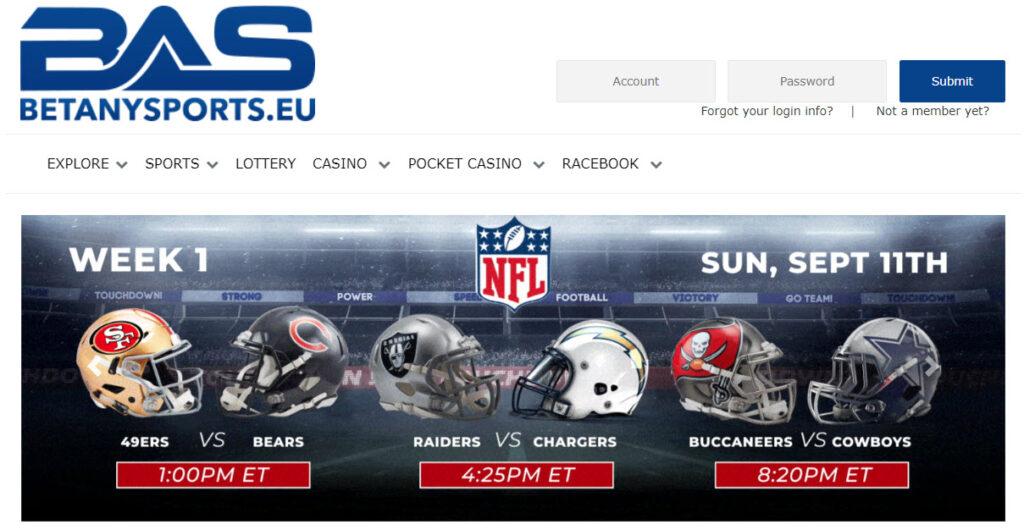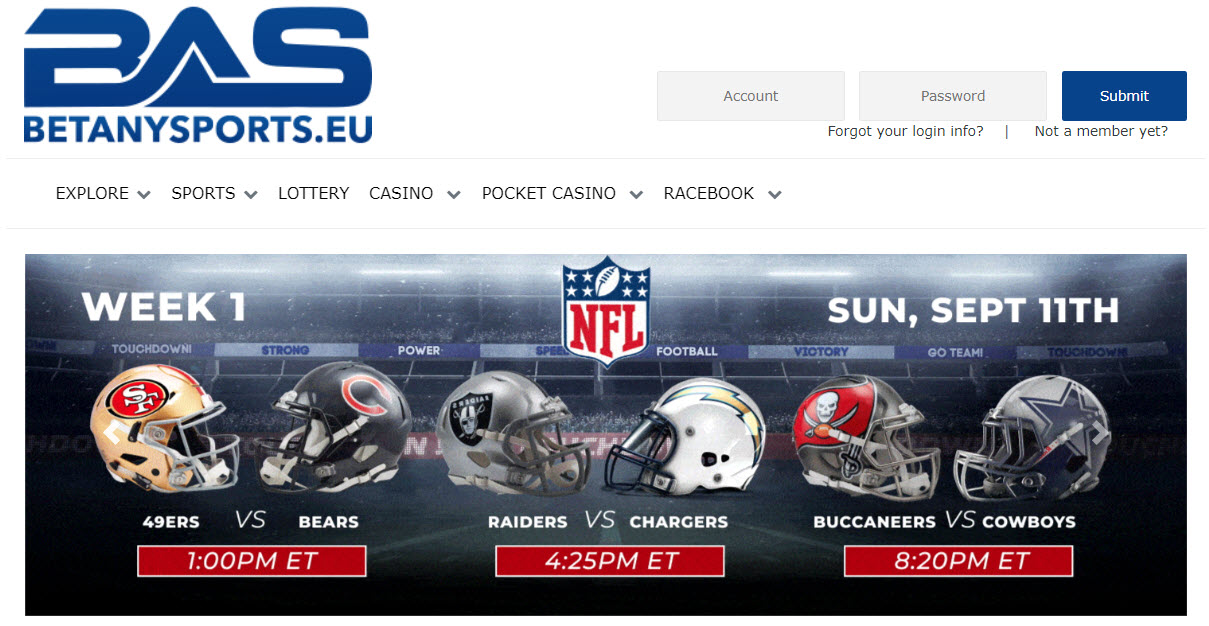 BetAnySports is the choice of our expert panel as the low-cost leader in Vermont. It offers the best reduced juice lines in the state. Instead of setting odds on either side of a cutoff at the industry standard of -110/-110, BetAnySports puts them at -105/-105. That means a gambler is getting the equivalent of a 50% discount on the house edge most sportsbooks take. It may not be a lot on any one bet, but it adds up over time and makes it that much easier for a gambler to turn a profit.
Other lines and odds are also among the most gambler-friendly in the state, making BetAnySports the site that is most likely to put money in your pocket as you bet. Like low-cost providers in other industries, BetAnySports cuts costs elsewhere to help pay for the discounts. The user interface is bare-bones compared to other, fancier ones at competing sites, and the bonuses aren't as high as at other sportsbooks.
Pros
Best reduced juice lines in Vermont
Other lines and odds are also very favorable to bettors
Interface is simple and sparse, making it fast and efficient to place bets
Pays out in full and in a timely fashion
Cons
User interface is plainer and doesn't have all the same features as at other sites
Lower sports bonuses due to reduced juice model
6. BetUS: Pays Out the Biggest Bonuses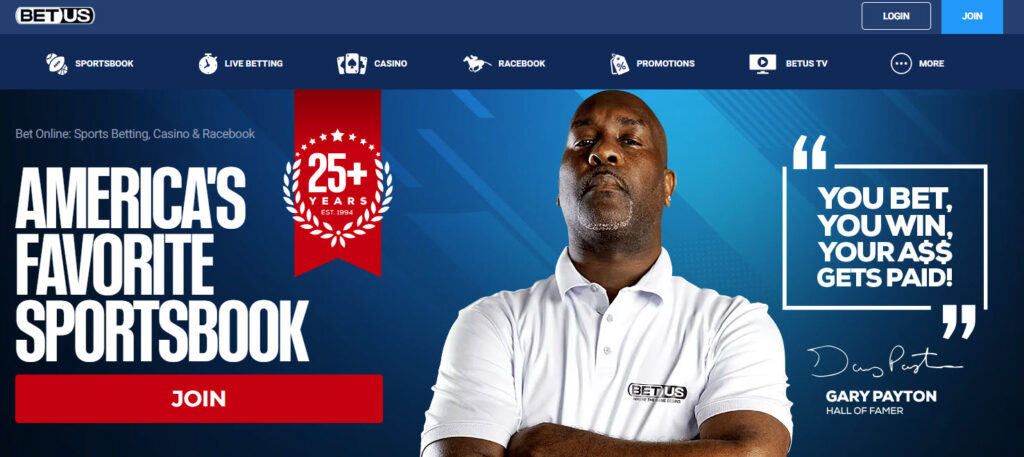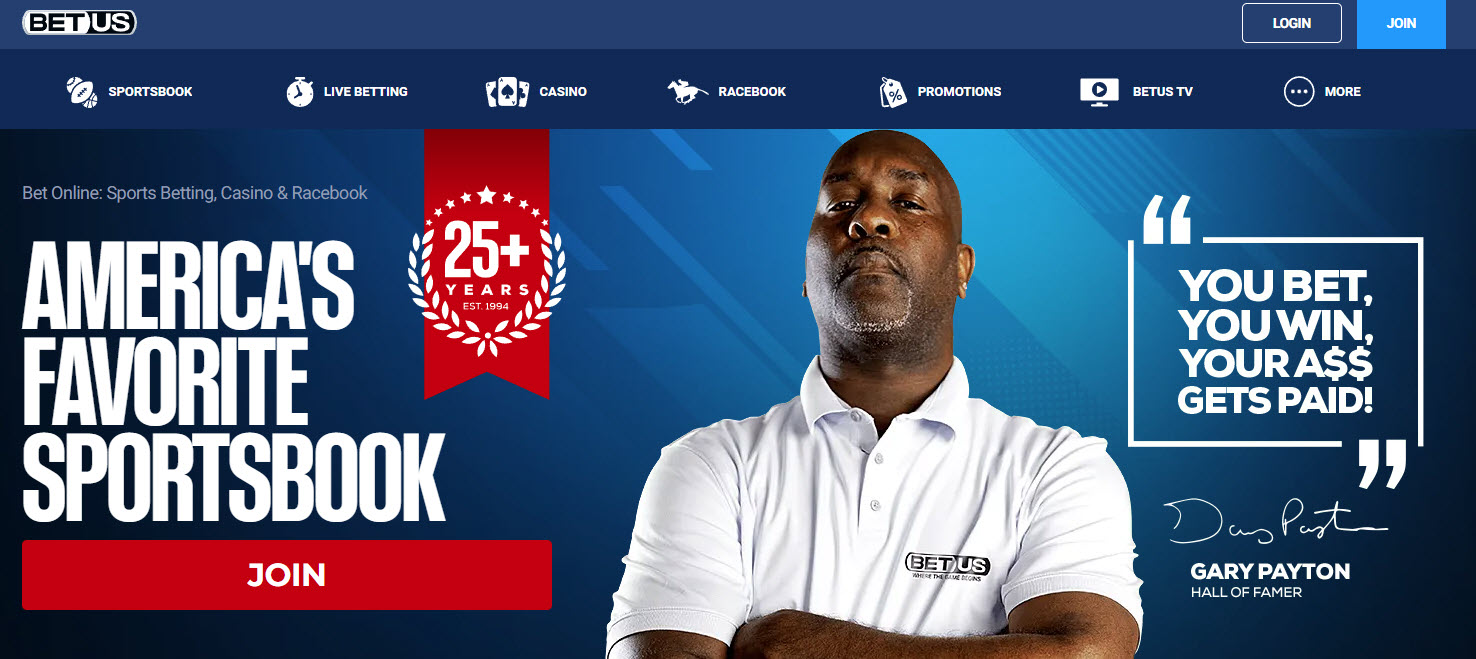 If you're looking to make money at online gambling on sports, one method is far easier than all the others: Just let the sportsbook give it to you. That's the path BetUS takes. Its welcome bonuses are higher than at any other offshore sportsbook available to Vermont residents. In fact, you'll end up more than doubling your money before you even place a bet, thanks to their 125% match of your first deposit up to $2,500. That means they'll give you more money than you put in yourself. If you deposit $1,000, they'll pony up another $1,250, giving you a $2,250 bankroll to get started.
They've also gone through a software upgrade and have the newest, cutting-edge interface for online sports wagering, both for the full site and for people using mobile devices.
Pros
125% deposit match means you more than double your money before you get started
New, upgraded software gives an excellent user experience
Has weekly videos and podcasts to break down upcoming betting action
VIP program keeps the rewards flowing for ongoing customers
Cons
Bonus money has steep rollover and playthrough requirements
Is often late to publish odds and lines
7. WagerWeb: Bitcoin Users Get Same-Day Payouts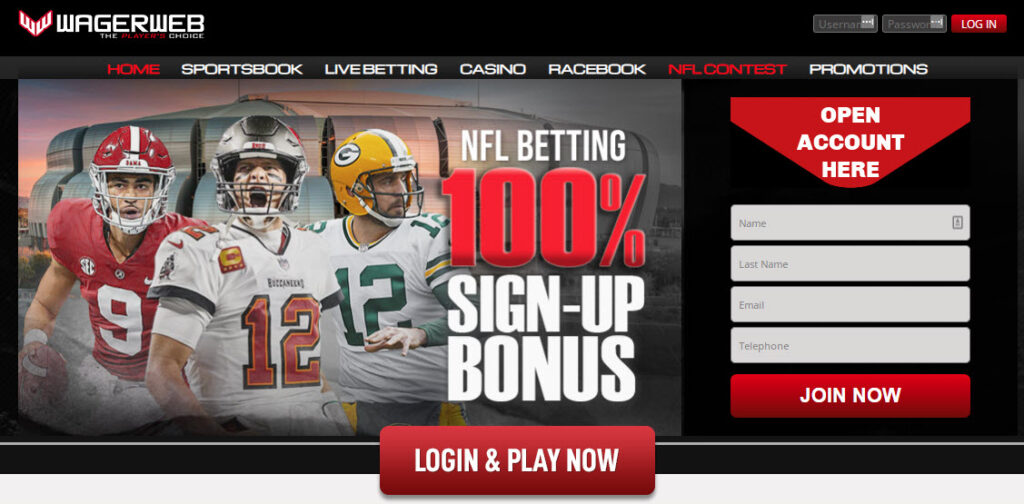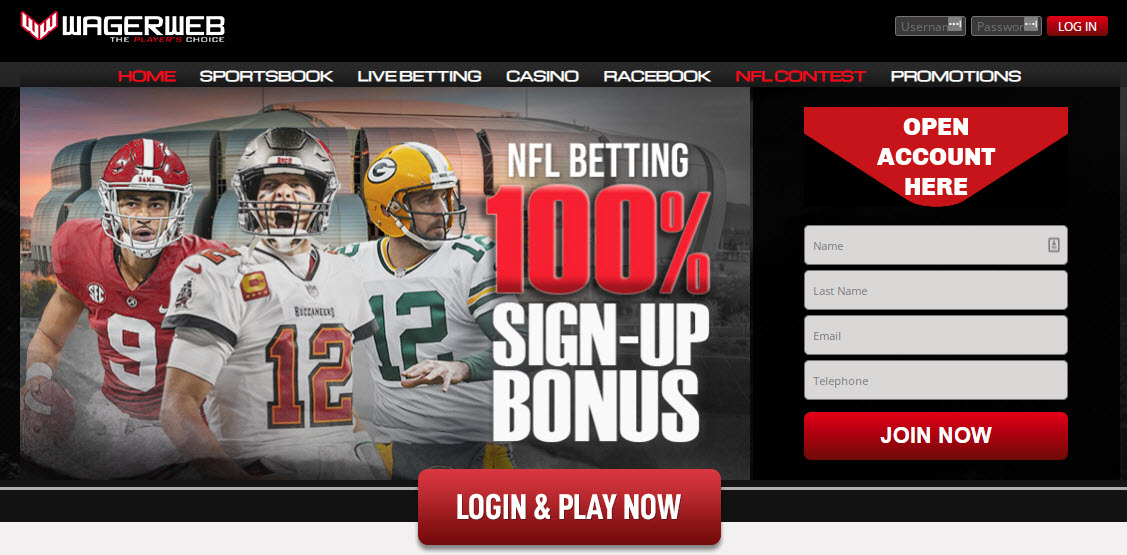 WagerWeb is one of the longest-running gambling sites still doing business. It started in 1994 and has spent nearly three decades treating customers fairly. It's hard to compete with such a long track record of trust and dependability, and it's no wonder the site is known as "The Player's Choice."
WagerWeb is a sister site of Heritage Sports, which was the No. 2 ranked site in our top 10. The two partner sites share many characteristics, including reduced juice lines and a red-carpet-level user experience. It also offers a racebook and online casino, in addition to the sportsbook.
Pros
Offers reduced juice lines of -108
Flexible set of welcome bonuses, as well as plenty of ongoing promotions for customers
Pays out quickly without much difficulty
Three decades' worth of dependable, reliable operation
Cons
Limited to one free withdrawal a month
Doesn't have betting limits as high as some other sites
8. JustBet: Caters to All Levels of Gambler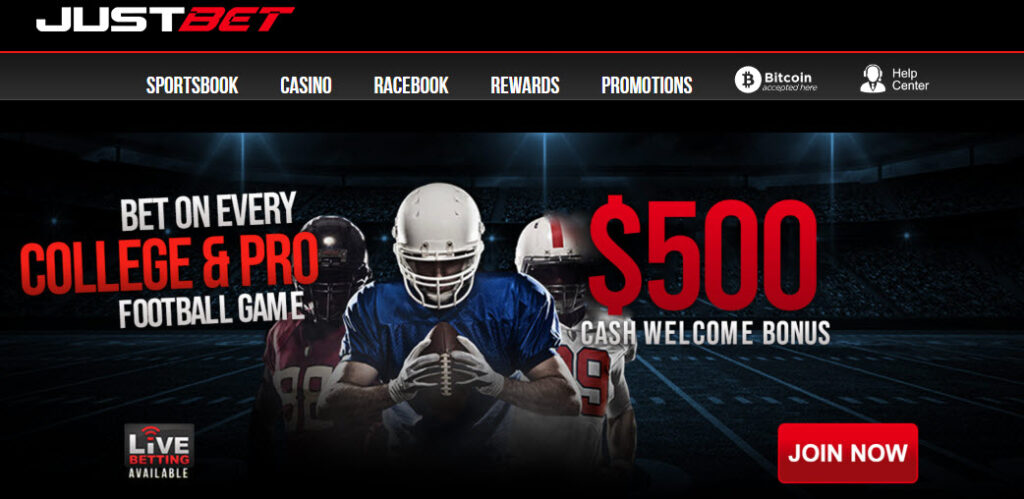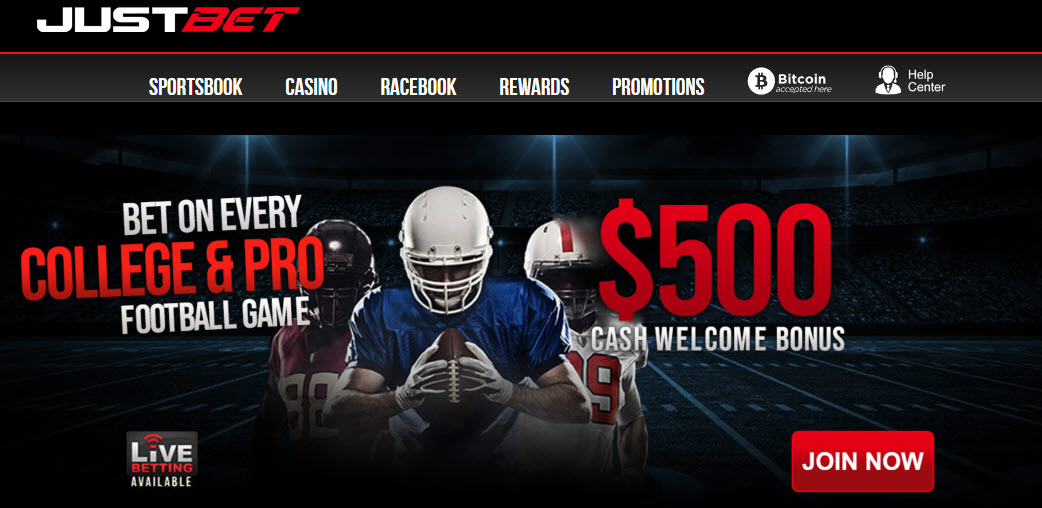 JustBet may not have the name recognition of some of the other mobile sites and apps on this list, but it deserves its spot in the top 10. It is a sister site to Bookmaker.eu, which is the best all-around site in Vermont, according to our experts.
The two sites share software and offer a similar experience, both on the full-blown site and on mobile devices. Its user interface is easy to use and uncluttered, which means you can place bets quickly and easily, a must if you're doing live betting.
Pros
High betting limits and low minimums
Mobile site is just as functional as desktop site
Software is easy to use, and excellent for live betting
Allows gamblers to ride their hot streak without being shut down
Cons
Doesn't offer a live online poker room
Does not have reduced juice lines
9. Everygame: An Unmatched Track Record Three Decades Long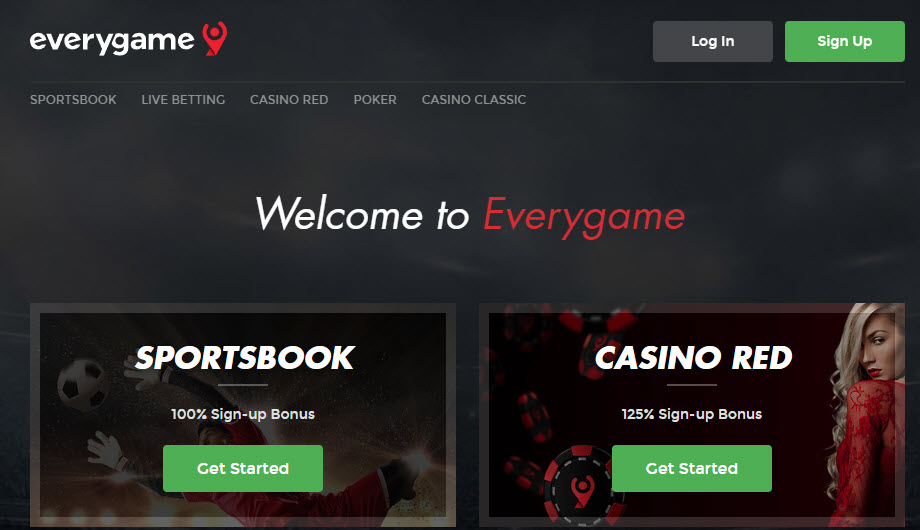 Everygame has been around for longer than many of its current customers. The site started in 1994 and is the oldest online sportsbook still in operation. That means a resume that goes back nearly 30 years of paying out on time and in full.
That doesn't mean Everygame is an antique. It just went through an extensive rebranding and site overhaul and now boasts a state-of-the-art user interface and a slick, cutting-edge mobile site as well. In fact, it may not score them points in the sports betting mobile site rankings, but our experts picked Everygame as the top mobile casino in Vermont.
Pros
Oldest betting site in existence with long record of trust
Site upgrade gives it a cutting-edge interface and mobile site
The best mobile casino in the state
A worldwide menu of games and sports deeper than most other sites
Cons
Several user complaints that account verification takes too long
Bonuses are relatively low
10. SportsBetting: High Betting Limits and Large Bonuses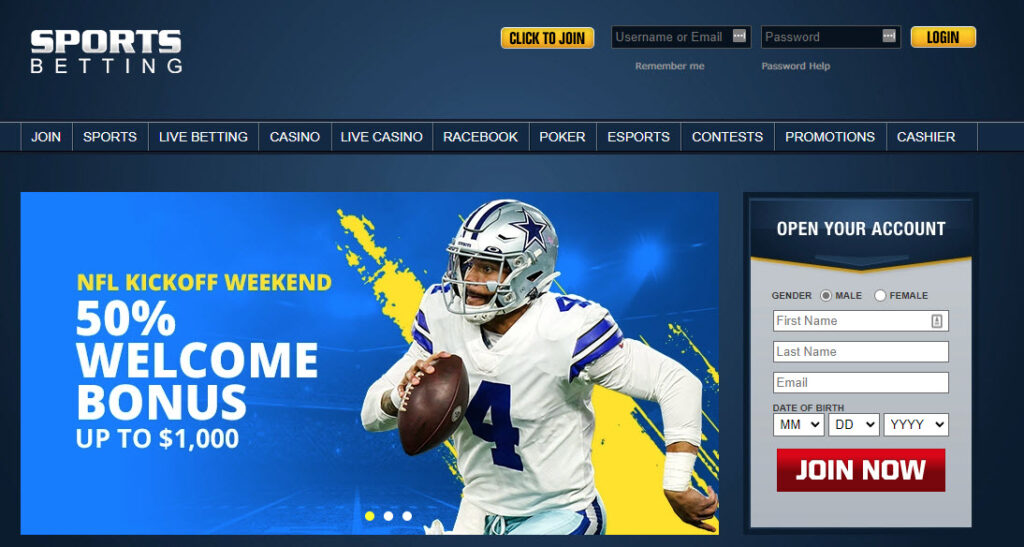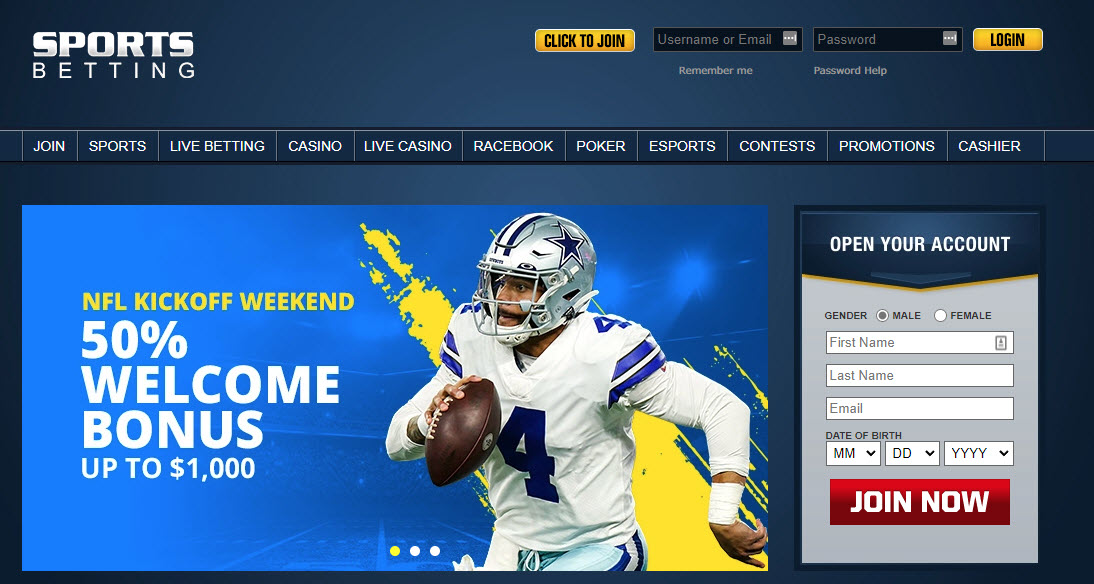 We close out our top 10 with another partner site. SportsBetting.ag is a sister site of BetOnline, which placed in our top five. The two have similar user experiences, although SportsBetting is more down to business. You won't find fancy graphics or bells and whistles there. In fact, it uses an older version of the BetOnline layout.
Instead of worrying about appearances, SportsBetting focuses on providing a fast, efficient environment to place bets, both on the full site and using mobile devices.
Pros
User interface is fast, uncluttered and efficient
Mobile site allows users to place bets within 10 seconds
Deposit limits are very high
Offers five-figure betting limits for NFL and NBA action
Cons
Site appearance looks plain and outdated
Doesn't offer as many casino games as other sites
Our Rating Methodology
Our experts considered a number of different factors when constructing the top 10 rankings for the top sports betting apps and mobile sites in Vermont. Obviously, the mobile interface should offer the same functionality as using the full-blown site. Pages should load quickly and be glitch-free, and the pages should be easy to read, even on a small phone screen. Our experts also considered user reviews, bonuses offered and the customer service each offshore sportsbook provides.
The History of Gambling Laws in Vermont
Vermont has not been hospitable to the gambling industry throughout most of its history as a state. There are no casinos in the state, even on tribal land and, while Vermont had a brief flirtation with betting on horse racing, the last track in the state closed down a generation ago. The only legal gambling currently offered in Vermont is the lottery.
All that may be changing soon, however. The state has been making a push toward legalizing sports betting. The governor is a supporter and the legislature seems to be leaning in that direction as it has reviewed sports betting bills each of the last few years.
Even if the law passes, however, sports betting companies will need to be licensed and regulations on retail locations that can offer it will need to be hammered out. The legalization process could take a year or more, even if a law is passed.
Vermont's Gambling Timeline
2023: A fresh bill is put forth. Sports betting money is included in the state budget for the governor.
2022: In December, the study is presented. It comes to the conclusion that the state ought to create a regulated sports betting sector.
2021: The State starts an investigation on the viability of sports wagering. A bill is presented, but a committee decides to reject it.
2020: There are two bills that concern sports betting. One of them is approved by the Senate but not by the House.
2019: Although being read in committee, a bill to permit both retail and internet sports betting is never taken up.
1978: Launch of the Vermont State Lottery, the only legal form of gambling in the state.
1977: The final race is held at Vermont's only horse track, Green Mountain Park.
1959: For the first time, horse racing wagering is accepted in Vermont.
Key Features of Mobile Sportsbooks
What makes a mobile sportsbook one of the best in the state? Here's a look at many of the factors that our experts took into consideration when setting up the rankings of the online options available in Vermont.
Competitive Betting Odds
Whether point spreads, futures, props or straight moneylines, the odds on various betting markets should be fair and comparable to the probability of the event occurring. Gamblers should have a realistic expectation of winning an appropriate amount of money with each bet they place.
A Variety of Betting Markets
Gamblers should have a wide array of betting options available to them, from all major sports as well as lesser-known sports and leagues from around the world. Popular markets that should be offered include point spread and moneyline bets, futures, parlays and player prop bets.
Accepted Banking Methods
Customers should be given a wide range of financial methods to deposit money into their accounts and withdraw their winnings. Deposit and withdrawal options should include bank cards, wire transfers, e-wallets and cryptocurrency. Fees and delays in the process should be kept to a minimum, if there are any at all.
Promotions & Bonuses
There are plenty of sportsbooks out there, and customers should be given a bonus for choosing one over another. Sites should match a percentage of the initial deposit and deposit matches should continue for reloads later in the life of the account. Cashback rebates and other perks should also be available.
Live Betting is Available
Live betting has exploded in popularity, and it's a natural match with mobile betting. Sites should provide the opportunity to bet on events in progress using mobile devices. Pages should load quickly and bets should be processed within seconds.
Mobile Site Quality
Many sites treat their mobile interface as an afterthought, producing a bare-bones version of their "real" site. Since more bets are placed on mobile devices than any other method, the interface should be treated as a primary way of placing bets. Pages should be organized and intuitive as well as attractive. All functionality of the main site should be available.
Customer Service Options
When issues come up, customers should be able to easily get help from their sportsbook of choice. Customer service should be available 24/7, in multiple languages, with short hold times. Customers should be able to get help in a variety of ways, including by phone, email and online chat.
Site's Security Features
Mobile sports betting sites should treat the protection of the personal and financial information of their customers as their top priority. If any of the sites under consideration had any security issues, our panel of experts would remove them from consideration immediately.
Commonly Accepted Payment Methods
There are a number of different ways that financial transactions can be made in online betting. It's an area where online books have an advantage over in-person betting, as several banking options not welcome in casinos are accepted online.
Crypto Options
All the sites in our top 10 are offshore sportsbooks. That means your money has to cross national boundaries. Cryptocurrency was created to do exactly that, and to do it easily and quickly. Some popular types are Bitcoin, Bitcoin Cash and Ethereum.
eWallet Options
eWallets are another modern form of transaction that allows money to easily flow online, even from one country to another. Skrill and Neteller are two popular options.
Traditional Payment Methods at Vermont Mobile Betting Sites
Customers can also pay with the usual methods, including bank wire transfers and bank cards, like Visa, Mastercard and American Express. Usually, these transactions are more likely to have fees and delays associated with crossing from one country to another.
Creating a Mobile Sports Betting Site Account
Getting started at a mobile online sports betting site is fast and easy. The entire process should take you a couple of minutes, tops.
Step 1. Sign-Up With Your Chosen Site
Once you've chosen one of the sites in our top 10, click on the "create account" button. You'll be asked to enter some basic personal information to create your account.
Step 2. Verify Your Sportsbook Account Details
Many sites have a verification process that usually involves sending a code to your phone by text. You enter the code online to prove you're who you say you are.
Step 3. Deposit Your Funds
After you've created your account, you need to deposit some money to bet with. Choose from a variety of deposit options listed on the cashier page. Enter your financial information and the amount you want to deposit.
Important: If your welcome bonus requires a promo code, now is when you enter it to get a match on your initial deposit.
Step 4. Enjoy Mobile Wagering
That's it. Pick a game, market and start betting. Good luck!
Vermont Sports Betting Tips & Strategies
Online sports betting can be a fun and rewarding hobby, but if you haven't done it before, there are some things you should keep in mind.
Bet with your head, not your heart. You have a favorite professional sports team, but just because you love them doesn't mean you should only bet on them. Pick your bets based on who is more likely to win. If you can't bet against your favorite team, then just watch that game for fun and bet on some other contest. 
Do your research: All sports bettors think they're experts, but no one can pick winners just by looking at the line. Look at the matchup and get up-to-date information on injuries and other issues that might affect the outcome.
Don't chase: Losing is part of betting. Don't let early losses affect your strategy. You're not going to get even with one big strike. Just keep at the plan you made.
Know when enough's enough: Don't get in over your head.
FAQs – Vermont Sports Betting Apps & Mobile Sites
Does Vermont have legal gambling?
Vermont does not have laws that allow online betting or casino gaming. The good news is that offshore sportsbooks are not subject to state laws, since they are located in another country. So, Vermont residents can use them to get online action on their favorite sports.
Is sports betting legal in VT?
Sports betting is not currently legal according to Vermont state law. The current options for residents looking to place sports bets are to cross state lines for in-person action at a retail sportsbook or seek online action at an offshore sportsbook. 
Can I bet online in Vermont?
Online and retail sports betting are both prohibited in the state of Vermont. However, offshore sportsbooks are located outside of the U.S. and are not subject to Vermont state law or U.S. federal regulations regarding gambling. They regularly serve Vermont residents and pay real money to winners.
What sportsbooks are legal in Vermont?
At the moment, there are no locally-regulated legal sports betting operators in Vermont. Sports betting legislation is on the table in the state but that will take time to come to fruition. In the meantime, online sports betting is available at offshore sites. 
Is DFS legal in Vermont?
Yes, you can use platforms like DraftKings to play daily fantasy sports as they are considered a game of skill; however, Vermont residents cannot use DraftKings Sportsbook.