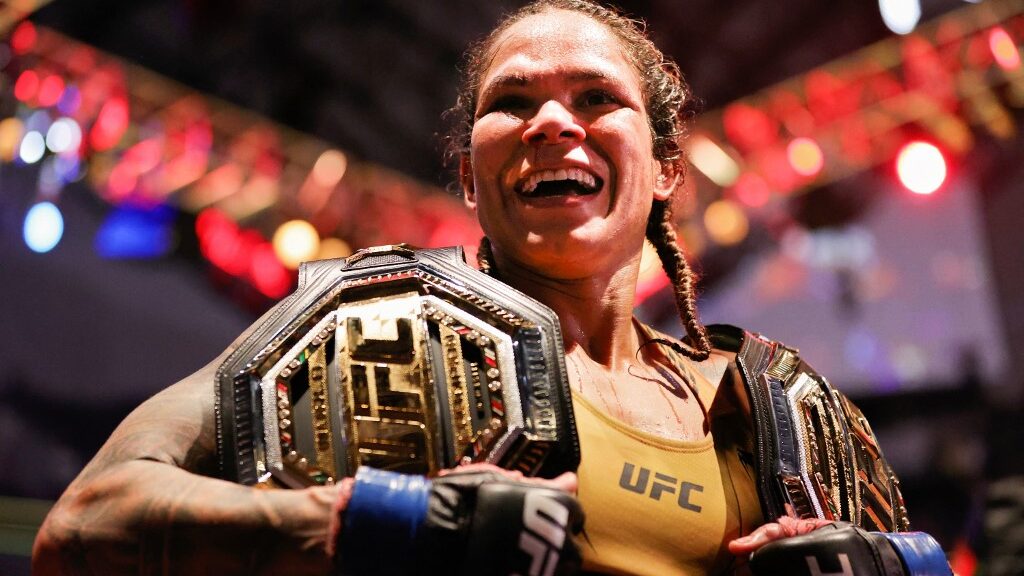 UFC 277 was a very exciting card with many exciting finishes coming from all over. But most importantly, Brandon Moreno was able to secure the Interim flyweight title over Kai Kara-France via T/KO in the third round.
And Amanda Nunes regained her title against Julianna Peña becoming the UFC women's bantamweight champion once again. I would love to highlight the heart and grit of these two women, so read below for my UFC 277: Peña vs. Nunes recap.
Julianna Peña vs. Amanda Nunes
UFC Women's Bantamweight Main Event Title Bout
---
Peña vs. Nunes Odds Recap
On fight night, the once again champion Amanda Nunes entered the octagon with UFC Odds as the rightful -260 favorite at your top-rated sportsbooks while Julianna Peña was +220.
I chose to stay away from betting on this fight because, in the first bout, Peña did amaze me and left me speechless. This time around, seeing her value at +220 seemed a tad insulting to the now former champ, but it's definitely clear now why the bookmakers and the public influenced this pricing.
Peña vs. Nunes Fight Recap
Round 1
Nunes switched stances early on in the fight, southpaw to orthodox. She threw a high kick but missed as Peña dodged the kick.
Nunes looked confident as she switched her stance back and forth, even though when she would throw left and right she wouldn't connect.
Finally, they traded punches and Nunes landed a sharp low kick followed by an uppercut. Nunes with another heavy right hand. Peña finally trying to push forward to land some punches of her own.
Dazed But Not Confused
Nunes dodged a high kick and landed a clean right hook to the side of Peña's face. Peña dazed for a moment but had her stance, still pushing forward. A takedown attempt from Peña but no cigar.
Nunes still looked confident as they got near the end of the round. That right definitely woke Peña up as she looked more cautious and wasn't pushing forward anymore. Nunes still walking down Peña; Peña landed a nice 1-2 combo, but Nunes still pushed forward and returned with her own hefty combo.
Nunes shot for a takedown, but it was stuffed. Peña with a nice combination; Nunes with a counter combo to end the round. What a great round from Amanda Nunes.
---
Round 2
We entered the second round and you could already see the damage on both fighters' faces, mainly Peña's. Nunes with a front kick and a knee that connected.
Peña was still pushing forward and got hit with a right hook! She's down! But Nunes let her back to her feet; you could see she was not entirely there. Peña was still pushing forward! And she got dropped! Again!!
Nunes let her back up to her feet again and threw a high kick. Peña with a combination to back up Nunes, and lands another hefty combination to Nunes' chin.
Back and Forth
Now we're talking about some nice back-and-forth work between the two. Peña with a nice kick-punch combo, still pushing forward. She got cracked again with another left hand.
Peña was dropped for the third time! Nunes looked very confident; Peña not giving up, pushing forward. She was able to wobble Nunes a bit of her own with a punch.
Nunes rushed in and now they are against the cage until the round ends.
---
Round 3
The fact that Peña was still intact and pushing forward just proved the heart this woman has. Nunes opened the round with a left hand and a kick to the face. A spinning elbow to the body from Nunes to wobble Peña, again.
Peña listened to her corner's advice and shot in for the clinch. Peña's back was now against the cage; they were putting in work.
On the break, Peña landed clean, but Nunes returned with a kick to the body and right jab. Nunes is still back and forth in her stances.
Nunes tripped! They're on the ground now. This is not where Nunes wanted to be, based on their first contest. But Nunes was controlling Peña well, aiming for triangle attempts. She landed a nice hammer fist and elbow. Another nasty one to cut Pena's face! Another right elbow!
Nunes controlled Peña until the bell.
---
Round 4
Peña desperately needed a finish by this point. Nunes utilized her feints; they're in the clinch again and end up on the mat with Peña in guard.
Nunes with a heavy dropping bomb! Now she's searching for a triangle! She couldn't secure anything so she switch the guard and landed punches down.
She got back into guard and, oh no, Peña with an armbar!! It's tight!!
And… she lost it….
Raining Elbows
Nunes is now in side control, dropping piercing elbows again. Peña is now pinned against the cage with Nunes still raining down elbows on a bloodied Peña.
Peña did not look good but she was not giving up, countering what her opponent was offering. Nunes switched levels again, landed a nasty elbow, and attempted a triangle. Nunes was just standing over Peña, until the ref made them stand up.
Peña hurt Nunes and was able to secure a take down! Nunes with a hammer fist; Peña threatened a triangle, but the round ended.
---
Final Round
Up until this point, Julianna Peña has proved she has a heart of gold. But Amanda Nunes knows that gold is hers.
A great way to start the round, with a hug. Peña was pushing forward and landed a nice combo. Nunes went to switch levels and was in guard. Peña rolled for an arm bar but could not secure it.
Nunes spun and attempted for a front headlock, but could not secure it on her end.
Nunes was really searching for the takedowns. She was in side control, then grabbed a half nelson.
Nunes is on the back of Peña now, but she fends her off. This time, Peña secured overhooks and was looking for a triangle. Nunes looking to defend and landed an elbow. Peña with an up-kick, and Nunes with a bomb in return.
Nunes is now to the back of Peña with an RNC! Peña escaped, they stood up and Nunes started celebrating as the round ended.
Amanda Nunes defeated Julianna Peña via Decision, becoming the new and once again UFC women's bantamweight champion.
---
UFC 277: Peña vs. Nunes 2 Full Card Results
Main Card
(Main Event) Julianna Peña vs. Amanda Nunes – Nunes via Decision
(Co-Main Event) Brandon Moreno vs. Kai Kara-France – Moreno via T/KO R3, 04:34
Derrick Lewis vs. Sergei Pavlovich – Pavlovich via T/KO R1, 00:55
Alexandre Pantoja vs. Alex Perez – Pantoja via Submission R1, 01:31
Magomed Ankalaev vs. Anthony Smith – Ankalaev via T/KO R2, 03:09
Preliminary Card
Alex Morono vs. Matthew Semelsberger – Morono via Decision
Drew Dober vs. Rafael Alves – Dober via T/KO R3 01:30
Don'Tale Mayes vs. Hamdy Abdelwahab – Abdelwahab via Decision
Drakkar Klose vs. Rafa Garcia – Klose via Decision
Early Preliminary Card
Michael Morales vs. Adam Fugitt – Morales via T/KO R3, 01:09
Joselyne Edwards vs. Ji Yeon Kim – Edwards via Decision
Nicolae Negumereanu vs. Ihor Potieria – Negumereanu via T/KO R2, 03:33
Orion Cosce vs. Mike Mathetha – Cosce via Decision
What's Next on the UFC Schedule?
Up next on the UFC schedule, we have UFC Vegas 59: Santos vs. Hill on Saturday, August 6th at the UFC Apex in Las Vegas.
There are many thrilling fights scattered throughout this entire card, beginning on the preliminary card with Mayra Bueno Silva vs. Stephanie Egger.
On the main card, which is one fight I am most excited about, we will have a clash of heavyweights between Augusto Sakai and Sergey Spivak – something is telling me this one will be a fiery and quick contest.
Stay up to date with our expert handicappers weekly UFC picks content to help you make your best bets. Best of luck!
UFC Vegas 59: Santos vs. Hill Main Card Fight Odds
*The line and/or odds on picks in this article might have moved since the content was commissioned. For updated line movements, visit BMR's free betting odds product.