Your one-stop shop for UFC coverage
Welcome to BMR's UFC Hub
Access everything you need from the UFC hub at Bookmakers Review. Find odds on upcoming games, read the latest UFC picks, and access other UFC betting resources.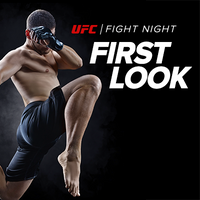 Here are our predictions for this weekend, as #4-ranked Kai Kara-France faces off against an undefeated Amir Albazi.
Here are our predictions for this weekend, as #4-ranked Kai Kara-France faces off against an undefeated Amir Albazi.
The UFC Betting Guide for Bettors
The world of online sports betting wouldn't be the same without the high-intensity, highly skilled MMA athletes that put their life on the line each and every weekend. On that note, today we'll deliver an extensive guide covering the most imperative UFC betting topics that can help UFC fans make smarter betting picks.
Our resident MMA expert at Bookmakers Review has compiled a collection of information covering topics such as the best UFC betting sites, how to bet on UFC wisely, the most sensible UFC betting markets to approach, and more.
Top UFC Betting Sites
| Sportsbook | Rating | Online Since | Payment Methods |
| --- | --- | --- | --- |
| Bookmaker | A+ | 1996 | Credit Card, Bitcoin, P2P, Crypto |
| Heritage Sports | A+ | 2001 | Credit Card, Bitcoin, Cashiers Check, Bank Transfer, P2P |
| Bovada | A+ | 2011 | Credit Card, Bitcoin |
| BetOnline | A+ | 2001 | Credit Card, Bitcoin, Crypto, Cashiers Check, Bank Transfer P2P, |
| BetAnySports | A+ | 2002 | Credit Card, Bitcoin, Electronic Check |
Features of the Best UFC Betting Sites
UFC Betting Sites Reviewed
1. Bookmaker - Well respected sportsbook with over a decade of providing UFC betting lines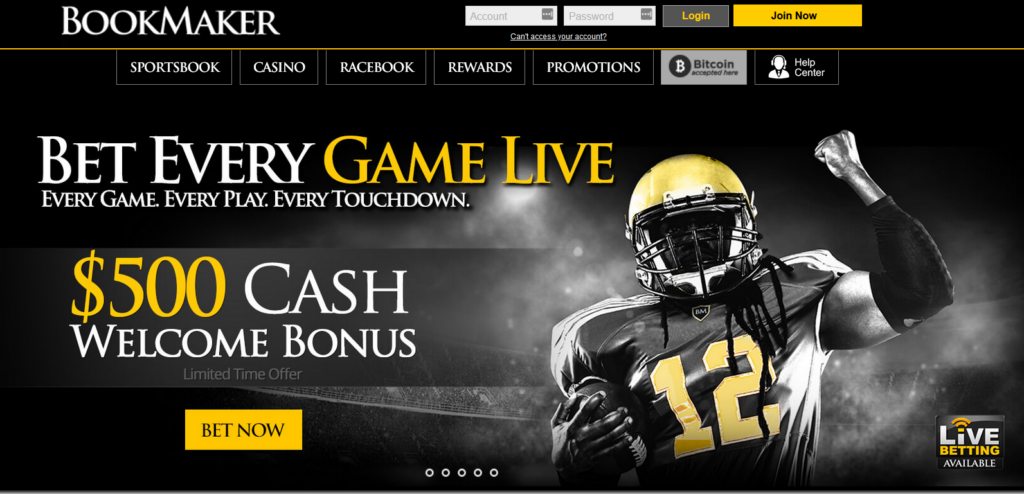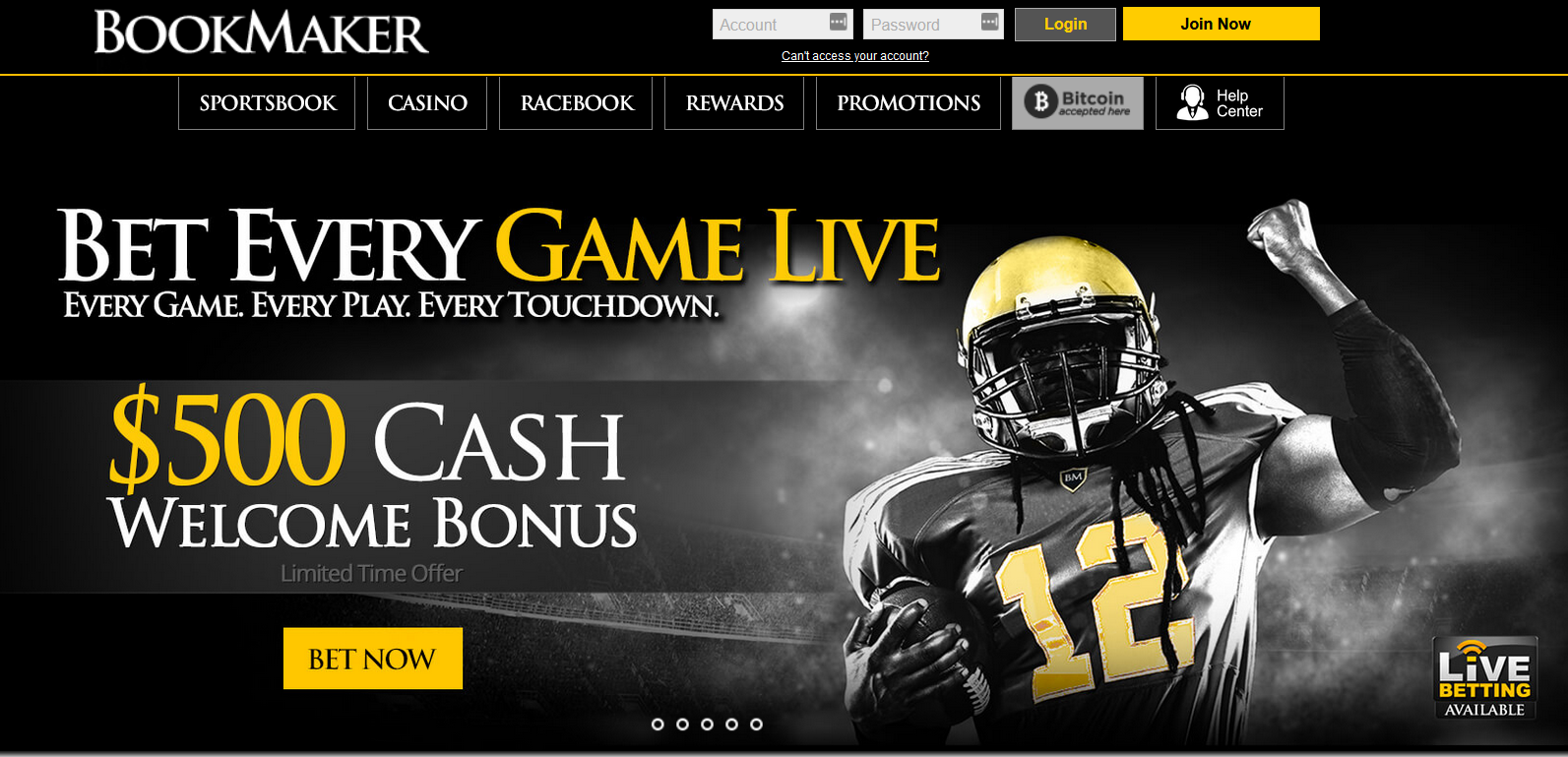 With over 25 years of skin in the sports betting realm, it should be no surprise that Bookmaker.eu provides avid MMA bettors with some of the best UFC betting lines.
Often referred to as "The Home of Professional Handicappers," Bookmaker.eu allows its customers to place substantially higher wagers than all of its competitors. Adding to its wagering enticement, winning bettors aren't banned or limited.
The next time you think about placing a UFC wager on Alex Pereira to win by knockout, don't neglect Bookmaker.eu's sports betting services, as you'll have the opportunity to wager large or small stakes, depending on what type of bettor you are.
And, of course, excellent bonuses, attentive customer service, competitive odds, and loyalty rewards can be found at Bookmaker.eu. This reputable and trustworthy operator be accessed on all desktop and mobile devices within a few clicks.
Pros:
UFC lines are posted earlier than most competitors
High betting limits in UFC events
Cons:
Small variety of UFC props compared to other sites
2. Heritage Sports - Some of the best overall UFC and MMA odds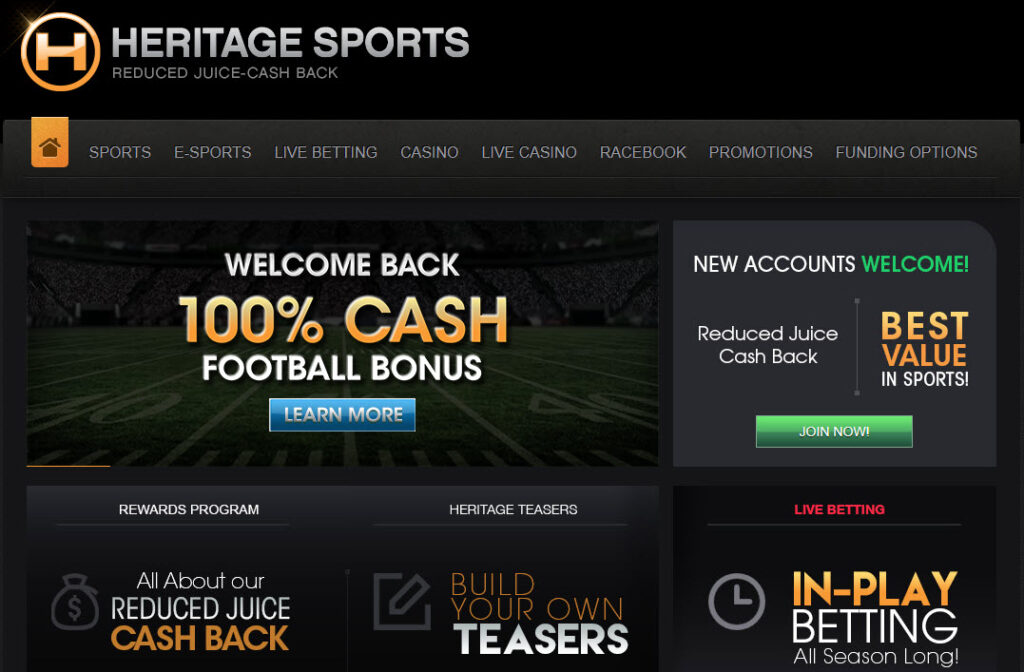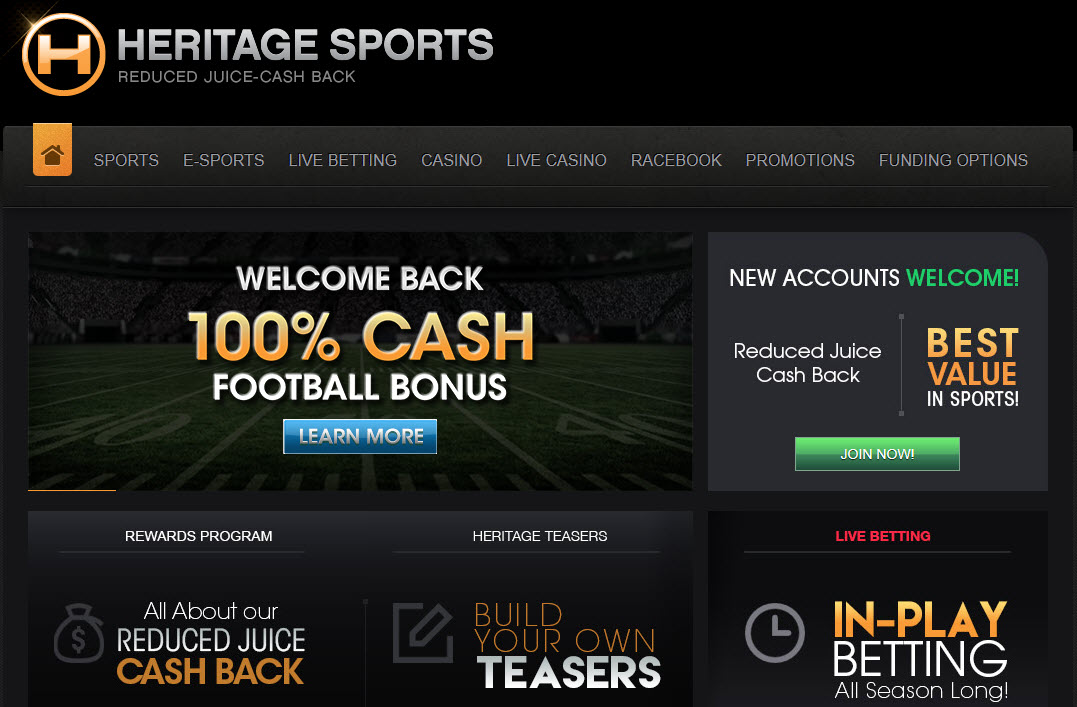 With options to bet on live UFC fights, highly competitive MMA odds, and a great selection of proposition markets, Heritage Sports has long excelled at providing its customers with an excellent UFC wagering experience.
The Heritage Sports landing page is easy to navigate and works fluidly on desktop and mobile devices. It doesn't matter if you're looking for pre-event or live UFC betting odds; Heritage will keep you deep in the MMA action with its notable software developers that have created a simple-to-use betting environment.
With a range of bonuses and promotions, new and loyal customers can receive excellent incentives when using Heritage Sports. And they aren't just reputable as a UFC betting provider, as you'll find a plethora of markets to keep you busy when Dana White and co. are taking a break.
Pros:
Cash-back promo available for UFC bettors
Great live betting platform
Reduced juice in main sports
Cons:
Bonuses tend to have higher playthrough requirements than other sites
Limits on UFC events tend to be lower
3. Bovada - Excellent sportsbook for UFC parlays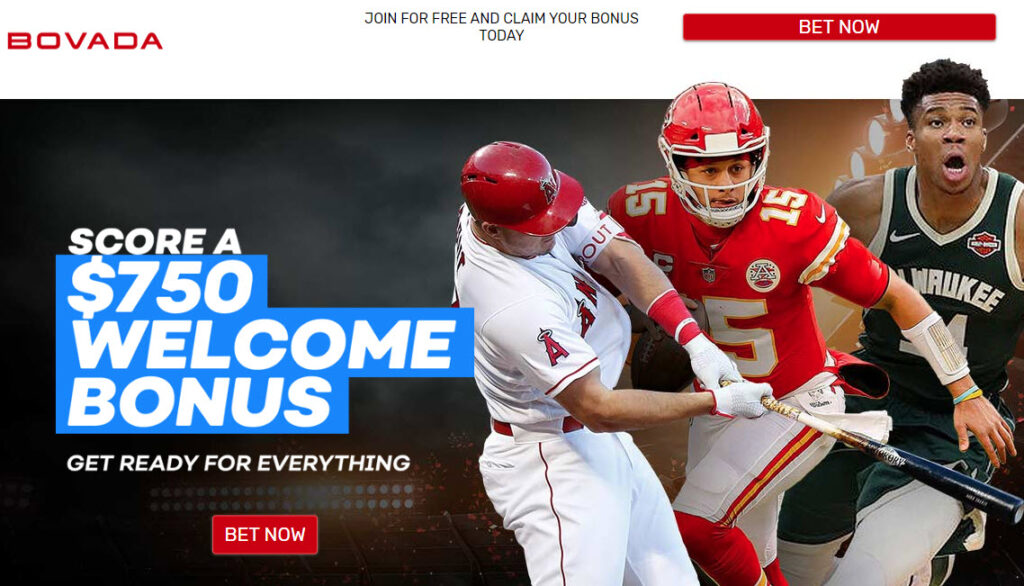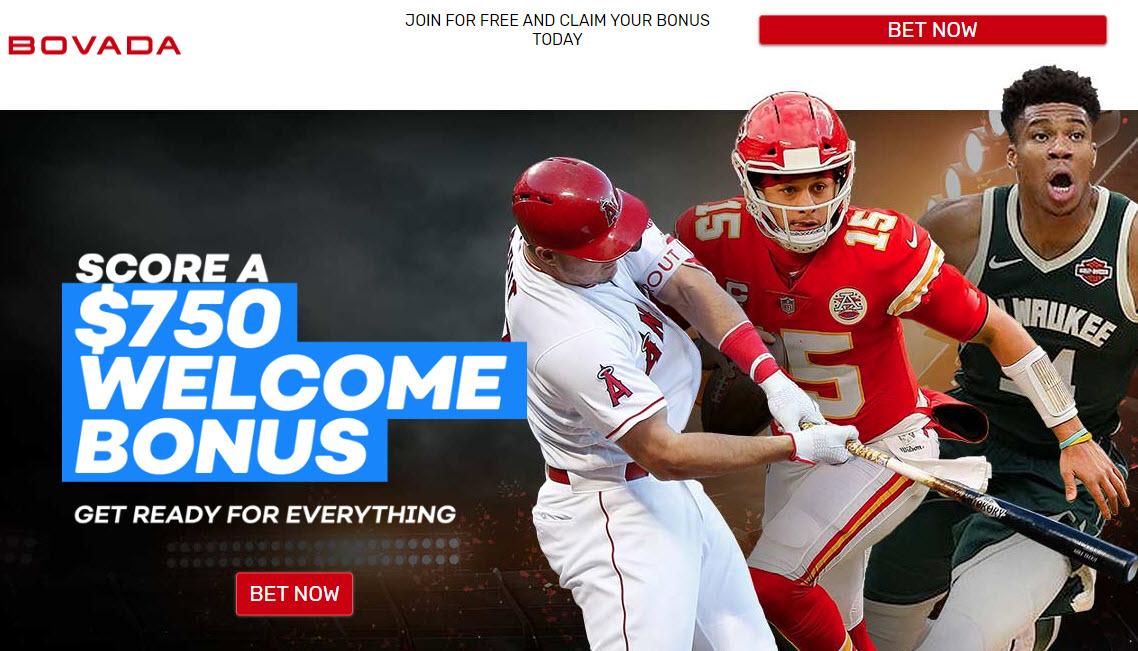 Bovada is one of the best sports betting sites in the business. Covering major sports like the NFL, NBA, MLB, MLS, and NHL, it's apparent that they'd become a top operator for UFC betting in all locations throughout the United States.
Our sportsbook experts have recommended Bovada for decades, and this top sports betting operator can deliver some of the best UFC odds on the market. In addition, combining those money lines plays into a parlay can increase a player's ROI% (Return on Investment) and boost a bankroll significantly.
New customers at Bovada can receive a generous matched deposit bonus of up to $750. Although these bonuses are specific to the UFC, you can still make use of these bankroll boosters, as the x5 bonus wagering requirements are some of the lowest in the industry.
Pros:
Great variety of UFC props available
Outstanding live betting interface
Lower rollover amounts for bonuses
Cons:
Fewer bonuses available compared to others
Betting limits can be lower than other sportsbooks
4. BetOnline - Wide selection of UFC prop bets and highly competitive MMA odds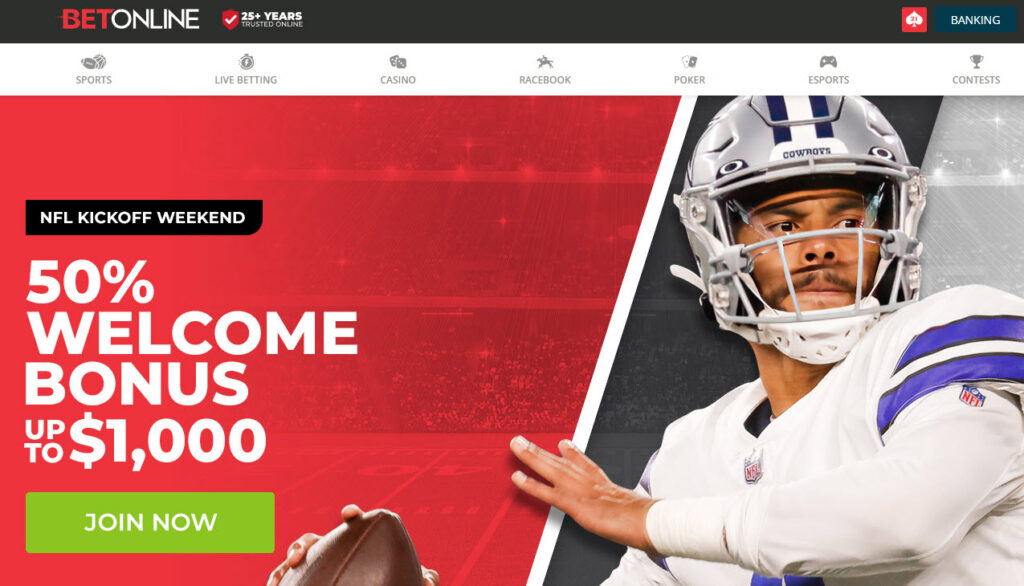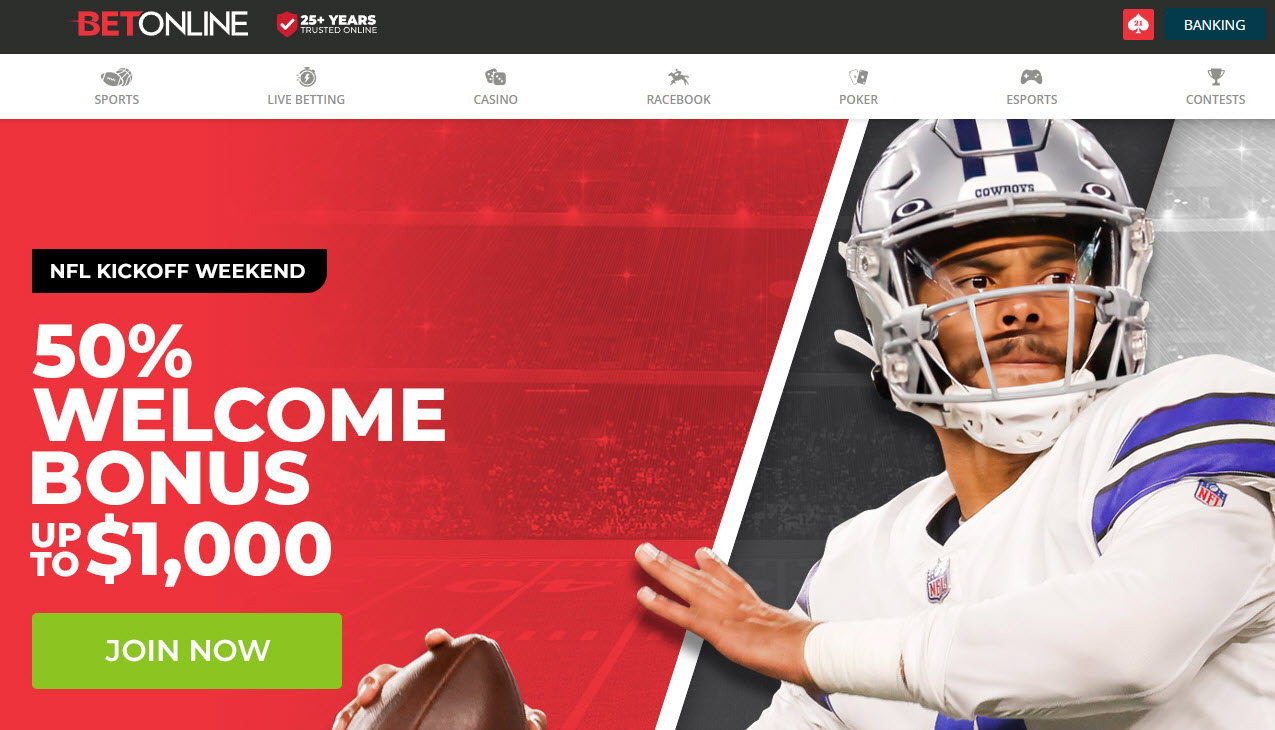 It's rare to find a BetOnline competitor with greater UFC odds, particularly with UFC money line wagers. When you're line shopping for the best UFC odds, it's almost guaranteed that you'll find BetOnline providing the best odds, and they also boast some of the most extensive choices regarding UFC prop bets.
BetOnline's reputation speaks for itself; they're highly regarded in the sports betting world but have notably excelled within their MMA market offerings. You can find odds for UFC events weeks in advance, allowing bettors to receive the best available prices, unlike the adjusted lines found at rival sites.
You've likely heard of BetOnline before reading this guide, but perhaps you aren't aware of their UFC/MMA services. Outside of the UFC, you can find odds on lesser-known promotions such as LFA, Bellator, Invicta, Dana White's Tuesday Night Contender Series, PFL, and many more.
Pros:
Great variety of promos
Offers opinionated lines
Cons:
Bonuses have high rollover requirements
5. BetAnySports - Great odds-on UFC knockout and submission props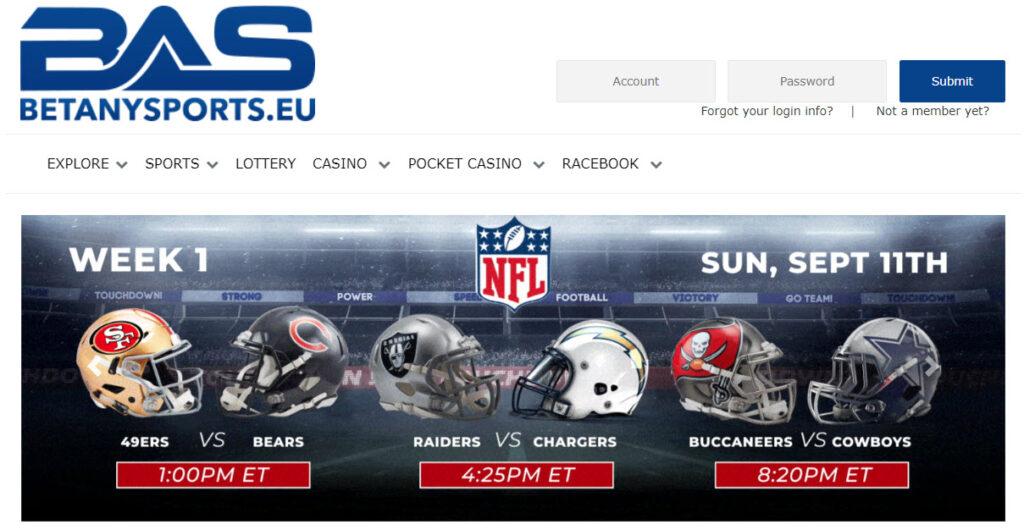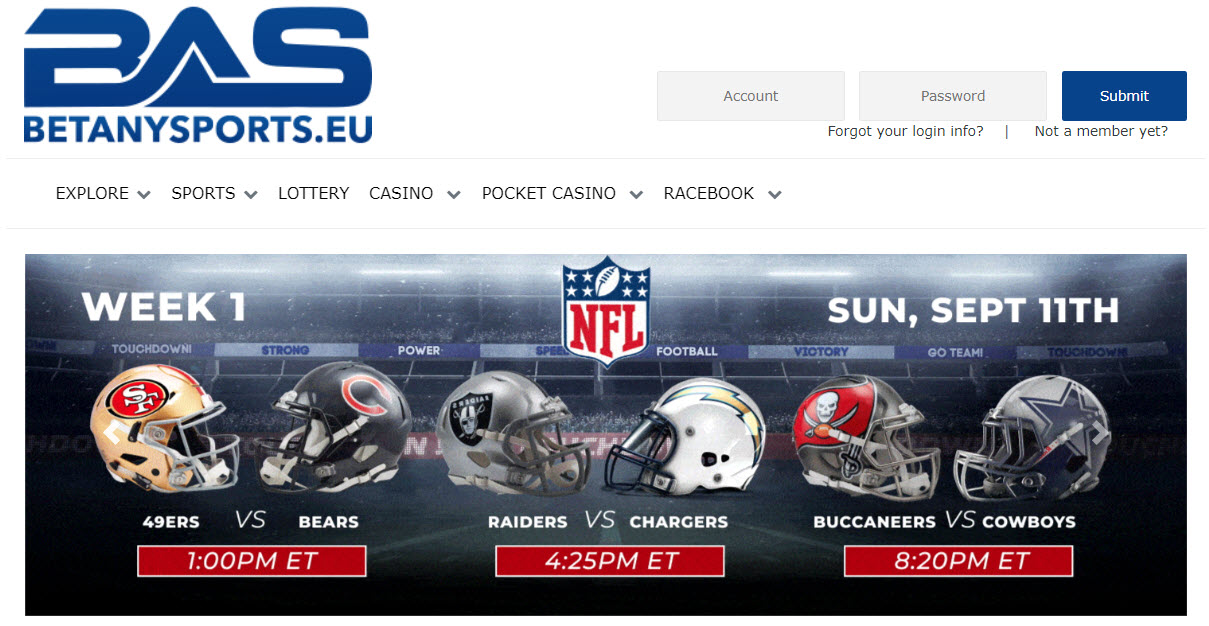 The branding at BetAnySports speaks for itself. Customers can bet on any sport, and this includes the UFC. This operator offers excellent pricing on UFC money line wagers, round totals, parlays, round betting, and much more.
With live UFC betting options, a unique prop-building feature, highly competitive odds, and excellent customer service, BAS gives avid MMA bettors multiple reasons to utilize their sportsbook services, whether before an event or when the fighters have stepped in the octagon live.
The aforementioned factors also translate throughout BetAnySports' countless sports markets, so if you're looking for a complete sports betting experience with incredible odds on the UFC, NFL, NBA, MLB, MLS, EPL, NHL, and more, you needn't look any further.
Pros:
Offers best-reduced juice model in the industry
Good offer of UFC props
1 free withdrawal every month
Cons:
Interface is a bit rustic
Fewer promos than other sportsbooks
Why These UFC Betting Sites Are the Best
Our discoveries of the best UFC betting sites are accomplished by a strict criterion our team of devoted experts adheres to. Each top-rated, reputable, and trustworthy UFC betting site highlighted in this guide must provide the most competitive betting odds on the market, high-paying sign-up bonuses, regular promotions, fast withdrawals, varied banking methods, and of course, an excellent customer service team.
We want to assist avid UFC bettors in finding the best possible online betting sites, not just for betting profit but for a complete MMA wagering experience that will result in positive feedback long-term.
How to Start Betting on a UFC Betting Site
Some of our readers may be inexperienced with online sportsbooks, which is fine. If you're struggling to understand how you can get involved, fear not, the process is simple, and you can begin attempting to make some UFC betting profit in no time.
If you're attempting to register with online sportsbooks such as BetOnline, Bovada, Bookmaker.eu, Heritage, or BetAnySports, you'll need to follow the simple 4-step process below:
Enter one of the best UFC betting site's web addresses into your desktop or mobile browser and navigate to the "sign-up" or "register" button, which will be found on the landing page.
Enter your details into the registration form. This will require basic information such as your name, email address, and telephone number.
Once you've received a confirmation email, you're ready to fund your account. Don't forget to read the lucrative welcome bonuses on offer at sites such as BetOnline, Bovada, BAS, Heritage, and Bookmaker.eu. Some of them may require a promo code, and be sure to read the T&C betting rules regarding the bonus you opt for. Select your payment method and fund the account with real money or cryptocurrency.
You're nearly there; simply head to the UFC or MMA section of the sportsbook and find the desired market you wish to wager on. Once you've found a fighter, prop, total, or parlay, enter the amount you'd want to stake and enjoy the festivities of cheering on your bet.
Understanding UFC Betting Lines
UFC odds can be viewed in three formats: American, Fractional, and Decimal. The American odds format is the most commonly used odds setting in North America. American odds are displayed with (+) and (-) symbols to indicate the amount a player must stake to win $100 or the amount that would be won for every $100 staked.
When you see a minus (-) symbol in front of a number alongside a specific fighter's money line or even a prop or total bet, it signals that this bet is a favored betting position with an implied probability of 51% or higher. And the number after the (-) symbol indicates how much you'll need to stake on this bet to win $100.
Example: Sean O'Malley's money line is priced at -150. This would require $150 wagered to profit $100, including the return of your initial stake.
On the other hand, (+) symbols represent underdog bets. These odds display how much a player would win for every $100 wagered.
Example: Islam Makhachev to win by TKO/KO is priced at +150. Each $100 wagered on this prop bet would return $150 in profit, including your initial stake.
Common Types of UFC Bets Available
One of the most exciting aspects of betting on UFC events is the different types of bets a player can choose from. Predicting a fighter's path to victory can provide lucrative returns, as these methods of victory are regularly priced with plus-money returns. The type of bets you choose will dictate your long-term bankroll, but specific prop bets can be more challenging to predict,
Some of the most common UFC betting types are:
Method of Victory Props Betting – How a fighter wins the contest (Decision, TKO/KO, Submission)
Totals – Bet on how many rounds you think a fight will or will not last (Over/Under 2.5 rounds)
Moneyline Betting – Pick a fighter to win
Round & Method Betting Prop – Pick the round and which method a fighter will win by
Best UFC Promo Codes and Bonuses
Choosing a reputable sportsbook from our guide will also provide you with a great selection of bonuses, and promo codes, such as new customer-matched deposits. Sites such as BetOnline provide 100% matched deposit bonuses up to $1,000, which are excellent methods to build your bankroll and earn long-term betting profit with some free cash.
UFC Betting Tips and Strategies
If you're new to the world of UFC betting, you're probably unfamiliar with the crucial betting strategies that can make or break your bankroll. The MMA betting community is strong, and you won't struggle to become a winning bettor if you follow some of the guidance below.
Do Your Research
The difference between most sports leagues and the UFC is time. On average, a UFC bout is fought over three five-minute rounds. Make use of this by studying the fighters, evaluating the fight tape, and looking for each fighter's key strengths and weaknesses. You can't simply rely on a fighter's typical game plan or track record; as the saying goes, "styles make fights," and watching the past footage of two fights scheduled to compete can give you an added edge at the sportsbook.
Don't Bet on the Draw in Most Circumstances
Don't be tempted by the draw market on UFC closing odds. MMA bouts are rarely declared a draw, and although the odds are tempting, these results occur only a handful of times per calendar year.
Don't Bet on Every Fight
Pick your poison. You don't need to wager on every fight card, as some fight night events can have 14 fights scheduled. Bet on the fighters and props that make sense; forcing bets will lead to a negative bankroll – make your betting opportunities count.
Don't Fully Rely on Statistics
In the UFC, statistics only tell one-half of the story. The metrics of a fighter can be altered dramatically within 5 minutes of competing, so be sure to study the intricacies instead of putting your faith in the numbers or fighters' track record.
Remember that Fighters Adapt and Change
Evolution is a massive part of the fight game. This is important to consider when studying old fight tapes. Has this fighter changed gym? Has a fighter learned a new skill? Has his typical game plan altered? Don't expect to see the same style in every fight, as each upcoming fight presents alternate strengths and weaknesses for each fighter.
Betting on Fighters Who Missed Weight
Weight cuts in the UFC are a double-sided sword. Missing weight can suggest a fighter is struggling with his fight camp, and this could be a great position to beg against him. On the other hand, if a fighter has cut less weight than his opponent, he could likely be heavier on fight day, thus giving him a power advantage behind the added body weight.
Debut Fighters Versus Veterans
The experience and ground game of UFC light heavyweight Glover Teixeira is the perfect example of why you should remain cautious when betting against veteran fighters. Despite entering his forties, he won a UFC championship and proved that veteran wisdom could overcome the lesser-experienced fighters.
Debut fighters haven't fought at the highest level, and the bright lights of the big stage can produce "UFC jitters" for some. They could've looked like world-beaters on the regional scene, but have they displayed the qualities that can handle the attention and pressure?
Take a Fighter's Age Into Account
Most fighters begin to decline or receive a downward trajectory in their MMA careers between the ages of 35-40. As testosterone levels drop, injuries become more frequent, and the passion begins to wilt, it's essential to pay attention to fighters showing their age in the octagon.
Donald "Cowboy" Cerrone is a prime example. Once known as one of the best strikers in the UFC lightweight division, Cerrone retired from the sport riding an eight-fight losing streak. While this doesn't translate to every fighter, it's always worth being cautious when backing older fighters when entering the UFC betting markets.
Compare Lines Across the Top UFC Betting Sites
To become a successful long-term MMA bettor, you must line-shop at the top UFC betting sites. Here at Bookmakers Review, we conveniently display the top betting odds for each UFC fight, thus allowing the betting community to find the best available prices easily. The difference between a -120 money line and a -110 money line may not seem a lot, but if you're losing out on 10 points, ten times throughout a year, that's a potential $100 profit you could've added to your bankroll if you had shopped for your odds.
UFC Live Betting
Live betting is perfect for UFC bettors looking to beat the juice. Some fighters can start slow, thus forcing the sportsbooks to reduce the highly-priced pre-fight odds round to round. This edge can result in excellent profits, and there's no better way to gauge a fighter's potential than by watching how he fares in the first round of the fight. The best UFC betting sites, such as BetOnline and Bovada, provide an excellent live betting service.
UFC Betting – Frequently Asked Questions
All of our top-rated offshore sites for sports betting offer a wide range of UFC wagers including method of victory props, moneyline betting and more.
What apps can I use to bet on UFC?
Most offshore betting sites do not operate their own native betting apps. However, these sites provide a fully-optimized mobile site for UFC betting anywhere, at any time.
Can you make money betting on UFC?
Yes, but you should never enter the UFC betting markets blindly. Research is vital to your long-term online sports betting success.
How are UFC betting odds determined?
Oddsmakers look at fighters' statistics and performance, along with a variety of other factors, to set odds on fights.
How often do underdogs win UFC?
Here is a key statistic to consider when making your betting picks: underdogs only win UFC fights 30% of the time.