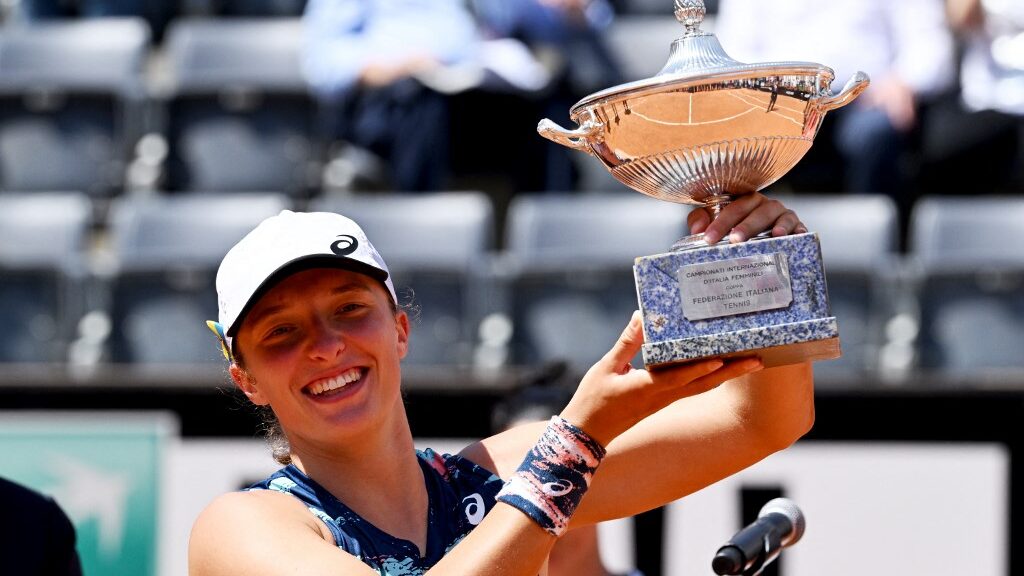 When the play at Roland Garros begins, there is one large shadow looming over the field in the WTA. That person is Iga Swiatek. Swiatek is the rightful favorite, but that doesn't mean we still can't look for some long shots. Let's take a look at this French Open field and see if there's anyone worth taking a chance on to defeat the world's best player.
Roland-Garros Women's Betting Odds
The following WTA odds are available with BetOnline, one of BMR's top-rated sportsbooks:
Iga Swiatek (-135)
Simona Halep (+900)
Paula Badosa (+1400)
Ons Jabeur (+1600)
Maria Sakkari (+2000)
Aryna Sabalenka (+220)
WTA Betting Odds Breakdown and Players Profiles
Iga Swiatek (-135)
Iga Swiatek is clearly head and shoulders above the rest of the WTA field right now. She has won 28 straight matches and if she lifts the trophy at Roland Garros, Swiatek will tie Venus Williams for the most consecutive match wins this century.
A historic run has been highlighted by dominating victories. Not only has she won all of her matches, some of these matches, even against players in the top 10, weren't even close.
Right now it's hard to find a weakness in a Swiatek's game. Her serve is powerful enough for her to hold on a consistent basis. She has the best break percentage on tour at 55.4%. That number is astounding and shows how tough it is to defeat her.
Her consistency from the baseline limits unforced errors and makes it very hard to consistently hit winners. Oftentimes players will hit a shot against Swiatek that feels like a winner, yet she just keeps getting the ball back.
The fact that you're laying juice for her to win seven matches in a row is evident in how dominant she is. And although it seems crazy, it is also a good bet to make. You should definitely have some Swiatek in your portfolio of outright winners for this tournament.
---
Simona Halep (+900)
Simona Halep is an excellent clay-court player who does have the skills to win the tournament. Unfortunately, Halep has struggled with consistency and fitness. She looks brilliant for a couple of matches going into a tournament but then will fall apart. Is this a sign of getting older? Probably, as Halep moves into the twilight of her career.
Halep still has the skills to put most players to the test, but it's tough to see her overcoming Swiatek. If Swiatek were to be somehow eliminated, she would have a good chance, but at this stage in her career, it's tough for me to want to back Halep.
I just don't think she can do it for seven matches in a row. However, finding a worthy long shot is tough in this field and, at this price, you could argue that there is a small amount of value on Halep. Even if that is true, I will stay away and look for younger players to back.
---
Paula Badosa (+1400)
Paula Badosa burst on the scene in 2021, and her all-court game lends itself to the clay-court style very well. Badosa has the power to hit winners when given opportunities, yet the defensive skills to grind out long rallies.
Badosa has an excellent serve which helps her because she can break opponents quite frequently. Oftentimes, especially against fellow baseliners, Badosa's serve is the difference between winning and losing. Badosa is a well-rounded player, who is still getting experience at the top of the tour.
You could take a shot on Badosa, but I don't think she's ready yet to get a tournament victory at the Grand Slam level.
Once again, however, because of Swiatek's dominance, the tennis odds are so favorable that if you believe in Badosa you're getting a great price. I personally will not play Badosa but I can understand why people are looking that way.
---
Ons Jabeur (+1600)
Ons Jabeur is my favorite player to back when looking for the long shot. Ons Jabeur has played excellent tennis lately. Unfortunately, when given a chance against Swiatek in the final in Rome, Jabeur had nothing for the dominant Polish player.
Still, if Swiatek were to lose, or if Jabeur were to improve upon her tactics against Swiatek, I believe she does have the best chance of lifting the trophy.
Jabeur plays a diverse game that does well on the clay with her variety of slice, spin, and touch. It's going to be tough for any WTA player to defeat Swiatek, but the player I believe has the best chance is Ons Jabeur.
---
Maria Sakkari (+2000)
Maria Sakkari is the hard-charging Greek player whose fitness and fighting spirit are never in question. Sakkari never looks tired in matches and has continued to improve over the last two years, catapulting herself into the top ten.
Sakkari does have moments where her level of play can waver with the game on the line. Maria Sakkari has been vulnerable to getting a case of nerves when serving out matches. Sakkari has gained more experience, but I still struggle to believe that in the constant high-pressure moments of a Grand Slam that she will continually be able to come through.
Sakkari has all the tools to be a Grand Slam champion at one point in her career, I just don't think it will be this fortnight.
---
Aryna Sabalenka (+2200)
On paper, Aryna Sabalenka has the best tools to defeat Swiatek. Sabalenka has incredible power that is matched by a few on the tour. When Sabalenka is on, even the greatest court coverage is no match for her fearsome power.
Unfortunately, Sabalenka also has problems with the psychology of the game. Sabalenka can get frustrated easily and is prone to huge swings of consistency. Because of this, although she has the potential to beat anyone, she also has the potential to lose to anyone. Sabalenka is another player that I believe will eventually win a Grand Slam, but this is not her time.
French Open 2022 WTA Best Bets
Of course, you start by doing a full unit on Swiatek. It's a no-brainer with the way that she's playing, and you want your heaviest exposure to be to Swiatek. All the players mentioned here are worth it as a long shot depending on who you prefer, but for my tennis picks, I prefer Ons Jabeur.
I believe she has been the second most consistent player, and at these lucrative WTA odds, she is worth a .25U bet. While Swiatek's dominance has been a joy for tennis fans to see, it does make betting outrights on this event a little more tricky.
When the draw is announced, and the winners of each quarter are available, I think those will also be a great area to attack. But for now, it feels like Swiatek is way above the rest of the field. Our best bets will be a full unit on Swiatek, and a quarter unit on Ons Jabeur.
WTA Pick: Iga Swiatek (-135) 1U with BetOnline (visit our BetOnline Review)

WTA Pick: Ons Jabeur (+1600) .25U with BetOnline

*The line and/or odds on picks in this article might have moved since the content was commissioned. For updated line movements, visit BMR's free betting odds product.