Oregon Sports Betting Apps – 2023's Best Mobile Sports Betting Sites & Apps
Since 2019, sports bettors in Oregon have been allowed to place legal bets on sports activities in popular North American markets and some international leagues.
But not all sports action has been available to Oregon users with mobile sports betting apps. It is prohibited to do online sports bets on college sports using the DraftKings Sportsbook, the only online sportsbook licensed by the Beaver State.
In this guide, we will show Oregon sports bettors where they can find the best mobile sportsbooks to bet on more markets like college sports and other leagues around the world in a variety of sports. We explain what makes these Oregon sports betting sites the best, and how to join them. We also take a look at the interesting history of sports gambling in Oregon State.
Oregon's Top Mobile Sportsbooks
Top-Rated Mobile Sportsbooks for Oregon Bettors
Our top 10 mobile sportsbooks for Oregon bettors do not have downloadable apps available, but they all have quality mobile sites. They also are not regulated by Oregon or any U.S. territory, but they do follow the laws of their local jurisdictions, so you can feel confident about using them as reputable sportsbooks.
Is mobile sports betting illegal in Oregon?
No, it is legal to place bets on sports using the internet in Oregon. It has been legal since 2019 when sports betting laws were passed to legalize in-person wagering and online sports betting in the state. Players just have to be at least 21 years of age and inside state lines when placing their legal sports bet.
The only form of sports betting, that has some rules against it, is betting on college sports using an online sports betting app like the DraftKings Sportsbook. That is not allowed. To bet on college sports in Oregon, you must either visit a tribal casino like the Chinook Winds Casino Resort or use an offshore site like the ones we are about to review.
Comparison of the Best Mobile Sportsbooks
From our top 10 list of the best mobile sportsbooks for Oregon users, we have included a detailed review of our top five online sportsbooks. You will find all sorts of college teams and college games available at these choices as well as horse racing and casino-style gambling. If you want to do wagering on college sports and are bummed you cannot do those sports bets on the DraftKings app, these are the sites sports fans should definitely check out.
1. Bookmaker: Best Reputation for Early Lines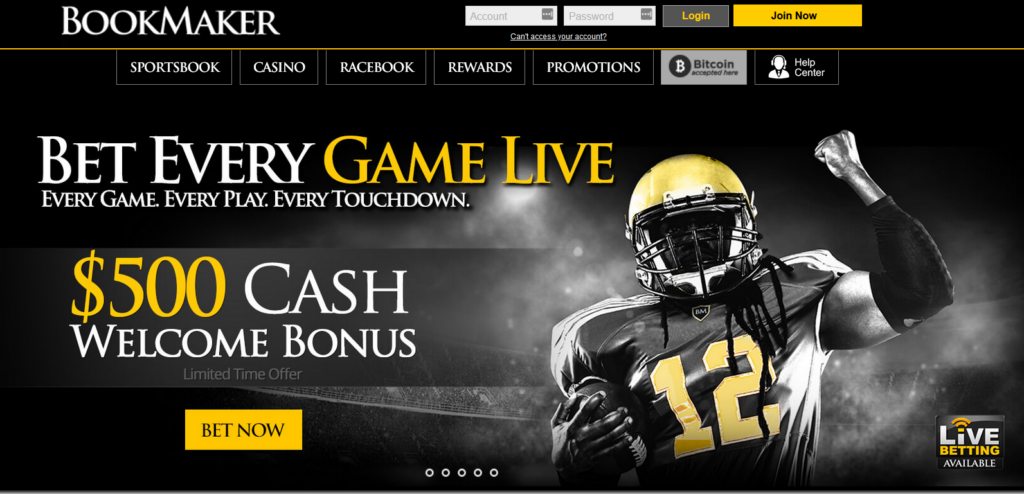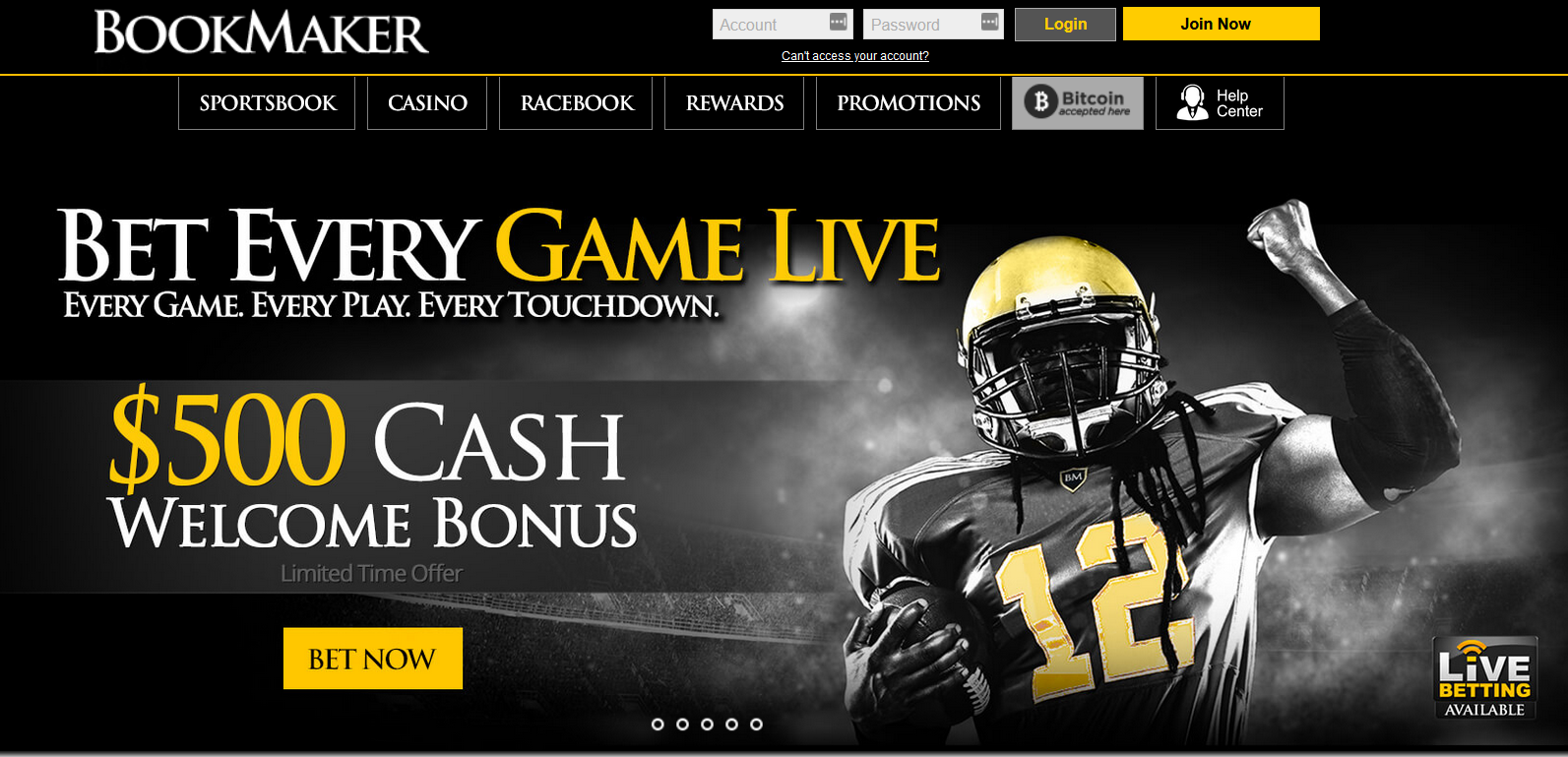 Since 1996, Costa Rica's Bookmaker.eu has rightfully earned a reputation for offering the earliest sports betting lines. Why is that important? It gives bettors a chance to get the best price they can for the number they want before the general public starts pouring money on the game and shifting the lines and prices around. This is why sharp bettors love Bookmaker, a trustworthy name in the industry.
Sharps will also love that Bookmaker does not limit winning players like some popular online operators are famous for doing. If you want to continue betting with the high limits at Bookmaker, you should be able to achieve that without a problem.
As is the case with all the offshore sports betting sites we are judging here, there is no downloadable native app for Bookmaker on your device's app store. But there is an optimized mobile site that works very well for placing live bets in a hurry over a wide variety of markets. You can also add this site to your home screen to make it quicker to access like you would an app.
Bookmaker strikes a good balance between a generous welcome bonus (up to $500 cashback) and ongoing promotions like a great reward program that offers big deposit bonuses. If you reach the third and highest level of the reward program (Diamond level), you will get a 20% cash bonus up to $2,500. This comes with a reasonable 5x rollover requirement.
Pros
Earliest sports betting lines around
Great live betting platform thanks to mobile site
Three-tier loyalty program is one of the best
Unique props for popular NFL markets
Will not limit winning players
Cons
Not as many props as other online sports betting sites
No poker room or demo versions in casino
2. Heritage Sports: Great Mobile Site for Live Betting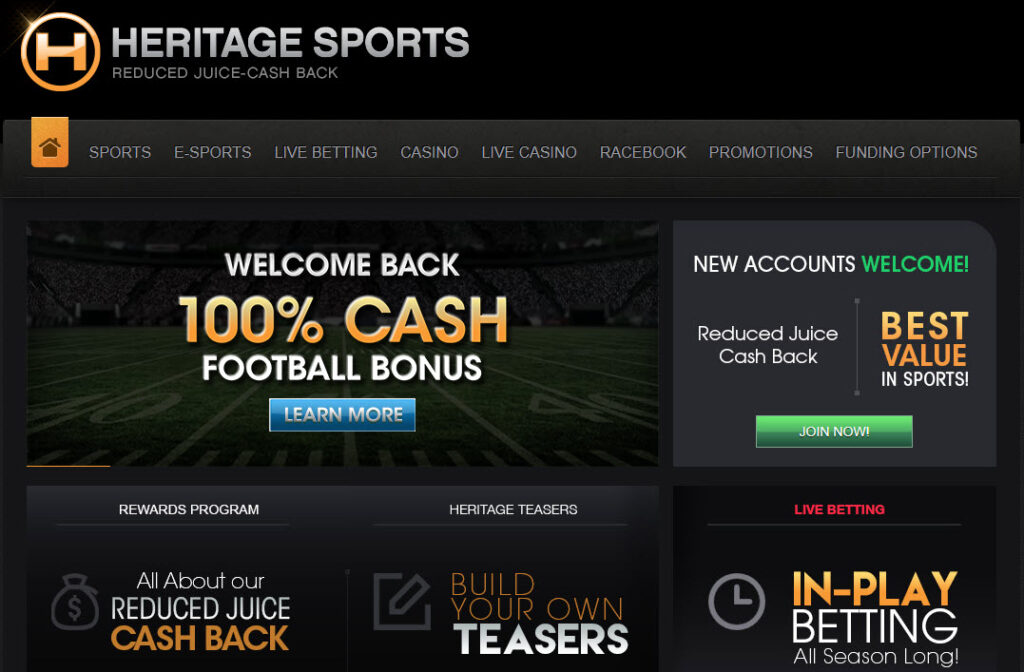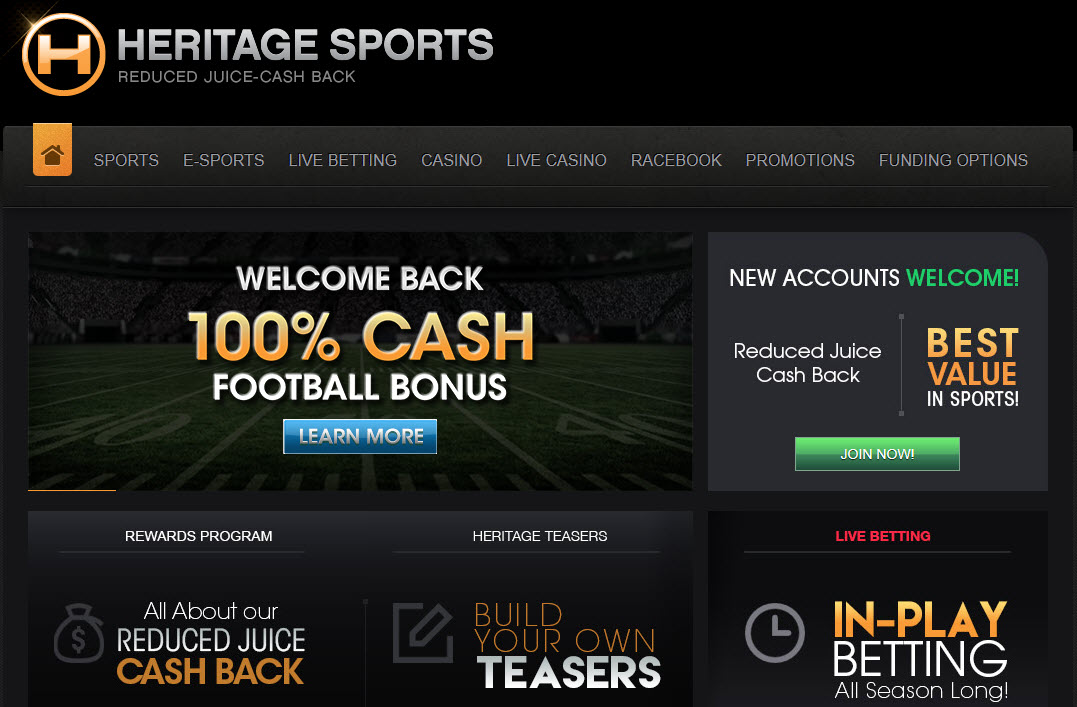 Since 2001, Heritage Sports has been one of the best online sportsbook options from Costa Rica. It used to be a site that required an invitation, but it is now open to all Oregon-based players. Inside, you will find so many sports and leagues that live betting is possible at any hour of the day.
Fortunately, the mobile site design for live betting is so good that you will enjoy doing it too. There is streaming for esports events too, and no one arguably does esports better than Heritage Sports.
The lines may not be posted as early as Bookmaker, but you can get early lines at Heritage Sports for NFL (Sunday the week before) and MLB (the night before). You also can get a lot of reduced juice with -108 odds, and there is a quarterly cashback program based on your total volume of bets on the sportsbook. That makes this a great online sports betting site to get the best value on the biggest events in your favorite leagues.
You also can get fun promos like a free parlay for your birthday (max value of $500), and every eighth deposit is free if you have gone seven straight deposits without a payout. The perks and cashback make up for what is a relatively smaller sign-up bonus.
Pros
Solid sportsbook for reduced juice (-108)
Very good for live betting
Good esports coverage
Quarterly rebates on sports betting
Free birthday parlay (worth up to $500)
Cons
Does not have a big welcome bonus
Same-game parlays could use more flexibility
3. Bovada: Best Prop Builder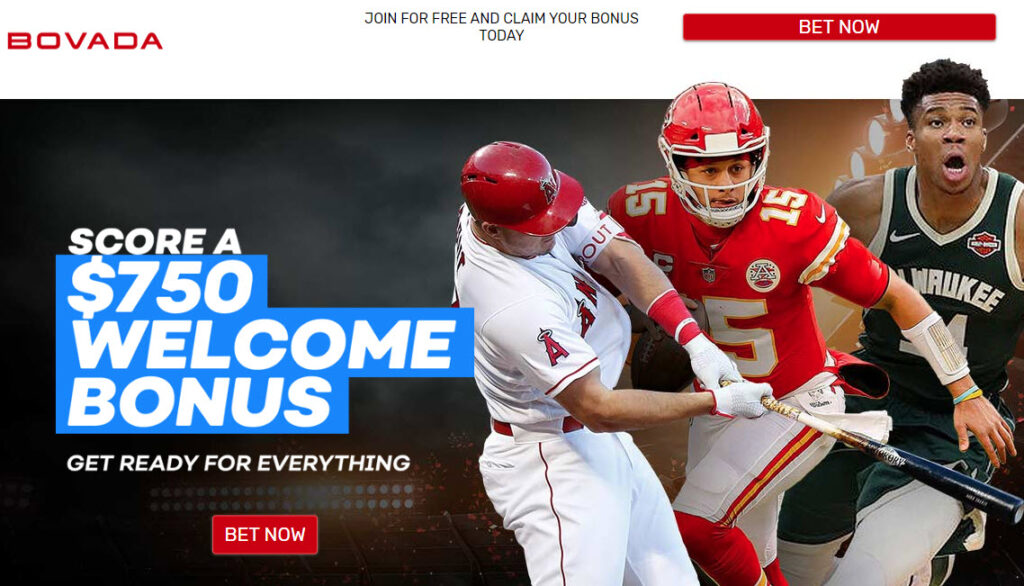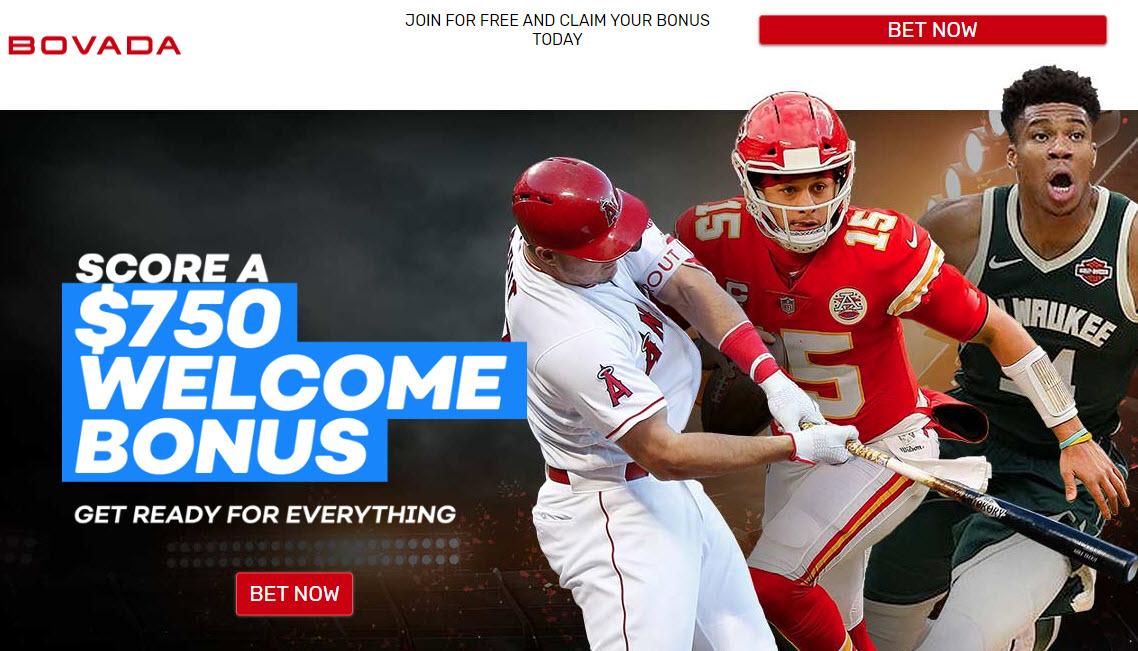 Bovada used to have a downloadable app that was solid, but it has since been discontinued. No worries, because the mobile site is one of the best designs out there with everything neatly organized in different sections and menus. You can easily build a parlay using the best prop builder around. You can do a same-game parlay or make one with picks from multiple sports at once.
That mobile site can also be added to your home screen for one-touch access, making it work much like an app would anyway. You also get solid graphics and sounds when you play the casino or check out the poker software as all poker players will want to do since Bovada boasts the top-ranked poker network.
If there is a reason we do not rank Bovada higher, it would be the lack of ongoing promos like bonus bets, odds boosts, risk-free bets, and reload bonuses like the other sites have. But there are generous welcome bonuses, especially for crypto deposits, and you do get access to a great reward program. No matter how many months you are inactive, your points will not expire, and you will not lose your tier status in the program. Your points can redeem bonus bets and poker tournament entries.
Pros
Our top-ranked player prop builder
Suggest your own prop ideas
Good reward program where points never expire
Neat site layout with A-Z listing of all sports
Great bonus offers for crypto deposit options
Quality racebook
Cons
Needs more bonus options for regular customers
Could release its lines earlier
4. BetOnline: Choose From a Variety of Leagues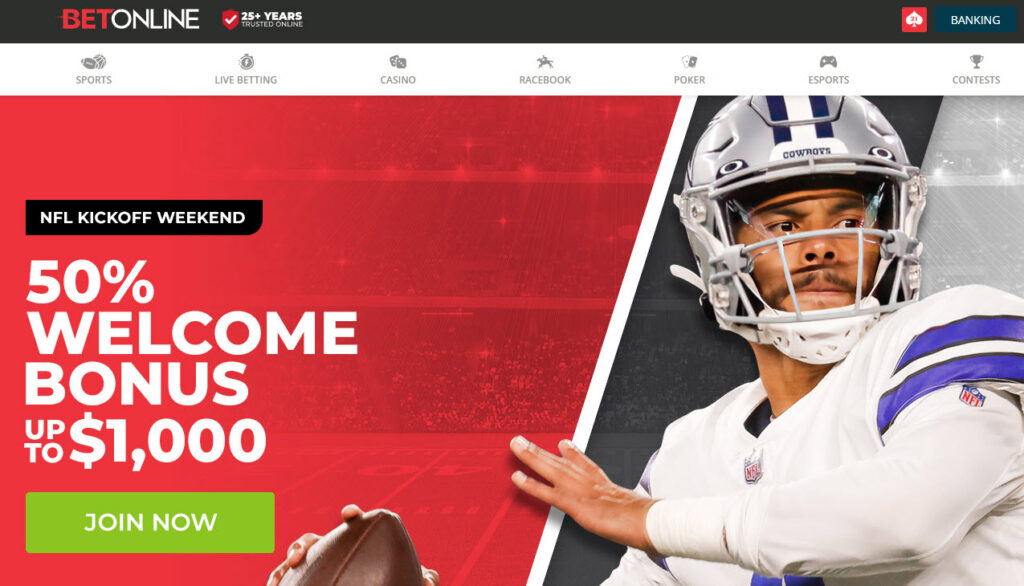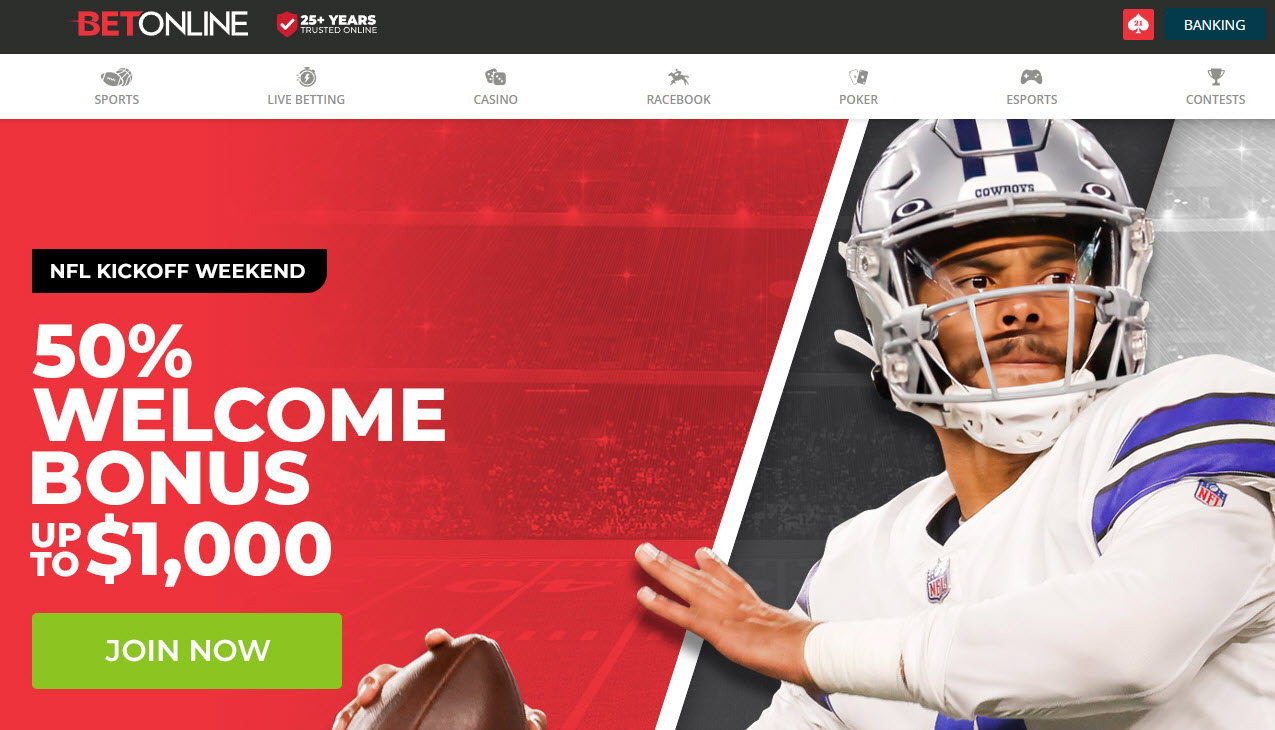 With BetOnline, you will be getting opinionated lines such as -107 vs. -113 odds on a wide variety of markets. These can be used in parlays and are lines you will not find elsewhere. BetOnline also does a great job of offering alternate lines for prop picks that you may not even be able to find on a licensed operator like DraftKings in Oregon. These can be used in parlays too.
There is no downloadable app for BetOnline, but the live betting works well on the mobile site. You also get some of the highest limits and fastest payouts in the industry, and there are many diverse payment methods to choose from. The generous welcome bonuses are a great way to get started, and there are always unique sports promos for existing users like the bad beat insurance bets. You can also try some markets risk-free (up to $25) for the first time like your first live bet, first horse racing wager, and first player prop bet.
The casino is also loaded with hundreds of games and this is one of the only options that has a big poker room with cash games and tournaments available. There is a lot to like at BetOnline.
Pros
Get opinionated lines on sportsbook
Reduced juice on NHL games
Solid for live betting
Generous welcome bonuses
Plenty of casino games and poker options
Cons
Prop builder is not top tier
Site design is not our favorite
5. BetAnySports: Best Reduced Juice Lines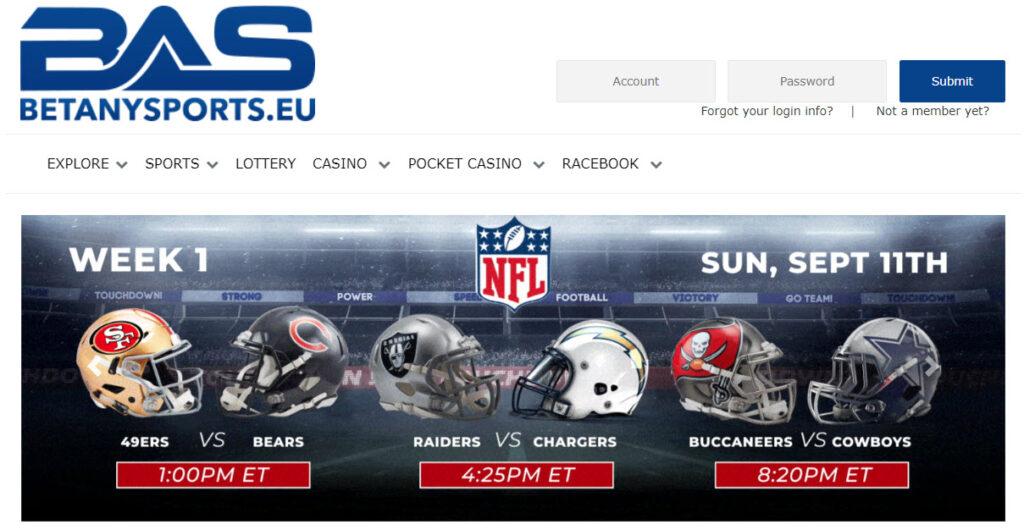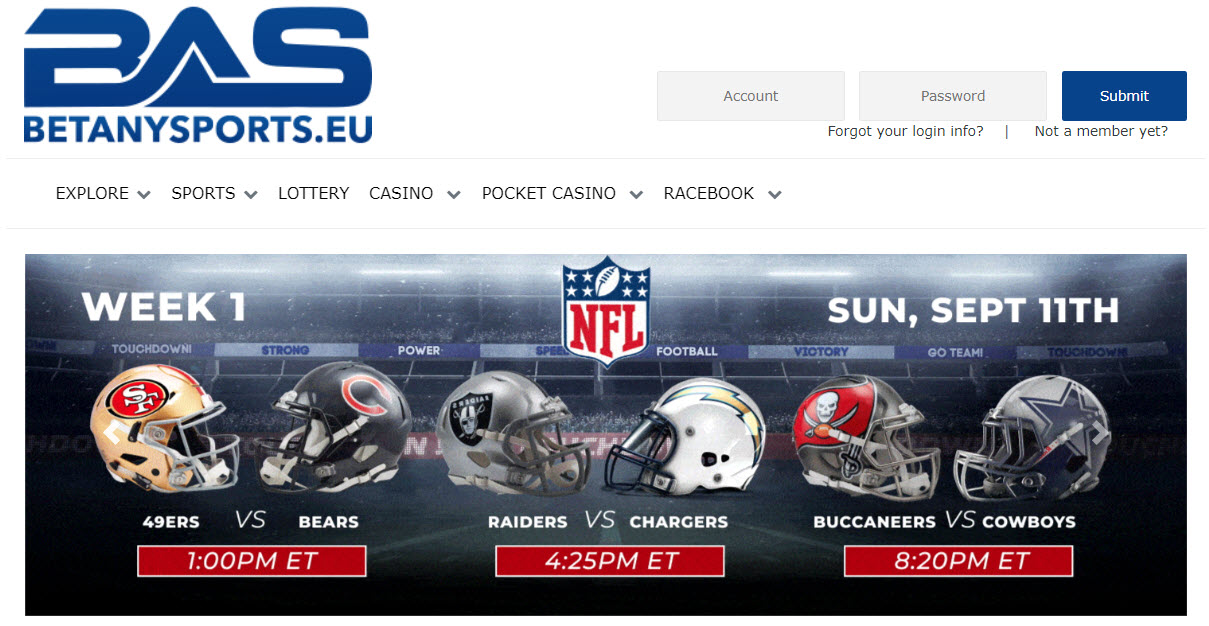 With BetAnySports, you may be confused at first when you go to use the sportsbook. There are five different sets of lines offered, and some have the same games with different odds listed, adding to the confusion. But once you figure out what goes where, you will find the best reduced juice on our list with -105 lines instead of the -110 standard odds.
You also will find that this is one of the best prop builders around. They have a wide variety of sports and leagues available, and the site is able to handle live betting well. You also get a great casino selection and a very unique lottery section where you can play the Pick 4 in Oregon daily or the daily drawings in other states.
But if you want to get over the learning curve that comes with using the BetAnySports sportsbook, then you will be pleased with their online sports betting options.
Pros
Best sportsbook for reduced juice (-105)
One of the best prop builders around
Wide variety of international leagues and niche sports
Plenty of lottery games to enjoy
Great casino game variety
Cons
Sportsbook has a learning curve to get used to
Smaller bonuses than other online gambling sites
Our Rating Methodology
We will better detail our rating methodology for these online sportsbooks below, but our judgment of the best sports betting experience is built on the ability to have a wide range of sports betting markets, betting types, payment methods, bonuses for new and existing users, and a good customer service team. Making your online sports bets should also be a hassle-free experience on a quality mobile site with a strong user interface on a site that is secure and safe to use.
Oregon's History of Gambling Laws
Oregon differs from most of the country in that it operated a legal sports betting industry well before the ban on sports betting was lifted in 2018. Through the state lottery, Oregon installed a game called Sports Action way back in 1989, allowing players to choose from 4-to-14 NFL teams to win against the spread that week.
This was allowed even after Congress voted for PASPA in 1992, which effectively banned sports betting in most of the country. But Oregon got an exemption and was still offering Sports Action until 2007 when it ended after an agreement to allow Oregon to host games in the NCAA Men's Basketball Tournament if it would end sports gambling in the state.
After 2007, little was happening on this front in Oregon until 2018 when the Supreme Court overturned PASPA, allowing every state the right to choose to legalize a broader sports betting industry. In 2019, Oregon passed its laws to legalize sports betting for both retail locations at tribal casinos and online using an app called Scoreboard, which was regulated by the lottery.
Scoreboard was not very popular, and the revenue from sports betting in Oregon was not impressive with the lottery app having a monopoly on the market. That is why Oregon Gov. Kate Brown proposed a bill in January 2021 to expand sports betting in the state by lowering the legal gambling age from 21 to 18, allowing for online betting on college sports, changing the tax rates, and allowing for a free market of companies to have online sportsbooks. But the bill was only read and never made it into a major legislative session for a vote.
By January 2022, DraftKings Sportsbook replaced Scoreboard as the go-to online sportsbook app in the state. It is still the only licensed online sportsbook for Oregon users as of 2023.
Oregon's Timeline of Sports Gambling
The following timeline shows the important moments involving sports wagering in Oregon State:
January 2022: Oregon switches from the Scoreboard app to the DraftKings Sportsbook app as its only state-approved sportsbook for online betting.
January 2021: Oregon Gov. Kate Brown proposes bill HB 2127 to improve sports betting in the state by allowing more sportsbook operators, a lower legal gambling age, and permitting bets on college sports. The bill never reaches a voting phase.
October 2019: The Scoreboard app kicks off in Oregon as an online option for in-person sports betting, which must be done at the retail sportsbook of select physical casinos on tribal land.
August 2019: Oregon passes sports betting legislation for retail sports betting and online wagering using a state lottery-approved app called Scoreboard.
2018: The Supreme Court declares PASPA was unconstitutional, providing each state with the right to decide if it wants legal sports betting.
2007: Oregon ends its Sports Action betting game as part of an agreement to become a host site for the NCCA Men's Basketball Tournament.
1992: PASPA is approved by Congress, essentially banning sports betting in most of the country. But Oregon is granted an exemption for its Sports Action games.
1989: The Oregon lottery allows Sports Action, a betting game where players can bet on the spread of 4-to-14 NFL games each week.
1984: The Oregon State Lottery is created and starts working.
What to Look for in a Mobile Sportsbook
In the next sections, we are looking into the methodology that leads to our grades for the best mobile sportsbooks.
Competitive Betting Odds
If you are going to do a fair share of your online wagering with one sportsbook, then they better offer competitive betting odds. Otherwise, you will shop around for the best prices at other sportsbooks, which is usually a good practice to do anyway. But sportsbooks can achieve competitive odds by offering reduced juice lines (-105 or -108 instead of standard -110), opinionated lines like at BetOnline, or by offering odds boosts on select markets.
Many Betting Markets Available
Just like you would expect plenty of casino-style gambling options at an online casino, the online sportsbook better have a robust sports betting market with plenty of sports, leagues, and betting types. That means popular sports, niche sports, professional leagues, college sports, and international leagues. That also means a wide variety of betting types, including parlays, props, round robin, teaser, pleaser, same game parlays. It's also important that there are plenty of in-game betting markets.
Wide Variety of Banking Methods
We expect a good online sportsbook to have a wide variety of deposit and withdrawal methods, including credit cards, debit cards, bank transfers, eWallets, crypto deposits, and more. We also make note of the different processing times, limits, and fees associated with the various banking methods.
Promotions & Bonuses
A good sportsbook will offer a generous sports welcome bonus with plenty of bonus money as a first deposit match. But a great sportsbook will also have ongoing promos for loyal users, including risk-free bets, reload bonuses, parlay insurance bets, odds boosts, a refer-a-friend program, and a reward program to accumulate points with the more you bet on the sportsbook. Those points can then be redeemed for things like bonus bets and poker tournament entries.
Live Betting is Available
Any great online sportsbook these days will have live betting available. This means more than just the spread, total, and moneyline for popular markets as we are now seeing props and game events included in live betting markets. With so many bettors using their mobile devices to bet while watching live games, live betting is a huge market to take advantage of.
Since people are using their mobile devices to frequently place bets, the mobile site better have great design and be easy to navigate between the various leagues and sections on the site and to place our parlays and bets in a timely fashion before the next game starts, or before the next play happens if we are doing a live bet. That is why it is crucial for the site to run smoothly without lag during those high-traffic moments.
While the offshore sportsbooks lack downloadable apps for your iOS and Android devices, you can count on them to feature quality mobile sites optimized for your mobile device.
Customer Service
Was there a stat correction after a game that you think changes your bet's outcome? Did a player you bet on to play never get into the game as a healthy scratch? Do you need help with getting a bonus into your account? There are many reasons for sports bettors to contact customer service, so we expect a good support team to provide 24/7 support with a variety of contact methods, including an email address, a phone number, the ability to send a message with attachments on the site, and a live chat feature.
Security Features
If you want to win real money online at a sportsbook, you have to be willing to share personal info such as your name, email, address, and phone number. You will even have to connect your credit card or bank accounts to use as payment methods with these sites. That means a lot of personal data is being shared with these sites, so we have to trust that they will protect our data from the wrong hands. That is why we only choose trustworthy sites with a longstanding history of excellence in serving customers in this industry. We feel more confident that our data will be kept safe and encrypted while using these sites.
Sports Teams in Oregon
There are several popular sports teams based in Oregon, including one in the four major professional sports leagues. Some of your favorite teams in Oregon are likely to be the big college teams, the Oregon Ducks and Oregon State Beavers.
Portland Trail Blazers (NBA)
Of all the professional teams in the NBA, the Portland Trail Blazers are a rarity in that they have never changed their name or switched cities since their inaugural season in 1970-71. The Trail Blazers won the 1977 NBA Finals and have not been back since losing to Michael Jordan's Bulls in the 1992 NBA Finals. But they are led today by Damian Lillard, an outstanding shooter.
Portland Timbers (MLS)
The Portland Timbers is a professional team in Major League Soccer (MLS). The Timbers had their first season in 2011 and their most successful campaign was in 2015 when they won the championship and the MLS Cup.
Oregon Ducks (NCAA Football)
The Oregon Ducks have been one of the winningest football teams in college sports with a history dating back to 1894 when they were known as the Oregon Webfoots. Now known for some stellar jersey designs, the Ducks have been a winning team in the Pac-12 Conference since the 2010s.
Oregon State Beavers (NCAA Football)
The Oregon State Beavers are of course a main rival to the Oregon Ducks as the schools are not far apart. They have played each other 125 times, making it the seventh-oldest rivalry in all of college football. Rivalries like this are why people love wagering on college sports and remember, you can do that in Oregon if you use an offshore sportsbook.
Other Sports to Bet on in Oregon
With a wide variety of betting options available to Oregon users, here is a sample list of the sports you can expect to find on most online sportsbooks:
Aussie Rules
Baseball (MLB, NCAA)
Basketball (NBA, NCAA, WNBA)
Boxing
Cricket
Curling
Cycling
Darts
Esports
Football (NFL, NCAAF, XFL)
Golf
Handball
Hockey (NHL)
Horse racing
Motorsports
MMA (UFC)
Rugby
Snooker
Soccer
Table Tennis
Tennis
Volleyball
How to Create a Mobile Sportsbook Account
If you want to win money online with online betting, you will have to create and fund your account with real money. We walk you through the four simple steps to do that at mobile sportsbooks.
Step 1. Signing-Up
Visit the site of the sportsbook you want to join and begin the account creation process like you no doubt have done many times in your life at a variety of sites. You will want to have a password to use that is unique and not used elsewhere.
Step 2. Verifying Your Account
Your account must be verified before it can be used. Enter your personal details, including your name, address, email, and phone number. The sportsbook may send you a link through email or a code through text to enter and verify your account for the system. This will all happen very quickly but be sure to enter accurate contact information for yourself.
Step 3. Depositing Your Funds
Now your account needs to be funded with real money. Before doing this, read over the terms and conditions of the welcome bonus, because that bonus amount will likely hinge on the size of your initial deposit. Once you know what to deposit, head over to the deposit or cashier section and make that deposit using your preferred deposit method.
Step 4. Placing Your First Wagers
Congratulations, you have created, verified, and funded your sports betting account. Now you can start betting on your favorite picks, building parlays, and much more at an online sportsbook.
FAQs – Mobile Sports Betting in Oregon
Does Oregon allow online sports betting?
Yes, Oregon has one licensed sportsbook. However, offshore sportsbooks are not bound by gambling laws in the United States. For that reason, these operators can offer online sports betting on professional sports and college sports to residents of Oregon with no restrictions.  
What gambling is legal in Oregon?
Legal forms of gambling in Oregon include sports betting (retail and online), Daily Fantasy Sports services (FanDuel only), horse race betting and the Oregon lottery. Offshore online gambling sites offer all of this, and more because they are not bound by Oregon's regulations.  
How can I gamble online in Oregon?
You must visit a mobile site like Bookmaker or download a sportsbook app like the DraftKings Sportsbook. Then you create your account, fund it with real money, and start gambling. You also can use approved horse racing apps like TwinSpires and TVG.
What sports betting app can I use in Oregon?
DraftKings Sportsbook is the only downloadable sports betting app available; however, offshore sportsbooks operate smooth mobile sites. Using your phone's internet browser, you can access all your favorite sports and betting options, just like a mobile betting app. 
Is DraftKings sportsbook legal in Oregon?
Yes, DraftKings Sportsbook is the only legal online sportsbook licensed by Oregon. However, offshore sites are not located in the United States and do not require Oregon licensure. For that reason, they can offer professional and college sports betting, casino gaming and more to Oregon players. 
A sports betting bill in North Carolina, which had not made any progress for almost two months, will likely be discussed and possibly voted on by the entire Senate this week. Earlier this week, the Senate Committee on Commerce and Insurance reviewed the sports betting bill and gave it a positive assessment, recommending it to

---