Ohio Sports Betting Apps & Mobile Sites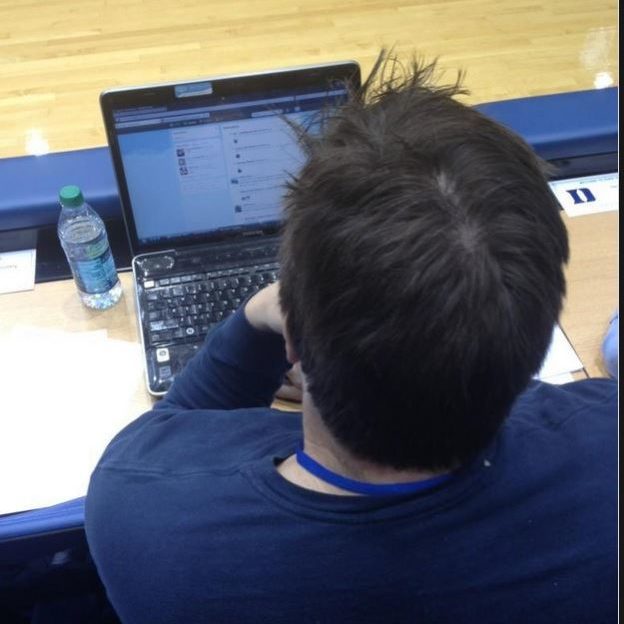 Shawn West has been involved with college basketball, NFL and college football and MLB since he left his job as bank vice president two decades ago. He lives in North Carolina with his wife, children, two dachshunds and a variety of turtles.
It's an interesting time for sports fans in Ohio, as the sports betting laws are changing rapidly. The state has passed a law legalizing wagering on sports in the state, and it went into effect on January 1, 2023. After all of the licensing has been sorted out, sports bettors will be able to visit a retail sportsbook or turn to online sportsbook operators.
The Ohio Casino Control Commission has been busy planning out how legal sports betting will be implemented, and companies around the state are lining up to get sports betting licenses.
Even though it will take a while before regulated sportsbooks are fully implemented and operational in the state, you don't have to wait.
Offshore sportsbooks with mobile betting sites have been taking sports action for years. Even after all types of sports betting are legal in Ohio, you can expect in-state companies to have a bit of a learning curve as they enter the business. But you can skip all that and take advantage of the best sportsbooks, which will be operating business as usual.
But which online betting site to pick? We can help you with that decision. We looked at dozens of providers and apps and came up with our ranking of the top betting sites in Ohio. We'll also run down the history of sports betting laws in the state and where things seem to be headed.
List of the Best Ohio Betting Apps & Mobile Sites
Our experts rated the top mobile sites and betting apps in the Buckeye State on a number of different factors and came up with the following rankings.
The sites and apps on our list all offer a secure, stable platform for legal sports wagering and offer a broad menu of sports and markets for your bets. These operators offer all types of sports betting including parlays, teasers, prop bets, live betting, point spreads, and moneyline betting.
Reviews of the Best Ohio Betting Apps & Mobile Sites
When choosing a particular sports betting app or mobile site to use, there are many aspects to consider. So, to supplement our top-10 rankings, we put together an in-depth breakdown of each mobile site or app on the list.
We'll explain what each one does well and where each came up a little short. While we feel that any of the top 10 would be an excellent choice, the breakdowns should help you decide which one does well in the areas that are most important to your needs. You'll be ready to start placing sports bets in no time.
Some of the factors considered included user-friendly interfaces, the size of limits offered, betting odds, offering plenty of payment methods, 24/7 customer service, and bonuses for new users.
1. BookMaker: Best Overall Sports Betting App in Ohio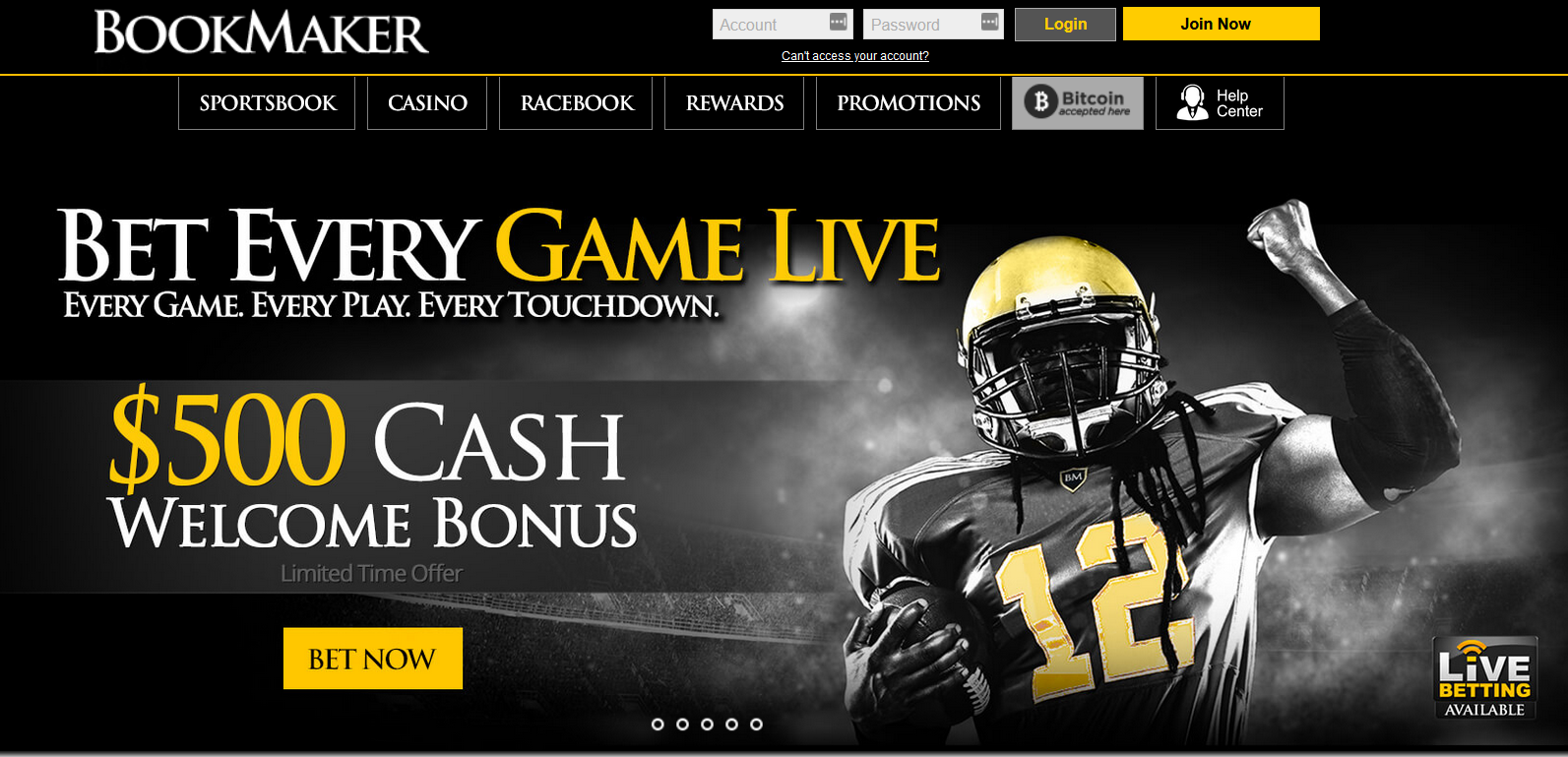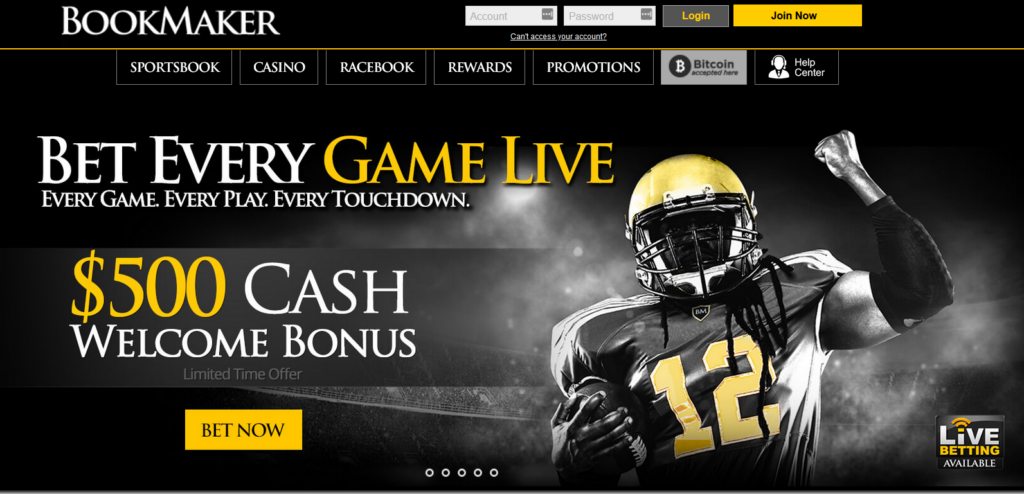 Our experts put Bookmaker.eu at the top of the list for sports betting apps and mobile sites available for Ohio bettors. It meets the first criteria of a good mobile site: Everything you can do on their full site is also available and easy to do on your phone or tablet, including access to the online casino.
BookMaker is a site that appeals to both new users and experienced gamblers. It has some of the highest betting lines in the state, allowing risk-takers to go for it. It's also user-friendly for people not as familiar with placing bets on their mobile devices. Some of the perks of this provider include a loyalty program and a very generous sign-up promo.
BookMaker is also one of the first sites to have betting lines for sporting events, avoiding the frustration of waiting around for the line to post so you can put money down.
Pros:
Usually the first to publish lines
Welcomes gamblers of all skill and risk levels
Easy to use mobile site with all the functionality of the full site
Long history of safe, stable play with excellent reputation
Cons:
The loyalty program isn't open to professional gamblers
There's no online poker room
2. Heritage Sports: Our Top Choice for Live Betting in OH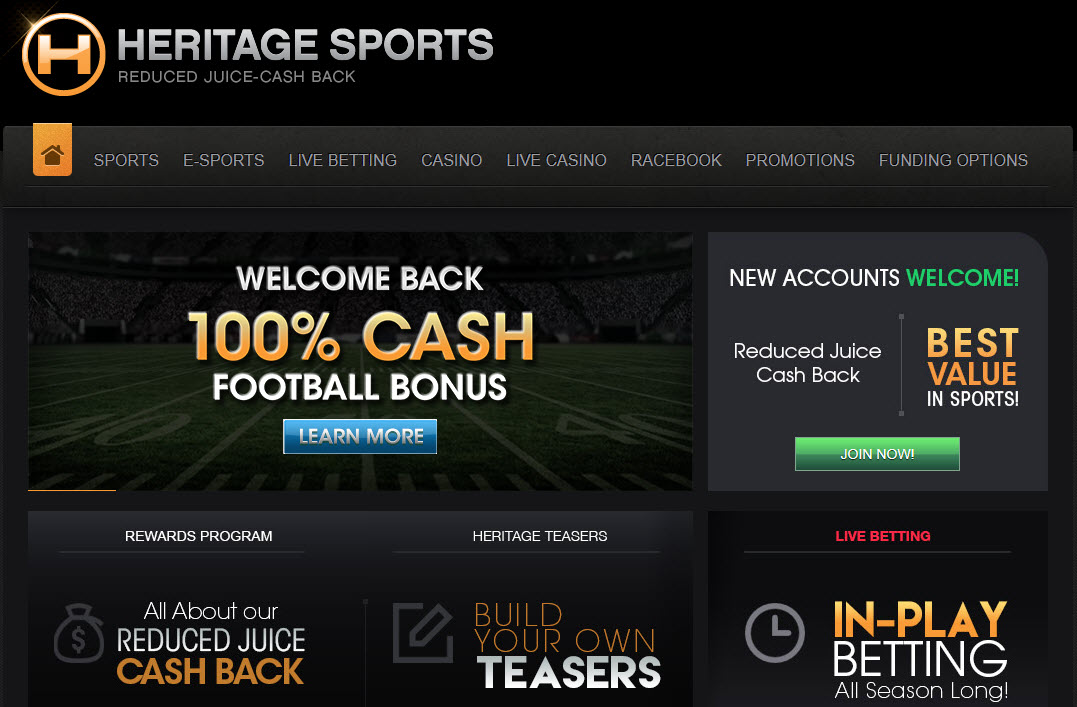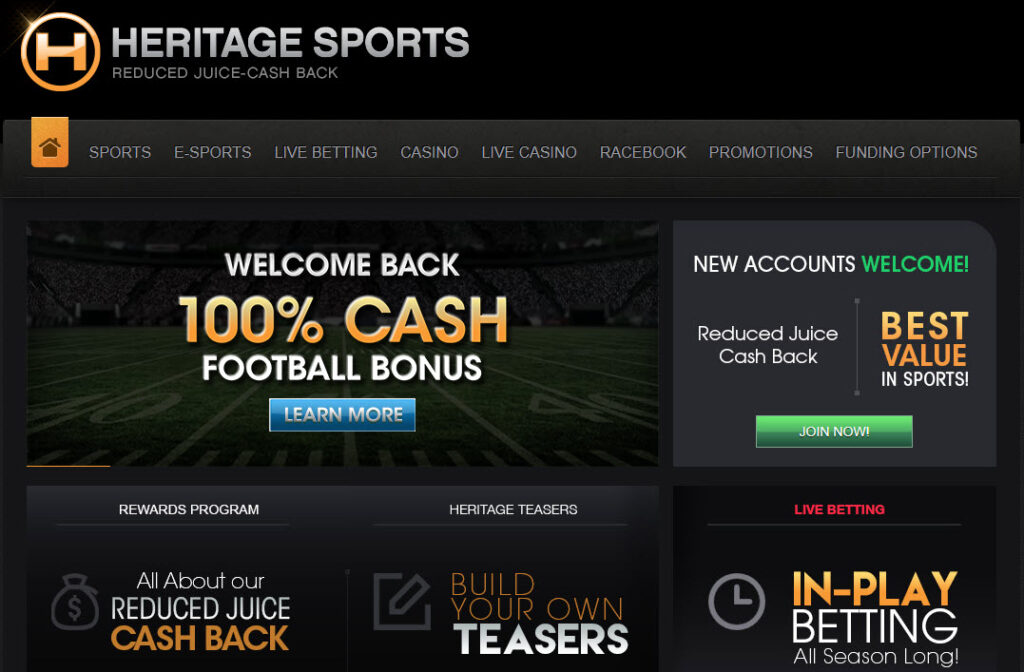 Technology allows the gambling industry to offer more and more ways to gamble on sports, and one of the fastest-growing areas is the live sports betting market. Rather than placing a bet on the result of a sporting event and then finding out who won, live betting allows you to place in-progress bets on the action as it's going on.
Heritage Sports was one of the first sites to offer a live betting platform, and it still is one of the best interfaces for betting on games that are taking place. Another great perk is the access to reduced juice odds of -108, which basically translates into a 20% discount in the long run.
It also offers great promos like cashback rebates, has fast payouts, and professional customer service. More importantly, the mobile site gives you the same experience as the full site on a computer, including access to the casino with live dealers.
Pros:
Mobile site offers full functionality compared to the full website
The best live betting interface in Ohio
Pays out quickly and in full, including same day for Bitcoin
Offers reduced juice
Cons:
Smaller welcome bonuses compared to other sites
No live online poker room
3. Bovada: Best Mobile Platform Interface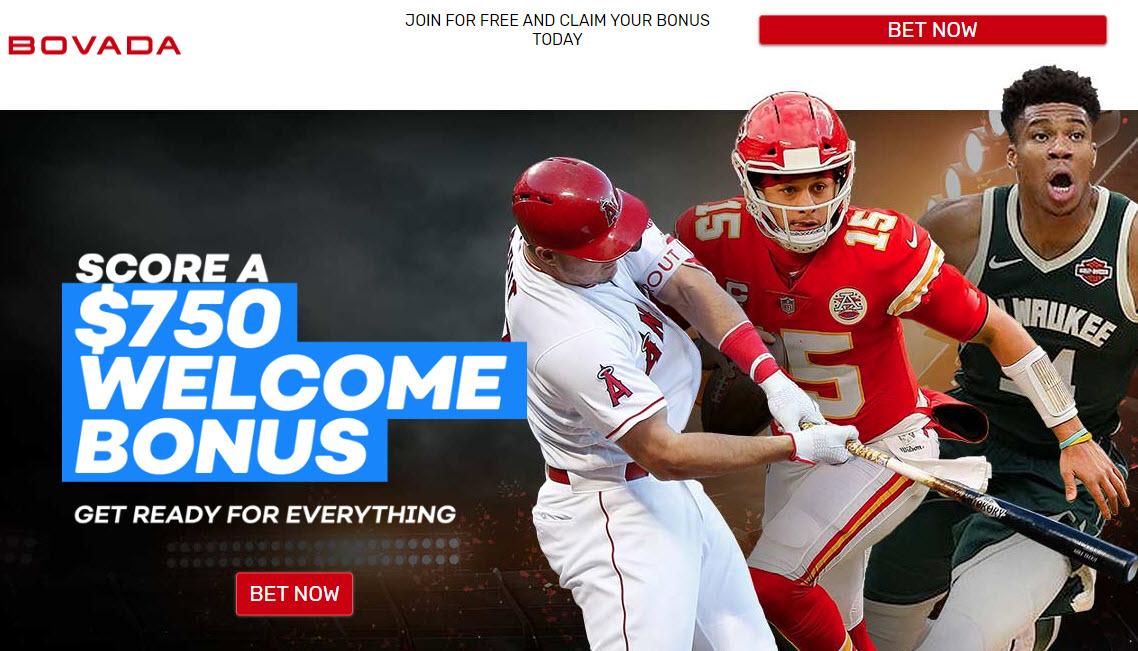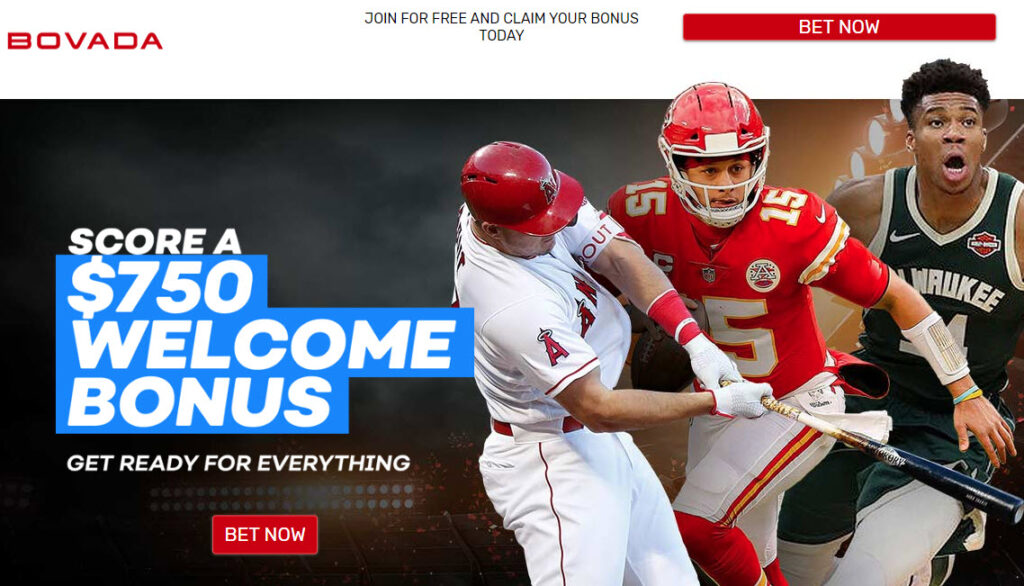 Most sports bets are now placed on mobile devices, rather than laptops or desktop computers. Bovada was one of the first sites to recognize this and has produced a sleek, easy-to-use mobile interface that gives users the same experience as the full-blown site, rather than a boiled-down version of the main site, as many online betting sites do.
In addition to the outstanding user experience, it offers a huge universe of betting options, from racebooks to sports to casino games to the busiest poker room in the country. It also offers a wide array of entertainment bets, as well as a menu of low-risk prop bets that are easily winnable, much like the old nickel slots near a casino entrance.
Bovada also offers generous bonuses, and, unlike some competitors, it doesn't make it difficult to get your money out. Bovada promo codes only have a 5x rollover requirement, which is more than half as much as other similar sports books require.
Pros:
More ways to bet than other sportsbooks
America's busiest poker room and a variety of casino games
Mobile platform is the same experience as the full site
Low rollover requirements compared to other sites
Cons:
Betting limits are compared to other sites
Doesn't release its lines as early as competition
4. BetOnline: Best Opinionated Lines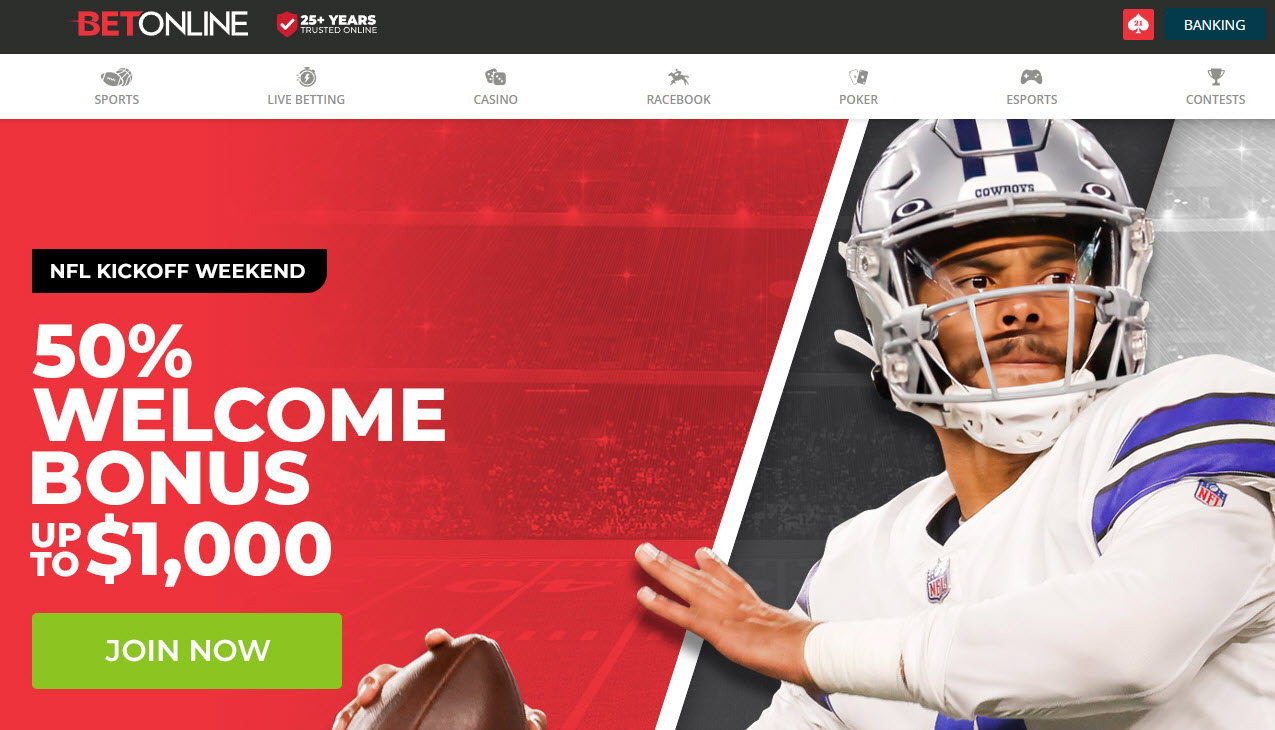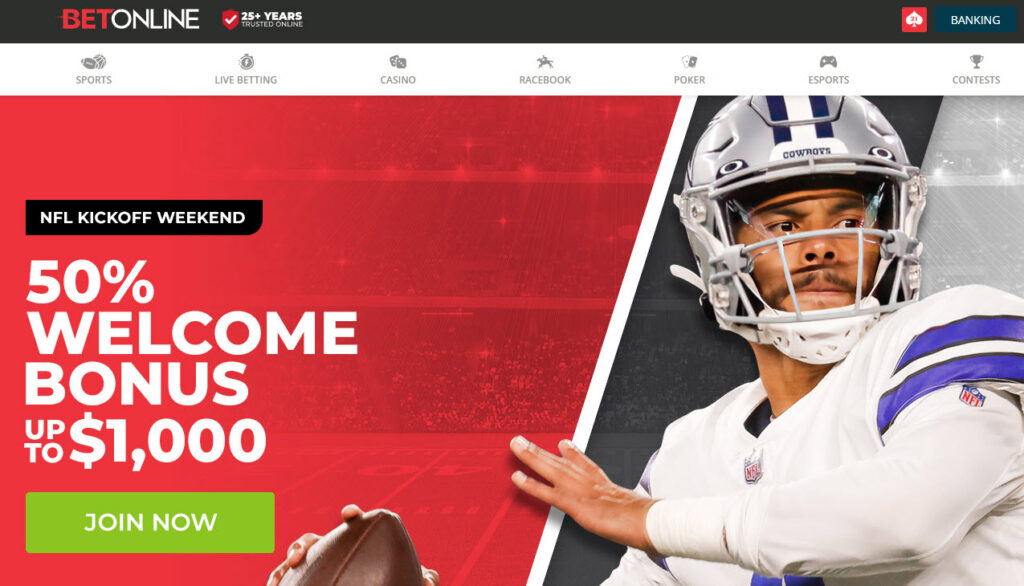 BetOnline is one of the few places where you can find opinionated lines, which can pay off handsomely if you get one going your way on a game you like. What we mean by that is that most sites offer the same odds on both sides of a point spread or over/under total (usually -110). However, opinionated lines will be set at -112/-108 or even -113/-107, giving you the equivalent of a profit boost if you pick correctly.
It also has a wide variety of betting options like an online casino with over 500 games or access to the third busiest poker network in the country.
The best part is that BetOnline has invested in its software which is why all these features can be easily accessed from your mobile device as well as having a specific poker app readily available.
Pros:
One of the few sites to offer opinionated lines
Large, busy poker room
24/7 customer service with short waiting times
Wide range of payment methods
Cons:
Only offers reduced juice on NHL betting
Charges $50 fee for check withdrawals
5. BetAnySports: Best Reduced Juice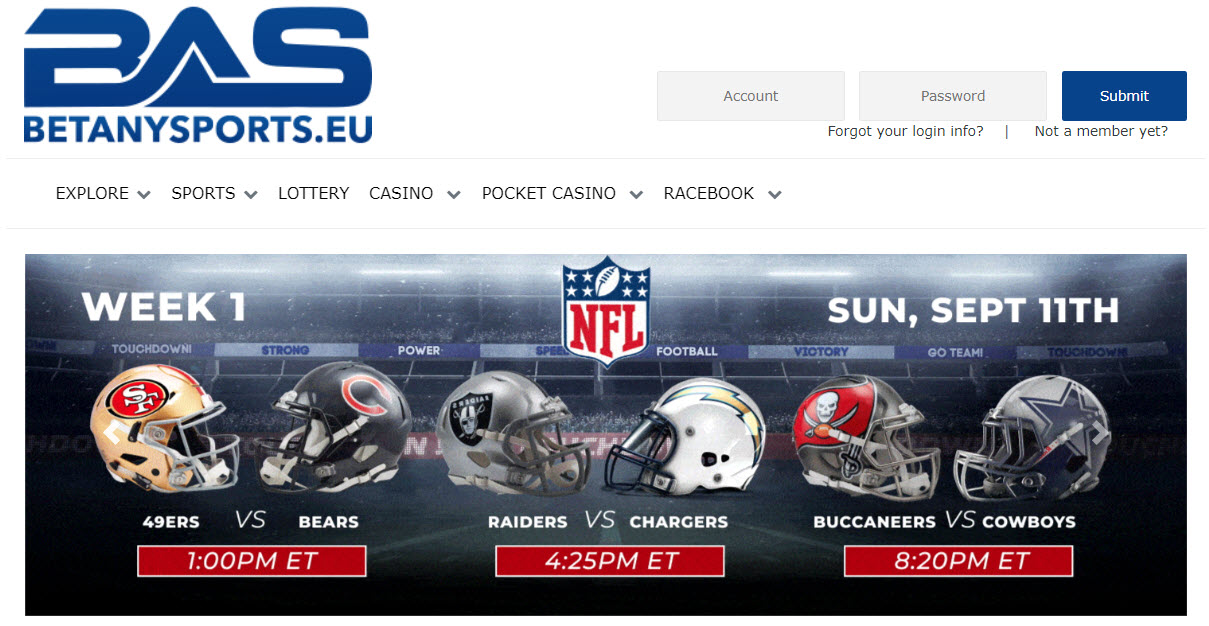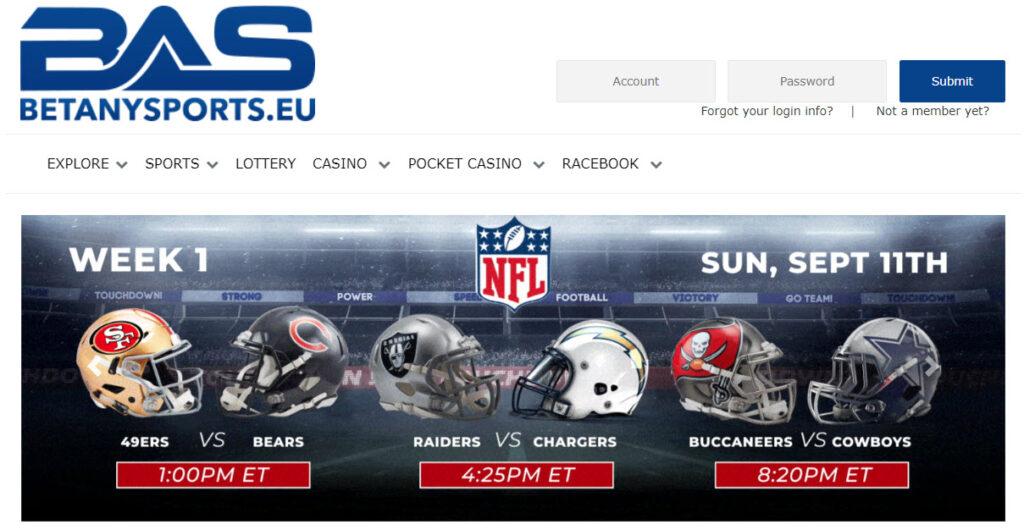 BetAnySports is the low-price leader among Ohio online betting sites and apps. That is thanks to the best reduced juice odds in the state available.
Instead of offering odds of -110 on either side of a spread or point total, BetAnySports sets them at -105. That means you're only down 50%, compared to most competitors when you lose. Over time, this helps your profit margin in a big way and it's the best way to be profitable.
Like low-price options in other fields, BetAnySports cuts the margin elsewhere to offer generous reduced juice. The user interface —both the full site and mobile platform— doesn't have all the bells and whistles of other sites and it isn't quite as sleek of a user experience. Another factor to consider is that promotions at BetAnySports are not as competitive as with other providers.
Pros:
Reduced juice is the most generous in Ohio
Pays out quickly and is safe and reliable
Very low house edge on money lines, props, and futures
Multiple live betting platforms for in-progress games and matches
Cons:
Interface isn't as polished or user friendly
Bonuses are smaller for new customers
6. BetUS: Best Bonuses in Ohio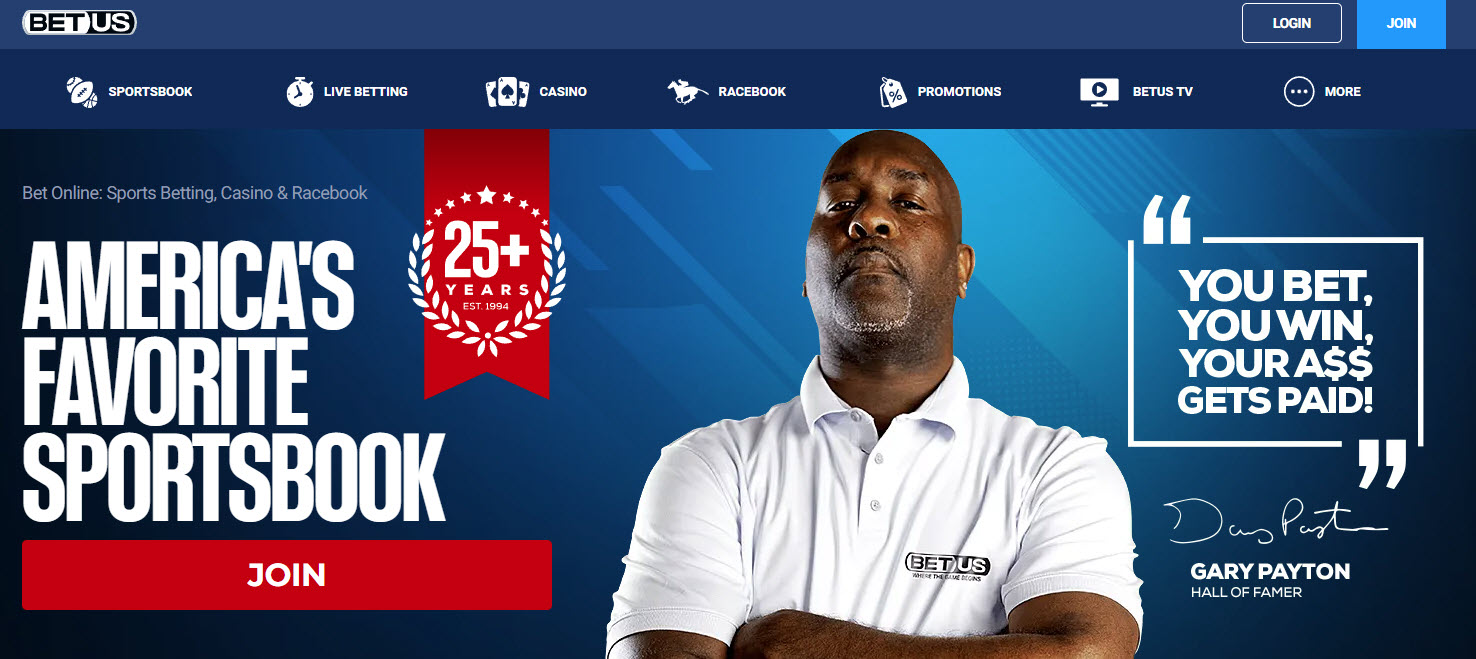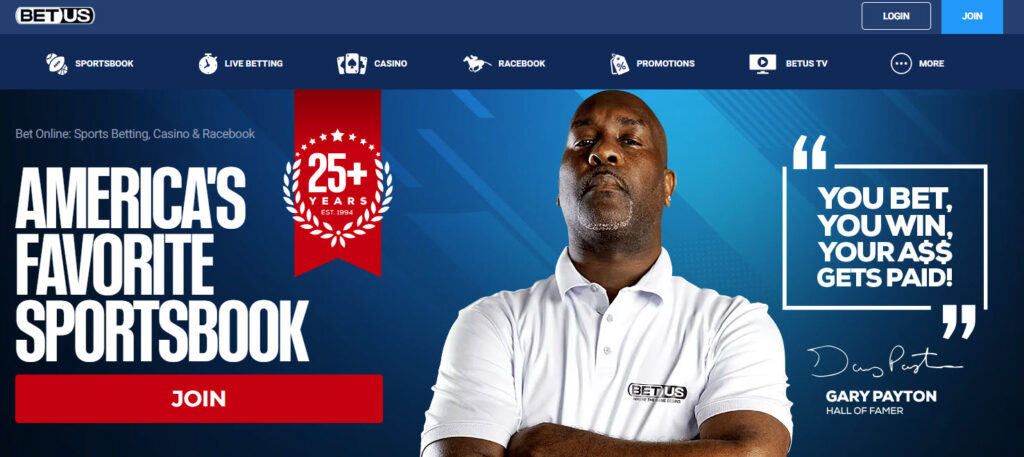 BetUS is a comeback story in the online sports betting industry. About a decade ago, it wouldn't be anywhere near our top 10 list, with a reputation for slow payments and other problems. However, a new management team came in, cleaned house and it quickly vaulted to one of the top sites around.
BetUS offers the biggest bonuses to Ohio bettors, including sportsbook and casino game credits. There are also reload bonuses and ongoing promotions for existing customers. Nonetheless, keep in mind that the rollover requirements tend to be higher than with other sportsbooks.
There's also a video section called BetUS TV that offers picks and analysis of upcoming games.
Pros:
Bonuses for new and existing customers are tops
BetUS TV offers videos previewing and analyzing games
Live streaming esports gaming area
VIP program to reward loyal customers
Cons:
Slow to release lines and odds
Rollover requirements make it tough to withdraw those big bonuses
7. WagerWeb: Best Top Bonuses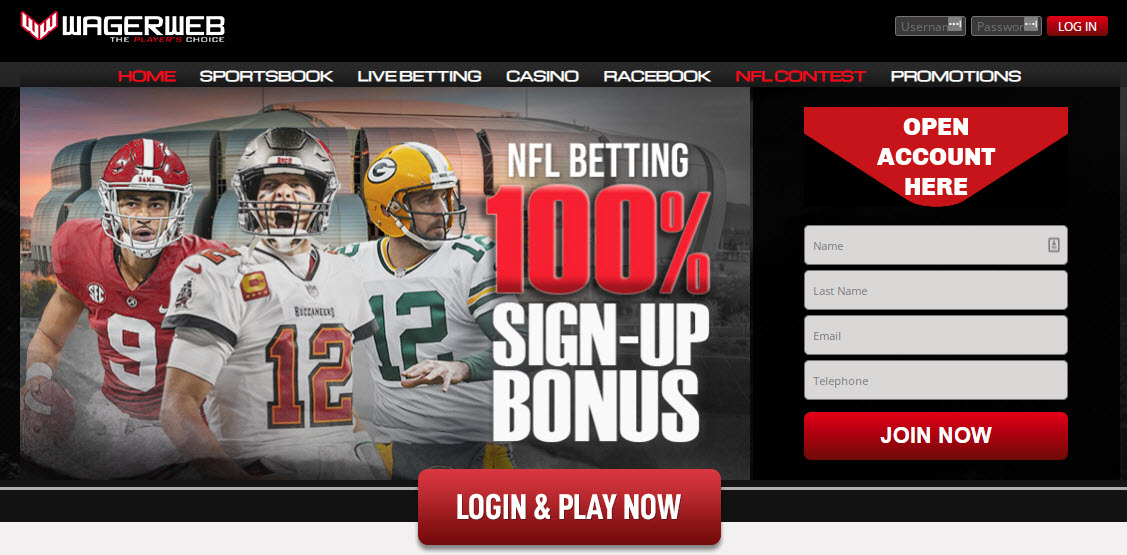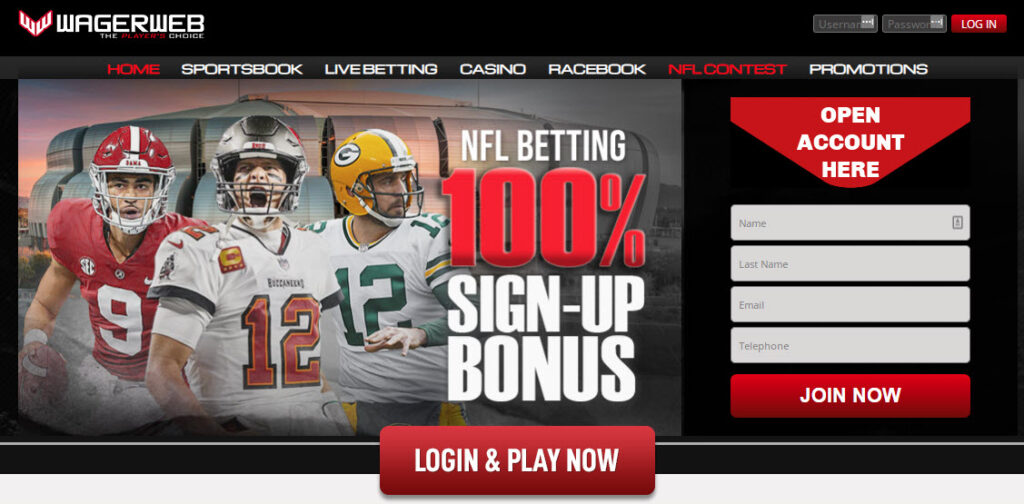 WagerWeb is known as "The Player's Choice" and has been around since 1994. It's a sister site of Heritage Sports, which finished at No. 2 in our Ohio rankings, and both share many of the same benefits.
This means that WagerWeb also offers reduced juice and similar bonuses, as well as a user experience that's just as good. However, we're focusing on sports betting apps here, and their sportsbook is among the best, which comes along with an extensive racebook and casino.
Another great reason to consider WagerWeb is their 1% cashback promo. Also, keep in mind that you can get up to $1,000 in bonus funds when you register with them.
Pros:
Reduced juice of -108 lines
Wide variety of new and existing customer bonuses
Very quick payouts
Plenty of casino gaming and racebook options
Cons:
Can only make one free withdrawal a month
Betting limits are lower than competition
8. JustBet: Best at Adjusting to New Trends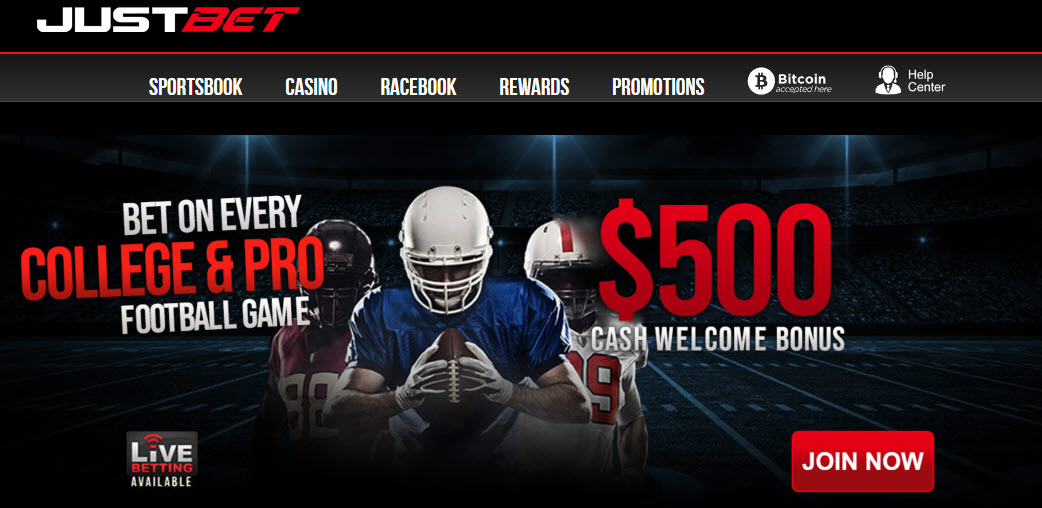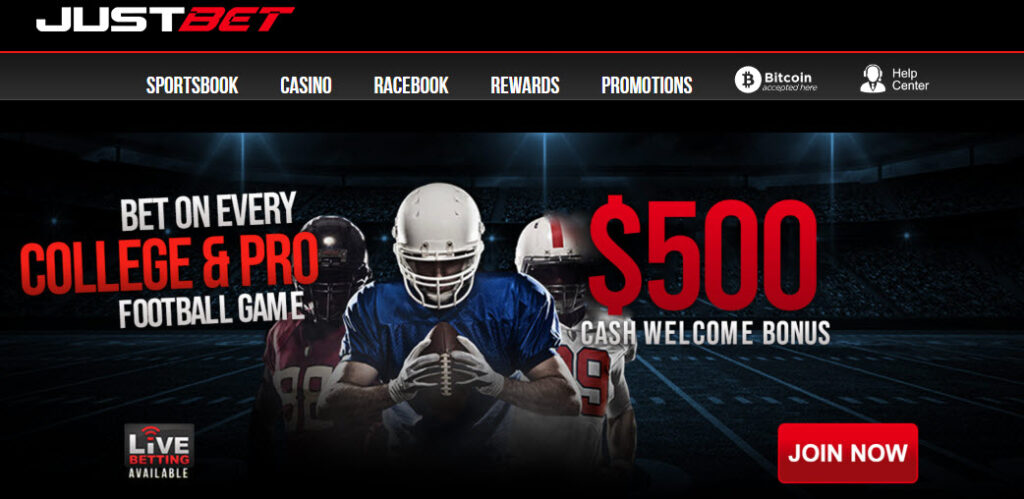 JustBet is a sister site of our top-rated mobile betting site, Bookmaker.eu. Many of the same features we loved about BookMaker are also present at JustBet. So even though it's not as well-known, JustBet also earns a spot among Ohio's 10 best. They also offer their own selection of promo codes.
JustBet has the same high limits and early lines and odds that BookMaker customers enjoy, as well as similar software, meaning the site is easy to use—both on a computer and mobile device.
Pages load fast and bet slips are simple, making JustBet a top choice for live betting, where speed is important, so you can get your bet in before the line changes.
Pros:
Fast pages and simple betslip make live betting easy
Similar user interface to top-ranked BookMaker
High betting limits
Odds and lines post early
Cons:
No reduced juice lines
Does not have an online poker room
9. Everygame: Best Mobile Casino Gaming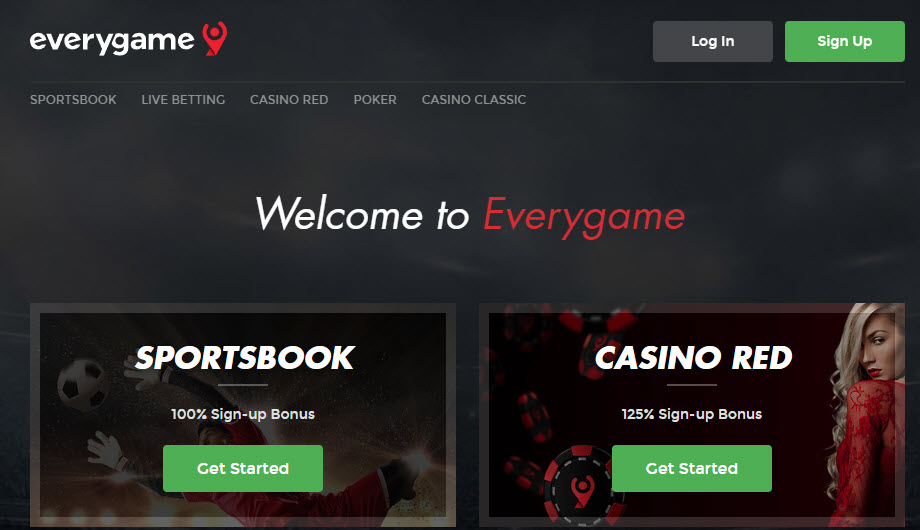 Not everyone is familiar with Everygame, but you may have heard of their previous name, Intertops. The site was rebranded a year ago, but it's actually the world's oldest online sportsbook. New player's can enjoy over $5,000 in bonus funds, too, so it is also among the most generous. Remember, you'll need to enter an Everygame promo code on your first several deposits to enjoy this bonus.
Everygame has a very stylish mobile interface and plenty of other options besides its sports betting section, which is also elite. Everygame offers more casino games than anyone else and has a poker room with players at a variety of skill levels. When it comes to mobile betting experience, their casino is one of the best in the industry.
Everygame's app also has a global menu of sports, including just about every major soccer league around the world. And, if you want to bet on darts, snooker, or the Eurovision Song Contest, Everygame should be your choice.
Pros:
Covers more games from around the world than anyone else
Mobile interface is slick and stylish
Wide variety of casino games with a great mobile interface as well
Busy online poker room
Cons:
Verification can be slow for new accounts
Other sites offer higher bonuses
10. GTBets: Most Creative Sports Betting Feature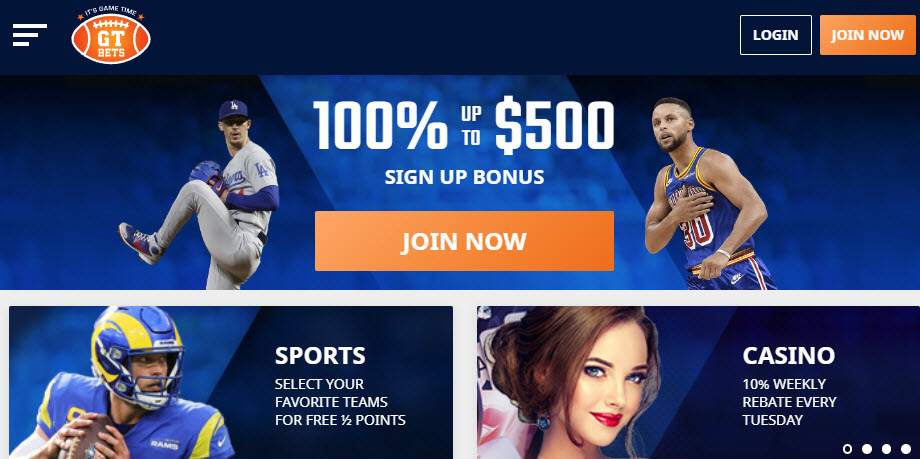 GTBets, formerly known as Game Time Bets, has one of the most creative options we've seen in sports betting, a market where everything often seems the same across the board.
It allows you to register your favorite team in a variety of sports and when you place bets on games involving that team, you get an extra half a point on the spread. So, if your favorite NFL team is favored by 3 points, you only need to give 2.5 when you bet on them.
GTBets also offers reduced juice on football and has large welcome bonuses for new customers.
Pros:
Generous welcome bonuses and creative promotions for existing customers
Reduced juice for football lines
Get an extra half-point betting on your favorite team
24/7 customer service
Cons:
High withdrawal fees
High rollover requirements on bonuses
Comparing the Best Ohio Betting Apps & Mobile Sites
The following table summarizes our top-rated online betting sites in Ohio, comparing them on their BMR rating, how long they've been in operation, and the payment methods they accept.
| Sportsbook | Rating | Online Since | Payment Methods | Read Review |
| --- | --- | --- | --- | --- |
| BookMaker | A+ | 1996 | Credit Card, Bitcoin, P2P, Crypto | BookMaker Review |
| Heritage Sports | A+ | 2001 | Credit Card, Bitcoin, Cashiers Check, Bank Transfer, P2P | Heritage Sports Review |
| Bovada | A+ | 2011 | Credit Card, Bitcoin | Bovada Review |
| BetOnline | A+ | 2001 | Credit Card, Bitcoin, Crypto, Cashiers Check, Bank Transfer, P2P | BetOnline Review |
| BetAnySports | A+ | 2002 | Credit Card, Bitcoin, Electronic Check | BetAnySports Review |
| BetUS | A | 2000 | Credit Card, Bitcoin, Bank Transfer, P2P | BetUS Review |
| WagerWeb | A | 1994 | Credit Card, Bitcoin, Cashiers Check, Bank Transfer, P2P | WagerWeb Review |
| JustBet | A | 2000 | Credit Card, Bitcoin, P2P, Crypto | JustBet Review |
| Everygame | A | 1996 | Credit Card, Bitcoin, Skrill, Neteller, Bank Transfer, P2P | Everygame Review |
| GTbets | A | 2011 | Credit Card, Bitcoin, Crypto | GTbets Review |
As you can see, BookMaker, Heritage Sports, Bovada and BetOnline all have earned an A+-rating from our experts due to the numerous benefits (including betting markets, safety, payment methods, etc.) that they offer to their customers.
How We Rank the Best Ohio Mobile Sportsbooks & Mobile Sites
A number of factors were considered as we evaluated dozens of mobile sportsbooks to come up with Ohio's 10 best sports betting sites. We methodically compared the sites on each aspect to determine which sites were best.
We then made a final adjustment to the rankings, based on which factors are most important to the customer betting experience. That produced the final rankings you saw above. Some of the features we considered include:
Mobile Betting Experience
A sportsbook app should be easy to use. The best sportsbooks in Ohio are easy to navigate, user-friendly, and fast loading. They had clearly-labeled sections and filters making it easy to find the sport you wanted, the market you were trying to bet on, or the individual game you were looking for without clicking too many times.
Sports Betting Apps
Performance and quality are equally important on a mobile site or app. Users on a phone or tablet should have a similar experience to the full-blown site on a laptop or desktop. Our top-ranked apps are safe and legal, and they offer a wide menu of sports, banking methods, and bonuses.
Mobile Betting Bonus Codes & Promos
There are a number of different types of sign-up bonuses for new customers. We evaluated welcome bonuses on Ohio sports betting apps based on the amount offered, and the type of bonus—is it a straight dollar amount, a risk-free bet, free plays, or something else? Are there strings attached, especially when it comes to withdrawing the money? We also consider other factors that could cloud the picture like minimum deposits, bonus percentages, maximum amounts, wagering requirements, rollovers, and expiration dates.
Live Mobile Betting & Streaming
In-play betting is no longer new—it's a requirement for any sports betting app or mobile site. We want an interface that makes it easy and fast to find and place live bets. Odds are constantly changing, so delays in loading pages or filling out the bet slip could cost real money. The interface should offer a variety of sports and markets. Odds should be fair. Live streaming is a feature that sets some sites apart.
Banking Options
Whether you're collecting your winnings or just pulling out some of your initial deposit, it should be fast and easy to get back your own money. Top-rated sites should have a simple, secure process that doesn't keep you waiting too long. Does the site charge fees or have frustrating requirements when you try to withdraw money from your account? What are the rollover requirements on winnings and bonuses? What payment options are available both to fund your account and to receive money?
Customer Service
Top-rated sports betting mobile sites will offer customer service in multiple languages and have professional support available without long wait times. Customer service should ideally be available 24/7 and there should be several ways to get help, including live chat, email, and telephone.
Licensing & Security
Any sites that had issues with security or licensing status were not included in our rankings. Our top 10 apps in Ohio all have long histories of safe, secure online gambling. So you can be sure your money and personal information will be safe.
Is mobile sports betting legal in Ohio?
Mobile sports betting is now legal in Ohio as of January 1, 2023.
Ohio has spent the last three years hammering out the details of the new sports betting laws and is now in the process of giving out licenses to proprietors in the state.
There will be two types of sports betting licenses given out. There will be 25 licenses for retail sports betting locations, as well as 25 licenses to mobile sites, and an additional 40 mobile kiosks. These kiosks will be placed at a retail location like a restaurant, or bar.
Not all of the legal sports betting licenses will be distributed by the start of 2023, and not all licensees will be ready to go when betting in the state becomes illegal.
Of course, online and mobile betting with offshore sportsbooks, such as the ones in our top 10, is still legal, since they are only subject to their own sports betting jurisdictions.
Ohio State Sports Betting News & Developments
2022: The Ohio Casino Control Commission begins setting rules for sports betting, passing the first set in January, followed by one in March. Later, in June, the state begins accepting applications from companies seeking sports betting licenses. Officials expect to receive 3,000 applications. Finally, in September, the first proprietors' licenses are granted. Up to 50 could be approved, 25 for retail sportsbook locations and 25 for online sports betting companies, although all are not expected to be ready for Jan. 1, 2023 when the launch of sports betting will begin.
2021: HB29 is passed after negotiation. The state senate approved one bill, which was then amended and replaced. The law was approved on December 8 and signed by the governor, Mike DeWine, on December 22. Now, companies could begin to apply for sports betting licenses.
2020: The state legislature closes its final session of the year without voting on SB111, essentially leaving it to die without approval.
2019: State senator John Eklund proposes SB111, which would regulate Ohio sports betting.
2018: In Murphy vs. NCAA, the U.S. Supreme Court ruled that PASPA was unconstitutional, opening the door for states to decide their own sports betting laws.
1992: PASPA (Professional and Amateur Sports Protection Act), a federal law banning all types of sports betting in every state except Nevada, is passed.
How to Sign up for an Ohio Mobile Betting App & Mobile Site
Joining a mobile site or sports betting app in Ohio is fast and easy. It only takes a few minutes to get started betting on your favorite professional sports teams. Here is a step-by-step guide.
Step 1: Open a Sports Betting Account
Pick the app or mobile site you plan to use. In this case, we're going with Bookmaker.eu, our top-ranked sports betting app in Ohio. On the site's homepage, you'll see a "Join" button. Click that button to go to the registration page and fill out all the required information.
Step 2: Choose a Payment Method
After your account is created, you need to fund it. Go to the Cashier section and choose the deposit method you'll be using from the list provided (including debit cards, credit cards, bank transfers or crypto like Bitcoin or Bitcoin Cash). Then enter the amount you want to deposit.
Step 3: Select a Welcome Bonus
New customers qualify for one of the site's welcome bonuses. You could get a deposit bonus, where you're eligible for a deposit match up to a certain amount. Review the different traditional and crypto bonuses available and pick the offer that suits you best. Be sure to enter any promo code that is required.
Step 4: Choose a Sport to Wager on
Now that you've got an account with money available, it's time to make some bets! Pick the sport or sports you're interested in, review the schedule of games or matches and bet types and decide which game or match you want to bet on and how.
Step 5: Place your Bet
The final step is to place your bets by adding your selections to the bet slip. Good luck!
Mobile Betting Bonuses & Promotions Available in Ohio State
If you're planning to begin betting with an app or mobile site, you're about to become very popular. The Ohio mobile sports betting market is fierce and sites will offer you plenty of perks to lure you into signing up with them. Then they'll offer a variety of loyalty bonuses to keep you betting with them.
Mobile betting often offers many more benefits over what can be offered at a brick-and-mortar sportsbook. However, not all bonuses are the same, so we'll go through some of the most common types and explain what you'll be getting.
Welcome Bonuses
Just about every sports betting mobile site and betting app offers sign-up bonuses to attract new users. It's the most common type of bonus awarded in the industry.
In most cases, a sports betting app in Ohio will give you a welcome bonus with your first deposit. Sports betting apps in Ohio often match some or all of your bonus. It could range from a 50% match, meaning that if you deposit $500, they'll give you an additional $250, all the way up to a 200% match, which would mean your $500 is matched with an additional $1,000. They're usually capped at a specific amount.
Existing Customer Promotions
Sites also want to retain their current customers, and they do so with loyalty bonuses. The best sportsbooks value loyalty and offer a variety of promotions to keep you on board, including reload bonuses, enhanced odds, and insurance bets.
No Deposit Bonuses
No deposit bonuses are rare, but you may see one on occasion. It basically gives you money before you make a deposit. Essentially, they're funding your first few bets for free.
You don't have to deposit money into your account to claim a no-deposit bonus. Depending on the mobile site or sports betting app in Ohio, these offers can be in the form of additional bonus money or free bet tokens.
Free Bets
Free bets are a popular promotional item. You basically get a chance to win with no risk with this type of bet. Different sites may market them as risk-free bets or bet insurance. You usually have to bet money from your account.
If you win, you get to keep whatever you earned, but if you lose, you get the money you wagered back in the form of a free bet credit.
Note: It's not completely free, because the money will now likely have rollover requirements and expiration date, making it tougher to withdraw from your account.
Ohio Betting Apps & Mobile Sites for iOS & Android
Top-ranked sports betting apps and mobile platforms in Ohio need to be compatible with all mobile devices—tablet and phone, Android and iOS.
Ohio Mobile Sports Betting on iPhone
To download native sportsbook apps in Ohio onto an iPhone, you'll need to go to the Apple Store. You can either search the store for the app name or most online sportsbooks have a link to their app on the App Store. Once you find it, it can be downloaded with a click.
If the sportsbook you chose doesn't have an iPhone app, you can easily create a mobile progressive web app on your device for free.
Ohio Mobile Sports Betting on Android
To download an Android sports betting app, go to the Google Play Store. Again, you can either search for the app, or most sites will have a link to it for Android users. If there's no app available, you can create a mobile progressive web app on your device.
Mobile Sites vs. Sportsbook Apps for Betting in Ohio
Throughout this guide, we've lumped together mobile websites and betting apps. Both options allow you to place bets while you're away from a computer. But each one offers a different experience
Mobile Site
Using a mobile site doesn't require any downloads. Bettors can go to a sportsbook's mobile site directly from the browser on their phone, just by entering the website URL.
Pros:
Instant access to the sportsbook site
Don't need to have storage space available for an app
Doesn't need to be updated regularly
Accessible on most devices—phone or tablet
Cons:
Site may be down at times for maintenance or other issues
Less secure than an app
Mobile App
To use an app, you must download and install it on your phone or tablet. You then click it to open it when you want to use it.
Pros:
Startup is quick and easy
More secure than mobile sites
Geolocation can be used for betting in Ohio State
Guaranteed to work on your device
Cons:
May not be an app available for all devices
Takes up storage space on your device
Best Ohio Betting App & Mobile Site
You've seen our rankings, read our reviews, and perused all the additional information we provided about the most reliable online sports betting apps. Now it's time to make a choice. Which sports betting app or mobile betting site in Ohio is right for you?
Our choice, based on our team of experts, is Bookmaker.eu. It offers a smooth user experience and is similar to a full-blown site on a computer. It appeals to bettors of all experience and risk levels and has an outstanding reputation. Your personal preferences or specific needs may be better matched to a different site, however.
FAQS – Legal Status of Sportsbook Apps in Ohio
Can I gamble online if I live in Ohio?
As of January 1, 2023, online sports betting is legal in Ohio. Until these regulated online sportsbooks are fully operational, you only option is an offshore sportsbook, however. Regardless, you have many options for sports betting and online wagering and will have even more the more time since launch day passes.
What website can I bet on in Ohio?
You can place sports bets with any operational regulated sportsbook or offshore sportsbook as a bettor in Ohio State.
What are the best sports betting apps in Ohio?
Our list of the top 10 Ohio sportsbook apps includes Bookmaker.eu, Heritage Sports, Bovada, and BetOnline at the top. We recommend sports bettors compare the common features of each book, so they have the opportunity to place the types of wagers they want on their favorite major sports leagues.
Is mobile sports betting legal in Ohio?
Mobile sports betting launched on January 1st of 2023 in Ohio State along with online sports betting.
What app can I use to bet on sports in Ohio?
You can use any state-regulated mobile sports betting app or offshore sports betting app to place your bets. We recommend checking out the mobile-optimized sites that our top-picks for the best Ohio sportbook apps offer.
Per Nevada Gaming Control Board data, the state achieves $2 billion in adjusted gross revenue, joining an elite group. October's $68.1 million contribution underlines offshore sportsbooks' success, affirming Nevada's robust sports betting industry and its positive trends. Silver State Strikes Gold The state that is home to North America's gambling mecca, Las Vegas, now joins

---