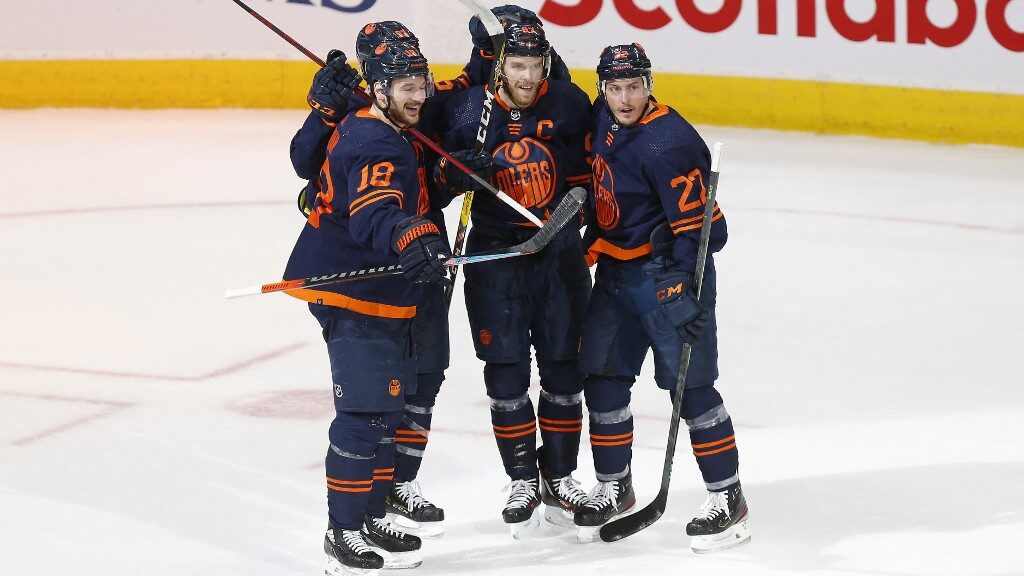 Having gone 32 years now without lifting the Stanley Cup, the Oilers need to find the right combination to get their hands back on the trophy given that they have two of the deadliest attacking players in the league right now in the form of Leon Draisaitl and Connor McDavid.
Their odds to life to the trophy in 2023 are currently at +1800 with BetOnline (visit our BetOnline Review), is this too high? Too low? Or is it just right?
Let's check out why we believe the Oilers can make another deep run in the playoffs next season and our thoughts on their chances to lift the cup next season.
Deadly Duo
Of course, the most obvious reason why the Oilers can go deep in the playoffs in 2023 is down to their two best players: Connor McDavid and Leon Draisaitl. McDavid is probably the best player in the league right now and Draisaitl isn't too far behind him, he is most certainly in the top 3.
Both players are ranked 1st and 2nd in most points over the previous five years in the league.
McDavid has racked up 697 points in just 487 regular season games, his playoff numbers sit at 55 points in 37 games played.
Draisaitl has seen 616 points in 558 regular season games and 59 points in 37 post-season games.
Let's be honest, the reason they made it to the conference finals last season was down to Draisaitl and McDavid outscoring the opposition. Defensively they have a lot of issues and their MO is to outscore teams, which can be difficult to do when facing an above-average defense.
They were swept 4-0 in last season's Stanley Cup semi-finals by the Colorado Avalanche. Despite scoring 13 goals in those 4 games, they conceded a whopping 22, this here is the reason the Oilers have struggled in recent years to make a deep playoff run.
It's also worth mentioning that Draisaitl put up 32 points in 16 post-season games, having had a high ankle sprain in 2022.
There are no problems whatsoever on this front, these two players are dragging an average team deep into the playoffs.
Jake Campbell
Although Campbell isn't exactly in the "elite" conversation in terms of goaltenders right now, he is a step up from Mike Smith and Mikko Koskinen. The thing about Campbell is he has the ability to turn it on when needs be, and produced a career-high 5 shutouts with the Toronto Maple Leafs last season.
Campbell is a good addition to this roster and things can only get better on the defensive front with him in the crease. His regular season all-time NHL career goals currently sit at 2.53. He has appeared in 14 playoff games, allowing 2.45 goals per game and also two shutouts.
Campbell looked like a first-round draft bust for a long time but like a fine wine, he seems to have gotten better with age.
Strong Attack
It's apparent no matter who is paired up with McDavid or Leon Draisaitl they are going to look good, the guys can spin on a six-pence and the experience of Zach Hyman along with Ryan Nugent-Hopkins is still going to be a strong line-up in 2023.
The re-signing of Evander Kane is essentially the Oilers staking their claim that they are not here to make up the numbers and have their sights set on making another deep playoff run.
Supporting Cast
Hopkins, Hyman, and Keane all combined for 47 post-season points in 2022 and again we see their number being similar in the 2023 playoffs, should they make it that far, which we believe they will.
Let's not forget Kailer Yamamoto, who at just 23 years of age is still yet to have his big breakout season, oh how the Oilers would love for that to be this upcoming year that he slides up a gear.
One concern we have, and it's been an issue for a while now is their 3rd and 4th line of forwards, they only produced 11 points in last year's playoffs from the four players still on this year's roster.
Ken Holland and New Additions
Although there's not much cap space left, the Oilers could do with signing up an extra defensive player, and whilst many Oiler fans are looking for some more depth in the forward lines, we feel they need more defensive players. Campbell needs to be protected as he has only played 135 NHL games to date.
Since arriving in 2019 Holland has turned the Oilers into a stronger team than before his arrival, things are on the up for this team, and they are in a rush now to win their Stanley Cup before Draisaitl and McDavid's contracts run out in 2025 and 2026 respectively.
This has been a good building block. Their odds at +1800 to lift the cup seem generous, they might be a little too big, we have the Oilers down at +1500 to lift this year's Stanley cup.
The Oilers will no doubt make these playoffs, if there are no injuries heading into the playoffs, they should be able to make it to the Conference semi-finals at the very least. If they are to win it, they will need everyone on top form, no injuries, and some luck along the way.