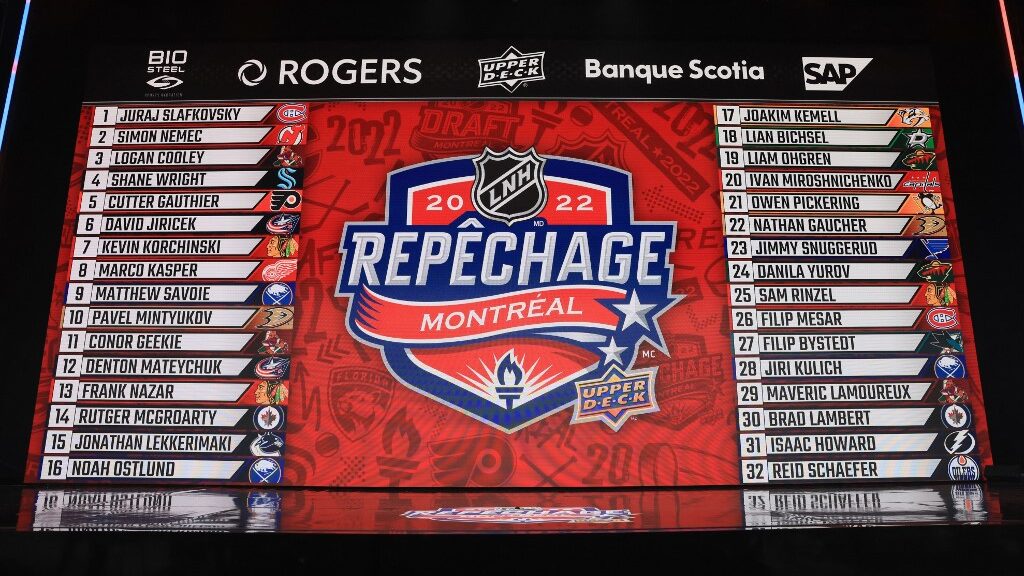 We had a very exciting 2022 NHL Draft unfold in front of our eyes this year. There were 255 players selected in total with 38.7% coming from Canada, 39.1% from Europe, and 22.2% from the USA.
Firstly, it's worth noting that Juraj Slafkovsky was the 2nd favorite to be drafted first at +175 (some people even managed to get +800 at some of the top-rated sportsbooks a few months back). Slafkovsky was indeed drafted first overall by the Montreal Canadians. This set off a crazy chain of events that saw -250 favorite Shane Wright drafted 4th overall by the Seattle Kraken.
Let's check out which teams won and lost in this year's NHL Draft.
---
2022 NHL Draft Winners
---
Seattle Kraken
Seattle picked up 11 players in this year's NHL Draft, this included four 2nd-round picks and they also managed to bag the pre-draft number 1 pick, Shane Wright. Another very notable selection was picking up a player who we rated quite high in our mock draft in Jagger Firkus. They took him 35th overall, while we had him to go at least 10 spots earlier.
They added a lot of squad depth and stacked up on those centres in Wright and Firkus. Wright is still arguably the best prospect in this year's draft class, and by having not gone first, he will be looking to prove wrong Montreal and the other teams who passed on him.
General manager Ron Francis said he is looking to build the team around the draft classes and not splash trades. Wright and Firkus have combined for 174 points in 126 games. Although in the WHL and OHL, these are still impressive numbers. Seattle can rest easy ahead of the new season, they are clearly one of the top winners in this year's draft.
Montreal Canadiens
We did say in our pre-draft article that the Canadians had some concerns about Wright, and although the NHL odds had Wright as a heavy favorite to go first, we assumed on the eve of the draft it was more of a 50/50 choice for the Canadians. They duly delivered by taking Slovakian winger Juraj Slafkovsky first overall.
Montreal doubled up on the Slovakians forwards when they selected Filip Mesar 26th overall. The Habs added 11 players to their roster in the draft, taking 6 players in the first 96 picks.
Compare that to the lowly Florida Panthers who didn't make a single pick until 93rd overall; another team we would add to the losers list.
Columbus Blue Jackets
Other winners in this year's draft were the Columbus Blue Jackets who acquired the defender David Jiříček 6th overall.
Some scouts have him down as the best defender in this year's draft class ahead of 2nd overall pick Simon Nemec, acquired by the New Jersey Devils.
The Blue Jackets already seem to be on the up with Patrik Laine getting into his stride. They also took another defender 12th overall in Denton Mateychuk. Columbus could be a strong defensive team in the next few years.
---
2022 NHL Draft Losers
---
Chicago Blackhawks
There's no way anybody can say the Blackhawks were winners in this year's draft. They traded their dynamic forward Alex DeBrincat to the Ottawa Senators for three draft picks (only one of which was in the first round), and they ended up with 3 draft picks in the top 25, but they had to move a lot of parts to acquire those picks and ended up with a bad contract in Petr Mrazek in a trade that moved them up 12 spots.
Although they needed to address their goaltender issue, Mrazek is not the answer. Definitely not long term at least. We can gather from this year's draft that the Blackhawks seem to be going backward right now and it's almost better to assume they are looking to become the worst team in the league next season.
Obviously, they're rebuilding right now but trading DeBrincat was a poor move. Three first-round picks is never a bad thing, surely one of them will be an above-average player, but it's going to be a tough 12 months for Blackhawk fans.
Toronto Maple Leafs and Edmonton Oilers
Two teams who badly needed a goaltender were the Toronto Maple Leafs and Edmonton Oilers. Although they drafted one each it's not likely they will take them to the Stanley Cup anytime soon. We would love to be proven wrong.
Toronto took goaltender Dennis Hildeby 122nd overall, he is 20 years old and was passed on twice, and they traded their 2023 4th round pick for the netminder. Edmonton took Swedish goaltender Samuel Jonsson 158th overall, there is little known about the goaltender.
The only free agent goaltenders worth looking at are Darcy Kuemper or Jack Campbell.
---
2022 NHL Draft: Final Thoughts
Obviously, it's hard to tell who won and lost in the long term. As always, some late draft picks could become star players and some early picks could fade down the depth chart.
Overall, it's best to assume that Seattle and Montreal should be in good stead for the next few years with 11 picks each.
Buffalo also took three forwards in the first round, never a bad thing getting three first-round selections.