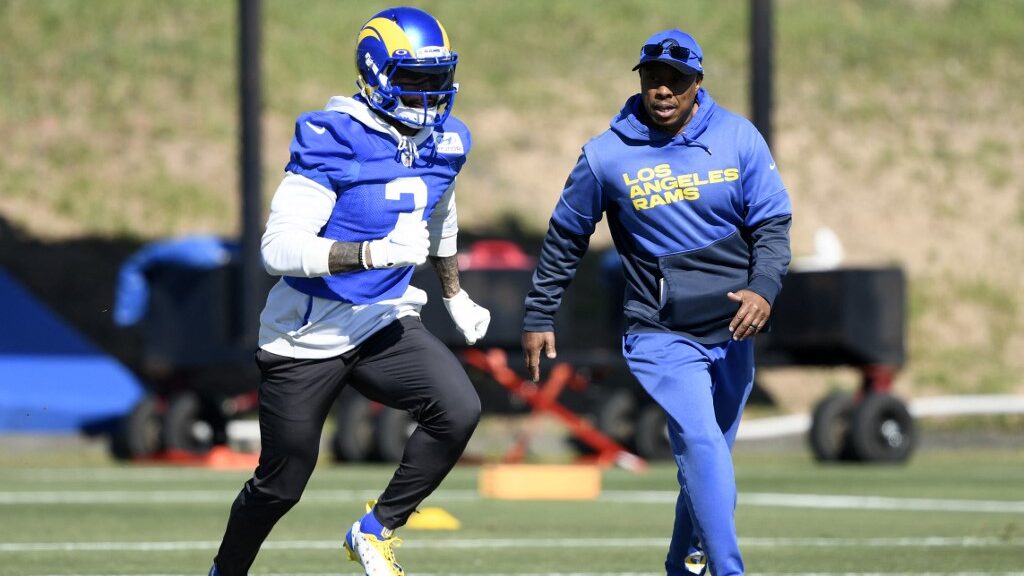 The Los Angeles Rams lost Super Bowl LIII by a final of 13-3 to the Patriots. Head coach Sean McVay is trying to redeem himself (and Aaron Donald's defense) from that poor showing by winning Super Bowl LVI against the Cincinnati Bengals as a 4-point favorite according to most sportsbooks.
This time McVay comes into his home stadium with three weapons he did not have three years ago: Matthew Stafford, Cooper Kupp, and Odell Beckham Jr., if they win or lose, the Rams are definitely going to score more than a field goal this time, but how do they beat a defense playing over its head right now?
Los Angeles Rams vs. Cincinnati Bengals
Sunday, February 13, 2022 – 06:30 PM EST at SoFi Stadium
Matthew Stafford: Redemption Story Waiting for Final Chapter
While the Rams jumped on opportunities to add pass-rusher Von Miller and wideout Odell Beckham Jr. to the roster during the season via trades, the main move this year was upgrading to Matthew Stafford at quarterback. He was the missing piece that could open this passing game up after Jared Goff's decline and get this team over the hump to win a championship.
No player on the Rams can do more to enhance their legacy with a big performance and win on Sunday night than Stafford. He is the betting odds-on favorite to be named Super Bowl MVP as the quarterback of the favored team.
Miller and Aaron Donald are Hall of Fame locks, and corner Jalen Ramsey is well on his way after six seasons. Beckham has already won his beef with Cleveland just by being in the big game. Kupp is having an all-time great season at receiver and should win Offensive Player of the Year.
But Stafford came into this season with a resume of someone who has been a volume passer, not exceptionally efficient, and had a record of 8-68 (.105) in games against teams with a winning record.
He had more in common with Drew Bledsoe than he had with Tom Brady, but the Rams believed they could make a Brady-like jump and win a Super Bowl as the Buccaneers did in 2020. But how would Stafford fare against good competition and how efficient would he be in this offense compared to peak Goff in 2017-18?
So far, so good. If an MVP award was given out for the first half of the season, Stafford should have won it when he had 22 touchdowns, four interceptions, a 118.0 passer rating, and the Rams were 7-1, the best start to a season in his career. The Rams vanquished Tampa Bay 34-24 in Week 3 with Stafford having a huge game.
But then the Rams hit a three-game losing streak with Stafford throwing a pick-six each game. Wide receiver Robert Woods was lost to a torn ACL, and there was a bumpy start to incorporating Beckham into the offense. Stafford began to rebound against lesser competition, but he threw seven interceptions in the final three games of the regular season.
The Rams managed to win the first two games, but they blew a 17-0 lead to the 49ers in Week 18. Stafford's final pass of the season was a game-ending interception in overtime as he carelessly threw a pass deep for Beckham.
VIDEO PICKS: Watch BMR's Free Expert Sports Betting Picks of the Day
How would this work out in the playoffs? In the wild card against Arizona, the Rams dominated the game on defense as the Cardinals played terribly. Stafford was very efficient, but he only had to throw 17 passes, the fewest in any game in his career that he did not leave injured. A much tougher task would come in Tampa Bay, but Stafford was up to the challenge.
He threw for 366 yards and built a 27-3 lead, but his teammates tried to give the game away by losing four fumbles. After Tampa Bay tied the game, Stafford threw a deep ball for Kupp to set up the game-winning field goal.
Stafford is the first quarterback in NFL history to win a playoff game where his team had four turnovers and none of them were on the quarterback. Prior to that win, Stafford was 0-53 in his career when his team allowed more than 24 points to a team with a winning record.
Good time to break that streak. He helped break another one against the 49ers after going into the fourth quarter with a 17-7 deficit against a team that had won six straight games against the Rams. Stafford was 0-28 in his career when going into the fourth quarter with a double-digit deficit against a team with a winning record.
He got lucky on a dropped interception at midfield but led the Rams to the necessary points to win that game and get to this Super Bowl. After winning eight games against winning teams in 12 seasons in Detroit, Stafford has six such wins in his first year with the Rams.
He'd love to make it seven, but to do that, he will need to avoid the interceptions that have gotten him into trouble this year and the plays that the Bengals have feasted on this postseason with six picks in three games.
Turnover Machine
No quarterback threw more interceptions this season than Stafford (17). Thirteen of those came in the last nine games of the season too. The Bengals only had 13 interceptions in the regular season, but they have nearly doubled that this postseason. Stafford must avoid those mistakes.
The Bengals were the best third-quarter defense in the league this year, so making adjustments at halftime has been something they are great at. They frustrated Patrick Mahomes into one of the worst halves of his career (after one of his best) in the AFC Championship Game mostly by going to a three-man rush.
Mahomes became inaccurate throwing into the eight-man defense, and he started to hold onto the ball way too long and took some incredibly bad sacks. The Rams are going to be aware of this strategy, but it is one that the Bengals should probably stick to at times and test Stafford's patience.
To his core, there is a lot of gunslingers there, so see if Stafford will take the easy throws or start to force passes. He is a quarterback who will always give your defense a turnover opportunity. You just have to catch the ball when it comes.
Stafford picked apart the Buccaneers in part because that was a blitz-happy defense, which even called a Cover 0 blitz on the bomb that Stafford threw to Kupp to set up the winning field goal. The Bengals will not get that crazy with blitzing where Stafford looks for Kupp more than anyone.
In the regular season, Cincinnati only blitzed 20.5% of the time, the 26th-highest rate in 2021 according to Pro Football Reference. The 49ers gave the Rams some of their toughest games of the season in pass protection with minimal blitzing.
It helps to have a talent like Nick Bosa, but the Bengals have a defensive end, Trey Hendrickson. He has 2.5 sacks this postseason after 14.0 sacks in the regular season. There have only been four games this season where Hendrickson did not get a sack, so he is a premier pass rusher this season.
Sam Hubbard is another unheralded player on this defense who had 2.0 sacks in the AFC Championship Game. But Stafford is still likely fine in this matchup if he gets sacked a few times. The key thing for him will be to avoid the stupid throws that lead to interceptions.
If you're the Bengals, you would rather hit a quarterback to force an interception than get a sack. Plays like that can turn around Super Bowls instantly. Just ask Kurt Warner against the 2001 Patriots or Peyton Manning (twice) against the 2013 Seahawks. Stafford has had a very good career, but to start to put it in a Hall of Fame context, he is going to have to deliver on Sunday night.
Can Anyone Stop Cooper Kupp?
A torn ACL kept Cooper Kupp out of Super Bowl LIII. He is healthy this year and can put the finishing touches on an all-time great season. Kupp is already the first receiver to break 2,000 receiving yards in a season when you include the playoffs.
Kupp had a career-high 220 yards against the Bengals in 2019, but that was a different defense, especially in the secondary. The Bengals brought in a trio of new corners this year in Eli Apple, Chidobe Awuzie, and Mike Hilton.
None are a match for Kupp, but Awuzie had the best regular season with 5.4 yards per target allowed. However, he has been beaten for a touchdown and 13.7 yards per target in the last two playoff games as A.J. Brown and Tyreek Hill had productive games.
Kupp is going to get his production no matter what. He has had at least 92 yards in every game this season except for two home games with the Cardinals. One involved Arizona playing so terribly in the playoffs that Stafford only had to throw a career-low 17 passes. Kupp still caught five balls for 61 yards and a touchdown.
While Beckham has come on with some big catches for the Rams late in the season, I would still try to double team Kupp as much as possible, especially on third down where he seems to always be open.
The 49ers continuously left him in single coverage on third down in the NFC Championship Game. One time when they were close to him, it led to a tipped interception in the end zone. The Bengals need to force the ball to go elsewhere, but no one has really been able to do that to Kupp this season.
Despite running back Cam Akers returning from an Achilles injury in remarkable time, the Rams have been stuck in the mud running the ball down the stretch this season. They have not cracked 75 rushing yards in four of the last five games.
The Bengals are not a great run defense, but this is going to have to be a game where the Stafford to Kupp connection is leading the way for this offense.
That is why Kupp (+600) should bring the best value for a Super Bowl MVP bet among the non-quarterbacks in this game, especially if you like the Rams to win the game. Only once in 55 Super Bowls has the MVP gone to someone on the losing side (Dallas' Chuck Howley in Super Bowl V).
How Big Is Playing at Home?
Turnovers should be a decisive part of this one as they usually are in the playoffs. The Rams are 3-1 this season when turning the ball over at least three times, but that would be a mistake to try this week. All four of those games were on the road too.
The Rams are 10-0 when they have fewer than two giveaways and seven of those games were in their home stadium where they get to play this Sunday despite technically being the road team. That familiarity should be helpful, but the Rams were 8-2 on the road and 7-3 at home this season. They even averaged an extra point per game on the road.
Stafford has very similar numbers across the board, but on the road is where he had an extra four interceptions and all five of his fumbles. So, if playing at home helps him protect the ball better then it is an advantage, but overall, the Rams didn't win or score more points at a better rate at home than on the road.
As for the Bengals, the road has been very kind for this defense even before the upset wins in Tennessee and Kansas City. Including the playoffs, the Bengals allowed a league-low 17.6 points per game on the road this season.
Only the Jets (34) and Chiefs (24) were able to score more than 21 points at home against the Bengals this year. The Bengals allowed 8.3 fewer points per game on the road than they did at home (25.9), the largest difference in the league. The pass defense has been much better on the road, which explains most of this.
In Cincinnati, the defense allowed 17 touchdowns, six interceptions, and a 97.9 passer rating.
On the road, the Bengals allowed 14 touchdowns, 13 interceptions, and an 81.8 passer rating.
That improvement of 16.1 points in defensive passer rating is second highest in 2021 behind only New Orleans (plus-24.7).
The Bengals allowed 45.5 fewer passing yards per game on the road compared to home, the third-biggest difference.
The Bengals intercepted 1.58% of opponent passes at home compared to 3.58% on the road, an increase of 2.0 percentage points (second to only New England).
Again, all five teams to beat the Rams this year did three things: scored more than 24 points, held Stafford's offense under 300 net passing yards, and forced multiple turnovers. With outrageous ticket prices for this game and a lukewarm fan base in Los Angeles, the Rams are not going to have a raucous crowd in their favor.
The Bengals likely just faced a tougher environment (and offense) in Kansas City two weeks ago than they will on Sunday night. If the two mortal locks in this game are that Kupp will be excellent and the Rams will outclass the Cincinnati offensive line, then the real wild card in this matchup.
If Stafford protects the ball, the Rams should win. But if he throws a pick parade, the Bengals can schedule their first-ever Super Bowl parade.