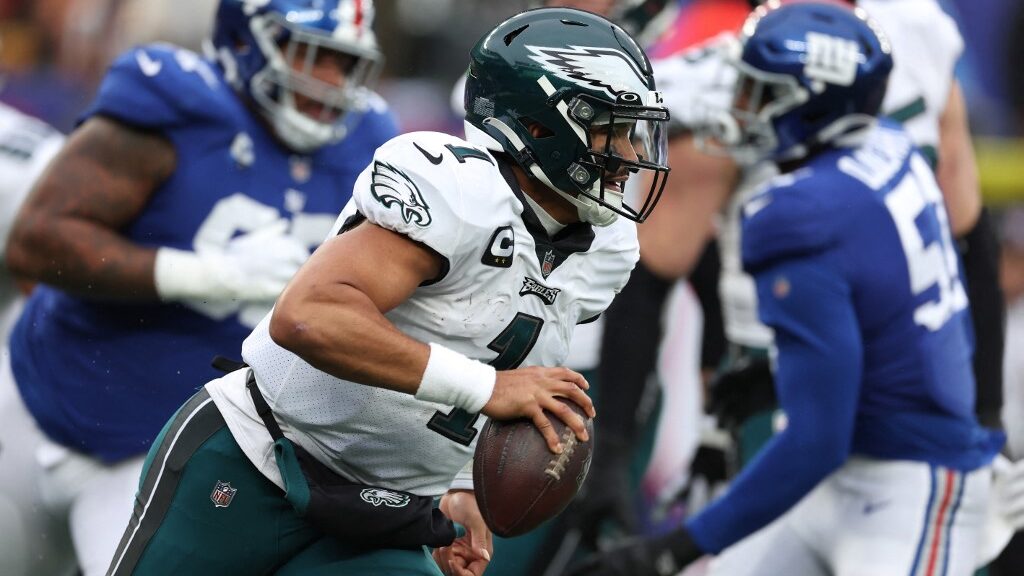 NFL Pick: Eagles -14 (-110) at Bovada (visit our Bovada Review)

The Philadelphia Eagles (13-3) need to snap a two-game losing streak against the New York Giants (9-6-1) if they want to clinch the No. 1 seed in the NFC.
Fortunately, it sounds like quarterback Jalen Hurts is coming back to the Eagles' rescue this week as Philadelphia is a 14-point home favorite at many of the top-rated sportsbooks.
With his sprained shoulder, Hurts was reportedly close to playing against the Saints last week. The Eagles are 0-2 since his injury, but is his return enough to power this team through to a Super Bowl?
We look at how Hurts has improved to MVP consideration this year, his search for a signature win this postseason and his matchup with the Giants this Sunday.
---
New York Giants vs. Philadelphia Eagles
Sunday, January 8, 2023 – 04:25 PM EST at Lincoln Financial Field
Jalen Hurts' MVP Case
After Week 14, Jalen Hurts was the odds-on favorite to win the NFL's MVP award over Patrick Mahomes. But after a so-so performance in Chicago, his NFL odds dropped like a rock once surprising news broke of a shoulder sprain that would sideline Hurts for an indefinite period of time.
Most importantly, Hurts would miss the big showdown in Dallas on Christmas Eve that most of the nation was going to be glued to. A great game by Hurts on that prominent of a stage could have been the final piece to his MVP case.
Injuries Dampen Expectations
But Hurts has missed the last two games, the Eagles lost both, and that fact alone is not enough to turn the race back to him over Mahomes, who continues to lead the top offense to a 13-3 record in Kansas City.
But the data will tell you Hurts has always been in the shadows this season of Mahomes and Buffalo's Josh Allen, the early leaders for MVP. Both quarterbacks rank ahead of Hurts in ESPN's QBR and EPA, which take rushing and penalties into consideration.
Third place is hardly an insult to Hurts, who has done a stellar job in his second full season as the starting quarterback for the Eagles. He obviously got a big boost with the addition of A.J. Brown, a legit No. 1 wide receiver who has exceeded all expectations with 1,401 yards and 11 touchdowns.
Surrounded by Blossoming Young Talent
No. 2 wideout DeVonta Smith is also developing nicely in his second season and running back Miles Sanders has had a career year with 1,236 rushing yards and 11 touchdowns after he was shut out of the end zone in 2021.
The offensive line is one of the best in the league, and tight end Dallas Goedert was having a fine season until injury cost him five games.
Hurts is in an enviable situation, and when you see backup Gardner Minshew pass for 355 yards in Dallas and nearly pull that game out with 34 points, you can see the Eagles are built for success right now.
Many Important Stats Trending up for Hurts
But that is not to take away from the strides Hurts has made this year to make the offense one of the league's best. According to advanced stats sites such as Pro Football Reference and Next Gen Stats, Hurts is doing a much better job in a few key areas:
In the quick game on plays where Hurts passes the ball in under 2.5 seconds, his yards per attempt have gone from 5.8 in 2021 to 8.1 in 2022.
Without play-action, Hurts only averaged 6.7 yards per pass attempt in 2021, but he is up to 8.0 yards per attempt without play-action in 2022.
In his first two seasons, Hurts held the ball an average of 3.11 and 3.12 seconds, the longest in the NFL in both years.
In 2022, Hurts' time to throw is 2.77 seconds, which is the middle of the pack, as he still leads one of the most vertical passing games in the league.
Hurts' Completion Percentage Above Expectation ranks third in the NFL in 2022 (+3.3) after he was No. 18 in 2021 (-0.2).
Hurts has shown some of his best versatility late in the season. He rushed for 157 yards against the Packers and passed for 380 yards against Tennessee the following week. While he had two interceptions for the first time all season in Chicago, he scored three more rushing touchdowns to bring his season total to 13.
Hurts' rushing near the goal line has been one of the main reasons the Eagles are No. 1 in red zone touchdown rate this season, scoring 72.2% of the time.
Fans from the Keystone State looking to make a wager on this matchup should make sure to check out our top-rated Pennsylvania betting sites.
---
Hurts and the NFL's Most Unstoppable Play
Hurts is no doubt running with the ball from the quarterback position more than we are used to seeing. His 156 runs are already the fourth most in a season by a quarterback in NFL history, joining two different Lamar Jackson seasons (2019 and 2020) and what Justin Fields (160) has done this year in Chicago.
But what has become a signature play in Philadelphia this year – it also has quickly been copied around the league and in college football – is the way the Eagles are doing the quarterback sneak.
Instead of just sneaking the quarterback through a hole to a success rate of over 80 percent, the Eagles are now bringing a player (or two) in motion to push Hurts from behind over the line for the conversion.
On runs on third or fourth down with 1 or 2 yards to go this year, Hurts is 28-of-33 (84.8%). One of the "stops" was an aborted snap that goes down as a quarterback run. Another was a 1-yard run by Hurts on a third-and-2 play. Not all 33 plays were the push sneak but most were.
Redefining the Quarterback Sneak
In his first two seasons, Hurts was 16-of-21 (76.2%) on such runs, but that was before they were doing this version of the sneak that is so hard to stop.
In fact, it would not be surprising to see the NFL outlaw this play in the near future in what could be known as The Hurts Rule.
There has been a "helping the runner" penalty in the books for decades, but it has not been called in an NFL game since 1991. It also prohibits a teammate from pulling or carrying the ball carrier. In 2005, the NFL clarified that pushing your teammate over was legal.
The League May Take a Closer Look in the Offseason
Just months later in the 2005 college football season, USC running back Reggie Bush infamously helped push quarterback Matt Leinart over the line for a game-winning touchdown against Notre Dame. It became instantly known as "The Bush Push" and it was controversial because that was supposed to be a penalty in college football.
For now, the Eagles can keep doing the push-sneak. They tried it last week in a crucial spot in the fourth quarter against the Saints, but backup Minshew was rushing the play and the Eagles literally did not get any push up front this time. Would Hurts, who squats 600 pounds, have executed that better?
Most likely. It's been his bread and butter all year.
The Search for a Signature Win
We know the Eagles are in the playoffs, but we do not know if they will be the No. 1 seed we've expected them to be, or if they have to go to Tampa Bay in the wild-card round just as they did last year when they lost badly as a No. 7 seed.
This time it would be a No. 5 seed against a weaker Tampa team, but that would be a huge letdown after the 13-1 start to this season.
Hurts is 22-12 (.647) as a starter for the Eagles, but this postseason is a big one for him as he still seeks a signature win in his career.
A Victory in the Playoffs Is Key
After the Eagles drafted Hurts in 2020, they were 1-15 against playoff teams in 2020 and 2021. Hurts did not start all those losses, and while the lone win was his first NFL start, it was against a 2020 Saints team that had Taysom Hill at quarterback instead of the injured Drew Brees, a first-ballot Hall of Famer.
In 2021, the Eagles made some bad history by making the playoffs despite going 0-6 against other playoff teams. After losing to Tampa Bay for the second time in the wild-card round, the 2021 Eagles finished 0-7 against playoff teams.
In 2022, it is quite possible the Eagles with Hurts at quarterback are 6-0 against other playoff teams, a total reversal of last year's record in the regular season. This could even get to 7-0 should the Steelers somehow sneak in after their miserable 2-6 start.
Some Wins Could Be Misleading
But therein lies the problem with this record. Which team has Hurts defeated that came in knowing it was a good team with the right quarterback playing?
In Week 2, all we knew about Minnesota was that Kirk Cousins was awful on Monday nights, and no one expected this team would have a record-tying eight fourth-quarter comeback wins to get to 12-4 despite a negative scoring differential.
Whether Jacksonville or Tennessee wins the AFC South, the Eagles beat them both, but they beat the Jaguars during their 2-6 start before Trevor Lawrence improved and caught the Titans in the second game of their six-game losing streak.
The Eagles moved to 6-0 with a big win over Dallas, but that was with Cooper Rush at quarterback as Dak Prescott did not return until a week later to turn the Cowboys into a scoring juggernaut.
The Packers had lost 6-of-7 games coming into Philadelphia as Aaron Rodgers was having the worst season of his career for a 4-8 team that hasn't lost since and may very well make the tournament.
The Eagles beat the Giants in Week 14 after they were on a 1-3-1 slide, and they may sweep them this week by beating up on reserves if New York rests starters with the No. 6 seed locked.
Where is the signature win? Juxtapose this for Hurts with the Bills and Bengals this season.
While it is so unfortunate what happened to Damar Hamlin on Monday night, that was going to be a big win for one of those teams against another great team and quarterback. Both already had such a game on their resume this year by beating Patrick Mahomes and the Chiefs.
The Proof Is in the Pudding
We have not seen Hurts outscore a good New Orleans or Dallas team with Drew Brees and Dak Prescott at quarterback. Sure, we've seen him get past Taysom Hill and Cooper Rush. We haven't seen him beat Brady in Tampa. We haven't seen him beat Rodgers in his MVP years in 2020-21.
Something has to change for Hurts and the Eagles this postseason. Maybe it's overcoming Brady's incredible playoff luck, or scoring a bunch on San Francisco's No. 1 defense, or winning a shootout against Dak and the Cowboys, or outplaying one of those great AFC quarterbacks in the Super Bowl.
Matthew Stafford lacked a signature win in a dozen years with Detroit, then racked up several for the Rams last year on his way to a Super Bowl win.
We aren't at the point where there needs to be that kind of pressure on Hurts this January, especially with his health a question mark. But when you start 13-1, you have raised everyone's expectations.
---
Giants-Eagles Prediction
The Eagles are a huge favorite this week for a few reasons. The Giants may rest starters as they cannot improve on the No. 6 seed, Hurts is likely back, and the Eagles have outscored the Giants 82-32 in the last two meetings.
It was 48-22 just four weeks ago as Hurts led the Eagles to a 21-0 lead in the blink of an eye. The Eagles dominated on the ground and through the air.
It may not be the best game to feature heavily in your NFL picks with the uncertainty over Hurts' shoulder and how many snaps the best players on the Giants will see.
Hurts Will Likely Step Up
But with the spread being what it is, and if Hurts is cleared for a return by the medical staff, then this is a great matchup to ease him back into some action before the playoffs and clinch this No. 1 seed the Eagles have been on a path for since Week 1.
There are some legitimate concerns to have about this Philadelphia team, which is getting injured at the worst time, being able to sneak past this unreliable NFC field to reach the Super Bowl. But we can trust Hurts and the Eagles to deliver against the Giants this week.
NFL Pick: Eagles -14 (-110) at Bovada (visit our Bovada Review)

*The line and/or odds on picks in this article might have moved since the content was commissioned. For updated line movements, visit BMR's free betting odds product.