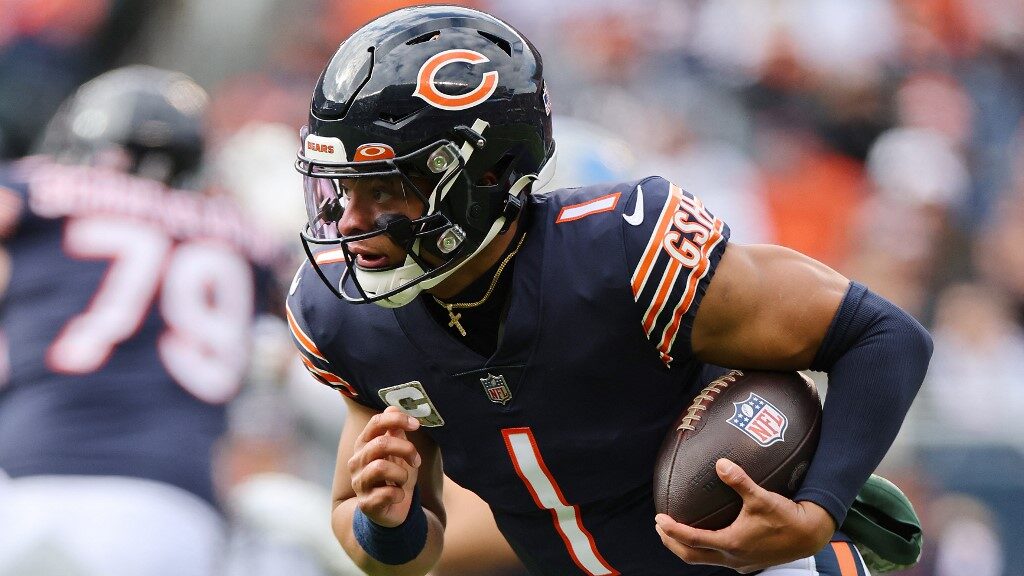 NFL Pick: Bears +9 (-110) at Bovada (visit our Bovada Review)

For the second week in a row, Justin Fields and the Chicago Bears (3-11) are hosting a conference's odds-on Super Bowl favorite. Last week, it was the NFC-leading Philadelphia Eagles, and the Bears lost 25-20 for their 7th-straight loss. This time it is the AFC's Buffalo Bills (11-3).
Just like last week, the Bears are in the neighborhood of a 9-point home underdog at many of the best sportsbooks. Fields helped the Bears to a backdoor cover, but at this point with the playoffs impossible, we are looking for progress, potential, and hope that next year will be different in Chicago. Playing well in games against the best the 2022 season has to offer is key to doing that.
Fields has now played in 25 NFL games with 23 starts. Let's take a look at what his strengths are and where he needs to get better if the Bears are going to compete for something in 2023. We also look at his matchup with Buffalo this Saturday.
PLAY NOW: Win $1,000 + 10,000 BMR Baller Coins With BMR's Free-To-Play NCAAF Bowls Contest
---
Buffalo Bills vs. Chicago Bears
Saturday, December 24, 2022 – 01:00 PM EST at Soldier Field
Fields Is Already a Historic, Elite Running Quarterback
Getting the obvious out of the way first, Justin Fields is already one of the most elite runners at the quarterback position in NFL history. To the surprise of many, Fields did not show much of this as a rookie at first. But when he rushed for 103 yards and a touchdown against the 49ers last year, it was one of his best games against a tough defense.
Still, it felt like this part of his game wasn't being utilized as we see with Lamar Jackson in Baltimore. Early in the 2022 season, Fields was not running that often in new offensive coordinator Luke Getsy's system, and he was throwing the ball at the lowest rate of any NFL offense in over 40 years. When Fields did throw, he was taking sacks and throwing interceptions at rates that would have looked terrible over 50 years ago.
But on a Thursday night against Washington in Week 6, Fields started to take off more with his legs. The following week against New England on a Monday night game in front of a national audience, Fields rushed 14 more times for 82 yards and a touchdown, befuddling Bill Belichick's defense in the process for an upset win.
Since the Washington game, Fields has rushed for at least 60 yards in 8 straight games. He is the 7th-leading rusher in the NFL going into Week 16. His 143 runs are already the fifth-most runs by a quarterback in a season in NFL history, only trailing 3 Lamar seasons and Jalen Hurts this year (156).
Fields just landed on 1,000 rushing yards for the season against the Eagles, joining Michael Vick (2006) and Lamar Jackson (2019 and 2020) as the only quarterbacks to rush for 1,000 yards in a season. With 3 games left, he can break Jackson's 2019 record of 1,206 yards, though Jackson was able to achieve that in just 15 games. The schedule is longer now.
Will Fields Become the Best at Running?
Earlier this season, Fields rushed for 178 yards against Miami, the new regular-season record for rushing yards by a quarterback in a game. Colin Kaepernick still holds the NFL record with 181 rushing yards against the 2012 Packers in a playoff game.
By rushing for 147 yards the following week against the Lions, Fields became the first quarterback in NFL history to rush for over 140 yards in consecutive weeks.
Excluding 9 kneel-downs, about 54% of Fields' runs in 2022 are by design, but he does lead the NFL with 62 scrambles, 11 more than the next closest quarterback (Josh Allen). Fields' 9.3 yards per scramble trails only Allen (9.5) this season according to Pro Football Reference.
This season, Fields has touchdown runs of 55, 61, and 67 yards. Fields has already rushed for more 55-yard touchdown runs this season (3) than what Michael Vick (0), Jalen Hurts (0), Randall Cunningham (0), Cam Newton (1), and Lamar Jackson (1) have in their careers combined.
By any metric, Fields is incredible at running, and he could become the best to ever do it at this rate. But is it going to win the Bears any games?
---
Passing Still Wins in the NFL
It was important to note that Fields had a big night running in a win against the Patriots in prime time. The Bears have not won a game since then. In fact, the Bears are now 1-10 when Fields rushes for at least 50 yards in a game. The Bears are also 2-15 when he rushes for at least 35 yards in his career.
Fields has only passed for 200 yards 6 times in the NFL. He has three 250-yard passing games, which is as many as the Bears had with Andy Dalton and Nick Foles last year.
Since 2021, the Bears are also 3-3 (.500) without Fields and 6-19 (.240) when he plays. However, that's not as bad as it sounds since the Bears have gift-wrapped a win by Joe Judge's Giants in Week 17 last year. Still, this team is trying to win on the vast strength of its rushing offense, which has never been a worse strategy in the NFL than it is today.
You can account for 70% of the difference in team records in the NFL today just by looking at the effectiveness of a team's passing offense. That is why the quarterback position matters so much, and that is why passing is still the supreme way to move the ball, score points, and win games.
Drives Struggle
There is no denying Fields' rushing has opened his team's rushing success to historic levels this year. In Weeks 6-10, the Bears became the first offense in NFL history to rush for at least 230 yards in 5 consecutive games. They also went 1-4 in those games.
A big part of that was the defense, as this has been a rough year for the Chicago defense. The 2022 Bears are the first team in NFL history to lose 3 straight games when scoring at least 29 points.
But we've also seen too many games where the Bears had the ball in the 4th quarter, down by one score, and the offense did nothing. A big part of the problem there is you usually have to repeatedly throw the ball on those drives as time is a factor, and the Bears just are not built to do that.
There is also the fact that Fields is 1-10 (.091) at fourth-quarter comeback opportunities, the worst record among active starters (min. 10 games). There were 3 games in a row against the Dolphins, Lions, and Falcons where Fields just needed to lead a field goal drive, and none of the drives even made it to where the kicker could come on to tie the game. That is really bad.
---
Fields' Passing Needs Much Work
Out of 191 quarterbacks since 1970, here is where Fields ranks in some passing stats during a player's first 25 NFL games (minimum 500 pass attempts):
Lowest sack percentage: 13.1% (191st; the worst).
Lowest interception percentage: 3.7% (120th; Cade McNown is 121st).
Adjusted net yards per pass attempt: 4.26 (121st; Kyle Orton is 124th).
Taking the highest rate of sacks is a bad thing. The offensive line plays a considerable factor in sacks, but they are a quarterback stat first and foremost as decades of data have proven.
Fields holds onto the ball longer than any quarterback this season (3.12 seconds) according to Next Gen Stats. That's actually longer than his rookie season when he was at 2.91 seconds, the 7th-highest average. Fields' pressure rate is 26.7%, which ranks as the 5th highest in 2022 according to Pro Football Reference.
Fields has improved as a passer from his rookie season, but it hasn't been by leaps and bounds. He has 11 more completions on 4 more attempts for 178 more yards, 8 more touchdowns, and the same number of picks. More than doubling the touchdown passes is certainly good, but he has also taken 10 more sacks already than in 2021.
Rusher Value
Turning to advanced stats, Football Outsiders has Fields ranked 32nd out of 33 quarterbacks in passing DVOA this season. Only Baker Mayfield has been less efficient per play as a passer. They also rank Fields as having the 5th-most total value as a rusher this year behind Allen, Jackson, and Daniel Jones.
Even a stat like ESPN's QBR, which absolutely adores runs by the quarterback and factors them into their rating along with penalties, sees Fields as the 14th-best quarterback this year with a 56.2 QBR. This has also been a down year for quarterback play around the league, so ranking 14th is not as good as usual.
Advanced stats hate sacks because they are drive-killers. Take Sunday's game against the Eagles as a great example. Fields had a sparkling 119.5 passer rating, but he lost 61 yards on 6 sacks and was bad on third down.
The Bears had 13 points late in the game and Fields only got to 152 passing yards after the Eagles lost track of Byron Pringle on a late 35-yard touchdown. But the damage was done earlier. Fields finished with a 41.1 QBR, which ranked 18th in Week 15.
The Bears are just not getting enough out of the passing game, and while Fields is not the only reason, he has to take more accountability for that in his second season. He is no longer a rookie.
---
The Supporting Cast Needs to Get Better
Without taking too much of a 2023 preview approach, we will just point out that Fields has drawn a short straw in 2022 with this team's supporting cast:
The defense has been a major disappointment despite head coach Matt Eberflus being a defensive expert.
The offensive line is not great.
Khalil Herbert did shine as a running back, but he was injured when the team's running game was at its peak.
Darnell Mooney is a capable No. 1 wideout who deserved more targets, but he too sadly suffered a serious injury.
The Bears traded draft capital for wide receiver Chase Claypool, but they seem reluctant to get him involved in the passing game.
But the Claypool point is interesting because he had his best game (two catches for 51 yards) in the game Trevor Siemian started against the Jets when Fields had his shoulder injury.
The screams will be for the Bears to draft a stud receiver or see if they can poach an unhappy one from another team, but if the Bears aren't going to commit to throwing more, aren't going to see if Fields can develop more as a passer, then is it really going to have the desired impact?
Cole Kmet isn't Travis Kelce or Mark Andrews at tight end, but he seems like a decent enough player who should be doing more in his third year. But it's hard to see where the progression of this passing offense is going if they aren't going to use it more.
---
Is the Modern Running Quarterback Sustainable?
Fields is without question going to be the starting quarterback in Chicago in 2023, but most great quarterbacks show their greatness in their first or second year. Josh Allen has thrown us a corkscrew with his third-year breakout, but it really shouldn't take this long for most.
But if Fields is going to continue rushing for 60-plus yards and throwing for under 200, is there any reason to think this is going to win games for the Bears over the long run? Maybe if the defense gets back to lofty Chicago standards, but what happens when you're 10-5 and Fields gets injured and is lost for the postseason?
Fields is on a short list of modern quarterbacks who run the ball a lot from the position. Think 130-plus runs a year.
Vick had his personal demons off the field to battle, but when he returned in Philadelphia, he wasn't able to run the ball as frequently as he did in his youth.
Newton used to do it for years for Carolina, then his body broke down.
Jackson has been a bit of a unicorn in Baltimore, but we have seen him injured at the crucial point of the season 2 years in a row now.
This Week 16 Gamebreakers column was originally going to be about Jalen Hurts, but his shoulder sprain has cast some doubt on his availability and effectiveness going forward for a Super Bowl-ready team like the Eagles. Hurts ran the ball 17 times for 61 yards against Fields' defense on Sunday. When he could pass for over 300 yards too, you have to question the value of some of those designed runs.
In 2 seasons, Fields has already had 3 separate injuries that led to him missing 6 starts. If we don't see more passes from Fields early in the 2023 season, then we may be seeing more late from the backup quarterbacks in Chicago.
Fortunately, they have time to work on that and build the team this offseason towards achieving that goal.
---
Bills vs. Bears Prediction
How will Fields do against Buffalo? The Dolphins had to shock Buffalo with the running game last week, going from 41 rushing yards in Week 3 to 188 last Saturday. That's great news for Chicago, who you know will run often in this game.
Of course, the Bears are the 2nd team since 1950 to rush for at least 125 yards in 7 straight losses, so it's not like it has helped them win games. But the Bills do not have Von Miller, and they have been failing to blow teams out. Only 1 of the last 6 Buffalo games was a double-digit win for the Bills. Both offenses rank among the top 7 on third down, and both quarterbacks like to run, so maybe it won't be a game with many possessions. A couple of turnovers could be massive in helping the underdog cover.
The Bears were able to get 2 rare interceptions from Hurts last week to keep that score down against a juggernaut team. The backdoor cover is always another option, so according to the NFL odds, we'll go with the Bears to get the cover (but not the win again) for your NFL picks.
Maybe Fields can ask Stefon Diggs how the Bills wooed him to join a franchise not known for passing the ball well in a cold-weather city the last few decades.
For residents of Chicago looking to bet on this game, you can check out our top Illinois betting sites.
NFL Pick: Bears +9 (-110) at Bovada
*The line and/or odds on picks in this article might have moved since the content was commissioned. For updated line movements, visit BMR's free betting odds product.