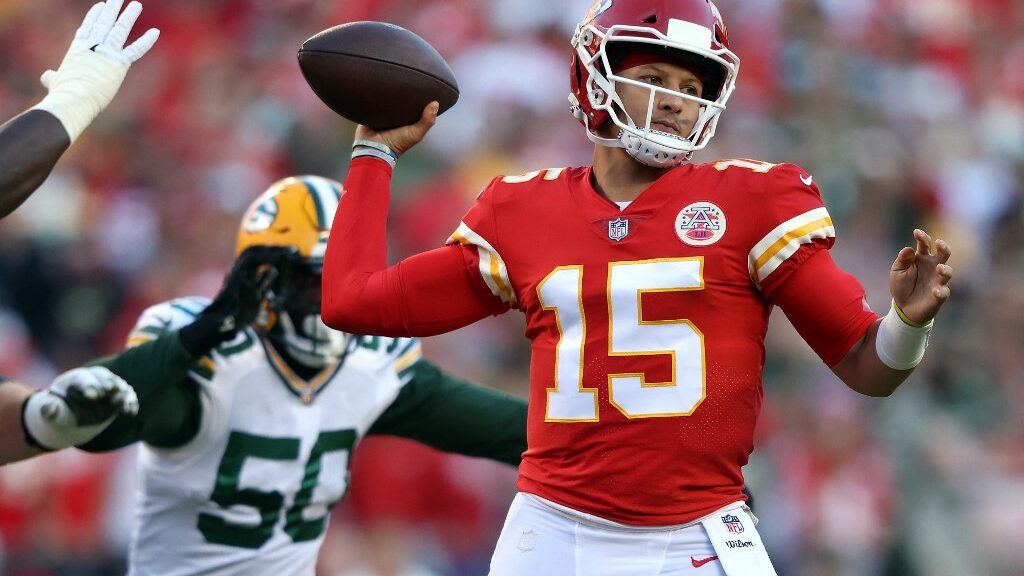 Editor's Note: The NFL announced on Friday afternoon that the game between the Las Vegas Raiders and the Cleveland Browns has been moved to Monday, December 20th (05:00 PM EST), while Sunday's meetings between the Washington Football Team and the Philadelphia Eagles, and the Seattle Seahawks and the Los Angeles Rams have been moved to Tuesday, December 21st (07:00 PM EST) due to a "substantial increase in (COVID) cases across the league."
Each week Swinging Johnson delivers his NFL picks and predicts the score for each game on the NFL slate.
Let's see how he does this time around as we head into Week 15 and see what Swinger thinks of this week's upcoming games.
Swinger's 2021 Pick All Record (42-32 ATS)
Kansas City Chiefs vs. Los Angeles Chargers
Thursday, December 16, 2021 – 08:20 PM EST at SoFi Stadium
The Chargers defeated the Chiefs at Arrowhead earlier this season and their defense is finally playing up to its potential. Ironically, Kansas City's defense is hitting its stride as well and it started to do so when they traded for Melvin Ingram at the beginning of November.
The Bolts will be without offensive tackle Rashawn Slater while the Chiefs will be missing pass-rushing swami, Chris Jones. It's a trade that LA wins and I think getting points at home with a team having won their last two is too tempting to pass up.
Score Prediction: Chiefs 26 – Chargers 24
NFL Pick: Chargers +3 (+102) at Heritage Sports (visit our Heritage Sports Review)

Las Vegas Raiders vs. Cleveland Browns
Monday, December 20, 2021 – 05:00 PM EST at FirstEnergy Stadium
Cleveland quarterback Baker Mayfield and head coach Kevin Stefanski have tested positive for COVID-19 which makes their availability suspect for Saturday's game.
The NFL odds have come crashing down from Browns -6 to where they are now getting 1½ at many of the top sportsbooks. Case Keenum, Mayfield's backup, was a starter in this league at one time and he has the experience to beat the likes of the Raiders. And maybe Mayfield does play, right?
MORE PICKS: The Donnie and Kyle Show: NFL Early Best Bets Week 15
Grab the gift the books are giving you before this line climbs back to where it was.
Score Prediction: Browns 29 – Raiders 24
NFL Pick: Browns +1½ (-108) at Heritage Sports
New England Patriots vs. Indianapolis Colts
Saturday, December 18, 2021 – 08:20 PM EST at Lucas Oil Stadium
The Colts have unwisely given the Patriots bulletin board material and nobody does more with accepting a challenge than Bill Belichick. The Colts have the lowest-ranked pressure defense in the league which will prove fatal against one of the best offensive lines in the business.
Both teams are coming off of their byes but that extra preparation gives the Evil Genius more time to plot the Colts' demise.
Score Prediction: Patriots 33 – Colts 23
NFL Pick: Patriots +2½ (-108) at Heritage Sports
Carolina Panthers vs. Buffalo Bills
Sunday, December 19, 2021 – 01:00 PM EST at Highmark Stadium
If you cruise on over to Point/Counterpoint which is my weekly tête-à-tête with fellow BMR capper, Doug Upstone, you will see this is the game we decided to debate this week and I am all in on the Bills for so many reasons it's hard to pick just one.
But I will leave you with the Bills owning the No. 1 pressure defense against the shell of his former self, Cam Newton. The Bills have dropped two straight and they need this win like oxygen against a team that has lost three straight and could lose all of their remaining games because, without Christian McCaffrey, they've got no shot. Lay it and like it.
Score Prediction: Bills 45 – Panthers 14
NFL Pick: Bills -10½ (-105) at Heritage Sports
Arizona Cardinals vs. Detroit Lions
Sunday, December 19, 2021 – 01:00 PM EST at Ford Field
Another double-digit favorite that has all the motivation needed to cover the big number against a painfully bad Lions' team that could be getting DeAndre Swift and T.J. Hockenson back but it won't matter all that much.
Arizona beat themselves last week when they lost to the Rams, although Aaron Donald had something to say about it, but there will be no one like him assaulting Kyler Murray this week. The Cards soar in Motown.
Score Prediction: Cardinals 41 – Lions 13
NFL Pick: Cardinals -12½ (-108) at Heritage Sports
New York Jets vs. Miami Dolphins
Sunday, December 19, 2021 – 01:00 PM EST at Hard Rock Stadium
I keep waiting for the Jets to show a little glimmer, a little shine, a little anything but they keep letting me down. They are a nightmare at the betting windows having covered in just 3 of 10 games this year.
And now they face a Dolphins team that is getting better as their young quarterback is finding his footing, having won and covered their last five games. Tua will have all of his weapons returning and the Jets won't be able to do much more than wait mercifully for the game to end.
Score Prediction: Dolphins 32 – Jets 19
NFL Pick: Dolphins -9½ (-108) at Heritage Sports
Dallas Cowboys vs. New York Giants
Sunday, December 19, 2021-1:00 PM EST at MetLife Stadium
If I get any squarer, I'll turn it into a floor tile. But what can I tell you? We have some serious mismatches this week and try as I might make a case for one of these big pups, I can't seem to do it.
This game is no exception as the Cowboys beat up the Giants earlier in the year by 24 points and what has changed? Absolutely nothin'!
Score Prediction: Cowboys 34 – Giants 16
NFL Pick: Cowboys -10½ (-108) at Heritage Sports
Washington Football Team vs. Philadelphia Eagles
Tuesday, December 21, 2021 – 07:00 PM EST at Lincoln Financial Field
Taylor Heinicke and Terry McLaurin will both likely miss this game which is why the line has spiked from Philly -2 to -7 where it stands now. The Eagles don't do much scoring and if this is indeed a low-scoring affair then you have to like the touchdown head start.
Let's also not forget that Jalen Hurts has been hampered by an ankle injury which means Gardner Minshew may get the nod. Either way, it's too many points. Grab the road pup and cross your fingers.
Score Prediction: Eagles 23 – Washington 17
NFL Pick: Washington +7 (-104) at GTbets (visit our GTbets Review)

Tennessee Titans vs. Pittsburgh Steelers
Sunday, December 19, 2021 – 01:00 PM EST at Heinz Field
I believe the Titans are a paper tiger but I'm not impressed with the Steelers or Big Ben's career season finale.
But if I have to choose between the two, I'll take the Steelers who looked gritty last week in storming back from a 29-0 deficit to ultimately bow 36-28. I'll give them props for that and the win this week.
Score Prediction: Steelers 23 – Titans 18
NFL Pick: Steelers +1½ (-105) at BetOnline (visit our BetOnline Review)

Houston Texans vs. Jacksonville Jaguars
Sunday, December 19, 2021 - 04:25 PM EST at TIAA Bank Field
Is there any way both of these bums can lose? I am pulling for the Texans to beat the Jaguars simply because I relish the schadenfreude in watching Urban Meyer lose.
Not anymore because ol' Urban got the ax but the Texans did defeat the Jaguars by 16 in the season opener and they're getting 3 ½ points against one of the worst teams in football with what was unequivocally the worst locker room in all of football.
I wouldn't touch this game with your money (of course I would, it's your money, no risk to me, and if I win, I'll give you your money back and buy you a beer with my winnings) but can you really see laying points with Jacksonville? Just look at my final score prediction for this one!
Score Prediction: Texans 0 - Jaguars 0
NFL Pick: Texans +5½ (-110) at BetOnline
Cincinnati Bengals vs. Denver Broncos
Sunday, December 19, 2021 – 04:05 PM EST at Empower Field
The Bengals did a good job of beating themselves last week in their 26-23 overtime loss to the 49ers but they won't get fooled again. Now, Joe Burrow looks fully healed and if his receivers can focus better than they did last week then Cincinnati should get the win on the road at Mile High.
If you're giving me a choice between Joe Burrow outdueling Teddy Bridgewater or the Denver defense being that much better than the Cats defense, I'll put my money on the former.
Score Prediction: Bengals 24 – Broncos 17
NFL Pick: Bengals +3 (-113) at Heritage Sports
Atlanta Falcons vs. San Francisco 49ers
Sunday, December 19, 2021 – 04:05 PM EST at Levi's Stadium
The Falcons have been playing a bit better as of late which is kind of amazing considering Matt Ryan has a dearth of weapons with Kyle Pitts being his only high-quality threat. I'm not sure the 49ers are the kind of team that can lay this many points and escapes with a cover.
I believe they will beat Atlanta but it won't be a blowout so we will grab the points with the road dog here.
Score Prediction: 49ers 27 – Falcons 23
NFL Pick: Falcons +9½ (-108) at Heritage Sports
Seattle Seahawks vs Los Angeles Rams
Tuesday, December 21, 2021 - 07:00 PM EST at SoFi Stadium
The line on this game has plummeted because the Rams were forced to close their facilities and nine players could be ruled out. But let's face it, when you're at Week 15 of the season, everyone is on the same page and the break might do them good as long as they can get some, or most, of their players in uniform for Sunday's game.
Russell Wilson broke his finger the last time he played the Rams and their pass rush will cause him nightmares. Let's take advantage of what we are being given before the number spikes back up.
Score Prediction: Rams 34 – Seahawks 20
NFL Pick: Rams -4½ (-108) at Heritage Sports
Green Bay Packers vs. Baltimore Ravens
Sunday, December 19, 2021 - 04:25 PM EST at M&T Bank Stadium
As long as we're being chalky this week we might as well stay the course. The big problem the Ravens will have is Lamar Jackson not having his wheels underneath him as an ankle injury continues to plague him.
I don't see the Ravens keeping up with the aerial blitzkrieg ready to launch against them this week so we will lay it yet again with another road favorite.
Score Prediction: Packers 31 – Ravens 21
NFL Pick: Packers -5½ (-108) at Heritage Sports
New Orleans Saints vs. Tampa Bay Buccaneers
Sunday, December 19, 2021 – 08:20 PM EST at Raymond James Stadium
The Saints have won 16 of their last 21 against the Bucs and they know how to defend Brady as well as anybody. The Bucs could be due for a bit of a letdown after an emotional win over the Bills and we're getting more than our fair share of points because the public is just ga-ga over TB12.
Let's take what the books are generously giving us.
Score Prediction: Bucs 31 – Saints 21
NFL Pick: Saints +11 (-109) at GTbets
Minnesota Vikings vs Chicago Bears
Monday, December 20, 2021 - 08:15 PM EST at Soldier Field
Who will quarterback the Bears is anyone's guess as of this writing. But we do know offensive tackle Jason Peters is likely out which means the Vikings will pin back their ears and come calling early and often in the Chicago backfield.
That is not good news for Bears fans and even worse for whoever is pulling the trigger under center for Chicago. The Vikings are the most underrated team in the league and they will have their way with the Bears on Monday night.
Score Prediction: Vikings 26 – Bears 20
NFL Pick: Vikings -3½ (-108) at Heritage Sports
*The line and/or odds on picks in this article might have moved since the content was commissioned. For updated line movements, visit BMR's free betting odds product.