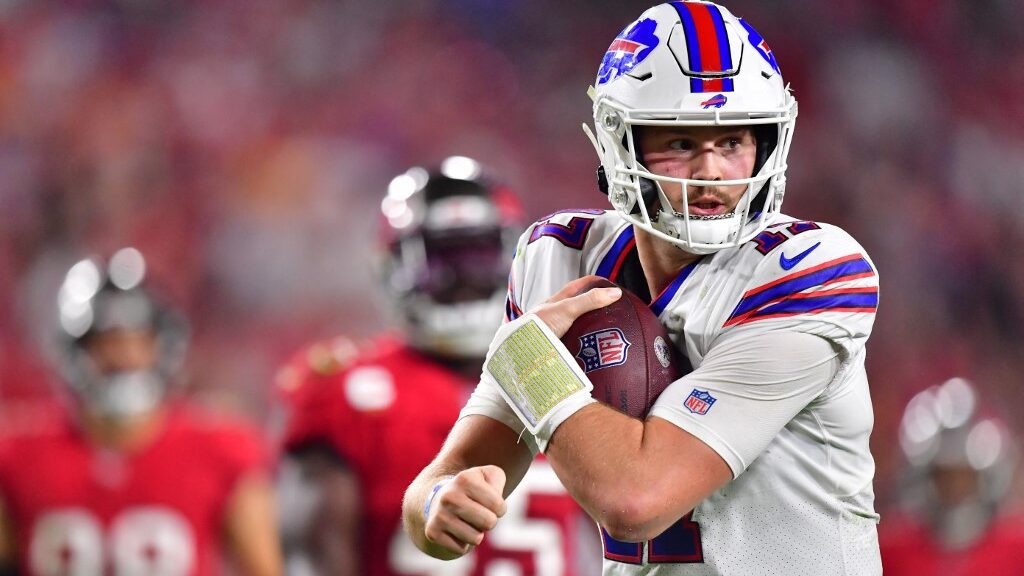 Swinging Johnson is getting mercilessly hammered by his brother-in-arms here at Bookmakers Review and he seems to have no answer for the riddle that is fellow handicapper Doug Upstone. Let's see if SJ can turn it around this week in his NFL picks or will Doug take another swing at the writhing carcass of a once-proud man.
2021 Point/Counterpoint Records:
Swinging Johnson: 1-5 ATS
Carolina Panthers vs. Buffalo Bills
Sunday, December 19, 2021 – 01:00 PM EST at Highmark Stadium
The Preview
Swinging Johnson: Take your victory lap, Doug. Or should I say, take another victory lap? In fact, your victory laps have become so frequent this season I think you'll need another tank of gas to get around the oval. It was another in a series of losses for me last week as I backed the Raiders in the hostile territory that is Arrowhead Stadium. The outcome was a foregone conclusion early on as the Chiefs just swamped Vegas, 48-9, and as a side note, Melvin Ingram has provided a spark to that Kansas City defense since being traded in early November.
Okay, well, I have to blame my recent spate of failed ATS covers on genetics - I've got to blame something and it can't be me. You see, my great, great grandfather parlayed the Germans in both wars so there's a long line of betting miscues in my lineage.
But listen, this is the end of an error…I mean era…and I'm getting back on track with a chalky special that I just can't help but dive into, over, and on top of as the Buffalo Bills welcome the Carolina Panthers to Bills Mafia territory.
Now, ordinarily, I might think that the Bills would be out of gas after a frustrating loss in the middle of the monsoon to the Patriots two weeks ago followed by a furious rally that fell short in overtime to the Bucs last week. Add to that they could be looking ahead to a date with the Patriots in Foxboro next week. However…I think I just talked my way out of betting the Bills. Can I shift gears now?
No, I kid because I love and I will not be dissuaded from laying 10 ½ at home on a team that has to be bent on taking their frustrations out on the next weak sister that comes their way. And that frail, young lady is Carolina, a team fresh off of their third straight loss when they fell 29-21 to the lowly Falcons last week – at home no less.
Now make a case for the Carolina Cats because I'm dying to hear this!
The Analysis
Doug Upstone: It was indeed another sweet victory and the kind you really like in the NFL, a Lazy-Boy recliner one.
My first question to you Mr. Johnson, did you give semi-retired Chris Berman a call? Because I'd presume you wanted a little info about the team from upstate New York because "Nobody circles the wagons like the Buffalo Bills!" That was Berman's favorite line about the Bills and I'm sure you are looking to do the same.
Speaking of circling the wagon, the Carolina Panthers tried to go Michael J. Fox (Back to the Future), bringing back Cam Newton and that worked for a game against Arizona. His "I'm back" meant that he was playing football, just not as well as he did at one time.
So, I have no Christian McCaffrey, I might be without top pass catcher D.J. Moore (hamstring) and the best option at quarterback is former XFLer P.J. Walker.
Despite the graveness of the situation for Carolina, they have one overlooked factor in their favor. For years, I've followed this and it's been a solid money-maker for me. Here it is.
When a team is riding a three-game winning or losing streak against the spread and no byes are involved in looking at four consecutive weeks of action, when you go the opposite direction of how the team has performed, this season they are 23-16 ATS.
This is not the greatest system ever but year to year it's a winner and I often consider it among the reasons how I determine my NFL picks along with other material.
As you might suspect, the Panthers are on an 0-3 ATS downer, going against a Buffalo team that had Super Bowl aspirations and now is just trying to reach the playoffs. I'll complete my thinking on the outcome after letting you blabber about the Bills, Swinger.
SJ: So the thing here is that the Panthers aren't even sure who they want under center. Over Cam's last 14 games, he's been benched in five of them. I got to watch him up close and personal for one miserable season in New England and I know his limitations. He just can't pass anymore and although he has plenty of charisma, a toe-tapping song and dance at the 50-yard line won't impress the Bills who owns the No. 1 pressure defense in the league against a subpar Carolina offensive line.
Look, laying double digits is not a recipe for sports betting success but the NFL odds will not deter me from mimicking Joe Q. Public and betting the home chalk. The only caveat is Josh Allen's health after he was dinged in last week's loss to the Bucs.
But this is a must-win for the Bills and while I believe emotion is the most overrated aspect in evaluating professional, not college, teams to cover the number, there is no denying that the Bills will be focused on tearing the Cats apart from the opening kickoff to the final gun. You have the last word, my good man.
Side note: I always feel like I'm a duke in Victorian England swirling a handkerchief while I bow ever so elegantly, when I say, "My good man."
The Best QB on the Field
DU: Buffalo said all the right things after the game, about various players being proud of their comeback against Tampa Bay, and who knows, maybe that second half will be a precursor in which the Bills turn their season around.
Yet, no matter how you look at it, Josh Allen's team is 2-4 SU and ATS over their last half dozen starts and they have a turnover margin of -7. Does that just magically disappear in a week? It can, but this is a team in need of a feel-good win that truly builds confidence.
Carolina's game plan has to be simple because that's how you rough up Buffalo.
Actually, I'd rather see Walker under center and the plan is to run outside the tackles on early downs with pulling linemen in that direction, always trying to set up third and short. If there is a defining quality about the Bills' defense, it is they visibly sag after permitting three or more first downs, mostly running the pigskin when they are unable to stop a third-down run or pass. Cam Newton can take over on those third down plays, as he provides a run-pass option.
On defense, it's all about containing the big play and limiting Allen from those 20-yard jaunts he's known for. Allen and the Bills offense is not a patient group and if they have to drive 80-yards on 10 or more plays, they can, that's just not what they do best.
I'll admit it SJ, I can see why you like Buffalo and under their current head coach, they are 13-5 ATS playing against a team with a losing record in the second half of the season. One problem, their average margin of victory is exactly 9.0 PPG, below what you need to cover. Plus, in the Panthers' history, they are 91-64 ATS as a road underdog, losing by just 4.4 PPG. Buffalo makes you smile by winning and frowning by not covering.
Grab your sled Swinger and ride this one in!
The Pick
SJ: The only thing that concerns me if I'm being truthful - and you'll very rarely catch me this vulnerable – is the Bills' inability to put patient drives together as you so aptly reminded us. Josh Allen is a big-play guy and he has the weapons to effectuate that end.
I don't see any cause for pause in this matchup. The Bills are a talented team that has experienced the requisite growing pains for a younger group of guys who may have fallen in love with their press clippings entering this season. This is a great spot to lay it and like it with Buffalo and I'll provide you a few more sanguine stats for those who are on the proverbial fence.
Bills are 8-0 ATS in their last 8 games after accumulating more than 150 yards rushing in their previous game.
Bills are 6-1-1 ATS vs. a team with a losing record.
Bills are 5-1-1 ATS in their last 7 games following an ATS loss.
Swinger's NFL Pick: Bills -10 ½ (-108) with Heritage Sports (visit our Heritage Sports Review)

*The line and/or odds on picks in this article might have moved since the content was commissioned. For updated line movements, visit BMR's free betting odds product.