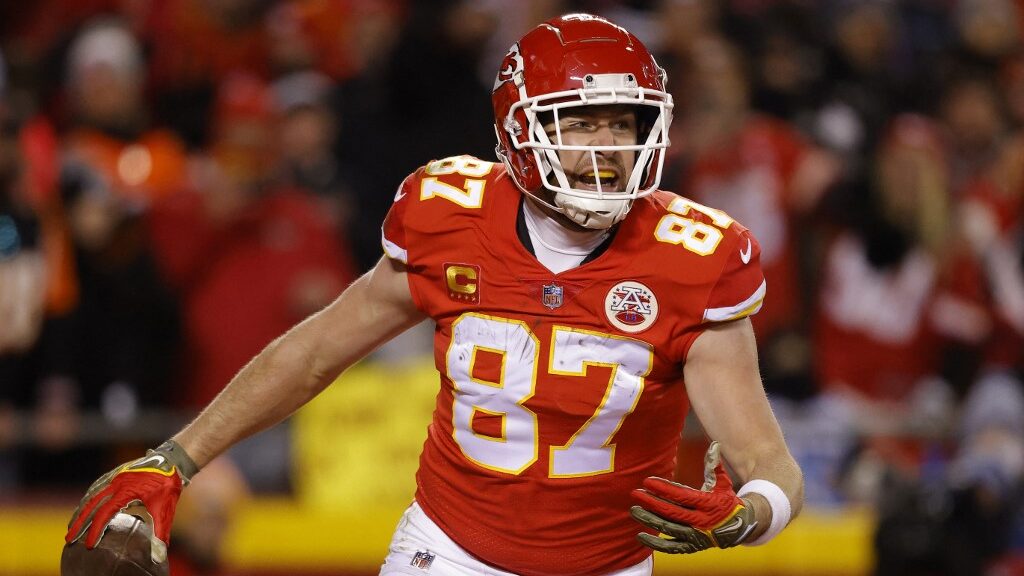 Super Bowl LVII features the No. 1 offense of the Kansas City Chiefs, led by expected MVP winner Patrick Mahomes. But the Philadelphia Eagles were No. 3 in points, yards, and first downs behind Jalen Hurts, another MVP finalist this year.
With plenty of great-skill players in this matchup, we have a rundown of the ones to watch at Missouri and Pennsylvania betting sites, including how the defenses of each team may factor into these players hitting their prop lines or not.
You can always find player props and their respective NFL odds at top-rated sportsbooks for your NFL picks.
Kansas City Chiefs vs. Philadelphia Eagles
Sunday, February 12, 2023 – 06:30 PM EST at State Farm Stadium
---
Quarterbacks
---
Patrick Mahomes (Kansas City Chiefs)
Patrick Mahomes has a strong argument for the best first five seasons as a starter in NFL history at his position. He is likely to get his second MVP award while going to his third Super Bowl and setting a record pace for passing touchdowns, passing yards, and wins.
If there is anything to knock on the resume for Mahomes, it would be his Super Bowl stat line after two games: 2 TDs, 4 INTs, 6.11 yards per pass, and a 64.2 passer rating. Those are not the usual gaudy Mahomes stats, and he has another difficult matchup in this Super Bowl with the No. 1 pass defense.
But we will see if the Chiefs can neutralize the pass rush the way they did against the Eagles last year when Mahomes threw five touchdown passes and got rid of the ball in 2.32 seconds on average, the fastest game of his career.
Mahomes is 46-4 (.920) when he releases the ball in under 2.9 seconds, but he is only 14-10 (.583) when he holds onto the ball for an average of over 3.0 seconds according to Next Gen Stats. This game could very well be decided on how well the Chiefs are scheming to get open receivers and get the ball out of Mahomes' hands so he can protect himself against a fierce pass rush.
Mahomes is attempting to become the first quarterback in NFL history to lead the league in passing yards and win the Super Bowl in the same season.
Jalen Hurts (Philadelphia Eagles)
Hurts is the wild card to this game as you don't know if he will throw for 350 yards, run for 100 yards, or struggle to pass for 200 yards again. Anything is on the table with his shoulder injury in Week 15, and he has not thrown a touchdown in three of the last four games.
He also has not rushed for 40 yards in any of his last three games, and he also failed to average better than 6.6 yards per pass in any game since his Week 18 return.
And yet, the Eagles are 3-0 with at least a 19-point lead in his last three starts. Imagine the final scores if he was playing at a high level like earlier in the season.
But Hurts rarely turns the ball over or takes bad sacks, so he has a chance to keep this game in Philadelphia's favor by not screwing things up. He also has a quarterback record for 15 rushing touchdowns including playoffs, so he does not always need to throw to be productive.
---
Running Backs
---
Isiah Pacheco (Kansas City Chiefs)
The rookie sure knows how to run hard and he has done a fine job since taking over the lead-back job from the injured Clyde Edwards-Helaire. But Pacheco did rush for 26 yards in the AFC Championship Game, his lowest output since Week 9 against a tough Tennessee defense.
But he stepped up with by far his best receiving game of the season with 5 catches for 59 yards to help the Chiefs win. He runs every carry like it will be his last, and he needs to have a big game in this one to help Mahomes slow down that pass rush.
Miles Sanders (Philadelphia Eagles)
His fourth season has been his finest yet as Miles Sanders rushed for 1,000 yards for the first time, finishing with 1,269 yards on the ground. He also found the end zone 11 times in the regular season after notoriously not scoring once in 2021 despite 163 touches. Sanders also scored a pair of rushing touchdowns against the 49ers in the NFC Championship Game.
Sanders has only surpassed 65 rushing yards once in his last six games, but he has a good chance to be the team's leading rusher in this game, if not the game's leading rusher. But no running back has won Super Bowl MVP since Terrell Davis for the 1998 Broncos.
Jerick McKinnon (Kansas City Chiefs)
With the Chiefs settling on Pacheco as the lead back, McKinnon has done a great job in his role as the receiving back. He even set an NFL record by catching a touchdown in six straight games. He finished with nine touchdown catches this season, a crazy number when you consider he had seven such scores coming into 2022.
But McKinnon is a great complement to Pacheco, and he usually plays over 40% of the offensive snaps for this team. Expect to see him make an impact in this game.
Boston Scott (Philadelphia Eagles)
The Giant Killer lived up to his reputation this year by scoring in all three games against the Giants, his mortal enemy. But Scott also scored in the NFC Championship Game against the 49ers. He only had 217 rushing yards in the regular season, but he can be an effective red-zone back for this team.
They also like to use Kenneth Gainwell, so it is really a three-headed monster in the backfield with Sanders, Scott, and Gainwell. That is not to mention the way Hurts can run the ball too.
---
Tight Ends
---
Travis Kelce (Kansas City Chiefs)
You may have heard by now that Travis Kelce is going to play against his brother in the Super Bowl, something that has never been done before. They won't see each other on the field as they both play offense, but this Kelce can become the first tight end to win Super Bowl MVP if he has a uniquely impactful performance that somehow overshadows his quarterback's job.
Kelce has had efforts like that this year, like when he caught three touchdowns to beat the Chargers in Week 11. He also caught four touchdowns in a comeback against the Raiders, though MVP voters would have a field day with that one as Kelce finished that game with 25 receiving yards.
But that is a concern this week as Kelce had just 23 yards against the Eagles last year, his lowest game in the last four years. He has at least 75 receiving yards in eight straight playoff games, which is the new NFL record by two games (and counting).
Kelce has been great this year in becoming the go-to weapon with the Tyreek Hill trade. With injured wide receivers, he is going to have to be great in this game for the Chiefs to win.
Dallas Goedert (Philadelphia Eagles)
When Goedert was injured earlier this season against Washington, the offense fell into a funk the following week at Indianapolis. Goedert and Hurts both finally got to play together again in Week 18, but he was held to 23 yards on 5 catches against the 49ers in the title game.
Goedert caught a touchdown against the Chiefs last year and can be a useful weapon in this one. But it has mostly been the wide receivers who have burned the Chiefs in the secondary this year.
---
Wide Receivers
---
JuJu Smith-Schuster (Kansas City Chiefs)
Coming over from Pittsburgh, JuJu has turned into the No. 1 wide receiver for this offense, though his presence has been inconsistent this year. He peaked early in the year when he had back-to-back 100-yard games against the Bills and 49ers, then had 10 catches for 88 yards in a comeback win over the Titans.
But thanks in part to some injuries, Smith-Schuster has been held under 40 yards in 8-of-10 games coming into the Super Bowl. He only had 1 catch for 7 yards against the Bengals despite playing 45% of the snaps before leaving with an injury.
There is optimism that Smith-Schuster can return and play in this game, but he will have a very tough matchup with these Philadelphia corners.
A.J. Brown (Philadelphia Eagles)
The trade on draft night to get A.J. Brown from Tennessee as an instant No. 1 wide receiver was a brilliant move by the Eagles. They may not be here if they did not make that move, and Brown's presence has certainly helped Hurts improve in his second full season as a starter.
But if Brown was injured in Week 18, then the Eagles might still be here as they did not need much passing in the two playoff games so far thanks to allowing 14 points. Brown only has 7 catches for 50 yards in the two playoff games, which account for two of the three times this year he was held under 30 yards. He only has one touchdown in his last six games.
Brown is too talented to not produce more, but maybe they are saving it for this big matchup.
Marquez Valdes-Scantling (Kansas City Chiefs)
Coming over from Green Bay as a mistake-prone but fast No. 2 receiver, Marquez Valdes-Scantling (MVS) has picked a great time to play his best ball for the Chiefs.
On a day when the Chiefs lost three wideouts to injury in the AFC Championship Game, MVS stepped up with his best game of the season and had 116 yards and a touchdown. He has caught a touchdown in both games this postseason.
The big plays from Mahomes to MVS have rarely been there this season, but if he can do anything close to what he did last week or when he had 111 yards against the 49ers' top-ranked defense, then the Chiefs will be in good shape at receiver.
DeVonta Smith (Philadelphia Eagles)
Smith showed improvement in his second season and actually led the Eagles with 95 catches, or 7 more grabs than A.J. Brown. Smith actually had some of his best games down the stretch when backup Gardner Minshew started at quarterback as Smith was over 110 yards in both of those games.
Smith had 2 catches for 36 yards in the NFC Championship Game, though his big catch on fourth-and-3 was a drop on further examination. The 49ers were asleep on the play and missed the challenge flag.
Surprisingly, Smith has one 40-yard touchdown in his NFL career and that was a 41-yard play against the Giants this year. He has not been the big-play threat he was in college, but he is a very good No. 2 wide receiver in this offense.
Kadarius Toney (Kansas City Chiefs)
Kansas City's talented but often injured gadget receiver is questionable to play with an injury, the story of his career.
Toney has had a few highlight-worthy plays for the Chiefs this year, but at this rate, it probably is not worth getting excited about what he might do in this matchup as he is just as likely to finish with one drop and no first downs. In fact, he dropped a touchdown in the AFC Championship Game before exiting with injury after 4 offensive snaps.
But with an injury apparently ending Mecole Hardman's season, lack of wide receiver depth is a serious issue for the Chiefs in this matchup. Anything they can get out of Toney would be nice this week.
---
Eagles' Defense and Special Teams
---
Names to Keep in Mind
If the Eagles dominate this game like the last two, it will be due to a relentless pass rush and suffocating coverage by the secondary. That has been the defense's calling card all season, and it is a surprise they did not finish higher than No. 11 in points per drive allowed after getting 70 sacks and 27 takeaways.
Haason Reddick was the free-agent prize who led the team with 16 sacks. He is just one of four players with at least 11 sacks for the Eagles this year. But Reddick has been the best of the bunch with 3.5 more sacks in the playoffs, including the strip-sack that injured Brock Purdy.
With enough edge pressures in this game against a potentially hobbled Mahomes, Reddick could even fool around and end up with a Super Bowl MVP in this one if he makes big enough splash plays.
The Eagles have those other great pass-rushing choices in Josh Sweat, Brandon Graham, Javon Hargrave, and they are still rotating in veteran greats like Fletcher Cox and Ndamukong Suh. The defensive line is stacked here.
But the secondary has been great and has allowed the fewest open receivers according to Next Gen Stats' coverage metrics. James Bradberry, a Pro Bowl snub, has been another huge first-year addition to the Eagles after he allowed just 4.4 yards per target in coverage this year.
How Do They Match Up?
The Chiefs do not have the wide receiver talent to do a great job against these corners, and MVS in particular seems like a bad matchup as the Eagles rarely allow big plays. Darius Slay also had a really good year, and C.J. Gardner-Johnson led the team with six interceptions.
If the Eagles disappoint in any area, it would be with the run defense, but when you play the Chiefs, you have to stop the pass first. This defense is built to do that well in this game.
What About the Kickers?
On special teams, the Eagles have a solid kicker in Jake Elliott, who was 5-of-6 from 50-plus yards this year and led the NFL with 51 extra points on 53 attempts. The Eagles also rank third in starting field position following kickoffs.
---
Chiefs' Defense and Special Teams
---
Names to Keep in Mind
The Chiefs still have some familiar names on this defense like Chris Jones and Frank Clark, but they have given a lot of snaps to rookies this year. That might explain why they have seen improvement down the stretch at the best time possible.
Rookie corner Jaylen Watson has been one of the standouts with an interception in both playoff games. He also had the huge 99-yard pick-six against the Chargers in Week 2.
First-round rookie corner Trent McDuffie has been more than solid this year, allowing 5.0 yards per target in the regular season and 5.5 in the playoffs.
These corners have their work cut out for them with the matchup of Brown and Smith, but they held up just enough against a better duo last time out in Ja'Marr Chase and Tee Higgins. That was also with top corner L'Jarius Sneed missing all but four snaps due to a concussion, but he has cleared the protocol and should be good to go for the Super Bowl.
How Do They Match Up?
The veterans still need to come through in this one. Clark has had some big moments in the playoffs for the Chiefs, and Jones finally got his first two playoff sacks last week against Joe Burrow. It took him 14 playoff games to finally get a sack, but he delivered on the biggest third down of the year to get his team the ball back for the win.
That is all the Chiefs really need to do in this game on defense. Play good situational defense and keep the score under 30.
What About the Kickers?
Special teams quite arguably cost the Chiefs a win against the Colts in Week 3, but kicker Harrison Butker is back and has been money for the team in the postseason. He sometimes misses some bad field goals and extra points, but so far in the biggest moments, he has been a strength.
The Chiefs also got their longest punt return of the season (29 yards) to set up the game-winning drive against the Bengals in the AFC Championship Game, but rookie Skyy Moore has had some adventures on returns this year.
Namely, holding onto the ball has been a problem. He needs to protect it better than ever in this game to not give the Eagles any cheap giveaways on unforced errors.