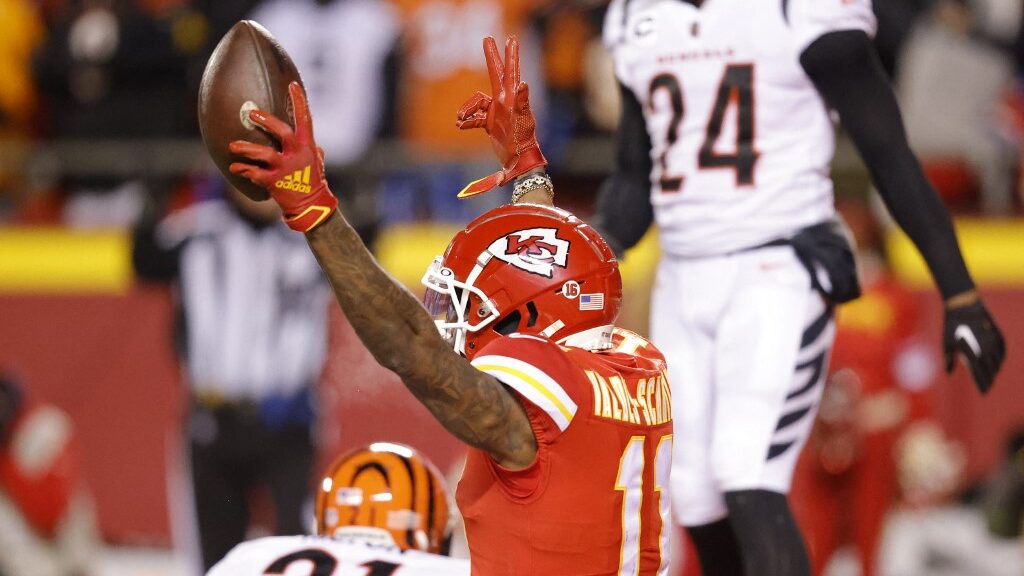 They sure didn't waste any time getting those Super Bowl props published at Bovada and the rest of Missouri and Pennsylvania betting sites. Even before the Conference Championships were over, the first props were hitting their NFL odds; hundreds more were published as soon as the Kansas City-Philadelphia matchup was made official.
It looks like Bovada (visit our Bovada Review) is still busy cranking out more props. As we go to press, there are already 40 quarterback props on the board, another 41 combined for rushing and receiving, and 57 for defense and special teams. And that's just the Super Bowl player props.
If you want to nail these props – and the spread/moneyline, for that matter – you want to know which players are hot and which are not before you make your NFL picks. Let's look at three players from each temperature range and see if we can finagle some betting value out of them.
Kansas City Chiefs vs. Philadelphia Eagles
Sunday, February 12, 2023 – 06:30 PM EST at State Farm Stadium
---
Running Backs
---
Boston Scott (Philadelphia Eagles)
He probably isn't the first player you think about when you think about the Eagles, but Scott has hit his stride at just the right time. Philly's No. 2 tailback behind Miles Sanders has found the end zone in three straight games, including both playoff victories over the New York Giants and San Francisco 49ers.
There are only a few Scott props on the board at press time, but he does have an over/under of 3.5 yards for his first rushing attempt, and Over +125 has to be tempting given Scott's 4.0 yards per carry on the season.
Jerick McKinnon (Kansas City Chiefs)
Kansas City's No. 2 RB isn't having the same success as his Philly counterpart. Thrust into this role after Clyde Edwards-Helaire went on injured reserve – and with Ronald Jones II a forgotten man – McKinnon has yet to score a touchdown in these playoffs after finding paydirt in each of Kansas City's last six regular-season games.
That single rushing yard last Sunday on four carries versus the Cincinnati Bengals doesn't bode well for Super Bowl LVII. Taking the Under on McKinnon's total of 50.5 yards seems prudent; Under 3.5 yards (-130) for his first rushing attempt makes sense, too.
---
Wide Receivers
---
Marquez Valdes-Scantling (Kansas City Chiefs)
Some people are born hot; some people have hotness thrust upon them. With so many of Kansas City's wideouts getting hurt, their nominal No. 2 WR has seen his workload increase substantially – and Valdes-Scantling has made the most of it, scoring touchdowns in each of their two playoff games.
Taking on the top-ranked pass defense on the DVOA charts at Football Outsiders won't help his cause, but Valdes-Scantling is ripe to go Over his player props – if you can find him on the board. All I'm seeing for now is an 18.5-yard total for his longest reception; Valdes-Scantling hauled in both a 29-yard catch and a 19-yard TD catch last week against the Bengals.
A.J. Brown (Philadelphia Eagles)
Well, this is a fine how-do-you-do. Brown was a big part of Philadelphia's success this year after coming over from the Tennessee Titans, but the No. 1 wideout for the Eagles has been very quiet this postseason, with a combined seven catches for 50 yards and zero touchdowns.
To be fair, the Eagles didn't have to target Brown very often after building up big leads on both the Giants and 49ers. But Brown is definitely an Under candidate for your Super Bowl receiving props, including total receiving yards (Under 71.5) and total receptions (Under 5.5 at -130 juice).
---
Kickers
---
Harrison Butker (Kansas City Chiefs)
I thought place-kickers were being treated like pariahs 20 years ago, but that's nothing compared to today. Fortunately for Butker, he's found his sea leg at just the right time, nailing all five field goals and all five PATs in these playoffs – and making a key tackle in Kansas City's Divisional Round win over the Jacksonville Jaguars.
Butker is looking at an over/under of 7.5 kicking points at Super Bowl LVII, with each side priced at -115; he might get even more FG attempts than usual if the Eagles' defense holds firm.
Jake Elliott (Philadelphia Eagles)
This is a bit unfair to the Eagles PK, who hasn't missed a kick since Week 15, but Elliott only had one attempt in each of Philadelphia's two playoff games – because they were too busy scoring touchdowns.
It could happen again on Super Bowl Sunday. Kansas City's defense just isn't all that, so consider Under 1.5 Total Field Goals (-115) for Philly, and may the prolate spheroid be with you.