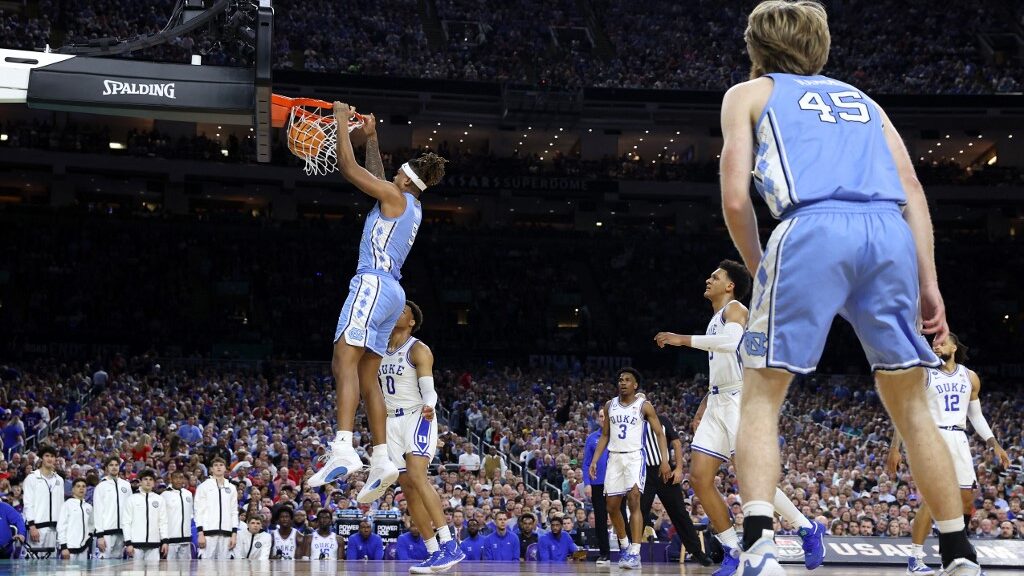 After having the most-watched Final Four game in five years with Duke/North Carolina, the numbers won't be the same without Coach K. No matter, we have a point spread and total, let's go! This plus top trends and other interesting news.
About Last Weekend…
Once again the conspiracy crowd was shot down and if they were sports bettors like us, they would have lost all their money long ago. So much for Duke being "gifted" a national championship for Coach K's send-off. North Carolina's guards were better than Duke's and that's why they are playing for the title.
We would have loved to see Villanova at full strength against Kansas. Still, the Jayhawks were regarded as the most complete team coming to the Big Easy and played like it.
Congrats to South Carolina's women's team for winning the national championship over Connecticut. The Gamecocks were the best team all year and proved it, allowing 45 PPG in the tournament. Oddly, Kentucky's men's and women's teams will have beaten both national champs this season.
With less than a week to go, the Miami Heat won back-to-back games at Chicago and Toronto and have opened up a two-game lead over their closest competitors in the East.
Trendy Talk 
NCAAB 
No. Carolina is 10-3 ATS having won eight or more of their last 10 games this season. Will this trend continue?
Kansas is 7-1 OVER after two straight games where they made 50% of their shots or better this season.
NBA
Brooklyn is 4-24 ATS as a home favorite this season. (Tuesday)
Oklahoma City is 14-2 ATS after allowing 100 points or less this season. (Tuesday)
Memphis is 16-3 OVER versus teams allowing 108 or fewer PPG in the 2nd half of the season since last year. (Tuesday)
Indiana is 16-4 OVER off an upset loss as a home favorite the last two seasons. (Tuesday)
NHL
Boston is 14-2 against teams killing power plays at a 19% or higher rate in the second half of this season.
Toronto is 1-7 in road games after a four-game unbeaten streak since last year. Tonight's matchup might change that.
Must-Watch TV
NCAAB
For college basketball's national championship we have you covered for North Carolina vs. Kansas. Do the Jayhawks make good on their No. 1 seed or does the Tar Heels' Cinderella season end up being fitted for a championship ring? Catch the best value picks and other interesting storylines right here.
NBA
With the NBA off Monday, the Tuesday slate features a dozen tilts. Of importance is Charlotte at Miami and Milwaukee at Chicago, along with Atlanta at Toronto. We have the first two covered right here for you.
NHL 
Just a four-game card on another manic Monday, but one clash is noteworthy. Toronto pays a visit to the two-time defending champs in Tampa to take in the Lightning. The two Atlantic Division foes are tied for second place and they have Boston just two points behind them breathing down their necks with 14 games left. Who has the edge tonight?
The Buzz 
Currently (1:00 EDT), the betting tickets are on Kansas in the mid to upper 50 percentile while the cash is on North Carolina in the low 50's. Obviously, a good chunk of that is basketball bettors taking the Tar Heels on the money line. The money and tickets are on the OVER at better than 70%.
For Toronto and Tampa Bay tonight, the total over started at O6 (-120) and that has been bumped to 6.5 with better than 90% of the cash and tickets on the OVER.
Eleven MLB players will make more money this year than the entire Oakland A's payroll after they traded Sean Manaea to San Diego over the weekend. This is from a team that has a franchise worth of over a billion dollars and grosses over 200 million annually in today's marketplace. They are not alone, as Pittsburgh and Baltimore have absurdly low payrolls that don't care about winning.
Carlos Beltran has been hired by the YES Network and came out saying that the 2017 Houston Astros cheating was completely true, but still was more than willing to blame others for what he was a big part of.
Out The Door 
Looking forward to tonight's championship contest. Kansas should be favored and win, however, North Carolina is the unlikely role of Cinderella as the 8th seed. The last 24 winners of this matchup are 23-1 ATS.
It is crazy how many scheduled Opening Day pitchers for baseball might not start, with the White Sox Lance Lynn the latest.
For the first time ever, a team LeBron James plays for is 16 games below .500.
Let's get some winners!