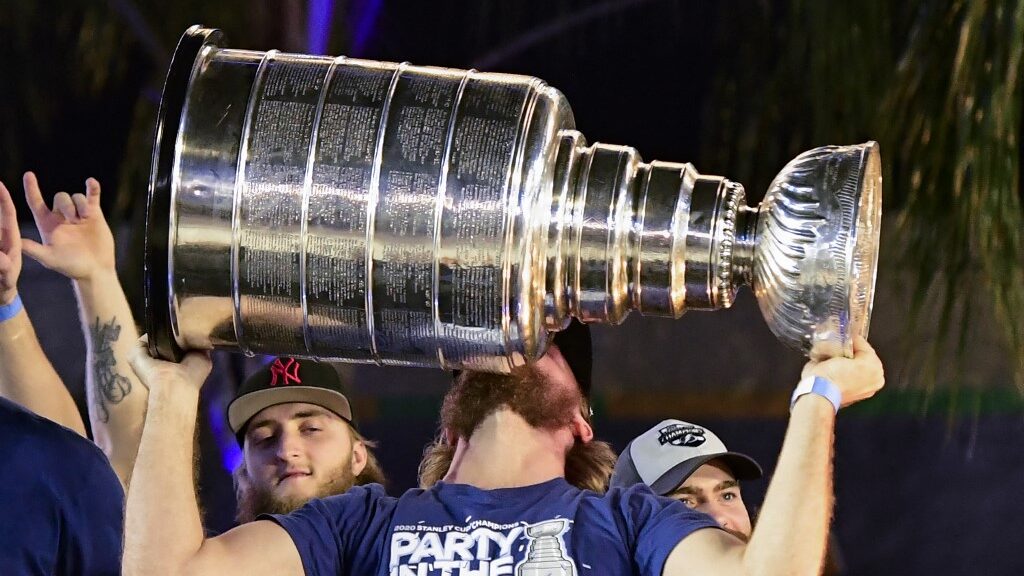 The Stanley Cup Playoffs commence on Monday and as always, we expect madness. It's Day 2 of the NBA Playoffs semifinals, let's see if it is as entertaining as Sunday. This plus, top trends, free picks, and more!
About Last Weekend…
The second round of the NBA Playoffs got off in spectacular fashion with the defending champion Milwaukee Bucks stunning Boston by 12 as five-point road underdogs. The Bucks having Brook Lopez back gives them the same formula in rim protection as last year as they shut down the Celtics near the basket.
Golden State and Memphis was a marvelous game throughout with outstanding team play and individual brilliance from the likes of Ja Morant, Jaren Jackson Jr., Stephy Curry, and Jordan Poole. It was crazy seeing Klay Thompson missing two free throws with six seconds left, but his alert help defense on Morant at the buzzer saved the Warriors.
The TV ratings were down tremendously for the NFL Draft, but there were plenty of diehards that did not want to miss a moment. This was the wackiest part of the festivities in our opinion.
Everyone seems to agree Baltimore won the draft by not only getting the right players to fill spots but doing it in a manner where "value" thinkers thought they did their homework the best.
The New York Jets were also highly regarded for their efforts, but given their draft position, they should have.
The Dolphins only had four picks and none were in the first two rounds and half of those came in the 7th round. Otherwise, nobody was impressed with what New England brought in. Our advice, wait two or maybe three years to make a final judgment.
Trendy Talk
NBA
Philadelphia is 9-19 ATS off a road win this season.
Phoenix is 27-7 ATS as a home favorite of six points or less since last year. Will this trend continue?
Boston is 9-0 ATS after scoring 95 points or less this season. (Tuesday)
Memphis is 20-7 ATS revenging a loss when the opponent scored 110 or more points. (Tuesday)
NHL 
Edmonton is 21-5 vs. division opponents this season.
Boston is 0-6 in road games revenging two straight losses by two goals or more.
Tampa Bay is 12-1 OVER in road games having won four of their last five outings.
Colorado is 12-0 in home games against good goalies saving 91.5% or more of shots against this season. (Tuesday)
Florida is 13-0 at home playing only their second game in five days. (Tuesday)
Calgary is 11-2 UNDER after allowing three goals or more in four straight contests. (Tuesday)
MLB 
Arizona is 13-55 vs. a starting pitcher who strikes out five or more batters per start since last year.
Washington is 13-1 UNDER when the total is 10 or higher.
Chris Bassitt of the Mets is 14-0 (Team's record) playing against a team with a losing record the last two seasons.
Must-Watch TV
NBA 
We have a couple of Game 1's on the docket to get the NBA Playoffs for Monday going with Philadelphia at Miami and Dallas at Phoenix. Review what our experts have to say and come back Tuesday to see if they think the Celtics and Grizzlies will rebound.
NHL 
It's opening night for the Stanley Cup Playoffs and you know the first round will deliver and be full of excitement and upsets. But where will they come from? Get the low down on the two-time defending champs Tampa Bay at Toronto and Tuesday, Nashville at Colorado from our icemen!
MLB 
With Atlanta scuffling, the New York Mets will look to increase their lead in the NL East over the Braves. We also have a fascinating series with the two best teams in the AL East, the Yankees and the Blue Jays. On Tuesday, it's the first of 19 battles between Giants and Dodgers, along with the start of the Crosstown Classic, with the White Sox at Wrigley Field.  
The Buzz 
The Stanley Cup Playoffs begin tonight. This tournament is like the NCAA men's tourney where people that don't watch or wager on hockey all year come out of the woodwork to follow this.
Colorado and Florida are the favorites but neither is great defensively. Here are the series odds from Bovada. Expect at least two upsets.
Boston Bruins (-110) vs. Carolina Hurricanes (-110)
Toronto Maple Leafs (-115) vs. Tampa Bay Lightning (-105)
Minnesota Wild (-150) vs. St. Louis Blues (+130)
Edmonton Oilers (-260) vs. Los Angeles Kings (+215)
New York Rangers (-115) vs. Pittsburgh Penguins (-105)
Florida Panthers (-380) vs. Washington Capitals (+290)
Colorado Avalanche (-750) vs. Nashville Predators (+500)
Calgary Flames (-380) vs. Dallas Stars (+290)
The city of New York has the best two in baseball and if that holds up, can you imagine the arguments in bars between Yankees and Mets fans? If both continue to stay hot, the sportsbooks' odds will start getting heavy real quick.
The Chicago White Sox were supposed to run away with the AL Central, but injuries, no help from the reserves and mediocre starting pitching has them in 3rd place trying to chase front-running Minnesota. The Twins have won nine of 10 and Carlos Correa is in the bottom half of most stats on his own team. Byron Buxton has been Minnesota's catalyst thus far and the Twinkies are 4th in baseball in runs allowed.
Out The Door 
Hockey bettors should watch for a good amount of upsets both Monday and Tuesday, with that less so for the No. 1 seeds, though that is more possible for Game 2 if they won the opener. If you were thinking Colorado is a lock to win The Cup, the President's Trophy winner (best record) has won only eight times in the past 34 years. And in the past two decades, five times this crew was eliminated in the first round!
Keep an eye on the NL West, as that division has four teams with winning records and Arizona just won a series against the Dodgers and split four with St. Louis.
Over 90% of the cash and tickets are on the Twins today to beat Baltimore.
Who Is Right?
The Mets are hosting Atlanta and over 80% of the betting slips are on the OVER. But not so fast, more than 60% of the money is riding on the UNDER, suggesting wise guy cash.
Let's get some winners, see you back here Wednesday.