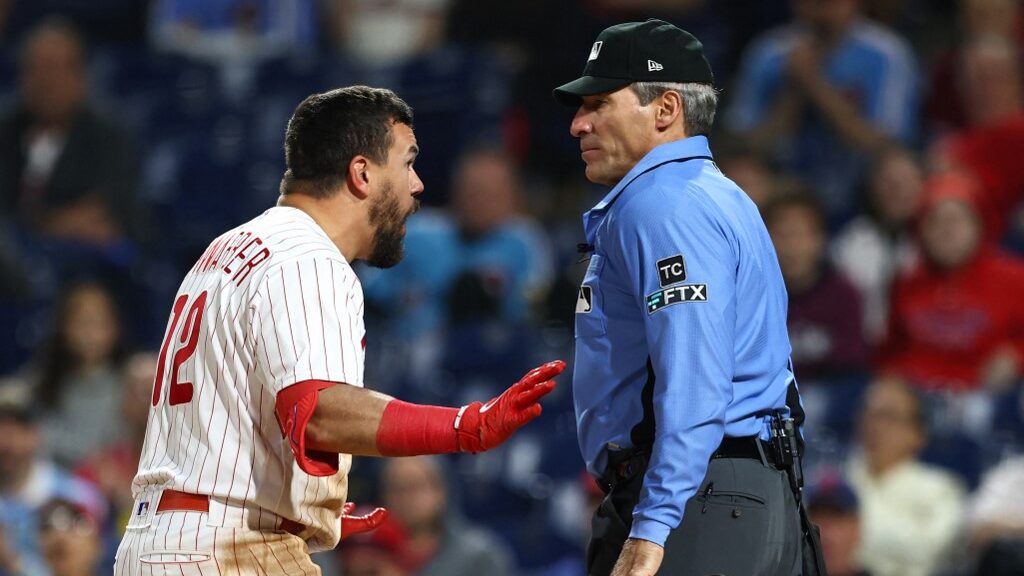 We have considerable separation in many NBA 1st Round series and many should be wrapped up quickly. Others will continue starting tonight. Baseball heads towards the end of the month and we have a weird totals trend along with NFL Draft tidbits.
About Last Weekend…
Philadelphia might have lost Game 4, but like Milwaukee, Golden State, Miami, and Boston, they appear ready to close out their series in five games or less. Have to admit, we loved the grit from Toronto and Denver to avoid being swept, unfortunately, it will not matter.
Utah and Dallas have been as good as advertised as have Memphis and Minnesota. The Mavericks can advance as long as Doncic scores and is handing out dimes because the Dallas defense is more than good enough to keep the Jazz off-key. The Grizzlies and T-Wolves are about mental engagement and these young teams are having a problem staying in the moment, which will be their undoing ultimately in the playoffs.
While Kevin Durant and Kyrie Irving are great individual talents, they cannot lead a team to the NBA Finals. When Blake Griffin comes off the bench (making his first appearance in the series) and is your best hustling player on the floor in a must-win Game 3, coach Steve Nash has a big problem.
Congrats to Miguel Cabrera for joining the 3,000 hit club. He's also just the 7th player to do it with 500 home runs and third with a .300 batting average.
The Cincinnati Reds ended their 11-game losing streak Sunday, knocking off St. Louis 4-1. The Reds streak was also notable for baseball betters because they were also 0-11 on the run line.
Trendy Talk
NBA
Brooklyn is 6-18 ATS home games when playing against a team with a winning record this season.
Philadelphia is 19-7 OVER after scoring 105 points or less in two straight games the last three seasons.
Dallas is 11-2 ATS as a home favorite of six points or less. Here are some great player prop bets.
Phoenix is 13-0 ATS revenging a straight-up loss as a road favorite since last year. (Tuesday)
Atlanta is 0-10 ATS in road games when playing against a good team (Win Pct. 60% to 70%). (Tuesday)
NHL 
Philadelphia is 11-4 OVER vs. teams outscored by 0.65+ goals a game this season.
Anaheim is 0-14 after a blowout loss of three goals or more. (Tuesday)
Vancouver is 13-1 OVER after scoring three goals or more in three straight games. (Tuesday)
MLB 
Arizona is 17-54 vs. NL teams allowing 4.0 or less RPG since 2021.
Boston is 8-0 UNDER after a loss this season. Read our expert pick.
Kyle Gibson and Phillies are 7-0 at home when playing against a team with a winning record.
San Francisco is 35-11 vs. teams averaging 0.9 or less HR's/game the last three seasons. (Tuesday)
German Marquez and the Rockies are 16-9 (+12.4 Units) as an underdog of +100 or higher. (Tuesday)
Must-Watch TV
NBA 
We kick off a new week with Philadelphia and Boston looking to wrap up their series, though the 76ers task might be easier playing at home. Yet, that comes with a bigger point spread. Utah's at Dallas for a crucial Game 5. 
NHL 
Monday's Flyers vs. Blackhawks matchup is gambling degenerates special as the lone game. Tuesday, the Hurricanes at Rangers battle could decide the Metropolitan Division and look for our top parlay pick.
MLB 
The Boston Red Sox opens a four-game series in Toronto as they continue their 10-day road trip. Also on Monday, first-place teams, the Mets and the Cardinals, open a three-game series.  On Tuesday, we have a brief two-game battle in the Bay Area with Oakland at San Francisco.
The Buzz 
If you missed the Phillies' Kyle Schwarber's volcanic explosion, it was epic. Angel Hernandez is the worst umpire in baseball by a sizable margin and all Schwarber did was what almost any pitcher or hitter would like to do, say enough of this garbage. The umpire's union is too strong and gutless to keep Hernandez around. More indirectly, MLB bettors are impacted in any game Hernandez is behind the play, especially on totals.
We know Devon Booker is a big part of the Suns' offense. However, we were mystified how Phoenix made 11 total threes in two games at New Orleans when they averaged a dozen a contest. It's not like the Pelicans are known for their perimeter defense, ranked 22nd in long-distance field goal percentage. Maybe the Suns' players are putting too much pressure on themselves, stay tuned with this 1 vs. 8 series tied 2-2.
Baseball is using a Humidor for all teams, not just Colorado and it appears the results are startling. As of today, this MLB season: 133 UNDERS – 87 OVERS.
After months of hearing Aiden Hutchinson was a lock for the No. 1 pick in the NFL Draft, he no longer is. He's been replaced by Georgia's Tavon Walker, who has betting odds of -180, with Hutchinson second at +155 according to Bovada.
Out The Door
Sunday, we had a rare Run Line winner in extra innings for Minnesota after they had allowed a run to score in the 10th, to trail 4-3. The Twins had two runners on in the bottom of the inning against Chicago's Liam Hendricks when Byron Buxton went deep for a three-run bomb for a Minny sweep of the slumping White Sox.  Buxton's shot traveled 469 feet, the longest walk-off HR in MLB over the last 15 seasons.
With the advancements in technology, the best way to bet on the NFL Draft is live betting, so you don't get screwed by a surprise trade on draft day.
The Dodgers vs Diamondbacks Game 1 total tonight has blown up from 8 to 9. Last night, more than half the money was on the Under, now 75% is on the OVER.
Let's get some winners, see you back here Wednesday.