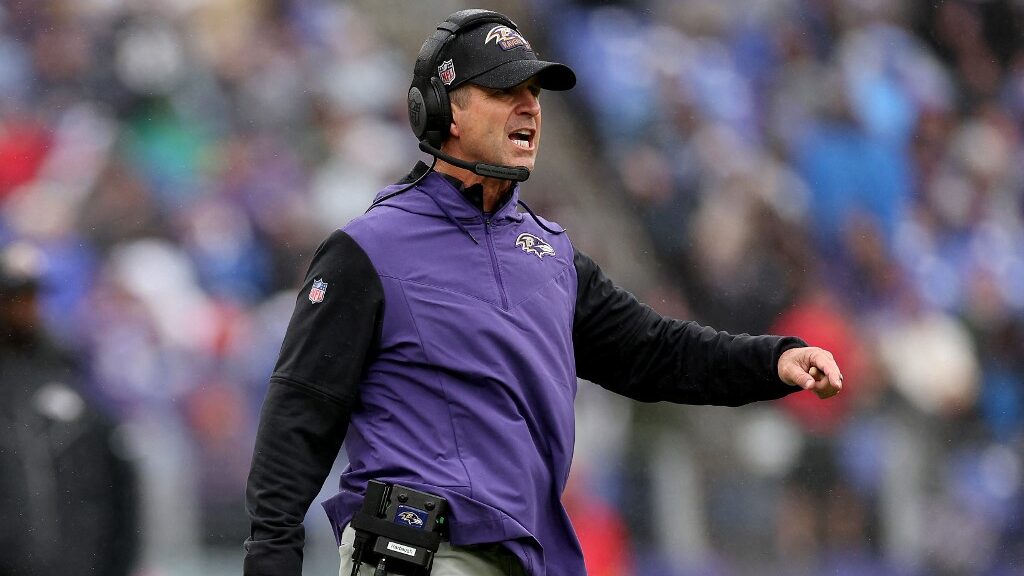 Let's face it, coming back on Monday after a football weekend, we could write 10 interesting stories from the weekend.
We do our best to find the most fascinating of the bunch, which includes John Harbaugh of Baltimore making more excuses for "what the analytics say."
The Detroit Lions are off to a historic start (and it's only half good). Plus, the St. Louis Cardinals are all class, and watch what a cougar and pushups have in common!
---
About Last Weekend…
---
NFL: Baltimore Ravens
The Baltimore Ravens led Buffalo by 17 points this Sunday and lost and two weeks prior had Miami down 21 and found a way to lose.
With a chance to take a 23-20 lead on 4th and goal inside the five-yard line with just over four minutes left in the contest, coach John Harbaugh decided to go for the touchdown after his team had driven 93 yards. Lamar Jackson's pass was picked and Buffalo took the ball and later made a game-winning field goal for their only lead of the contest.
Harbaugh said in his press conference afterward that he was going for the win and did not want to lose if Buffalo came down and scored a touchdown. Sounds like he didn't trust his defense. At least any Ravens fan that bet their team before Sunday got the cover at +3.5.
NFL: Detroit Lions
The Detroit Lions had two key offensive players out against Seattle and slipped from -4 to -3 at most sportsbooks at kickoff. Knowing this, what size of bet would you have made if you knew the Lions would score 45 points Sunday afternoon?
Detroit has no defense and lost 48-45, and they are the first team to score and allow 140 or more points in the first four weeks of the season.
NFL: Kansas City Chiefs
The Chiefs manhandled Tampa Bay 41-31 as Patrick Mahomes was spectacular.
NCAAF: Oklahoma Sooners
TCU exposed what we thought: Oklahoma's defense is not very good. The Horned Frogs scorched the Sooners for 51 points this past week after they had allowed 41 to Kansas State.
New coach Brent Venables was supposed to walk right in and take over Oklahoma, but obviously, this program has holes and only time will tell if Venables is the man for the job.
NCAAF: Georgia Bulldogs
Georgia was flatter than a tire with four nails in at Missouri and needed a big comeback to win 26-22 as 30.5-point road favorites in Columbia.
We've all been a little surprised at how well they have played this season. With only Auburn and Vanderbilt on deck, we really won't have a great feel about the Bulldogs until they face Florida (10/29)
---
Trendy Talk
---
MLB
Boston is 3-25 playing against a good team (Win Pct. 54% to 62%) in the second half of the season.
Baltimore is 56-46 (+33.7 Units) vs. a team with a good bullpen whose WHIP is 1.25 or better.
Houston is 22-7 under after scoring three runs or less in two straight games.
Detroit is 25-8 under as a road underdog of +200 or more since last year.
Dean Kremer and the Orioles are 12-2 (+13 Units) when the total is 7 to 8.5.
NFL
San Francisco is 24-7 ATS off an upset loss as a road favorite.
Indianapolis is 14-4 ATS when playing on a Thursday.
Arizona is 0-8 ATS at home after outgaining foes by 100 or more total yards in their previous game.
Detroit is 3-12 ATS in road games off a close home loss by three points or less.
NCAAF
SMU is 14-32 ATS in road games vs. teams scoring 31 or more points a game. (Wednesday)
Rutgers is 1-9 ATS at home against conference opponents since 2020. (Friday)
UNLV is 1-9 ATS in road games off a win by 10 points or more over a conference rival. (Friday)
Pittsburgh is 11-0 ATS after two consecutive games where they forced no turnovers.
---
BMR's Betting Pulse
---
NFL
We have tonight's big Rams vs. 49ers matchup broken down and start looking ahead to Week 5, starting with Thursday's battle of the horses, the Colts vs. Broncos.
Additionally, the Giants vs. Packers in London, the Bengals and Ravens for Sunday night football and early value plays.
MLB
Just three days left in the regular season and we have free daily picks on the moneyline, run line, and totals.
NCAAF
Though it is hardly a marquee game based on the season, Texas and Oklahoma in the Red River Rivalry is always great viewing for the pageantry and we have that broken down.
We also begin trying to figure out disappointing Texas A&M vs. Alabama, Tennessee vs. LSU, and our top picks and early value picks.
Note: Review all our popular prop plays in all the sports.
---
The Buzz
---
NFL: Sportsbooks Take Loss in NFL Week 4
The sportsbooks had their first losing NFL Sunday of the season thanks to wins by Dallas, Arizona, and Las Vegas.
The blow was softened by having a very good Saturday in college football and at last report, no sportsbook went out of business and they are taking bets for Monday Night football. (wink wink)
NFL: Prop Bettors Backing Kicker
As reported by David Purdum of ESPN, there was a rash of prop bets on Raiders kicker Daniel Carlson for OVER 1.5 field goals against Denver, which was a winner. Get the story.
NCAAF: Better to Be Lucky Than Good
At a well-known sportsbook in New York, a customer made a two-leg money line bet on Florida International to upset New Mexico State (-15) and Georgia Tech to upset Pittsburgh (-21.5) with a $10,000 wager. Taking that against the spread would take guts, let alone the ML.
But with betting odds of +500 on FIU and +1,050 on GT, this bettor won $680,000.
---
Football Focus
---
NFL – Packers' London Debut
The Green Bay Packers are making their London debut and they are the last of 32 teams to make the trip, which began in 2007.
Here is the crazy part, their matchup with the New York Giants will mark the FIRST TIME two clubs flew across the Atlantic with a winning record. The Pack opened as a 7.5-point favorite.
NCAAF – A Fun Game and a Not-So-Fun One
If CBS could, they would love to get out of their Texas A&M at Alabama prime-time matchup. The Aggies are a massively disappointing team and they are a +24-point road underdog in Tuscaloosa.
The most fun game of Saturday is No. 17 TCU at No.19 Kansas, both of whom are unbeaten. ESPN GameDay is going to Lawrence and the Jayhawks at this moment are +6.5 point home underdogs.
---
Out The Door
---
NCAAF – Wisconsin Fires Head Coach
With a 2-3 record after being soundly beaten by perennial loser Illinois 34-10, Paul Chryst was fired Sunday by Wisconsin. The Badgers have looked dull in Chryst's eighth season and by all appearances, the recruiting is down some, especially in the offensive and defensive lines, annually a Badgers strength.
Nonetheless, Chryst's 67-26 record should have had enough capital to complete the season and be reviewed afterward. Maybe losing to former head coach Brett Bielema was more than they could stomach in Madison.
Also canned was Colorado coach Karl Dorrell. While he's not done a good job, everyone in the athletic department should be fired for thinking they have a football culture the likes of USC, Oregon, Washington, or even Utah. It starts at the top for all the failures.
MLB – The Cardinals Way
Say what you will about the St. Louis Cardinals, they almost always do things the right way. In their final regular season home game, they started Adam Wainwright, Albert Pujols, and Yadier Molina.
They sent them out the right way.
NCAAF – BYU's Mascot Has Some Moves
Think you are in great shape? Try this.
---
Who is Right?
---
The Los Angeles Rams opened as +1.5 point road underdogs at San Francisco and as of today that has climbed to -2. This is despite wagers placed and the money on L.A. on the low 70s percentile.
Let's get some winners! See you back here Wednesday.