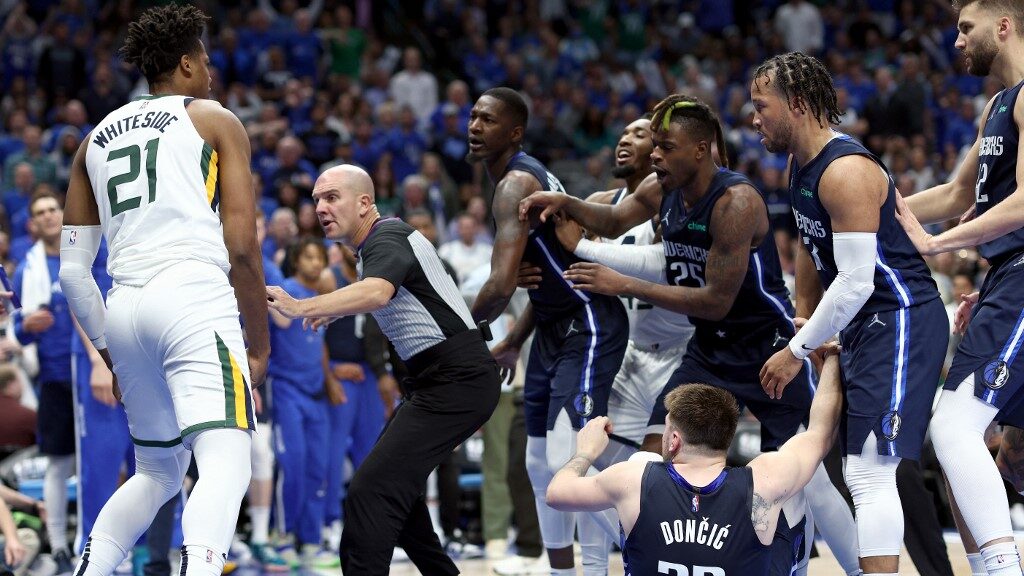 The NBA Playoffs are one or two games from the conference semifinals. The NFL Draft continues tonight and Saturday after Thursday's Round 1 selections. That plus free picks and top trends and a look at the Angels home run celebration.
About Last Night…
In a couple of instances, it was not easy, but every favorite came away with a win in the their respective Game 6 of the NBA Playoffs. Philadelphia buried Toronto with a 70-36 second half and will face Miami starting Monday.
Phoenix and Dallas made their shots in the final minutes to hold off New Orleans and Utah respectively. The Suns shot 50 percent or higher in every playoff game against the Pelicans. The Mavs covered their last five contests against the Jazz. Phoenix and Dallas will also face off Monday.
Today, all NFL teams think they are geniuses for who they took in the first round of the NFL Draft. For now, they are not wrong. With the money, wide receivers are getting that makes them a seemingly valuable commodity. Then why are other teams so willing to trade them? Baltimore trading Marquise Brown and Tennessee moving A.J. Brown are the latest examples of this new trend from last night.
Malik Willis was the betting odds favorite to be the first quarterback taken, but Pittsburgh grabbed Kenny Pickett whom they have seen regularly playing at Pitt. Interesting to note, Pickett, a rookie, is less than two years younger than Buffalo's Josh Allen, who will be starting his fifth season.
Asking for a friend: How do you not bet against the Cincinnati Reds until they win two games in a row?
Trendy Talk 
NBA
Memphis is 16-4 OVER in a road game where the total is 220 to 229.5 this season. What do our experts like?
Milwaukee is 2-13 ATS  in road games in the first contest of a playoff series. (Sunday)
NHL 
Arizona is 0-9 in home games having lost 15 or more of their last 20 games.
Anaheim is 1-18 playing against a team with a winning record in the second half of the season.
Edmonton is 11-0 in home games off a home win scoring four or more goals.
MLB
Baltimore is 5-39 after a five-game span where the bullpen ERA was 6.50 or higher the last two years.
San Francisco is 29-5 vs. NL teams allowing 5.0 or more runs a game. How will they fare tonight?
Detroit is 17-4 UNDER as an underdog of +200 or more.
Milwaukee is 11-1 UNDER after a win this season.
N.Y. Yankees are 10-0 UNDER when the total is 8.5 to 10 this season.
Must-Watch TV
NBA 
It's Game 6 with Memphis at Minnesota, with the Timberwolves trying to force a Game 7 Sunday. On Sunday, it is Game 1 with Milwaukee at Boston in what should be a great series. Get the inside scoop on both matchups.  
NHL 
We have Boston at Toronto covered and it matters, which we will explain below. Review this free pick along with today's top prop plays.
MLB 
A fun series between the Phillies and Mets starts tonight and we are on it. Also, will the Dodgers break out of their mini-batting slump versus Detroit tonight? Washington visits San Francisco and will the Nationals win another game this season? We have the answers to both questions along with a parlay to ponder.
SOCCER 
What are the Best Bets for this weekend? Click to find out!
The Buzz 
With Elite 8 all but set for the NBA Playoffs, here are the latest odds from Bovada on the three series we know.
Boston –210 over Milwaukee +175
Miami -175 over Philadelphia +150
Phoenix -290 over Dallas +240
With the NBA first-round nearly complete, here is some trendy talk about the results.
Favorites are 35-13 SU and 28-20 ATS
Favorites of 1-3 Points – 12-5 SU and ATS
Totals – UNDER's 32-16
Totals – 210 to 219.5 12-4 UNDER
Totals – 220-229.5 13-6 UNDER
The Los Angeles Angels sit atop the AL West and they are tied for the 6th best team to bet so far this season. Teams in the Majors are creating their home run celebrations in the dugout and the Halos have one that few players even on the team know its origin, The Cowboy Hat. 
Gene Autry was a famous singer, movie actor and television star starting in the 1930s. He became a very wealthy man and then bought the Anaheim Angels. He passed away in 1998 and was a beloved figure and when the Angels won their first and only World Series in 2002, star player Tim Salmon dawned a cowboy hat in the celebration to honor Autry. A great gesture to honor the former owner who loved the Halos.
Out The Door 
Tonight's Game 6 with the Grizzlies at Timberwolves is close to even on the cash and bets made. We agree and think it should be a fantastic ballgame.
Baseball bettors evidently have complete faith in the Padres Yu Darvish on the road in the Steel City with better than 80% of the money on San Diego and +90% of the money.
The betting public as of 1:15 ET is leaning with the Phillies Aaron Nola and the Mets Tylor Megill to just squeak out an Over with bets running the mid-50 percentile. Sharper bettors disagree with more than 90% of the money on the UNDER. Keep an eye on this one.
Tonight's hockey, if Boston wins and Tampa Bay loses, the Bruins jump to 3rd place and the Lightning is a wild card team. If Minnesota gets a win or OT loss vs. Colorado, they will have won home ice advantage over St. Louis.
A Wild setback and a Blues victory propels them into 2nd and they will hold home ice in the first round of the playoffs. If Pittsburgh scores a point this evening, they take the 3-seed in the Metro. A Pens loss and a Washington triumph would have the Capitals jumping the Penguins.
Lastly, if you want to win a bet today, ask knowledgeable NHL bettors when the regular season ends. Ninety percent will say tonight, but Winnipeg and Seattle have a makeup game on Sunday.
Let's get some winners, see you back here Monday.