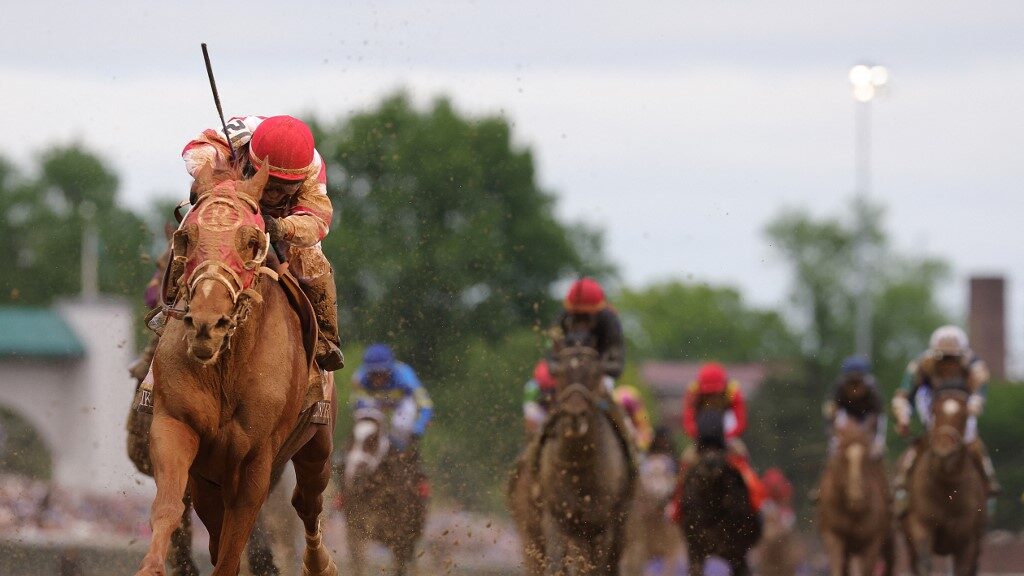 We told you it was going to be a wild weekend in sports and it sure was, highlighted by the Kentucky Derby. We expect a calmer start to the week and we'll get you started in all aspects.
About Last Weekend…
There might be other things of interest to readers than the Kentucky Derby, but this is the story of the year, case closed. 
On Friday morning, Rich Strike was the alternate horse. Saturday evening he was an 80-1 longshot that won the Derby. Jockey Sonny Leon was racing at a no-name track in Cincinnati on Friday afternoon when he got the news to come to Churchill Downs to saddle up on Rich Strike thanks to a scratch.
After not winning five straight races, Rich Strike was a mere $30,000 claimer. If you watch the race on video and a well-known jockey rode that race and correctly seized every opportunity they would be singing his praises. Instead, an unknown jockey, horse, owner, and trainer had the two-plus minutes of their lives and if you watched it, you will never forget it.
No movie studio would have taken such a story until it happened in real life.
Also, in what should have been a huge win for betting outlets everywhere with almost every exacta, trifecta, and superfecta a loser, there were enough "what the hell" bettors that took the second-best long shot in Derby history that cut into the profits.
The biggest takeaway from Dallas beating Phoenix twice on the money line, they were tougher. The Suns generally don't respond well to rough play and what Dallas did was take a page out of what Milwaukee did in last year's finals, and bring the rough stuff. Chris Paul was a no-show and if the Suns expect to win a title, he has to be there nightly.
With Miami losing twice to Philadelphia, starting to wonder if there is a great team in the NBA this season. There seems to be less separation among the eight teams remaining than in recent history. Oh, and there was a James Harden sighting.
Trendy Talk 
NBA
Boston is 17-6 ATS playing against a team with a winning record in the second half of the season.
Golden State is 15-5 ATS in home games after a win by 10 points or more this season.
Miami is 10-2 OVER when playing with double revenge. (Tuesday)
Phoenix is 10-1 ATS revenging a loss of 10 points or more. (Tuesday)
NHL 
Florida is 12-1 after scoring one goal or less in their previous game.
N.Y. Rangers are 9-1 revenging a road loss this season. Take a look at our expert pick.
Calgary is 5-0 OVER in road contests avenging a loss of two goals or more.
Toronto is 11-2 in home games playing against a good team (Win Pct. 60% to 75%). (Tuesday)
Carolina is 9-2 OVER revenging a road loss by two goals or more. (Tuesday)
Edmonton is 20-7 off a road loss by three goals or more. (Tuesday)
MLB
San Francisco is 41-9 vs. a team with a bullpen whose ERA is 4.70 or higher since last year.
Arizona is 12-4 (+13.3 Units) vs. a team with a bullpen that converts on 75%+ of their save opportunities.
Cleveland is 10-1 (+11.2 Units) vs. teams whose hitters draw three walks or less a game.
Detroit is 22-6 UNDER after four or more consecutive Unders the last two seasons.
Must-Watch Tv
NBA 
Does Milwaukee and Golden State go up 3-1 in their series Monday? Or is there an upset in the making? Find out and review betting props. Come back Tuesday to see if the Suns are rising or setting and has Miami run out of heat?
NHL 
The New York Rangers need a road win to even the series against Pittsburgh tonight. We also have a Game 5 prediction on Tampa Bay at Toronto Tuesday.
MLB 
Tampa Bay is having a great road trip and their next stop is against the first-place L.A. Angels Monday. Also to start a new week, we are tracking the best division in baseball, the NL West and we are following the exploits of Colorado at San Francisco. Read these and get our daily MLB prop picks.
The Buzz 
To this point of the Conference Semis in the NBA Playoffs, home teams are dominating at 12-2 SU and 11-3 ATS. Also, favorites of 3.5 to 6 points are 4-1 SU and ATS this round and 14-6 SU and 13-7 ATS altogether.
Favorites of 6.5 to 9.5 are a perfect 3-0 SU and ATS in the semi-finals. Also, Under's in the 210 to 219.5 range are 7-2 in the second round and 19-6 Under in the postseason.
The opening games of the Stanley Cup have gone about as planned as underdogs have won 13 of the 28 contests played and are +4.4 units to date.
With more people and sports bettors watching the NBA Playoffs, referees are under greater scrutiny. Have there been bad calls or at least questionable ones, for certain. How charges are called at all levels of basketball is different, which leads to more foul calls. But we should not lose sight of players being taught and trying to draw fouls.
Players getting a half step on who is guarding them instead of taking a line to the rim, now regularly run right into who is guarding them. Basically, coaches are saying – let the refs decide if it's a foul – and those types of calls lead to inconsistencies.
Breakup the Cincinnati Reds! The Reds won a series against Pittsburgh over the weekend, "lifting" their record to 5-23.
Out The Door 
We were about to be critical of the sportsbooks because the money lines seem unusually high for this early in the season. All the -170 to -200 money lines are hard to bet favorites because of the risk/reward. Yet, when you look at the standings, there are already seven teams with a win percentage of .360 or lower.
That's a lot of bad baseball being played and you either are forced to back the run line or lay the heavy price with the faves. Tough choices.
Almost forget, we know someone in Vegas who bet Rich Strike across the board for $20 on Win, Place and Show and won $2,600. Better to be lucky than good.
The Los Angeles Dodgers have the best record in the National League and every victory has also covered the run line.
Toronto is 17-13, but they have a -10 run differential thanks to their bullpen just killing them this season. Also, after scoring 20 runs in their opening series, the Blue Jays have averaged 3.5 RPG since.  
Since scoring 21 runs against Pittsburgh on April 23, the Chicago Cubs have totaled 22 runs in their next dozen ball games. With that, the Cubs are drawing below 20% support on bets and money as they start a series in San Diego.
Let's get some winners, see you back here Wednesday.