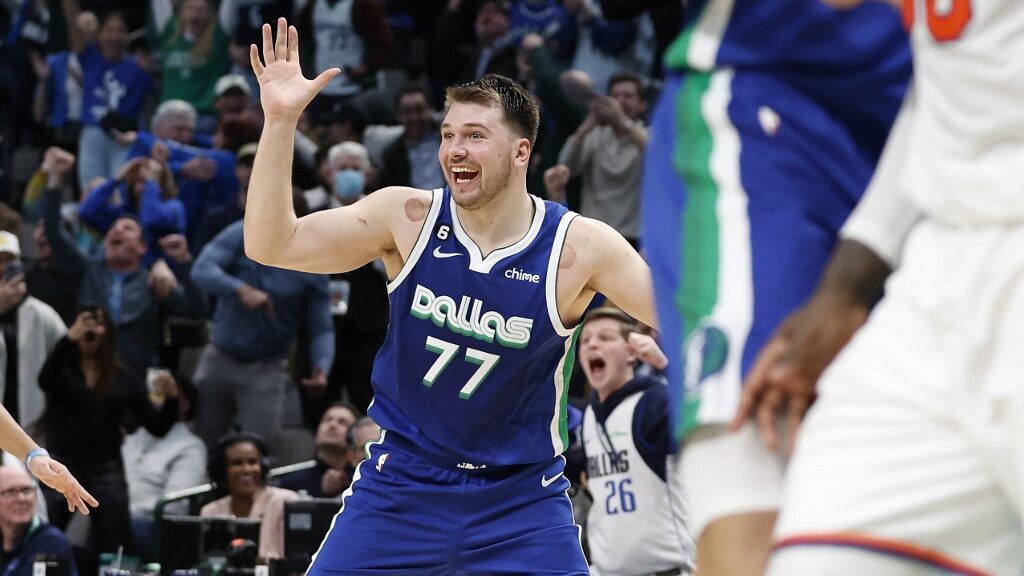 What Luka Doncic did last night was carry his team to an unfathomable victory, somehow, over the New York Knicks. It was – historic – in every sense of the word and we share the news.
Are you following all the bowl game trends? We are and have the latest updates which are more trustworthy than a George Santos resume. This along with thought-provoking info about the Dallas Cowboys and Ohio State Buckeyes football. We wrap it up with our outstanding trends and where to find free picks.
---
About Last Night…
---
NBA
Luka Doncic made history last evening becoming the first player to ever score 60 points, 20 rebounds, and 10 assists in their very unlikely win against New York. How unlikely you ask, according to the Twitter handle @ESPNStatsInfo, there had been 13,884 games in which an NBA team was trailing by at least nine points with 35 or fewer seconds remaining and won the game. Now, this stands at 1-13,884 after two decades.
Luka put the perfect bow on his performance in the post-game interview.
Still, one thing Luka could not do was have his team cover the -5.5 point spread in the 126-121 stunner over the Knicks.
NCAAF Bowls
The only big surprise of the Bowl games on Tuesday was Georgia Southern losing to Buffalo 23-21 as 5.5-point favorites. The biggest story by far of the bowl season is all the low scores. Three of the four contests went UNDER and UNDERS are 14-7 to date.
NHL
There was a deep 11-play card in hockey last evening and there were five outright upsets with Arizona the most shocking, beating Colorado 6-3 as +190 home underdogs. The Coyotes are playing in their temporary (or only home with no new stadium deal yet) home that seats just 5,000, yet, they are 6-5 SU there compared to 6-16 on the road.
---
Trendy Talk
---
Bowls (Listed in order of time each day)
Arkansas is 12-3 ATS off an upset loss as a road favorite.
North Carolina is 0-6 ATS in away games after allowing 6.25 or more yards a play in last outing.
Ole Miss is 12-3 ATS in away games off an upset loss as a home favorite.
Minnesota is 14-4 UNDER after one or more straight-up wins. (Thursday)
Texas is 0-6 ATS vs. teams averaging 275 or more passing yards a game. (Thursday)
Maryland is 3-14 ATS away after three consecutive games forcing one or fewer turnovers. (Friday)
Pittsburgh is 25-12 OVER the last three seasons. (Friday)
NBA
Golden State is 28-10 ATS in home games playing against a team with a winning record.
L.A. Lakers are 0-8 ATS in a road game when the total is 220 to 229.5 this season.
Brooklyn is 14-4 OVER in road games after two or more wins.
Chicago is 6-20 against the 1st half line when playing against a good team (Win Pct. 60% to 70%).
NHL
Seattle is 7-0 after a game where both teams scored four goals or more.
Vegas is 10-2 at Anaheim.
New Jersey is 3-8 (-10 Units) in December games this season.
NCAAB
Bradley is 0-10 ATS in road games after allowing 25 points or less in the first half of last outing.
UNC-Wilmington is 21-5 ATS after two or more wins.
Xavier is 0-9 ATS off a win against a conference rival.
Mississippi St. is 11-1 UNDER in all games this season.
NFL
Dallas is 10-0 ATS after allowing 6 or more yards a play in their previous game. (Thursday)
Detroit is 9-0 ATS vs. teams allowing 5.65 or more yards a play in the second half of the season since last year.
San Francisco is 8-0 ATS after allowing 99 or less rushing yards in four straight games since last year.
Kansas City is 1-9 ATS against conference opponents this season.
---
BMR's Betting Pulse
---
Bowls
We've reached the halfway point of the Bowl Season and over the next two days, we have seven bowls with complete previews and free picks.
NBA
Review our Spread, Money Line, and Totals free picks for Wednesday and Thursday along with those that have parlay potential.
NCAAB
Starting this Wednesday and going forward, conference play starts to kick into gear and we have daily free NCAAB picks.
NHL
Check out our top player's props for tonight, including a look at Steven Stamkos.
NFL
We forge ahead to Week 17 starting with the Cowboys at Tennessee on Thursday. We will also cover all 15 other contests and let you know who should be on Upset Alert!
---
The Buzz
---
NCAAF Playoffs – A Lot of Buzz for Buckeyes
Despite a great deal of talk in the media and where football bettors chat that Ohio State cannot only cover the +6.5 and possibly even upset Georgia, 70% of the cash and 75% of bets placed are on the Bulldogs at most online sportsbooks.
NFL – Tua Tagovaila
There should not be anyone that thinks Tua Tagovaila should play another snap this season. Hopefully, we are wrong, but it seems like his career might ultimately be cut short by concussions.
Bowls – Betting
For today and Thursday, the top 2 bets on money are Holiday and Liberty bowls to go OVER. The most popular bets for wagers are Florida State and Washington against the number.
---
Football Focus
---
Bowls – Careful, Think Twice About the Ducks
Oregon is a 13-point favorite over North Carolina and for the most part, it is justified. Just know this.
Bowls – The 70s Are Not What You Imagine
Today we have our first two bowls with totals in the 70s: the Holiday Bowl and the Texas Bowl. In the last 10 bowlers with totals that were in the 70s, the UNDER is 6-2-2.
NCAAF – Bowl Games Betting Trends (Thru 12/27)
Favorites are 13-8 SU and 10-11 ATS
Underdogs of 3.5 to 7 points are 8-4 ATS
Favorites of 7.5 to 10 points are 3-0 ATS
Totals – 14-7 UNDER
Totals – In the 50s, 8-3 UNDER
Bowls – Betting Info
Bowl Angle: Teams that improved by 6+ wins from the prior regular season are on a 13-6 ATS (68.4%) run in bowl games as underdogs.
Qualifying teams: Tulane, TCU and Washington
---
Out The Door
---
The Dallas Cowboys' defense has not shown well of late in conceding 32.3 PPG in their past three outings. Before writing them off, know that they are the only team in the NFL with three wins against teams with at least 11 wins. (Eagles, Vikings, and Bengals)
You might also want to catch some college hoops tonight with several excellent games besides the bowls.
Tennessee (-7.5) at Ole Miss, 5 (SECN)
Villanova at UConn (-12), 6:30 (FS1)
Kentucky (-3) at Missouri, 7 ET (SECN)
Florida at Auburn (-5.5), 7 (ESPN2)
Arkansas (-4) at LSU, 9 (ESPN2)
Xavier (-2) at St. John's, 9 (FS1)
Alabama (-1) at Miss St., 9 (SECN)
Colorado St at New Mexico (-5.5), 9 (CBSSN)
---
Who is Right?
---
Tonight we have an SEC showdown on the hardwood with Florida at Auburn. The Tigers opened as a 5-point home favorite and they were nudged to -5.5 with 65% of the wagers backing them. The money is a different matter however with 65% of the cash on the Gators. How will you view this SEC contest?
Let's get some winners! See you back here Friday!