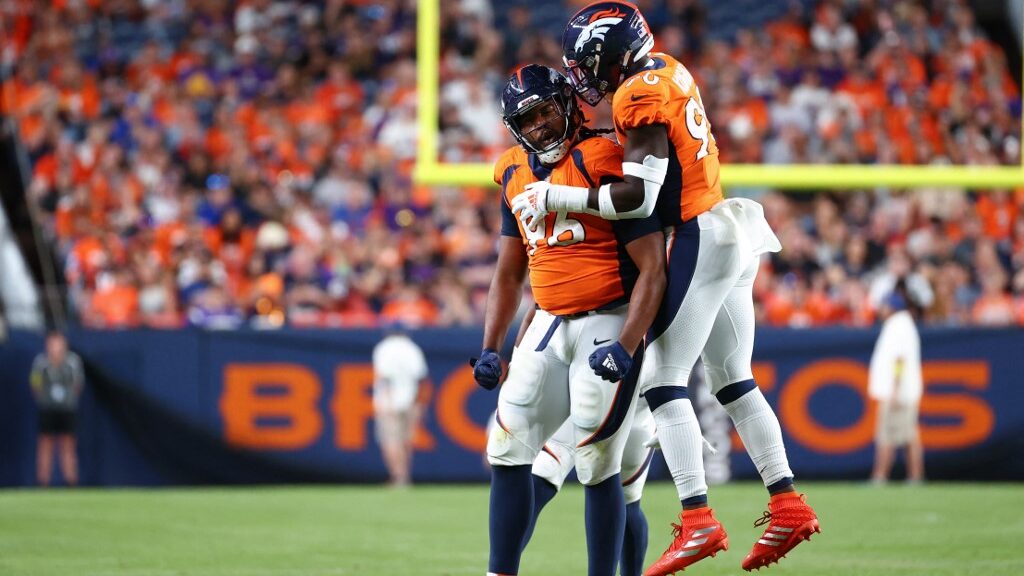 If you are like us, we cannot get enough football and we have all the stories to prove it for our first full Monday recap of the NFL and college football.
PLAY NOW: $25,000 Free-To-Play NFL Contest: BMR's 2022 Pick'Em Pool Opens for Registration
---
About Last Weekend…
---
NFL
For two hours and 15 minutes of the first Sunday of the NFL season, frankly, even with Direct TV to watch all the games or the Red Zone, the games were dull.
Nearly every matchup was uninteresting and several favorites played like they were not prepared for the season to start. Then we remembered why we love the NFL.
New Orleans was sleep-walking for three quarters and Atlanta's defense looked like the same one that almost won a Super Bowl a few years ago.
Then the Saints went on the attack, Jameis Winston found a rhythm in a faster-paced offense and New Orleans avoided the upset against the Falcons, failing to cover the -5.5 betting odds.
San Francisco vs. Chicago
In a rain-soaked field in Windy City, San Francisco had chances to put Chicago away and failed. Between Trey Lance's poor play and the Bears' Justin Fields showing grit (and outstanding water sliding skills) Chicago upset the Niners 19-10 as 6.5-point home underdogs.
Indianapolis was outplayed for almost three quarters by Houston and even when they finally had a chance to win in OT, they missed the game-winning field goal, which was a rather common theme Sunday.
Aside from rookie kicker Cade York of Cleveland making a game-winning 58-yard field goal, several other kickers failed in clutch situations.
York was fortunate to even have a chance as the refs gifted the Browns with one bad and one missed call to set them up and prevent Baker Mayfield from beating his previous employer.
Green Bay Super Bowl hopes are ticking on Aaron Rodgers at his age, how did they not do more to give him receiver help? And why were they playing so much zone against Justin Jefferson when they have one the top corners in Jaire Alexander?
The Tampa Bay defense is really good and they completely bottled up the Dallas offense. Losing Dak Prescott again probably means Philadelphia wins the division and Mike McCarthy will be fired at some point.
NCAAF
You would have had to see what went on to believe Saturday in college football.
The day started with Texas thoroughly outplaying Alabama for three quarters. The Longhorns were tougher in the trenches and would not be denied. The Crimson Tide showed little poise in committing 15 penalties (most in the Saban era) and All-American linebacker Will Anderson Jr. was a non-factor.
Bama skipped the run game and quarterback Bryce Young got hot late and they somehow managed to win 20-19 as 21-point favorites, not looking at all like the best Alabama of Saban's time in Tuscaloosa.
And we, like every Texas fan, wonder what could have been if starting quarterback Quinn Ewers had not gotten hurt.
Marcus Freeman was the perfect person to be the Notre Dame head coach we were promised. After losing to Marshall 26-21 as 20.5-point home favorites, he's the first football coach in their history to start 0-3. Marshall outcoached and outplayed the less-than Fighting Irish.
Texas A&M vs. Appalachian State
Speaking of outplayed, former No. 6 Texas A&M had the ball on offense for 18:17 in being outmuscled 17-14 by the more physical Appalachian State crew that controlled the ball and game in upsetting the Aggies in College Station as 18-point underdogs.
Nebraska vs. Georgia Southern
While there were countless reasons for Scott Frost to be let go by Nebraska (-23.5), losing 45-42 to Georgia Southern in Lincoln was a bridge too far. That was the first time in 255 games (since 1901) that the Cornhuskers lost at home when scoring at least 35 points.
Wisconsin vs. Washington State
Wisconsin was a 17.5-point favorite hosting Washington State and couldn't get the offense cooking against Washington State and fell 17-14. The Cougars, for the first time in recent memory, have a defensive-minded head coach (Jake Dickert) and they have held six of eight last opponents to 21 or fewer points.
Four more FCS teams pulled upsets on Saturday, giving them 6 on the season and in the past two years. The less prominent schools have 18 upsets over their money-grubbing bigger FBS names.
WNBA
Las Vegas failed to cover Game 1 of The Finals, but won 67-64 in a defensive struggle (total was 168.5).
Both teams shot below 40 percent, however, the Aces had a 16-3 edge at the charity stripe for the win.
---
Trendy Talk
---
MLB
Los Angeles Angels are 20-44 as an underdog of +100 or higher this season.
Chicago Cubs are 32-14 Under vs. an NL starting pitcher whose WHIP is 1.25 or lower.
Mike Minor of the Reds is 3-13 when the money line is -100 to -150 the last three seasons. (Team's record)
Philadelphia is 17-3 in road games after a win by two runs or less. (Tuesday)
Seattle is 23-6 Under in home games vs. a starting pitcher with good control (less than 1.75 BB's/start). (Tuesday)
NFL
The Under is 8-4 with Denver at Seattle.
Los Angeles Chargers are 7-0 Under in September games. (Thursday)
New York Jets are 0-7 ATS in September games since 2020.
San Francisco is 23-7 ATS off an upset loss as a road favorite.
NCAAF
Louisville is 24-10 Under after a two-game road trip. (Friday)
Air Force is 8-0 ATS after gaining 350 or more rushing yards last game. (Friday)
Syracuse is 1-13 ATS after two consecutive games committing no turnovers.
Charlotte is 0-8 ATS off one or more straight Overs.
WNBA
Las Vegas is 1-9 ATS in home games versus teams who average 42 or more rebounds. (Tuesday)
---
BMR's Betting Pulse
---
MLB
We have just over three full weeks left in the regular season so examine our top MLB picks for money line, run line, and totals for Monday and Tuesday.
NCAAF
Will Texas A&M be able to rebound against the Miami Hurricanes this week? As if things couldn't get worse for Nebraska even with Scott Frost fired, having to face Oklahoma is not a joy. We'll evaluate that matchup and begin looking into other key matchups and top teams for Week 3.
---
The Buzz
---
NFL – Much to Do About Nothing
With one game left tonight, home underdogs are 4-4 ATS after all the hoopla. (Minnesota was changed to a favorite Sunday). However, the division dogs were once again profitable at 2-0 ATS.
NFL – Bloodbath
Survivor Pools across the country, whether you put in $5 or a $1,000 (Circa contest) anywhere from 50 percent or more were wiped out after one week. FYI, next year only enter those that you get two chances or if they have a small buy-in on an early loss.
NFL – Dallas Debacle
According to Stats Inc., Dallas is the first team in 87 years not to score a touchdown in their season opener after leading the NFL in total offense and scoring the year prior.
NCAAF – Breaking News
Things just got worse for Notre Dame.
---
Football Focus
---
NCAAF
Michigan is a 46.5-point favorite this week at home over Connecticut. That means they are playing their first three contests as a 31-point or larger chalk-laden favorite against FBS/D-1 and they are the first to do this since when?
NFL
Green Bay coach Matt LaFleur has the distinction of being the first coach to win 39 regular season games in three years.
However, he's also known for playoff flameouts and now, the Packers have scored 10, 3 and 7 points in three of his four Week 1 openers.
---
Out The Door
---
NFL – You Have to Play to Win
If the regular season is so important where every game matters, why are so many teams not playing their regulars in the preseason? As mentioned, several teams were not mentally or physically ready to play and it was obvious.
The overall level of play was substandard and injuries still occurred in Week 1 so that is not a good excuse. The next time a head coach talks about urgency, he should be asked if not having your team ready for Week 1 because they have not played in August matters to them.
NCAAF – Is This The Year?
After two-plus weeks of the college football season, there are several potentially really good teams. Nonetheless, nobody is without flaws and while the cream will rise to the top in November, this could be a bonanza for those that would like to see more equality in the sport.
---
Who is Right?
---
Given Geno Smith is Seattle's starting quarterback and expectations are extremely low for the Seahawks, are you like us surprised to see the total has gone from 41 to 43.3 or 44 for tonight's Monday night matchup?
Granted, the opening 41 has been around for months, yet it still seems high. Given Denver is a 6.5-point favorite that would suggest the NFL odds would have a score of the Broncos a 25-18.5 winner. Do you think Seattle scores more than 17 points?
Both the tickets and money are barely past 50% of Over on the total.
Let's get some winners! See you back here Wednesday.