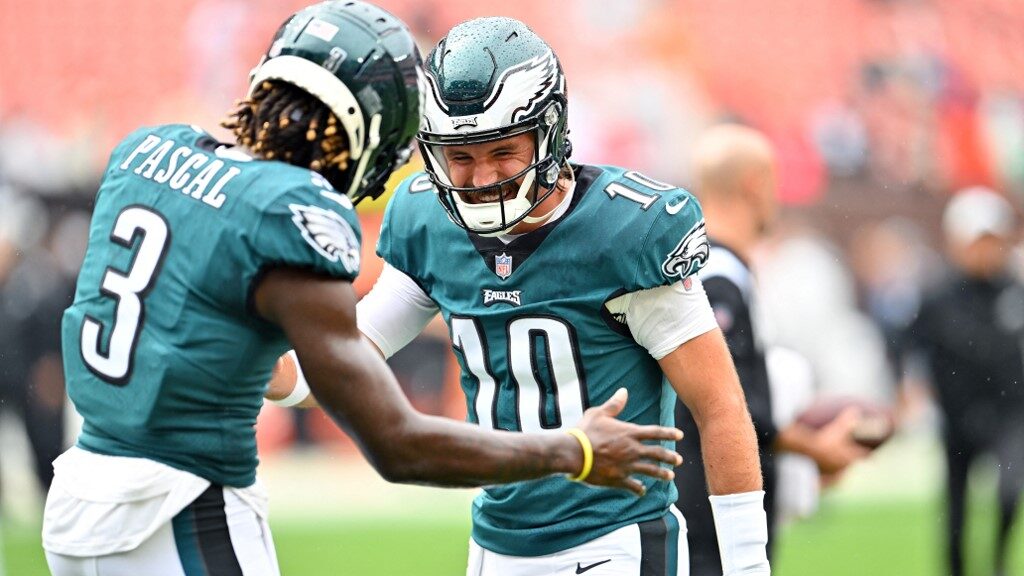 It is another Football Friday though we are light on college football. That's not the case in the NFL for Week 16, so make sure to go over the works.
Included in this is the return of Gardner Minshew. Can he work his magic in Big D? This and the weekend's top betting trends across all sports and where to get more free picks than presents under the Christmas tree!
---
About Last Night…
---
NFL
The Jets have played three quarterbacks this season, partly out of necessity and partly because of injury. Like the adage – if you have more than one QB you have none – that looks like the failing Flyboys who have lost four in a row.
The contrast between Zach Wilson and Jacksonville's Trevor Lawrence was stark, as the latter appears to have figured out what he needs to do and Wilson is clueless at present. After whipping Gang Green and overcoming a 2-6 start, the Jaguars are now favored at sportsbooks to win the AFC South.
NHL
Six of the eight games Thursday ended with a one-goal difference and three went to overtime. That used to be a common occurrence but with scoring up in the NHL, that stood out.
NCAAF
Not unexpectedly, Air Force rolled Baylor 30-15 as 3.5-point underdogs. College football's top rushing team posted 276 yards on the Bears and the Falcons' underrated defense held Baylor to 42 rushing yards at 1.6 yards a carry.
---
Trendy Talk
---
NCAAF
Houston is 1-7 ATS as a favorite this season.
Missouri is 4-15 ATS in December games.
San Diego St. is 11-2 ATS in away games after allowing 14 points or less in two straight contests.
Nex Mexico St. is 8-19 ATS in road games after two or more wins against the spread.
NBA
Portland is 16-2 ATS versus teams making 50% or more of their shots.
Atlanta is 1-11 ATS in December home games the last two seasons.
Milwaulkee is 11-1 ATS versus teams making 48% or more of their shots.
New Orleans is 17-5 Under as a road underdog of six points or less.
NHL
Calgary is 0-6 (-10 Units) after losing their previous game in overtime this season.
St. Louis is 1-8 (-12.5 Units) after playing four consecutive road games since 2020.
Los Angeles is 27-11 (+20.9 Units) after five straight games with 30 or more shots on goal.
Vancouver is 10-0 Over in road games against teams who average 29.5+ shots on goal.
NCAAB
SMU is 3-11 ATS versus teams who make 8 or more three-point shots a game.
Washington St. is 7-0 ATS away when the line is +3 to -3.
NFL
Carolina is 1-11 ATS off one or more Overs.
Dallas is 9-0 ATS after allowing six or more yards a play in their previous game.
Kansas City is 4-21 ATS after gaining six or more yards a play in four consecutive games.
L.A. Chargers are 33-8 ATS against AFC South division opponents.
Buffalo is 7-0 Under in road games this season.
Philadelphia is 12-1 Under after two consecutive road wins.
Minnesota is 13-2 Over as a home favorite of seven points or less.
---
BMR's Betting Pulse
---
NCAAF
The Bowl Season continues today with two contests and we have the Hawai'i Bowl on Christmas Eve. We have complete previews and NCAAF picks on these and we get ready for a plethora of bowls next week!
NBA
Take a good look at our Spread, Moneyline, and Totals picks Friday with an immense card, along with a sweet parlay. Beginning Saturday, we break down all five Christmas Day contests and offer our free NBA picks.
NCAAB
Over this weekend, the only action will be the Diamond Head Classic from Honolulu and we'll make sure you don't miss anything.
NHL
Today is the last day until next Tuesday to get your fill of pucks action, so review our best Moneyline, Puck Line and Totals picks.
NFL
We have 15 battles left for Week 16 and share our Upset Alert, Top Parlay, Best Prop Picks and Last Chance Value Plays.
---
The Buzz
---
Soccer – Soccer Fans Puzzled Argentina Not No. 1 in World Rankings
Because it is FIFA, the first thought was Brazil paid the organization to maintain its No. 1 ranking in spite of Argentina winning the World Cup. (Joking, just sort of)
FIFA released why this happened and it made sense remarkably, that it related to how its algorithm assigns points for every game played and not just the results of a particular, though important tournament.
MLB – Trevor Bauer Suspension Over
Major League Baseball ended Bauer's suspension and the Dodgers have 14 days to decide whether to add him to the roster or release him.
---
Football Focus
---
NCAAF – Bowl Games Betting Trends
Favorites are 8-5 SU but just 5-8 ATS.
Underdogs of 3.5 to 7 points are 5-2 ATS
Totals – 8-5 Under with those in the 50s 4-2 Under
Bowls – Betting Info
Bowl Angle: Teams that won 0-3 games (25% or less) the prior season and qualified for a bowl game the next season are 29-10-1 ATS (74.4%) over the last seven bowl seasons when matched against a team not in that situation.
Qualifying teams: Connecticut (L), Duke, Georgia Southern, Kansas, New Mexico State, Ohio U, Southern Miss and Tulane
Bowl Angle: Teams that improved by 6+ wins from the prior regular season are on a 13-6 ATS (68.4%) run in bowl games as underdogs.
Qualifying teams: Tulane, TCU and Washington
NFL – Minshew Mania (?) Returns
The Eagles announced as expected Jalen Hurts is out for Week 16 and Gardner Minshew is back as a starting quarterback. Hard not to like the fact Minshew has 41 TDs and just 12 Picks in his professional career.
Interesting to note the Eagles went from +1 to +5.5 Monday when it was learned Hurts might not play, but since Minshew became official to play, Philly is now +4.5.
NFL Biggest Line Moves – Updated 12/23
Broncos Pick to -2.5 over Rams – Somewhat surprising the Rams have 60% support for cash and bets.
Giants/Vikings Total 45.5 to 48.5 – 80% of money on the Over.
Commanders/49ers Total 41.5 to 37.5 – 70% of money on the Over and 65% of wagers on the Under.
Packers/Dolphins Total 46.5 to 50 – 80% of cash on the Under and 75% of bets on the Over.
NFL Top 3 Bets Placed by Percentage (highest first) (17-26-2 record) – 49ers, Buccaneers and Titans
NFL Top 3 Totals Bets by Percentage (highest first) (21-24 record) – Broncos/Rams Under, Packers/Dolphins Over, and Texans/Ravens Under
---
Out the Door
---
Just wanted to wish everyone a very Merry Christmas. This is a great time of reflection and to be thankful for what we have received the last year and look to how we can do better in the year ahead.
---
Who Is Right?
---
The Chicago Bulls and New York Knicks will meet for a third time in nine days, this time in the Big Apple. The total is down a smidge from 226 to 225.5 with 73% of bettors taking the Under.
But before shoving another Christmas cookie in your mouth, you need to know the bets placed are running 75% on the Over. That's quite a disparity, what side do you want to be on?
Let's get some winners! Have a great Christmas weekend and we'll see you back here Monday!