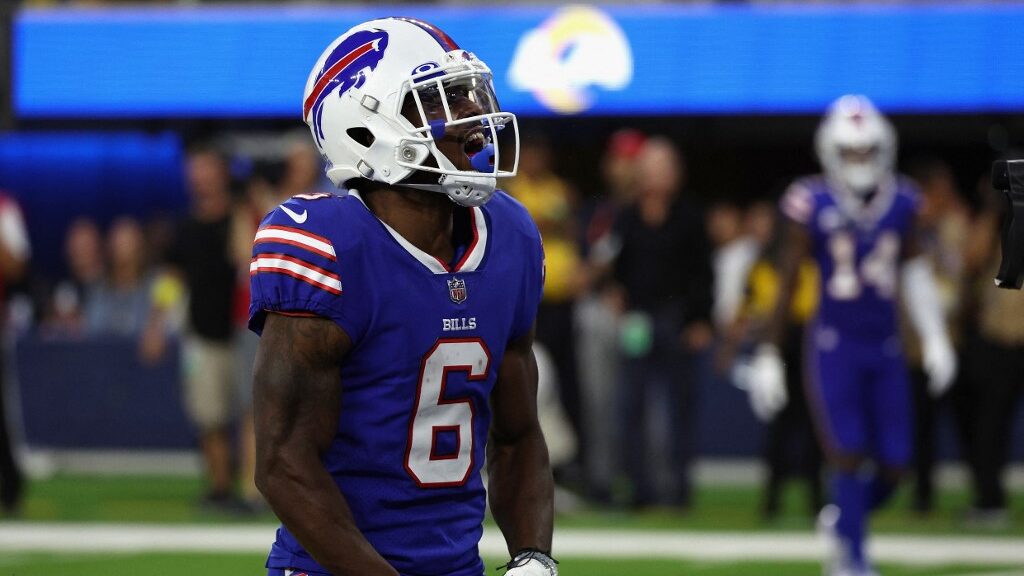 The NFL season has kicked off and hopefully, the rest of Week 1 is more competitive than last night's blowout by Buffalo –which we will discuss.
We have all sorts of betting material for you in both college football and the NFL. Plus, we explain the new baseball rule changes for 2023 and offer more.
---
About Last Night…
---
NFL
Domination. Total Domination by the Buffalo Bills to kick off a new NFL season by lapping the Los Angeles Rams.
Josh Allen was spectacular and the Bills' offensive line wiped out the Rams' defensive front.
Buffalo sacked Mathew Stafford seven times and did not blitz on any of those sacks. It was only one game, but the Bills could not have been any more impressive in all facets.
Lions fans were probably thinking, "That's the Stafford I remember" and the Rams are now 15-4 UNDER at SoFi.
WNBA
Connecticut trailed Chicago by 11 points in the fourth quarter on the road and closed the game on an unthinkable 22-2 run to upset the Sky 72-63 as four-point underdogs.
Future Hall of Famer Candace Parker was so distraught she left the floor when the game ended.  
BetOnline (visit our BetOnline Review) has Las Vegas as -290 series favorites (Connecticut +245) and the Aces as a Game 1 six-point favorite with a total of 168.
---
Trendy Talk
---
MLB 
Pittsburgh is 2-18 when playing on Friday this season. (It matters since it is mostly Game 1 of a series)
Oakland is 3-14 at home after a loss by four runs or more.
Atlanta is 9-0 over in road games when playing against a team with a winning record in the second half of the season.
Milwaukee is 8-0 over revenging two straight home losses this season.
German Marquez and the Rockies are 11-1 vs. an NL team with a batting average of .245 or worse in the second half of the season since last year.
NFL
Cleveland is 6-15-1 ATS in Week 1 matchups.
Baltimore is 0-7 ATS as a favorite of 3.5 to 9.5 points.
Atlanta is 0-6 ATS in home NFC games.
Arizona is 1-8 ATS at home when the total is 49.5 or higher.
Indianapolis is 1-11 SU and ATS in Week 1 matchups.
Jacksonville is 12-3 under as an underdog.
Cleveland is 16-4 under against NFC South division opponents. (New)
Tampa Bay is 39-19 under in the first two weeks of the season. (New)
NCAAF
UCF is 1-8 ATS after scoring 42 points or more in their last game. (Friday)
Central Michigan is 9-0 ATS in home games after scoring 42 points or more.
Syracuse is 2-14 ATS off an upset win by 14 points or more.
South Alabama is 1-11 ATS off a home win by 17 points or more.
New Mexico is 2-11 AT in all games since last year.
Air Force is 7-0 ATS after gaining 350 or more rushing yards.
Oklahoma ST is 23-3 over in home games after gaining 7.25 or more yards a play. (New)
South Carolina is 9-0 over in road games against conference opponents. (New)
Kentucky is 17-3 under as a road underdog of 3.5 to 7 points. (New)
Louisiana 11-1 under at home the last two years. (New)
WNBA 
Las Vegas is 14-3 over at home after three or more consecutive wins. (Sunday)
---
BMR's Betting Pulse
---
NFL
The action continues on Sunday and it should be awesome!
Review our early value picks, best bets, last chance value picks, and a look at the Sunday Night affair with Tampa Bay and Dallas and more.
NCAAF
Take a look at our preview and pick for the high noon showdown on FOX with Alabama at Texas.
This and Week 2 early value plays, best bets, last chance value picks, and a variety of other matchups.
MLB
Make sure to review our top picks for money line, run line, and totals for Friday, Saturday, and Sunday.
Tennis
U.S. Open Tennis Semis and Finals are this weekend, so make sure to review all of our top picks.
UFC
This weekend is UFC 279, and based on what went on before the press conference was to happen Thursday, this could be wild!
Check out all our free picks on a big day of action.
Note: Review all our popular prop plays in all the sports.
---
The Buzz
---
NFL – Last Night's Game
On Twitter last night some wondered if sportsbooks should refund NFL bets for MVP after Josh Allen's showing, believing it is over. (Their words, not ours)
MLB – Voting Improvements
On Friday, baseball voted on a Pitch Clock (20 seconds and 15 seconds with runners on), Shift Restrictions (all infielders on the dirt and two on either side of second base), and larger bases (15 to 18 inches).
This should speed up play, create more baserunners and possibly enhance stealing and safety around the bags.
MLB – Key Series
Though football will dominate the sports landscape, in the American League we have two important series, the Rays at the Yankees and Cleveland at Minnesota.
New York leads by three games and Cleveland by two. The Yanks are just -125 series favorites, and with Cleveland at -140 to take down the Twins.
---
Football Focus
---
NCAAF Biggest Line Moves – Updated September 9th
Air Force -14 to -18 over Colorado – Modest move back to 17.5.
Texas A&M -16 to -19 over Appalachian St. – Unchanged, with almost 80% betting action on tickets and money.
Mississippi State -8 to -10.5 over Arizona – Now up to 11.  
Syracuse/Connecticut Total – 54 to 49 – A slight uptick to 49.5, oddly, 75% of the money on over.
Colorado/Air Force Total – 45.5 to 49.5 – Lifted to 50, 80% of the money on over.
Alabama/Texas Total – 61.5 to 65.5 – Unchanged and 60% under (money) and 65% over (tickets).
Iowa State/Iowa Total (New) 43 to 40 – The total was at 41 Wednesday and has tumbled further. More than 80% of the money bets are under.
NFL Biggest Line Moves – Updated September 9th
As we talked about last week about the betting odds in college football, the ones for Week 1 in the NFL have been around for months.
A little surprisingly, we did see some movement Tuesday that caused a mild reaction on social media. Here is where things stand today.
Bills +1 to -2.5 over Rams – This proved correct.
Saints -3.5 to -5.5 over Falcons – No movement and 80% support for New Orleans to cover.
Ravens -4.5 to -7 over Jets – Down to 6.5, with roughly 90% on Baltimore.
Panthers +4.5 to -1 over Browns – Cleveland moved to -1 Thursday and it seems to have settled at a pick.
Chiefs -3 to -6 over Cardinals – K.C. up to -6.5, though only low 60s percent money and tickets backing.
Top 5 Bets Placed by Percentage (highest first) (2-3 record)
Oklahoma
Miami-FL
Notre Dame
Ohio State
Colorado State
Top 5 Bets Placed by Money (highest first) (1-4 record)
Wake Forest
Colorado State
West Virginia
Alabama
Miami-FL
Top 5 Totals Bets by Percentage (highest first) (2-3 record)
Boston College vs. Virginia Tech – Under
Memphis vs. Navy – Under
Arizona State vs. Oklahoma State – Over
Southern Mississippi vs. Miami-FL – Under
South Carolina vs. Arkansas – Over
 NFL Top 3 Bets Placed by Percentage (highest first)
NFL Top 3 Totals Bets by Percentage (highest first)
Raiders vs. Chargers – Over
Chiefs vs. Cardinals – Over
Saints vs. Falcons – Over
---
Out The Door
---
NFL – Rams Inept Offense
With the Rams losing 31-10, this was a race occurrence for a defending Super Bowl champion.
NFL – Someone Trying to Fool Us
On Monday, the Jets head coach Robert Saleh said it was "possible" Zach Wilson could start in Week 1.
Fast forward to Wednesday and now the earliest we will see Wilson is Week 4. Hmmm.
Frankly, needless deception and amateurishness. Joe Flacco will start and as of today, Gang Green is down to +6.5 vs Baltimore.
NCAAF – Something to Look Forward To
The game the person typing this is most looking forward to is Baylor at BYU.
Revenge-mind BYU is a 3-point favorite with a total of 53.5. Looking at the over in this skirmish.  
---
Who is Right?
---
Marshall is visiting Notre Dame and the total has crumbled from 52 to 49.5.
The betting public has the total basically dead even, but the money is 95% to the under. What do you think?
Let's get some winners! Have a great sports betting weekend see you back here Monday.