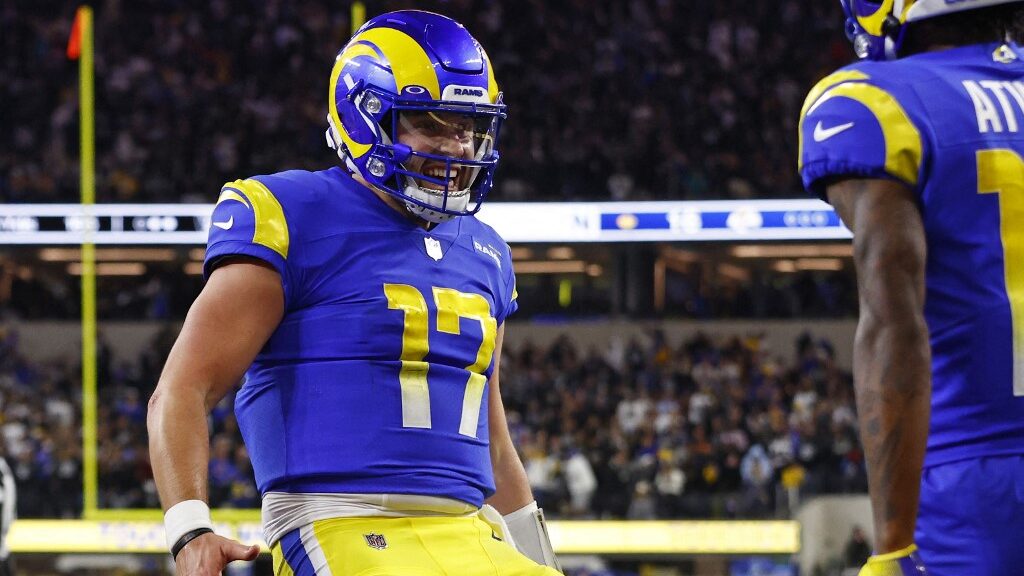 On the lips of every football fan this morning is what Baker Mayfield did for the Rams last night along with how the Raiders failed yet again. We talk about all this in a variety of ways.
We also have other NFL info for you like top trends and where football bettors are on Week 14 contests. We continue and share with you the latest on the Army/Navy battle and offer some help about the upcoming bowl season.
---
About Last Night…
---
NFL
What are the chances of having two terrible games in four days with the same 16-3 score late in the fourth quarter and the home team miraculously tallies two touchdowns to steal a victory 17-16? (Correct answer is – better than you thought, but we digress.)
What Tom Brady did Monday we marvel at. What Baker Mayfield did on a new team which he barely practiced with was pure insanity and historic.
We realize no team would do this, but if NFL teams can make so many terrible fourth-down decisions, why can't one coach bring in Baker Mayfield and just go no-huddle the entire game? Clearly, he's capable of doing this as we've seen at Texas Tech, Oklahoma, Cleveland, and now with the Rams.
As for the Raiders, it was another blown opportunity to win. Now we know why the Chargers cut Jerry Tillery recently, as his penalty on the Rams' TD changed everything. The Raiders also made history Thursday night.
NBA
The San Antonio Spurs ended their 11-game losing streak (and ungodly 1-10 ATS stretch) with a 118-109 victory over Houston as a two-point home underdog. While beating the Rockets is hardly noteworthy, when you haven't won in almost a month, beating anyone feels good.
NCAAB
Ohio State didn't come close to covering the spread at home against Rutgers, but they still made a lot of Buckeyes fans happy when this happened.
WNBA
Brittney Griner was released from a Russian jail in exchange for a prisoner in the U.S. We'll avoid all the noise and just say we are glad she is back.
---
Trendy Talk
---
NBA
Cleveland is 11-1 ATS in home games.
Brooklyn is 1-14 ATS in home games after failing to cover the spread in two or more consecutive games.
Phoenix is 23-8 Under after one or more losses.
Charlotte is 22-10 Under revenging a road loss
NHL
Seattle is 7-0 (+11.1 Units) as a road underdog this season.
New Jersey is 12-1 against teams scoring 3+ goals/game this season.
San Jose is 1-10 playing against a team with a losing record.
Washington is 21-4 Over revenging a same-season loss the last two years.
NCAAB
Gonzaga is 0-7 ATS after playing a game as a favorite this season.
NFL
Denver is 0-10 ATS against teams who force one or less turnovers a game since last season.
Cincinnati is 7-0 ATS vs. defenses allowing a completion percentage of 61% or higher.
Tennessee is 8-0 ATS after allowing 300 or more passing yards in their last game.
Tampa Bay is 8-0 Under conference opponents.
Detroit is 17-3 Over after a win by 21 or more points.
N.Y. Giants are 8-0 Under as a home underdog.
NCAAF
Navy is 7-0 ATS versus teams averaging 4.75 or more rushing yards a carry.
Army/Navy are on a 16-0 Under run.
---
BMR's Betting Pulse
---
NBA
Review our Spread, Moneyline and Totals free picks along with top player props for the weekend and come back on Sunday for the Suns vs. Pelicans rematch from Friday.
World Cup
It is on to the quarterfinals, watch for our previews and free World Cup picks.
NCAAB
A big weekend of college hoops, Best Bets, and more. Plus, we feature key matchups like Alabama vs Houston Saturday and on Sunday, Arizona vs. Indiana.
NHL
On the weekend look for our Top Plays on the Moneyline, Puck Line, and totals.
NFL
Twelve games remain for Week 14 and we have previews and free NFL picks for the complete schedule that includes the Jets vs. Bills, Eagles vs Giants, and Dolphins vs. Chargers Sunday night.
UFC
We have complete coverage of UFC 82 top props, a perfect parlay, and more!
NCAAF
One last regular season matchup with Navy vs. Army and we have it covered in every way known to man. Next, is the Bowl Season with a few early previews already posted.
---
The Buzz
---
World Cup – Brazil Out!
Earlier today, Brazil was knocked out of the World Cup for a second straight time in the quarterfinals, losing to Croatia on penalty kicks. Brazil was a -265 favorite at the World Cup odds.
NFL – Baker Mayfield Does it Again (How Quickly We Forget)
Mayfield has popped up on several memes this week. Yet, what you saw from him was not unfamiliar to him.
NFL – Devonte Adams' Talent is Not Being Used Properly
From 2018-2021, when Devonte Adams was a Green Bay Packer, in 62 games he caught three or less passes once. In 13 games with the Raiders, that has happened four times including Thursday and Las Vegas has lost each time.
---
Football Focus
---
Army opened as a 1.5-point favorite in this battle and a lot of sharp money moved it to -2.5, where it stands today.
Anyone following the college football odds knows the Middies and the Black Knights are on a 16-0 Under. As football bettors, do you ride the tide and go Under or think this has to end sometime and back the Over?
Right now 60% of the money is on the Under and just over 50% of the bets are Over.
NCAAF Biggest Line Moves – 12/9
Navy +1.5 to -2.5 over Army – No movement since Tuesday and 51% of bets and money on the Midshipmen.
Navy/Army Total 33.5 to 32 – Up modestly to 32.5 with just past 50% of bets placed on the Over.
Play or Fade?
Top 5 Bets Placed by Percentage (highest first) (24-44 record)
Top 5 Bets Placed by Money (highest first) (28-38-2 record)
Top 5 Totals Bets by Percentage (highest first) (44-23-1 record)
*These are final regular season numbers. We will have these for the bowl games.
NFL – Daniel Snyder Not a Good Person
The U.S. House Oversight Committee investigating the Washington Commanders' workplace culture was released and Snyder was a central figure in a rotten workplace environment and more.
The misdeeds are numerous and one suspicion was confirmed; former Washington general manager Bruce Allen alleged that the team leaked former Raiders coach Jon Gruden's racist and homophobic emails that led to his resignation in 2021.
NFL Biggest Line Moves – Updated 12/9
Bengals -4 to -6 over Browns – Cincy down to -5.5, though 80+ percent of bets on them.
Lions +2.5 to -2.5 over Vikings – Minnesota now at -2, with 60% of wagers on the Vikings.
Cowboys -14 to -17 over Texans – No movement, but interestingly, 55% of the money is on Dallas, yet 80% of bets are placed on them also.
Dolphins -1 to -3 over Chargers – Unchanged with 70% of wagers on Miami.
Texans/Cowboys Total 47.5 to 44 – Despite this lowered total, 70% of bets are on the Over.
Panthers/Seahawks Total 41.5 to 44.5 – More than 90% of cash riding the Over.
Play or Fade?
NFL Top 3 Bets Placed by Percentage (highest first) (16-21-2 record) – Chiefs, Bengals and Titans
NFL Top 3 Totals Bets by Percentage (highest first) (19-20 record) – Dolphins/Chargers Over, Panthers/Seahawks Overand Jets/Bills Over
---
Out the Door
---
World Cup – Betting Update
I'm seeing as I complete this article that most sportsbooks had Brazil at 25 to 30 percent of bets placed to win it all. Raking in the cash.
NCAAF – Careful With This (Public Service)
Every football bettor loves the bowl season. Unfortunately, now you have to follow the transfer portal, keep an eye on who is opting out, and possibly severe line movement on sides and totals. Plus, still need to know all the team comparison stats, motivation needs, and coaching changes, with what impact that might have.
If you don't follow this, it will end up costing you money on bad wagers against the college football odds.
---
Who Is Right?
---
Tonight on the ice, Pittsburgh visits Buffalo and they are hot, winners of 8 of 10. The Penguins have waddled from -125 to -145 and 83% of the money is on the Pens.
But what about the Sabres, they have won five of eight and are the top-scoring team in the NHL and 55% of bettors think they can outscore the visitor. Do you?
Let's get some winners! Have a great weekend and see you back here Friday!