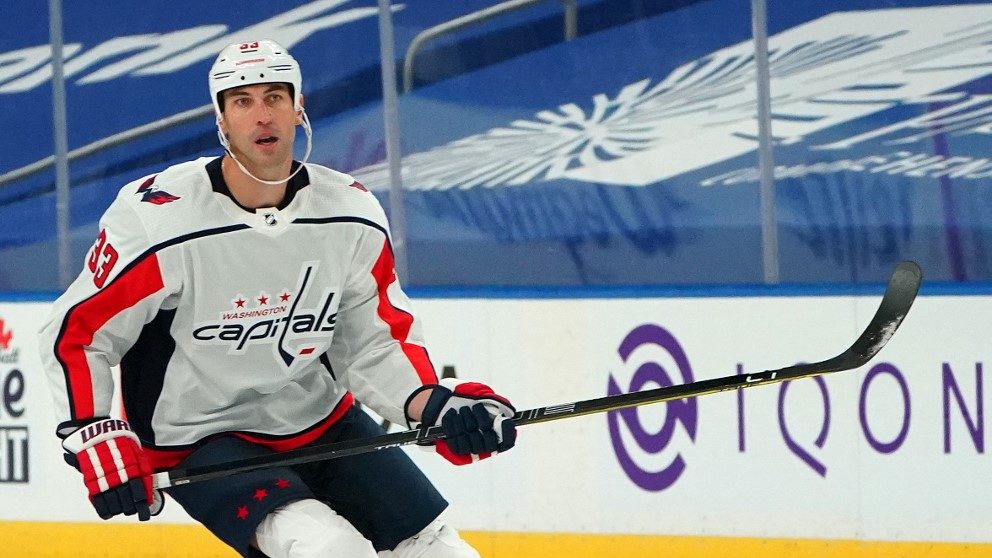 The inevitable has happened! North American pro sports leagues have joined their counterparts in European markets and will begin allowing sportsbook branding on team jerseys, with news that the Washington Capitals will begin the practice during the 2022-2023 season. The move marks the latest proof of the widespread acceptance and mainstreaming of the legal sports betting industry in North American markets.
Caesars Entertainment Inc., a company that has been in on just about every major ground-breaking announcement dealing with North American sports wagering as of late is the lucky entity to strike first in what will likely be an avalanche of similar deals in the near future. The Capitals are believed to be the first North American team in any of the four major North American sports leagues to agree to such a deal.
"Following the successful launch of Caesars Sportsbook adjacent to Capital One Arena last spring, we are thrilled to introduce Caesars Sportsbook as the Capitals' inaugural home jersey advertising partner in a first-of-its-kind announced partnership in the NHL," said MSE president of business operations and chief commercial officer Jim Van Stone. "Together as two industry leaders, we've built a robust partnership in the gaming and casino space, and our overall relationship reflects our shared commitment to providing sports fans with world-class, unique experiences. MSE, the Capitals and Caesars share a commitment and passion toward innovation in the sports and entertainment space, and the opportunity to incorporate Caesars onto Capitals home jerseys is a wonderful development and exciting new fan engagement opportunity for both organizations in the nation's capital."
More Details
The latest Capitals/Caesars tie-up is said to be a multi-year "patch -partnership" deal that will see a 3-X-3 1/2-inch Caesars branded patch on the upper right-hand corner of the Washington Capitals' home and third jerseys. It will officially take effect at the start of the 2022-2023 season.
At this point, the Caps will only be permitted to wear Caesars' branded jerseys in markets that allow for single-game sports betting. Hence, the branding appearing on their home and third jerseys only.
"We don't want that jersey going to away markets where it's not legal," Keith Wachtel, the NHL's chief business officer and senior executive vice president, said last month.
A Little History
The NHL began allowing advertising on their uniforms during the 2021-2022 season. The league paved the way for one ad on their jerseys and one ad on their helmets starting this year.
It was during the summer, the NHL somewhat quietly announced that they would start allowing the selling of sportsbook ad space on their jerseys. It won't happen right away however – the 2022-2023 season is when it begins, allowing for some copycat deals to materialize.
It proves that the league is not against evolving their relationship with the sports betting industry but also says that they are willing to take their time in doing so.
Building on the Caesars/Capitals Relationship
Ceasars and the Washington Capitals are simply building on an existing relationship they have had since May. At that time Caesars opened a sportsbook at the Capitals' home – Capitol One Arena in Washington DC.
The partnership was the first of its kind, just like the partnership patch relationship announced this week. Caesars was the first provider to open up a sportsbook at a US professional sporting venue. It is 18,000 square foot sportsbook with 12 self-service kiosks to go along with 17 betting windows, 5G wi-fi capability, enabling fans to place bets from their mobile devices and a second-to-none, all-around betting experience.
"Being woven into the Washington Capitals jersey is an exciting chapter in our collective story," said Chris Holdren Co-President of Caesars Digital. "Like Monumental Sports & Entertainment, we love blazing trails and we are always looking for innovative opportunities that drive engagement and storytelling for fans. We are proud to extend our historic partnership with such a storied franchise after launching the sportsbook at Capital One Arena."
NHL/Sports Betting Provider Partnerships Here to Stay
The NHL hasn't been scared of aligning with Heavy Hitters within the US legal sports betting industry. The two DFS giant-turned sports betting provider behemoths, William Hill, PointsBet and Bally's are among the official sports betting partners of the league. Many more have partnership deals with individual teams.
As of this week, we can add sponsorship patches to the list of advertising opportunities for sportsbooks in the North American market.
"I think sports gambling is the future of our business. I think it's here and it's only going to continue to get bigger. There's no stopping that freight train now," Brad Alberts, Dallas Stars president said in a recent interview.