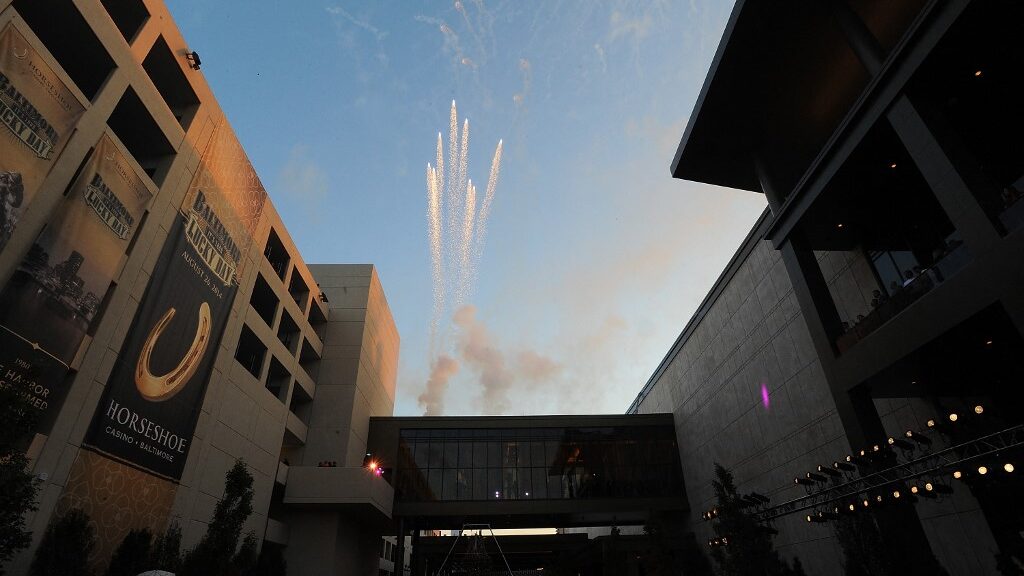 Baltimore area casinos have waited long and patiently for sports betting to be allowed and it appears as though their wish will come true on Friday, replete with ribbon-cutting ceremonies. Live! Casino & Hotel Maryland and the Horseshoe Casino Baltimore will be taking wagers this week, assuming their two-day demos with the state go according to plan.
There were protracted negotiations regarding the maximum limits allowed on sporting events. Problem gambling experts lobbied for a $100,000 limit while DraftKings and FanDuel argued for no limits. But the magic number they arrived at was $5 million and now it appears the casinos will be open for in-person wagers.
The celebrated first-bets will be coordinated events that will include Governor Larry Hogan at both casinos' ceremonies. Former Ravens Hall-of-Famer, Ed Reed, will make the first legal wager at Live! Casino in Hanover, Maryland while former Ravens Torrey Smith and Adalius Thomas will join Mayor Brandon Scott at the Horseshoe Casino.
MGM National Harbor in Prince George's County is also slated to open for sports betting business this week while Hollywood Casino Perryville and Ocean Downs in Worcester County are eyeing entry at some point but have not specified a date.
Baltimore-based developers, The Cordish Companies, owners of Live! Casino & Hotel also owns the Sports & Social brand which is a chain of sports-themed restaurants and will be incorporated into a $15 million project that will feature 100 linear feet of screens and monitors, lounge chairs, arcade games, tiered seating areas along with bowling lanes and VIP areas. Sports betting windows and table games will also be available.
Reed Cordish, a principal at Cordish, stated earlier this year, "We will be ready to implement sports betting at Sports & Social as soon as the state allows. Patrons coming to Sports & Social will have the ability to either walk up to a teller or a kiosk and wager on a game they're watching."
"A significant portion of sports betting takes place on mobile," Cordish said. "We think there's a real opportunity with sports betting to drive this audience into Live! through special events and promotions."
Rob Norton, president of Cordish Gaming and Live! Casinos, described the area as the project was being built, "We have 15 screens up active right now … and we have TVs pretty much anywhere you are. We have the ability to show all different sports that are played at one time. So, anything that's out there on the broadcast we'll have up and running."
"I am hopeful that we will see new customers come to the facility for the opportunity to bet on sports," Norton said. "We have built what I think is the absolutely by far best sports viewing venue anywhere in the region."
Once in-person and mobile gaming is available the take is anticipated to be approximately $100 million where much of it is earmarked for public education. The mobile betting issue is still being discussed in the state legislature but it is expected to be resolved at some point in 2022.