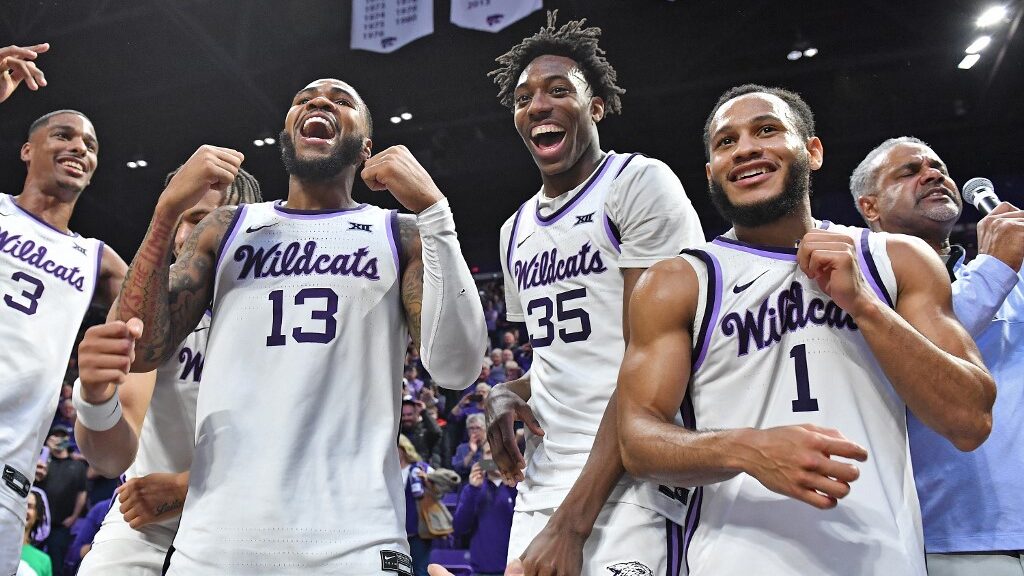 If you happened to turn on Kansas at Kansas State, you got 2.5 hours of great entertainment and whatever side you might have bet on, a Dick Vitale – Maalox Masher.
We break it down in two different ways for you. The college football schedules for 2023 are out today, so you can see what your team has in store. Speaking of college football, another new reality of NIL money and how it is not all good for the players or the teams. This and top trends including ones you want to know about in the NFL for this weekend.
---
About Last Night…
---
NBA
Talk about your see-saw battles! Milwaukee was a 1.5-point home favorite against Toronto with no Giannis Antetokounmpo and no Khris Middleton.
The Bucks jumped off to a 10-point lead, scoring 44 points in the first quarter. The Raptors went on a rampage in the second stanza with a 40-23 beatdown to take a -point lead at halftime. Milwaukee answered with a 38-23 third quarter which they made hold up to win 130-122 to cover.
Philadelphia was a one-point underdog against the Clippers and outscored L.A. 30-21 in the fourth quarter to win by 10 points. The Sixers are 3-0 SU on their road trip with stops in Portland and Sacramento remaining this week.
NCAAB
The Big 12 is far and away the best basketball conference in the land. Iowa State is so well coached by T. J. Otzelberger and they dismantled Texas 78-65 and 3.5-point home favorites. This looks like an Elite 8 squad.
Kansas at Kansas State was a fantastic contest, with a wonderful crowd. Kansas State shot off to a 12-point lead, but Kansas weathered the storm to take a few brief leads in the second half. The overtime was back and forth the Wildcats hung on to win 83-82 as 1.5-point home underdogs. More on this matchup in our "Out The Door" segment.
NHL
Pulling a goalie is never easy early in a game for a head coach. However, sometimes the netminder just does not have it like a starting pitcher in baseball and he has to be yanked. That was Matt Murray for Toronto Tuesday, allowing four goals on eight Florida shots playing at home.
Coach Sheldon Keefe pulled him with Toronto down 4-2. The Leafs began to apply more offensive pressure and scored on a power play with two seconds left in the second period. Toronto tied it in the third period and won in OT, picking up two points with a coach giving his club the best chance to win and sending Maple Leafs backers to bed happy holding -170 ML tickets.
---
Trendy Talk
---
NBA
Atlanta is 4-16 ATS after playing a home game this season.
Washington is 3-16 ATS after playing three consecutive home games.
Oklahoma City is 21-5 ATS after two non-conference games.
Memphis is 20-5 Under versus teams making 48% or more of their shots since 2020.
NCAAB
Pittsburgh is 10-0 ATS versus teams who are called for 17 or less fouls a game.
Drake is 0-8 ATS off a home win.
Texas A&M is 8-1 ATS versus teams making 45% or more of their shots after 15+ games since 2020.
Nebraska is 10-0 Under teams outrebounding opponents by 4+ per contest.
Marquette is 9-2 Over in all home games this season.
NHL
Boston is 21-3 after playing a home game this campaign.
San Jose is 2-12 in home games revenging a loss.
Colorado is 11-0 Under after playing 2 consecutive home games.
NFL Playoffs
Kansas City is 0-6 ATS after a win by 10 or more points this season.
N.Y. Giants are 12-3 ATS as a wild card team in the playoffs.
Cincinnati is 8-1 Under as a road underdog of 7 points or less.
San Francisco is 9-1 ATS after a game with a turnover margin of +2 or better.
---
BMR Betting Pulse
---
NBA
On Wednesday we have our various best bests and come back Thursday with TNT tilts Golden State vs. Boston and Brooklyn vs. Phoenix.
NCAAB
For your basketball Hump Day, we have an array of conference contests like Virginia Tech vs. Virginia, Arkansas vs. Missouri, and Providence vs. Marquette to name a few. We share our free NCAAB picks with you. Thursday will include all our top picks and parlay action.
NHL
The blazing-hot Boston Bruins will be at the New York Islanders, which will be on TNT, and later, the Stars will be at the Sharks. Thursday on ESPN, we will have Tampa Bay at Edmonton. We'll have previews and picks on these and other matchups.
NFL
We move ahead to complete breakdowns on all four Divisional round contests and have the best early value selections. We also have our top teaser picks and who is on upset alert.
Note: Review all our popular prop plays in all the sports.
---
The Buzz
---
NCAAF – College Football Schedules Released
Yes, the season just ended, but for those thinking ahead about attending games and wanting to make future wagers against the NCAAF odds, you can start to see all the different slates and formulate possible records for teams.
NBA/NFL/NFL – The Weather Is Nice but the Sports Teams Suck!
A favorite destination of many is Arizona starting this time of year (this writer lives there). If you happen to have an allegiance to one of the sports teams in the Phoenix area, you are not thrilled. Even with the Coyotes upset of Detroit Tuesday, the Yotes, Cardinals, and Suns are 2-17 in 2023.
NCAAF – NIL Money Backfires on Florida Gators
Jaden Rashada was set to go to Gainesville and be their quarterback, mostly due to a 13 million four-year deal. That deal fell apart outside of the football program's control. Here is the latest on this crazy story.
NBA – Best and Worst Bets
Best Bets
Thunder 28-16 ATS
Pacers 26-19 ATS
Kings 24-18 ATS
Celtics 25-19-1 ATS
Jazz 26-20-1 ATS
Worst Bets
Mavericks 16-28-1 ATS
Rockets 16-25-3 ATS
Heat 17-25-3 ATS
Timberwolves 19-26 ATS
---
Top Betting System
---
NBA – Atlanta at Dallas (-2)
Play on home teams like the Mavericks after going over the total by more than 18 points in two consecutive games, against an opponent after going under the total by 18 or more points total in their last three games.
In the past five years clubs like the Mavs are 25-5 ATS.
---
Out the Door
---
NCAAB
It was a pleasure to see two college hoop coaches that understood how to coach their teams. Bill Self and new head coach Jerome Tang figured out their teams early, as Kansas and Kansas State were having trouble making outside shots. Part of it was they were contested and they were just missing open looks.
Instead of just letting their teams fire up long balls hoping they would find the range, they ran halfcourt sets, often expertly, and tried to run on every rebound or loose ball. That's what smart coaching looks like instead of just letting players heave the ball from behind the arc because the analytics say to do so.
NFL Playoffs
Since 2003, teams that have won 11 or more games in a row have gone 1-11 ATS in the playoffs. That's San Francisco.
Since 2003, No. 1 seeds in the Divisional Round have gone 13-25-1 (34%). That's Philadelphia and Kansas City.
---
Who Is Right?
---
Auburn is at LSU this evening in SEC action. The No. 16 Tigers from Bama are five-point road favorites at Baton Rouge and a whopping 85% of the money on this encounter is on coach Bruce Pearl's squad. On the other end of the spectrum are the Bengal Tigers who are laboring in conference play at 1-4 and 2-3 ATS.
In spite of LSU's lack of success, they have 65% of bets placed on them. If you look at KenPom.com, their adjusted ratings have Auburn by 7.5, which way would you bet?
Let's get some winners! See you back here Friday!